A teleprompter, also known as an auto-prompt, is a display device that prompts a person to speak using an electronic visual text of a speech or script. A teleprompter is also known as an Autocue. It is a device that provides a presenter with visual access to a script during a presentation. A teleprompter, also commonly referred to as a prompter or autoprompter, is a device that allows the presenter to read the script while maintaining direct eye contact with the audience.
Recently, the use of teleprompters has expanded to include any video production with scripts, vloggers, PowerPoint presentations, and singers performing on stage to remember their lines. With the advent of low-cost teleprompter software applications and free web-based teleprompter applications, many different disciplines now use teleprompters to deliver sermons, give speeches, and create quality audio recordings. From in-app video recording to adjusting playback speed and time, mirroring playback vertically and horizontally, and controlling playback with a Bluetooth keyboard as a remote control, there's a lot you can do with a teleprompter.
List of 8 best teleprompter apps for Android and iPhone Devices
1. Parrot teleprompter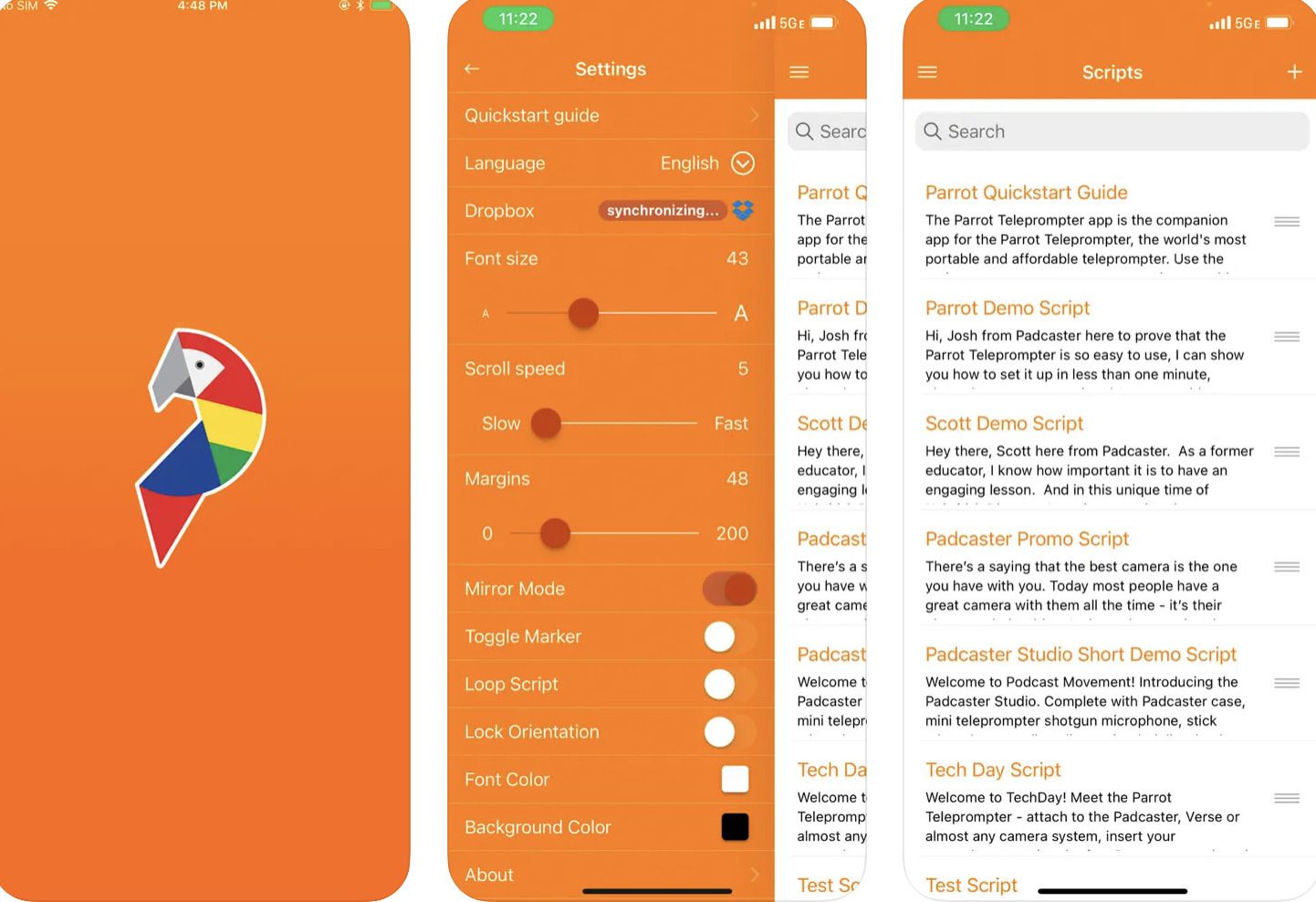 The Parrot Teleprompter is one of the best teleprompter apps forAndroid and iPhone users. Their professional products also allow you to record videos on your smartphone.Until now, teleprompters were reserved only for big-budget productions, which typically cost thousands of dollars each. The Parrot teleprompter uses the same quality 30R/70T beamsplitter glass as high-end teleprompters at a fraction of the cost.


Features
Scripts for scrolling in landscape and mirror modes

Regulate the scrolling speed

Adjust the font size and background and foreground colors to improve visibility

Remote control capabilities

Infinitely many scripts

More ways to streamline production include loop script setup.
2. Selvi teleprompter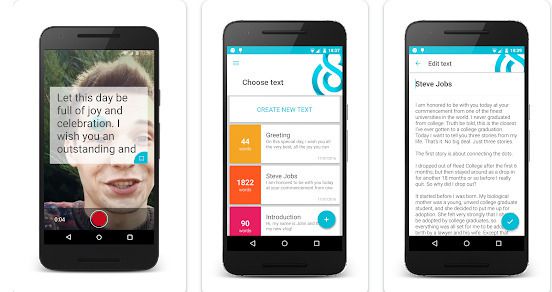 This app is a great camera reading app and the free version is more than adequate for my needs.With Selvi, you will finally be able to talk in fronts of the camera like the best TV presenters and vloggers. It is one of the Best Teleprompter Apps For Android.


Features
Create and import texts (.txt) from the memory of your device

A special widget that allows you to move and adjust the size of the text reflected on the camera for simple use.

With the use of on-screen movements, a simple mechanism for configuring the speed and size of movable text is provided.

Sharing recorded films on YouTube and other social networks is possible.

Possibility of exporting the text to Selvi from a browser and other applications

Altering the video's resolution

A different camera (front-facing or back camera)
3. BIGVU teleprompter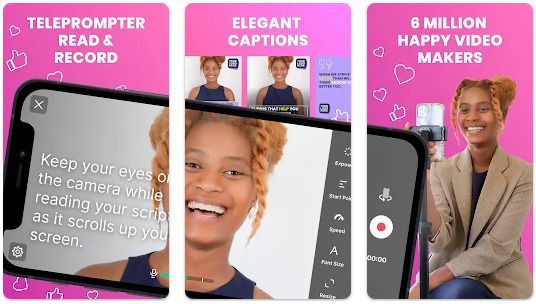 The BIGVU platform allows small businesses and professionals to create and edit marketing videos with the popular Teleprompter app, which allows users to easily record videos and use scripts with confidence. BIGVU is thebest teleprompter app for android and iPhone with over 3,000,000 users recording 2 million videos every month. Over 6 million users create professional-looking videos with the BIGVU teleprompter app.
In short, if you're looking for an all-in-one teleprompter app, etc., if you don't care about video resolution and are happy with lower frame rates, then BIGVU is for you. BIGVU (pronounced BIG VIEW) is an advanced video teleprompter, automatic subtitles, green screen background replacement with chroma key, and advanced video editing features including adding background music, cropping, trimming, customizing videos with your logo, andadd video animations with contact details to your business card.


4. Teleprompter Pro Lite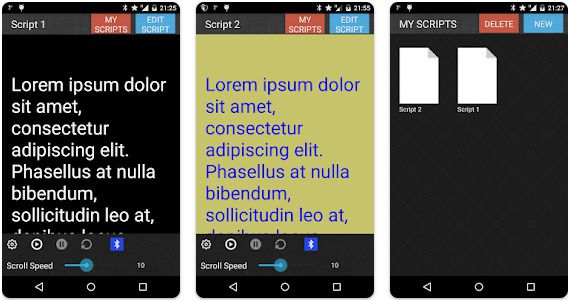 Teleprompter Pro LITE is a free professional teleprompter system that comes with tons of features to help you act like a professional TV presenter. The app offers a professional way to read out scripts while recording your video.
The app has standard features such as font selection, text size control, scroll speed control (even while running), and script import. It's ideal for most applications, although we still recommend the paid version which unlocks mirror mode so you can use the device as a monitor for a teleprompter kit.


Features
Countless scripts (Paid Version Only)

Import script from a text file (Paid Version Only)

For use with teleprompter setups, mirror mode (Paid Version Only)

Screen mode in full

Choosing the font and background colours

Removing scripts

Slow down the scrolling and modify the text size

Brightness control within the app
5. Prompster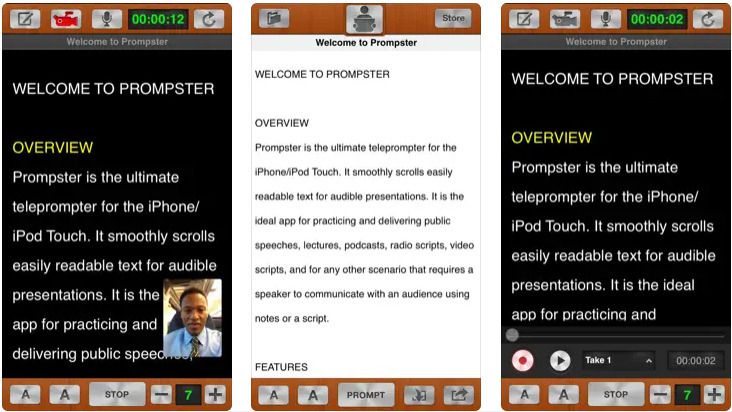 Prompster comes under one of the best teleprompter apps for iPhone and Android devices. It presents audibly via smoothly scrolling clearly legible text. Cue cards, flashcards, notes, and scripts must never be used again. Suitable for Public Speaking and Business Presentations
This is also thebest app for rehearsing and presenting public speeches, lectures, podcasts, radio scripts, video scripts, and any other situation where a speaker must interact with an audience while using notes or a script.


6. Elegant Teleprompter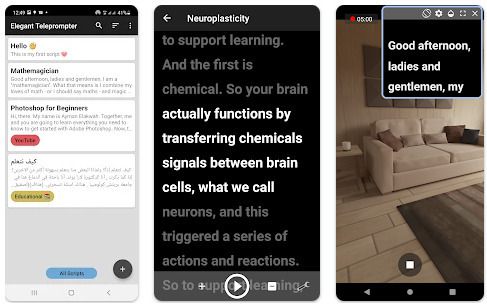 By showing scrolling text that may be written on your smartphone or imported from online services like Google Drive, Elegant Teleprompter helps you talk clearly while making the video. It displays a small floating widget on the video which is easy to read and easily accessible.


Features
Reverse text

Text imported from a disc or storage.

Assistance with Bluetooth remote.

Adjust the scrolling script's width.

Concentrate on the script's focal point (make it more bright).

Shortcut keys can be set up to carry out certain tasks.
7. Oratory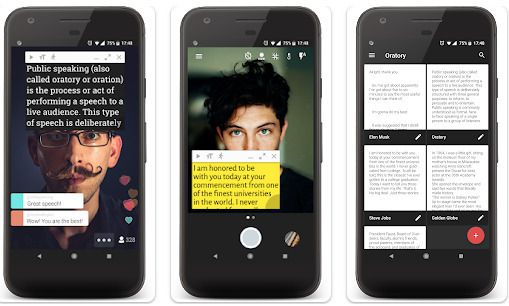 Oratory is one of the best teleprompter apps for Android and iOS users that can be used to become a great speaker. To attract more people to your videos, use this mobile prompter to deliver a powerful speech. This app offers you a customizable script reading as you record yourself for video broadcasts with a unique widget that functions well on most apps.
This app is a straightforward program that provides easy-to-use elements for crafting effective speeches. With the help of Oractory app, you can easily adjust the widget's size and location with this app.


8. PromptSmart Lite Teleprompter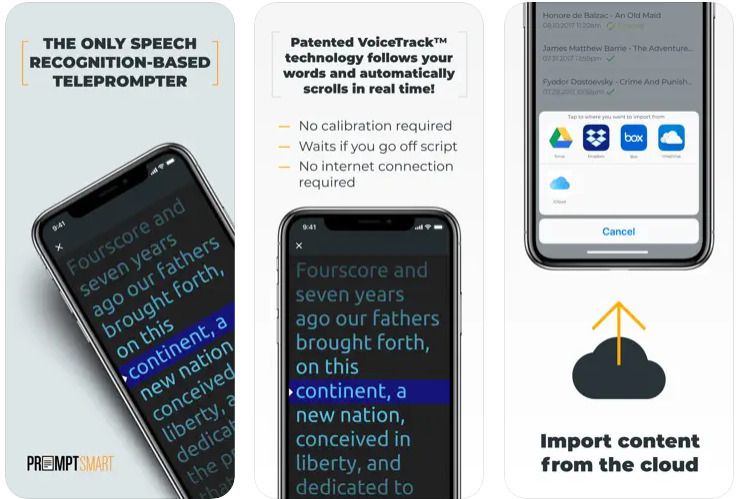 The best feature of this app is that It can automatically follow your speech in real-time. This program makes it much simpler to produce quality videos and delivers a few important features with a free version.
PromptSmart is the most preferred Teleprompter among users of Android as well as iPhone. Additionally, it includes digital notecards to keep you focused; you can import files from several cloud services, including Google Drive, One Drive, and Dropbox, using the lite version.