Torrents are files containing meta-data through which you can download games, software, documents, media files, and many more. Torrent works on a peer-to-peer sharing network. When you download a torrent file with torrent clients, your computer starts receiving the fractions of files stored in hundreds and thousands of computers across the web, and at the same time, you also contribute to sharing a crumb of that file on the web. This feature makes torrent files decentralized and eliminates their dependency of downloading from a single server.
Torrent files that have more seeders (People who have completed downloading the file and are sharing it for others to download) tend to possess higher downloading speed. There is plenty of software through which you can download torrent files. This article will assist you inchoosing the best torrent clients available out there in 2023 for your windows.
Before we proceed, it is necessary for you to know thatdownloading files through torrent possess some crucial risks. You make your IP address public while downloading torrent files or seeding it, so always try to use a secure VPN connection and restrain yourself from downloading pirated kinds of stuff and illegally uploaded files. They might infect your PC with viruses and malware, so it's better to have an antivirus installed on your computer. Try to prevent yourself from surfing on illegal torrent downloading websites and always use Ad-Blocker & Pop-up blocker extensions.
List of 10 best torrent clients for windows to download torrents in 2023
1. qBittorent

qBittorrent is one of the best torrent downloading software out there. It is an open-source torrent clientbased on native C++ and is developed by volunteers. Since it's open-source software, it is maintained and developed through donations. It has an attractive user interface. You get the option to download and applyvarious themes in qBittorrent.
Features
It's Ads-free

Remote access

Attractive user interface

Uses less space and RAM

Bandwidth scheduler

Torrent creation tool

It has RSS feed support with advanced download filters

Available on various platforms: Windows, Linux, macOS, FreeBSD, OS/2
Download qBittorrent
2. µTorrent

µTorrent is probably the most popular torrent client. It has a simple and clean user interface and is available in two different variations. One isµTorrent Web in which you can directly download the files from your web browser, and the other isµTorrent Classic which gives you the traditional feel.µTorrent allows you to stream videos and audio files prior to its 100% download.
There are three plans ofµTorrent, Premium, Ad-Free and with Ad. Premium gives security and blocks malware, the Ad-Free plan only removes the Ads and the last one is a free version with Ads.
Features
Integrated torrent search engine

Available in browser and classic versions

Scheduling of your downloads

Allowstreamingwhile downloading

Auto-adjusts bandwidth usage

Clean and decent user interface

Flexible plans to choose from

Available on Windows, Mac, Linux, and Android

Lightweight
Download µTorrent
3. BitTorrent

BitTorrent is the oldest torrent downloading software as it was developed in 2001. It is the world's largest decentralized file-sharing protocol. BitTorrent has its own cryptocurrency i.e. BTT. Just likeµTorrent, BitTorrent also hasBitTorrent Web andBitTorrent Classic.
The free version of this client has almost all the required features but if you want customer support and an Ad-Free experience then you can opt for a Premium or an Ad-free plan at a reasonable cost.
Features
Earn BTT token rewards for seeding

Can play both torrent files and magnet links while they download

Set download and upload speed limits

Available in 15 languages

Prioritizing feature available for faster downloads

Available in browser and classic versions

Small setup file and minimum resource usage

Available on Windows, and Android
Download BitTorrent.
4. Vuze

The Vuze, previously known as Azureus is a feature-loaded torrent client. It is a lightweight software that has an automated optimization function for downloading speed of torrent files. It has its own torrent search engine, so you can find specific torrent files like movies, videos, music, pdfs, softwares & games easily. With Vuze +, you canBurn DVDs, enjoy an Ad-Free experience and play media files while downloading.
With its highly customizable UI, you can adjustsettings accordingly. Vuze has also got you covered with its own VPN.
Features
Find Torrents in one click with help of metasearch

Can play any type of video torrent file

Faster torrent downloads

Remote access to your Vuze desktop client

Burn DVDs easily

Integrated, cross codec, high-definition player
Download Vuze.
5. BitComet

Bitcomet is a free C++ based torrent downloading software that helps you to download files quickly and safely. It's completely free software with plenty of features. It supports 53 languages. With Bitcomet you can do long-term seeding as well as revive dead torrents.
Features
Allow automatic shutdown after download completion

Preview while downloading

User-friendly and easy to use

Can set speed limit for both uploading & downloading

Multi-Language support

Available on Windows, MacOS, and Android
Download Bitcomet
6. Deluge

Deluge is an open-source torrent client which is based on Python. Deluge is released under the terms of the General Public License which ensures 4 freedoms: Run, Study, Share, and Modify. Deluge comes with a rich plugin collection in which some are included with the software and the remaining can be downloaded and installed from its official website. These plugins make Deluge a feature-rich torrent downloader software and that's why it's present in our list.
Features
Ad-Free

A rich collection of Plugins

Allow remote connectionto the Deluge daemon

Comprises GTK UI, WebUI & Console UI

Available on Windows, MacOS, andUbuntu
Download Deluge
7. WebTorrent

Whether you're playing videos, music, or audiobooks, you don't have to wait for them to download. You can play it right away. It is built with the help of JavaScript and uses WebRTCforP2P transfer. WebTorrent is an Ad-Free open source torrent client with all the source code present on GitHub. It's lightweight software, enabling it to run seamlessly on low-end PCs.
Features
Ad-Free

Lightweight and fast

Cool user interface

Instantly stream audio andvideo

Available on Windows, MacOS, andLinux
Download WebTorrent.
8. Tixati

Tixati is free, uncomplicated, and easy-to-use software without Ads and free from spyware. Donations fuels the development of Tixati. It is fully compatible with BitTorrent Protocol. Tixati possesses different setting options which can be used to achieve higher downloading speed. It's underrated but one of the best torrent clients that comes with some great features.
Features
Portable edition is available

Ad-Free

Easy and quick install

Advanced bandwidth charting

Low PC requirements

Ultra-fast downloading algorithms

Available on Windows andLinux
Download Tixati.
9. FrostWire

FrostWire is another great torrent downloading software built from the collective efforts of open-source and freelance developers. It was initially released in 2004 and used to function upon LimeWire's Gnutella Client but now it is fully a BitTorrent client. It has a Free Music section on its official website to download songs for free.
Features
In-App Search

Stream while you download

It has its own media player

Available in 20+ languages

Available on Windows, MacOS, Ubuntu, and Android
Download FrostWire.
10. BitLord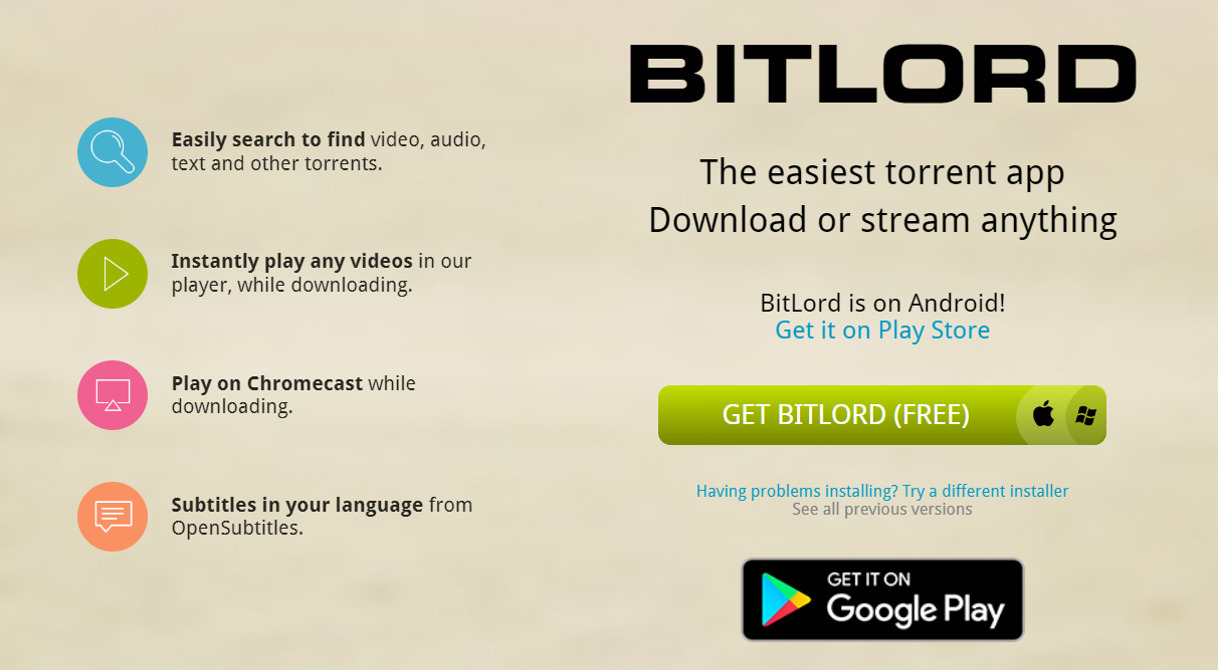 Released in 2004, BitLord is another good torrent downloader software built through Python programming. It is popularly known for its easiness to use and comprises some good features that too free of cost. It provides customer support as well.
Features
In-built search mechanism

Allow sorting and creating playlists of your downloads

Stream while you download

Supports Chromecast

Available on Windows, macOS, and Android
Download Bitlord.
So that's all for you. Happy Torrenting 🙂