We cannot deny that watching videos on YouTube is the best time killing activity. Some of us not only watch videos to kill some time but for gathering some information. Yes, YouTube is fun with lots of informative videos, cartoons for kids, movies, and music. However, there is only one drawback that is you cannot download YouTube videos for later if you do not have the premium version. Moreover downloading YouTube videos is limited only to mobile users. The desktop users cannot download the videos for viewing later. Thanks, to brilliant brains who always come up with a solution for every problem. Yes, it might be difficult to download YouTube videos but they are not impossible to download. There areYouTube video downloader chrome extensions for desktop users who can easily download YouTube videos.
The pros of using the Chrome extension is that you will not have to download any extra software for this petty task. All you have to do is install the extension and toggle it on for the Chrome Browser. Out of all extensions, we have carefully curated the best 5 chrome extension for YouTube Video Downloader.
Related Article: 10 Best Online YouTube Video Downloader
5 Best YouTube Video Downloader Chrome Extensions
1. Addoncrop
Addoncrop is one of the bestYouTube video downloader chrome extensions with options to choose the video quality you want to download. On opening the Website, you also get the option to choose the browser you want to download for. It is trusted by billion downloads. The best feature which makes Addoncrop different from others are is that the extension will not redirect you to other third party websites, it's a lone wolf.
Apart from all these amazing features, using Addoncrop is also very simple. All you have to do is install the chrome extension. Magically, the video download button will be added below the video you will be watching. The download video button will also display different formats in which you can easily choose which quality you would like to download. You can also convert the YouTube videos into mp3 using this fantastic Youtube video downloader extension.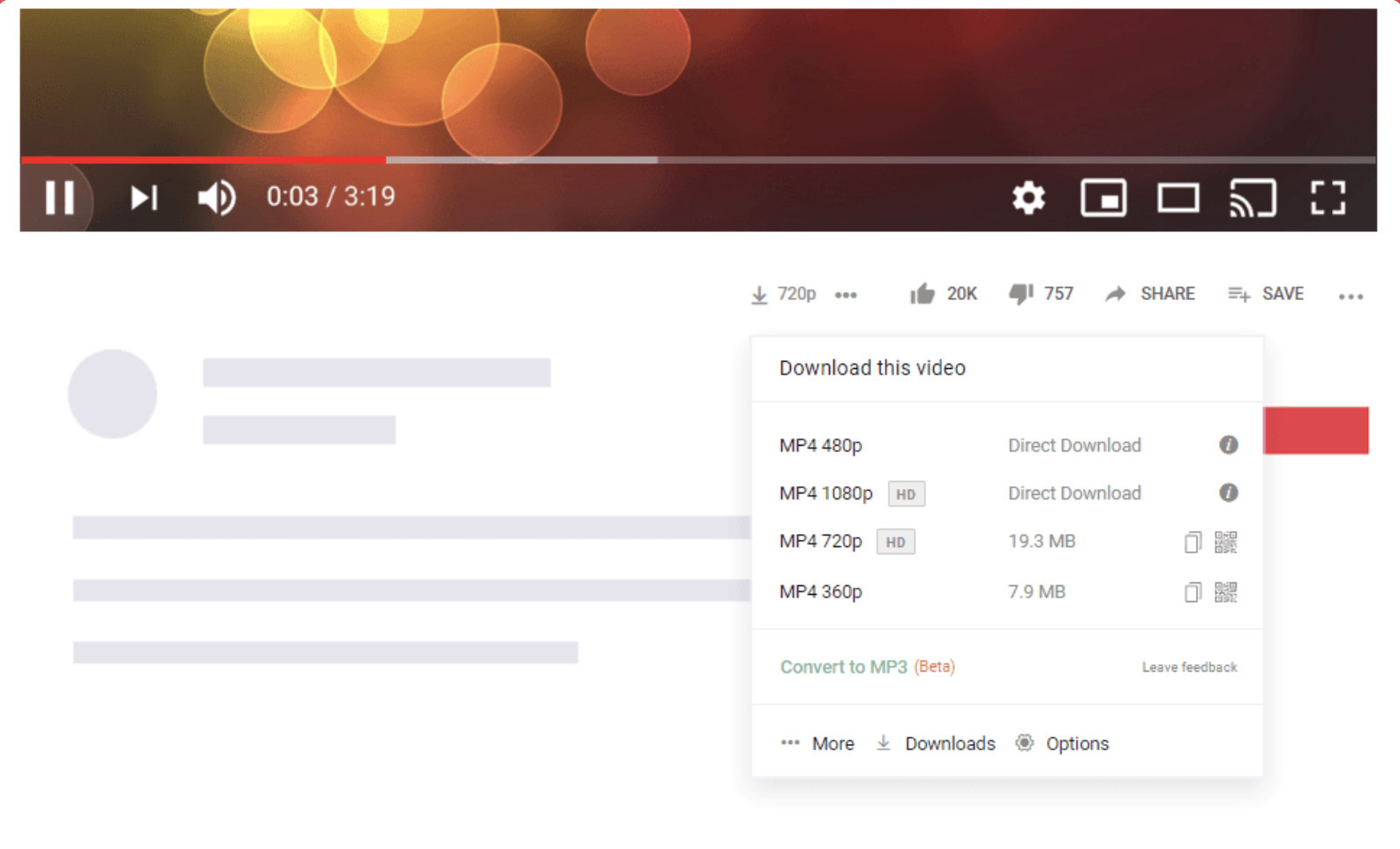 Quick glance at Features:
You can download videos in 2160p (4k), 1440p (2k), 1080p (HD), 720p (HD), 480p, 360p, 144p etc. formats. Aditionally these video qualities also supports formats likeMP4, FLV, WEBM, 3GP.

The extension also allows the downloading of dash videos and audio streams.

You can also download videos from embedded YouTube players. All you have to do is move the cursor over the video, download button will appear. You can click on it to save the video.

Screenshots can also be captured using the YouTube video downloader.

The Chrome extension for YouTube Video Downloader also allows customization like enabling YouTube cinema modules, Dark theme for YouTube, enable autoplay, and more.
Note: The mp3 converter only supports converting of 180 minutes audio-only.
Download Addoncrop chrome extension
2. Savefrom.net
One of the most popularYouTube video downloader chrome extensions is Savefrom. Although it requires the installation of two different files, it worth a try.Using this extension is very simple. Once you have downloaded the extension and added it to the chrome browser, you will receive automatic detection pop up which enables you to download the video with ease.
To add theYouTube video downloader chrome extension to your browser, follow the steps or you can directly follow the steps from its official website.
From Chrome Web Store, add Chameleon extension.

To use SaveFrom.net helper, install it from Opera addons.
Quick Glance on Features:
You can download videos from Youtube with just one click.

It allows downloading videos from YouTube, Facebook, Vimeo, Dailymotion.

The extension supports a wide range of video quality in which you can download.

You can also download music, videos, and pictures.
3. Video Downloader Professional
As the name suggests, you can download a video just like a professional using this Video Downloader Professional chrome extension. It takes just one click to download a video. You can also choose from a wide range of resolutions whichever will be the best for you. Once you have downloaded the extension, install and press the green arrow 'mantra' will do your work real quick.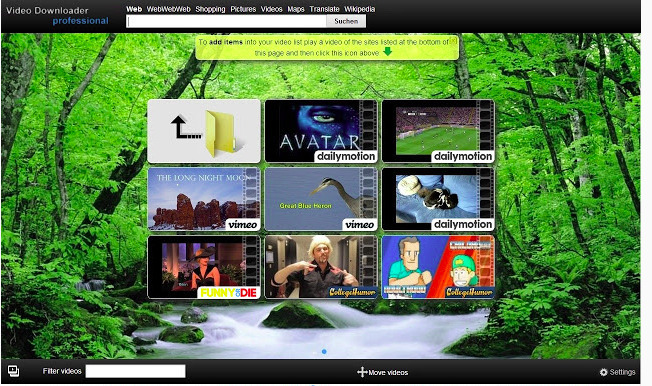 Quick Glance on features:
You can download the video in any resolution you would like to.

Send the video to Chromecast payer is also possible.

Simple to use.

Play MP4 videos via Google Chromecast on your TV.
Download Video downloader professional
4. Flash Video Downloader
Not just for YouTube videos, Flash Video Downloader is for all websites which can open on Chrome Browser. You can download videos from Facebook, YouTube, Fly Videos, etc in all available formats. The best part of using the extension is that you do not have to put extra effort. The extension does the maximum of the efforts. It automatically detects the videos and all you have to do is click on its button to download the video.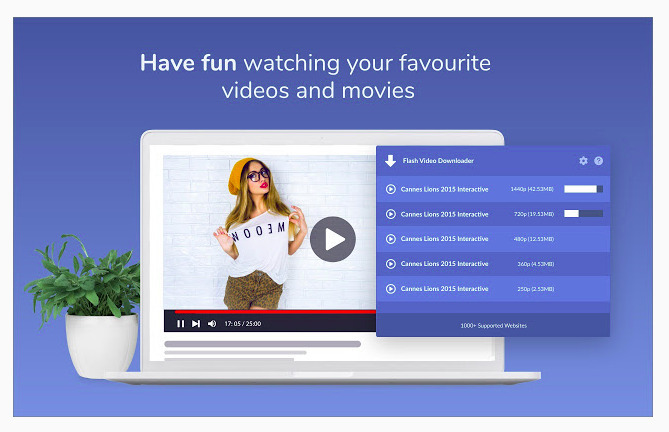 Quick Glance on features:
The extension is free to use.

Unlike other extensions, it will not bother you with ads.

Additionally, it supports 2 languages.

YouTube streams can also be saved using the extension.
Download Flash Video Downloader Chrome Extension
5. Airy YouTube Downloader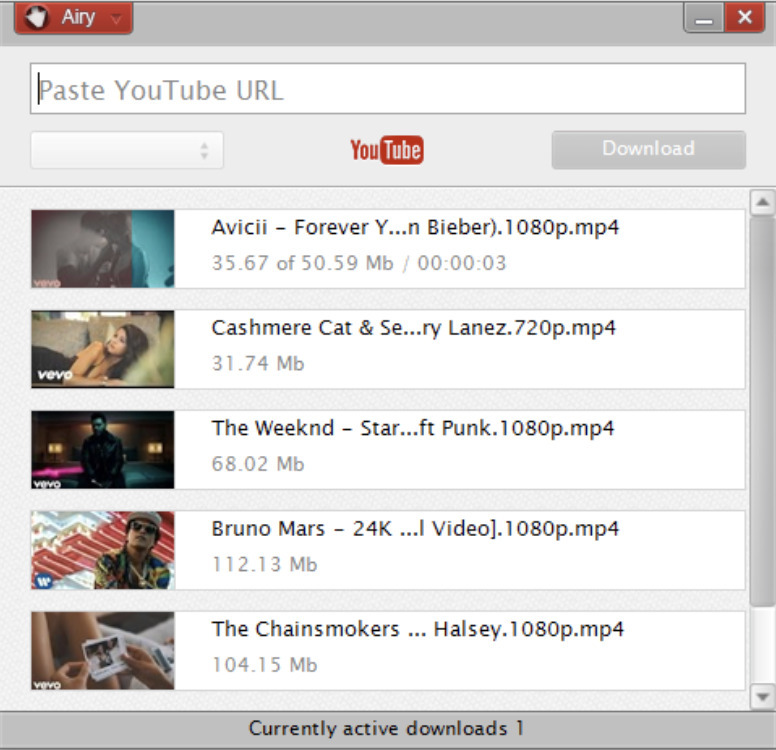 Airy Youtube downloader is a very popular PC application to download Youtube videos. Now the developers of Airy youtube downloader make a Chrome extension to download youtube videos using the Chrome browser. However, sometimes installing theYouTube video downloader chrome extensions is not so easy. So to install Any youtube downloader, follow the below steps.
The first step is to download the Airy youtube Downloader zip file.

The next step is to typechrome://extensions in the URL section of the browser. Move on to developer mode and click theLoad unpacked extensionbutton to upload the extension zip.
The installation process might be lengthy but using the extension is very simple. You will get to see the download button at the bottom of the video you will be watching. Click on the button to download your favorite videos.
Quick Glance on features:
The extension works for every platform and is easy to use.

The downloading process is faster.