Almost everyone uses Netflix to keep them entertained or out of loneliness and depression. But, wouldn't it be better if there was some way to make this experience more fun and easy. So to increase or enhance your viewing experience, Chrome browser has lots of Chrome extensions for Netflix that will definitely double the enjoyment. These Netflix Chrome Extensions are a perfect way for you to exploit this platform to the fullest.So, here we have made a list of 10 Netflix chrome extensions you should download right now to enhance your viewing experience.
Related Article: Top AI-Based Netflix Series and Movies To Watch In 2021
List of 10 Best Netflix Chrome Extensions
1. Netflix Party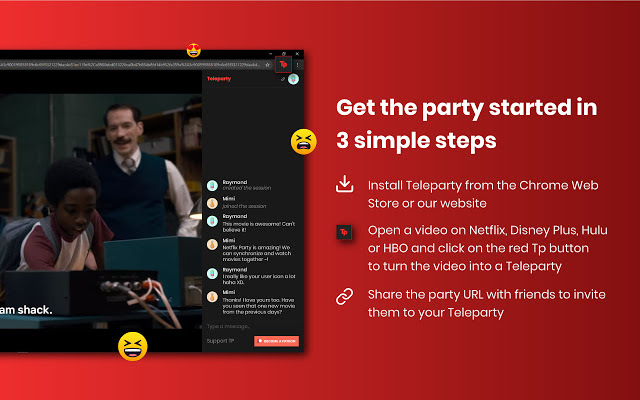 Netflix Party Chrome Extensions is one of the most popular extensions that is used by more than millions of users. Through this extension, you can watch Netflix, Disney Plus, Hulu, and HBO with friends who are not physically present with you. It turned out to be a boon for people during this quarantine period who loved watching Netflix with their friends or a special someone.
Moreover, you can synchronize video playback as well as add group chats to your favourite streaming site. In its latest update, Netflix Party added support for Disney Plus, Hulu, HBO and was therefore renamed Teleparty. With Netflix party Chrome extension, house parties and long-distance Netflix dates are double the fun!
2. Super Netflix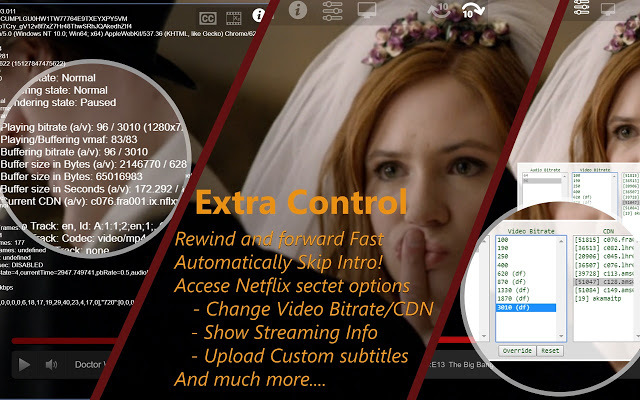 Super Netflix Chrome Extensions will let you customise Netflix as per your requirements. It literally gives Netflix superpowers! You can not only change the video quality but also control video speed. The limited amount of features in Netflix is at times annoying but with Super Netflix, it's not annoying anymore.
Along with all these features, you can also add custom subtitles, start the video from a particular point, and even set the colour scheme of a TV show. You can also blur the thumbnail and short summaries of each video to avoid spoilers. You can also skip those invasive intros automatically. What else? You can also change volume directly through the mouse which makes watching Netflix so much easier.
3. Language Learning with Netflix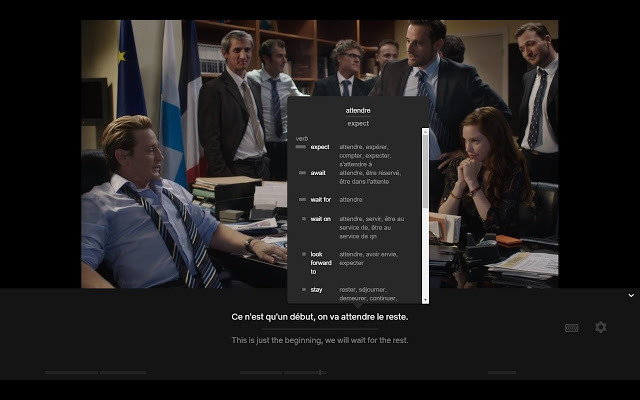 With more than One million users, Language Learning with Netflix is third in our list of best Netflix Chrome Extensions. If you are trying to learn a new language and have no friends around to practice it, this extension might as well do the job. Through this extension, you can efficiently and effectively improve your skill by watching your favourite films and series in the language you want to learn. What's even better is that subtitles are shown in two languages, the language you are unfamiliar with and the language you are trying to learn, allowing you to compare between the two.
Moreover, you can listen to subtitles one at a time and also change the playback speed for better understanding. There's also a pop-up dictionary that suggests the most important words for you to learn.
Get Language Learning With Netflix
4. Netflix Flip – Rotate Netflix in Your Browser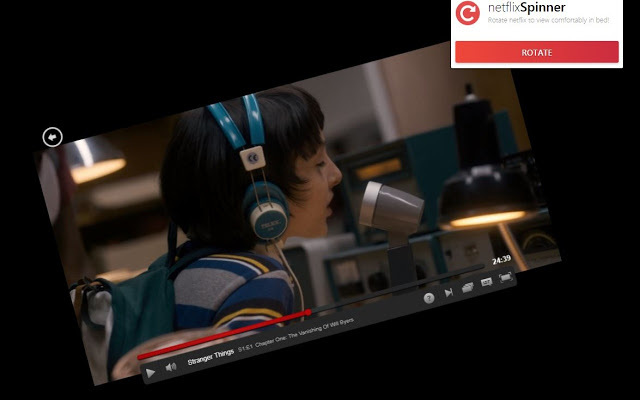 Let's agree that watching Netflix on a laptop while in bed can be very uncomfortable at times. But, with this Chrome Extension for Netflix, you can flip, spin and zoom Netflix to watch comfortably in bed. Not only can you flip the screen but also zoom in and out to watch comfortably from any distance.
With more than eight thousand plus users, this extension has a rating of 4 out of five. And the best thing about this extension is that it lets you rotate to any angle as per your position. Use this app and you don't have to go through back-pain anymore after hours of binge-watching on Netflix.
5. Netflix AutoSkip: Skip intro and outro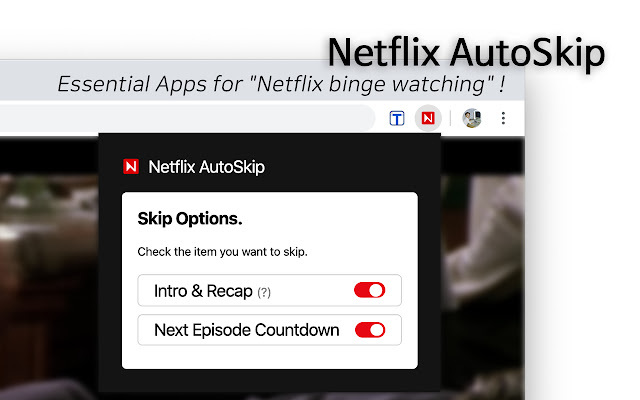 As the name suggests, with this Netflix Chrome Extensions, you can automatically skip the intro of a specific episode and play the next episode without any problem. You just have to enable the extension to watch episodes without clicking on the 'skip' button. The 'Next Episode' Button Auto Click will play the next episode directly. You can also skip the recap automatically to avoid unnecessary wastage of time. Netflix Auto Skip, when installed in Chrome is very easy to use and has over nine thousand users.
6. All Netflix Categories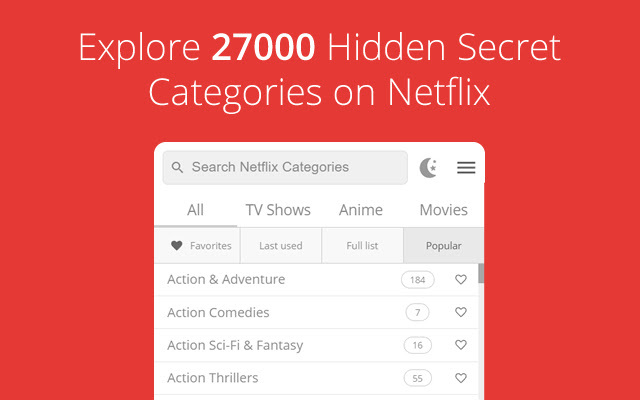 Did you know that Netflix has an All Netflix Categories Chrome extension that can unlock over 27000 hidden secret categories on Netflix? If you want to watch a horror movie preferably one with a vampire in it, you can just search for Vampire horror movies. It has subcategories like 'Biographical Basketball Documentaries', 'Canadian', 'Alien Sci-fi' etc.
Moreover, the extension comes with a list of subcategories and genres that you can mark as a favourite for easy access. Additionally, TV Shows, Anime, and Movies are in different tabs that have their own subcategories. The extension does not run in the background and therefore does not use any of the system's resources when not in use.
7. Netflix profanity filter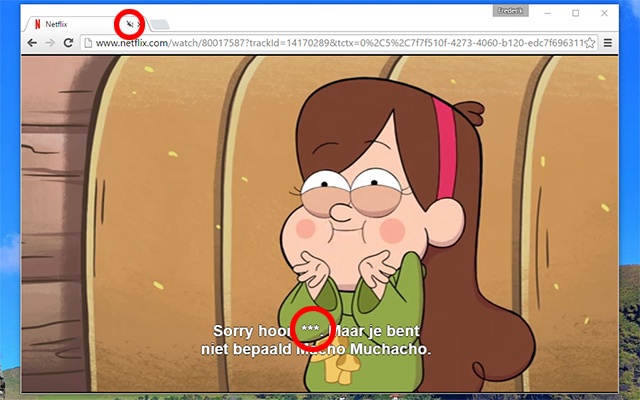 Netflix profanity filter is one of the best Netflix Chrome Extensions for kids. As the name suggests, the extension filters out profanity words or slang words from Netflix in order to make it appropriate and child-friendly. It censors the subtitles as well as mutes the audio whenever a character utters an inappropriate word.
You can also customize the list of profanity words as per your wish. We have always felt a little comfortable while watching our favourite movies or shows with our kids or younger siblings around. In a time like those, this filter can be a godsend. In order to enable this chrome extension for Netflix, your subtitles must be turned on.
8. Netflix Viewing Stats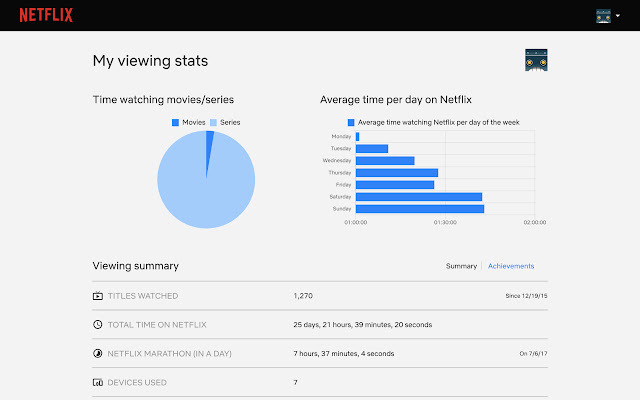 Netflix Viewing Stats Chrome extension lets you view the way you spend time on Netflix. We have all been curious at some point in time about the total number of movies we have watched on Netflix, or about the number of hours we spend on Netflix in a day. This Netflix Chrome extension allows you a dashboard to show your viewing stats. Additionally, this extension is integrated with the Netflix site and calculates the total amount of time you use Netflix.
Some of its features are it shows the total amount of time you spend on Netflix, the total amount of time you watched Netflix at a stretch. It also shows a comparison between the amount of time spent watching movies to the amount of time spent watching series. You can also use the search bar to see how many times you have watched an episode of a series.
9. ShuffleFlix – Netflix Random Episode Button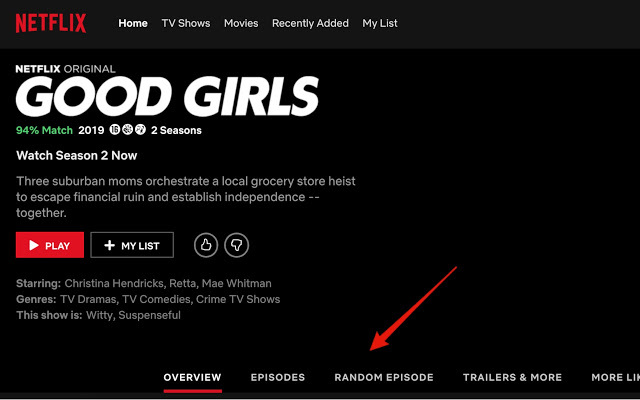 As the name suggests ShuffleFlix Netflix Chrome extensions shuffles episodes. Though this extension does not contribute to making the Netflix viewing experience easier, it does add a bit of fun. If you are watching an episode that you don't really like, you can use this extension to switch from this episode to any random episode. Moreover, this chrome extension for Netflix can really be useful while searching for an episode or movie to watch.
10. IMDb ratings on Netflix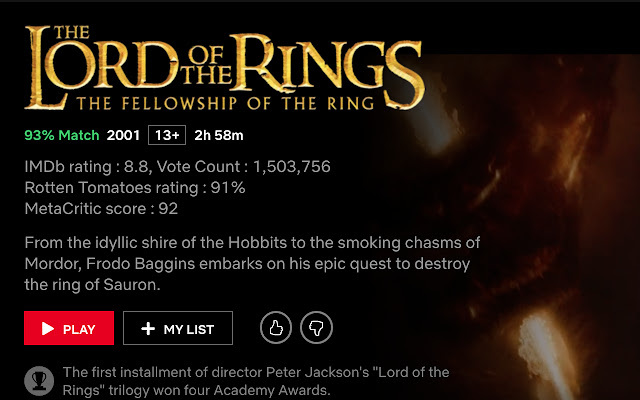 Let's agree that a lot of people depend on IMDb ratings to choose a movie to watch. And, at times it gets irritating to search the IMDb rating of each and every movie we plan to watch. But, with this Netflix Chrome extension, we can see the IMDb ratings of movies directly in Chrome. Moreover, the IMDb ratings are also accompanied by a vote counts of the movies, their Rotten Tomatoes ratings, and Meta Critic ratings.