In today's competitive world, relying only on your school and college education is not enough. To get an edge above others, it's important to learn new skills side by side and keep yourself updated and industry ready. Whether you are looking for advancing your career or acquiring new skills, online learning platforms are the best solution for you, where you can learn new skills, explore topics, grow your knowledge, and boost your careerfrom the comfort of your home. With several websites on the internet offering online courses, we have shortlisted the 5 best online learning platforms that provide you with expert-led courses and valuable certificates of completion.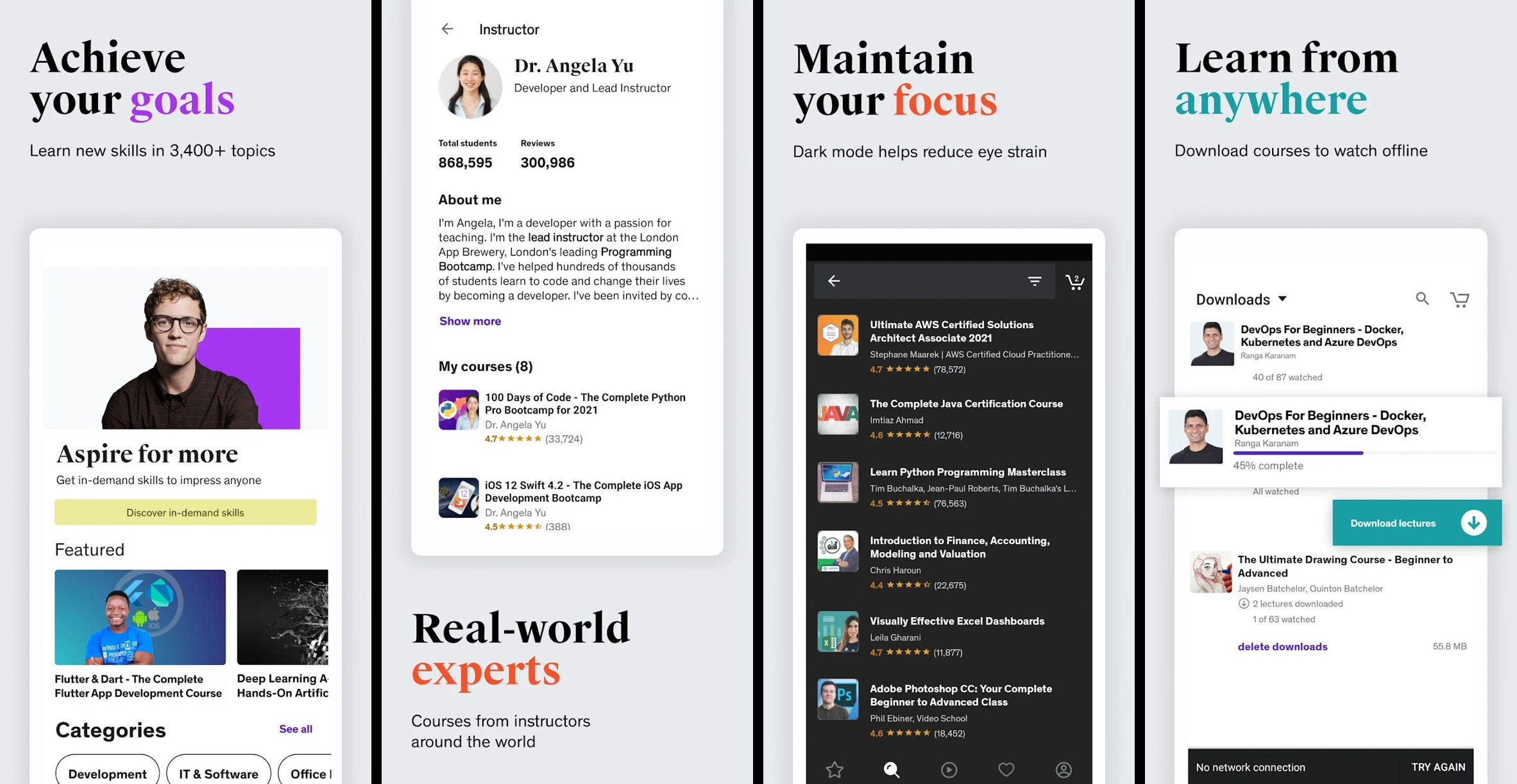 With millions of learners and real-world instructors worldwide, Udemy stands out to be one of the best learning platforms for everyone. Whether you're a professional looking for career advancement or a student who wants to learn new things, this is a perfect platform that offers you over 45,000 courses from different fields like business, IT and software, design, and many more. Certification courses here are affordable and can be availed at discounted prices. However, if you are looking for free courses then many options are there as well. Udemy has its own feature-loaded app to ease your learning experience.
Features
Over 45,000 courses

App is available

Real-world industry experts

Courses in over 65 languages

Download courses and learn offline

Dark mode for the app

Customized schedules and reminders

Lifetime access to courses

Q&A with instructors

Udemy business

Affordable and discounted courses

Get certificates of completion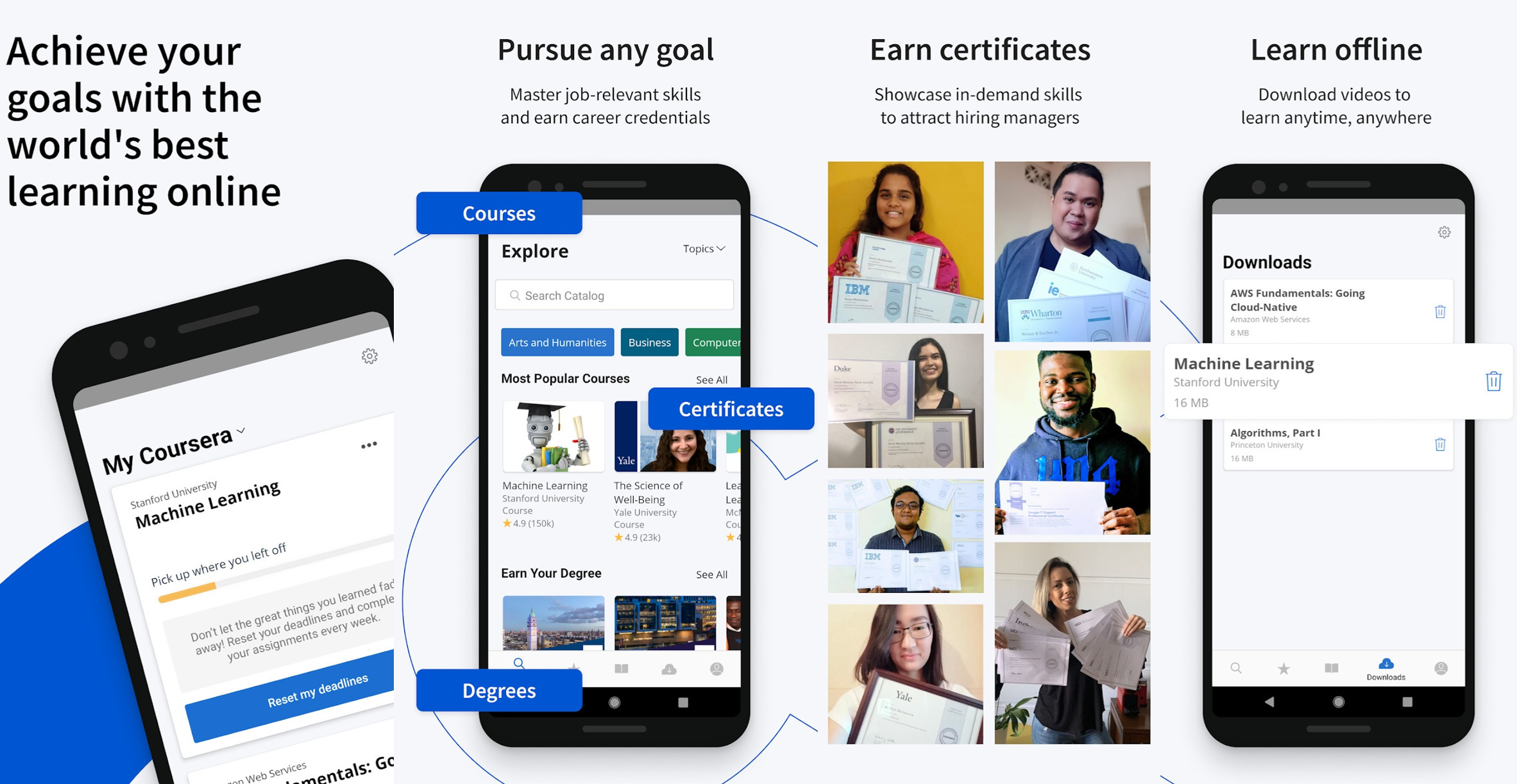 If you're looking for a good distant graduation or post-graduation program then Coursera can be your best learning platform. It provides certification courses and degree programs from the best companies and recognized universities around the world. You can start, switch or upgrade your career by learning industry-relevant and in-demand skills from world-class experts. Coursera helps you to boost your career with bachelor's or master's degrees, industry-specific courses, professional certification programs, and many more. They have both free and paid certification courses and have their own app where you can download courses and explore other features.
Features
Professional programs

Online degree programs

App is available

Learn from industry experts

Various free courses are available

Download courses and learn offline

Learn from top companies and universities

Customized schedules and reminders

Coursera for businesses

Coursera for universities

Coursera for governments

Get certificates of completion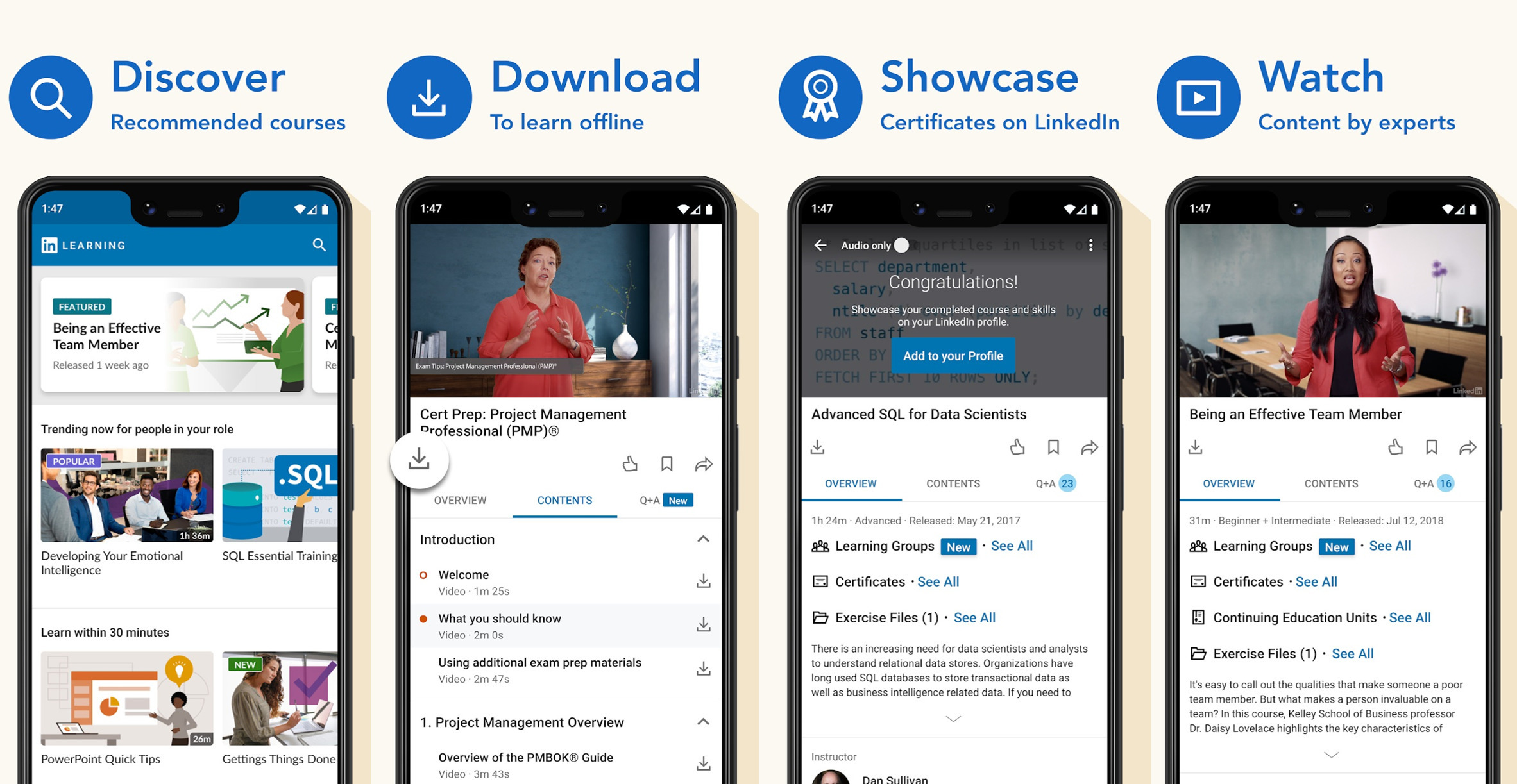 LinkedIn which is a popular social media platform among employers, job seekers, and students, offers a learning platform as well named LinkedIn Learning that can be accessed through its website and its own app. Here you can explore over 21,000 courses taught by experts and acquire all the skills you need to give your career new heights. You can learn by watching small-sized videos wherever and whenever you want. LinkedIn Learning allows you to download courses so that you can watch them offline and gives recommendations to various courses of your interest. With various free courses available, you can buy a monthly or an annual subscription as well to watch paid courses and showcases your certificate on your LinkedIn profile.
Features
App is available

Access over 21,000 courses

Free trial of 30 days

Monthly and annual subscription

Expert-led courses

Watch course videos at your own pace

Download videos for online viewing

Various free courses are available

Download courses for offline viewing

Add certificates of completion to your LinkedIn profile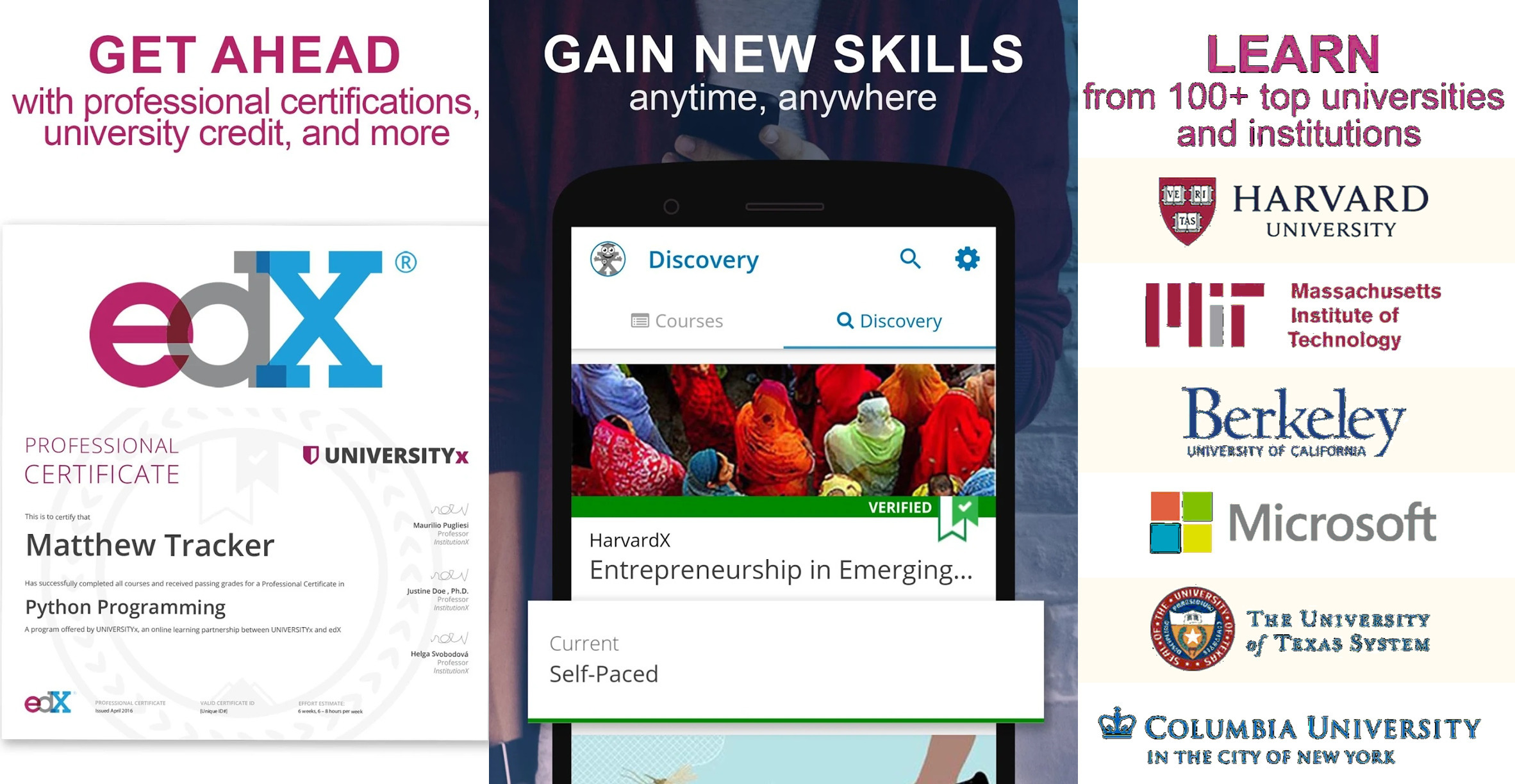 edX unlocks the potential of millions of learners where they can acquire and enhance new skills. Here you can pursue a bachelor's or a master's degree in a diverse sector from top universities like Harvard, MIT, Oxford, etc. without worrying about location and cost. Thousands of courses from several fields are available on edX which are provided by top companies and institutions that help you in acquiring real-world knowledge and industry-specific skills.
Features
App is available

edX for businesses

Over 6,000 courses and programs

Audit tracks and verified tracks

Unlimited access to course material

Learn from top universities and companies

Self-paced courses available

Various free courses are available

Download courses for offline viewing

Get certificates of completion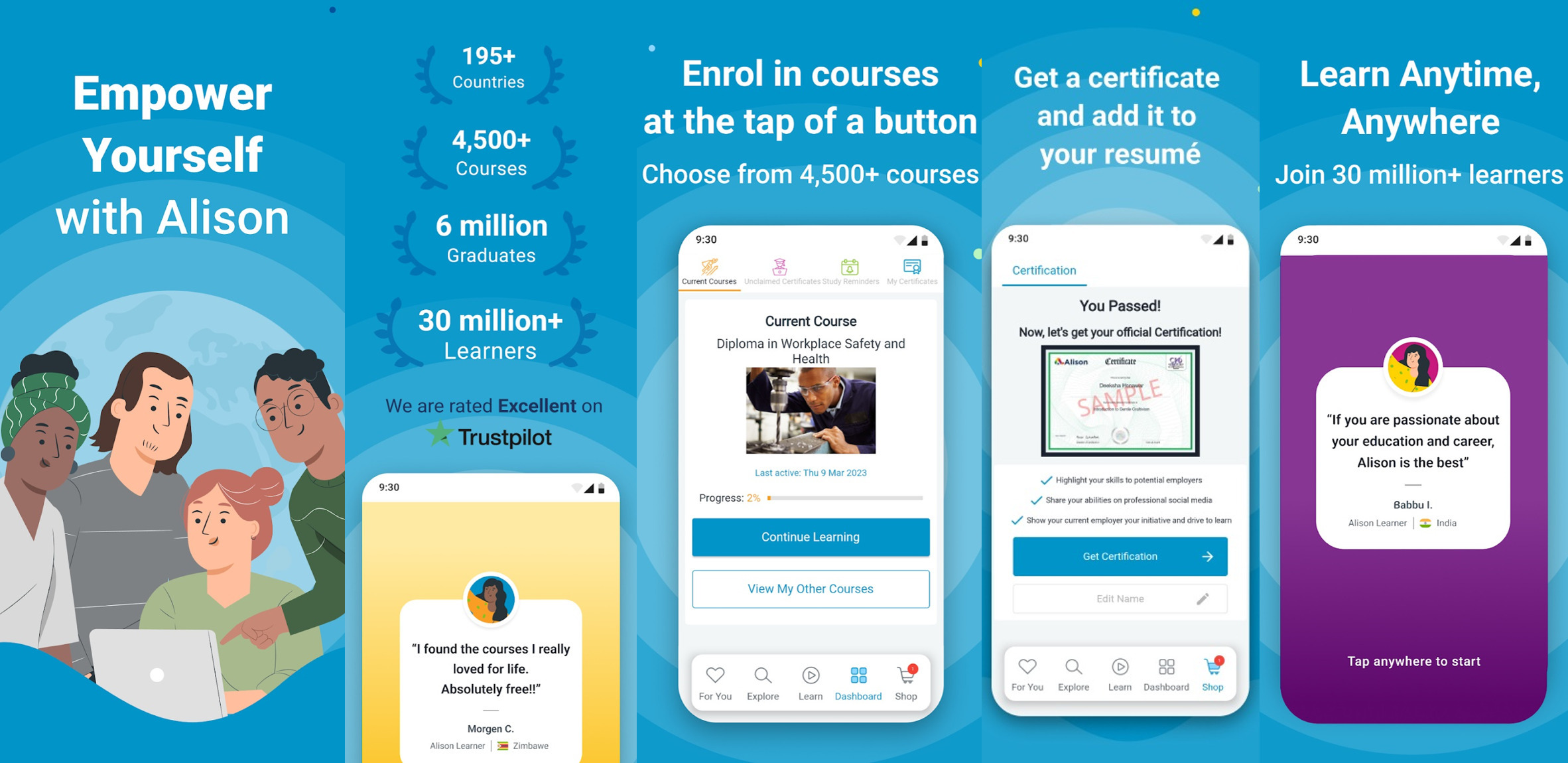 Founded in Ireland in 2007, Alison has become one of the world's largest free learning platforms where you can learn new skills and empower yourself irrespective of your economic status, location, and gender. Alison provides you with a well-organized library of more than 4,000 courses and programs where you can upgrade your skills and career. Alison's courses are 100% free which means that you can enroll in all of their courses for free and complete them. However, you have to pay the price if you want the certificate of completion as well. Alison has a mobile app where you can track your learning status and shop for courses.
Features
App is available

Over 4,000 courses and programs

All Alison courses are free to enroll

Taught by subject experts

Learn anytime and anywhere

Track your learning status in the app

Watch courses at your own pace

Personalized courses and career recommendations

Unlimited access to course material

Get certificates of completion