How to root Android device without computer
Dec 12, 2017
6117
Komal Rangoonwala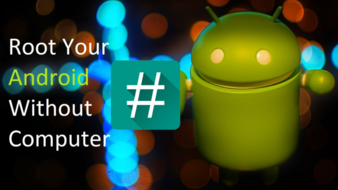 There are lots of applications that are can use for One Click Root without Computer. In this tutorial, you will find the complete list of these One Click Root apps and the step by step guide to Root your Android device without PC. To root Android device is to ultimately unleash a treasure of unknown features and functions. When you root Android device, it can let you access some of the coolest features that you are devoid of in an unrooted device. You can install and use apps built specifically for rooted phones, you can use custom ROMs, uninstall preinstalled apps, and what not! So for that reason, everybody wants to try rooting their device.
Must read Article: How To Uninstall System Apps Without Root In Android
Rooting an Android device with PC usually seems like an intricate process to many of us, but there is another way. So, rather than going through all those long procedures of USB debugging through a computer, you can root it using an app! You just need an app that does pretty much everything for you, such apps are called "one-click" apps. With the help of these Apps, you can root your Android device without PC.
Before you continue further, I would like to say that please do check out the official websites of these apps. They have given a list of devices their apps work on. Because if something goes wrong, it may brick your device. Therefore make sure you have a backup of all your data.
Here are some points to keep in mind before you root Android device:
Battery power should be minimum 50%-70%

You must enable developer mode as follows Settings -> About device -> Click multiple times on build number

Internet connection is necessary

You must change your device setting to allow installation from unknown resources

Take a backup of all your data
There are lots of One Click Root Apps available in the market. You can choose one from below list and install it on your device for rooting. I recommended to use KingoRoot because of its success rate.
Note that not all these apps might work for you, some apps may work only on some Android devices. And these apps have different versions as well. Each of these apps has their own pros and cons.
Related Article: How to Root any Samsung device with CF-Auto-Root using ODIN
Basic steps to root Android device using one of these apps:
Open the app that you have installed on above list.

Now you can either start rooting or it might show an error saying it is not compatible with your device. And right away you'll know that you have either downloaded incompatible version of the app or wrong app itself. Hence, always check the website to know if they support your device or not.

If you don't get an error, the rooting process will start and you won't have to do much.

Most of these apps will provide you with the options to install SuperSU (Super User), unroot and other options. You need to select install SuperSU if you get this option.
So now let's take KingRoot app for example and see how to root Android device using that app.
Steps to follow to root Android device without PC:
Step 1: Firstly download the KingoRoot Application from its official website. For Downloading just Google "KingRoot" or click here.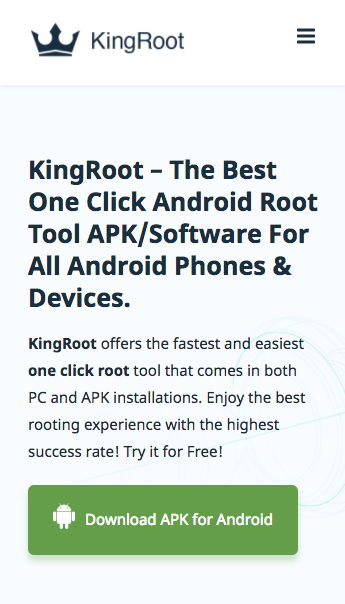 Step 2: Now just click on download button to download the app and install it.
If you get an error while downloading the app saying it's coming from an "unknown" or bad source, you need to enable the permission like this: Settings -> Security -> Enable the "Unknown sources" option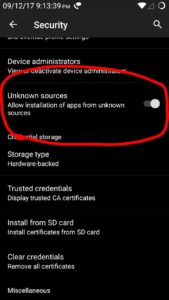 Step 3: Open the App and press the Try to root button to go ahead and root your device.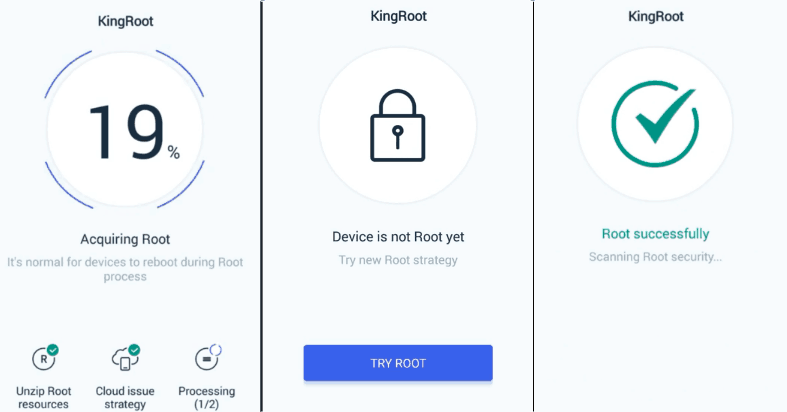 Now it takes some time to root your device. After rooting successfully you should get a "Root successful" message. But if you don't, you might want to check for an anti-virus app that could be blocking this from happening. And also try rebooting the device. Moreover, you can get a root checker to see if you've properly rooted your device or not. Install the Basic Root Checker app from play store for checking the root status.
Related Article: Top 10 reasons to root your android phone
And voilà you're done! You have successfully installed the Root in your android device without Computer!
These one-click apps don't require much assistance, as the name suggests you just need to click a single button and rest will be done by itself. Although, you must take care of the things mentioned above. Furthermore, you must also take into consideration all the risks involved. Any sort of carelessness can result in bricking your device. But if you follow each step and remember the warnings given on the app's official website, everything should be just fine.
Happy rooting!