Air purifiers - best of 2018 list | Buyer's Guide & Reviews
Nov 30, 2018
3215
Shreya Patoa
Air purifiers make the advent of a technology which we didn't know we needed. Its birth arises from coupled with groundbreaking technical innovation and, to capitalize on the present global crisis.
A toxic environment isn't the best gift to get yourself. Be it your co-workers who push gossip about you, or the pollutants suspended in the air. Both have the power to do you harm. To help filter out though-process you can take assistance from these apps, which therapists approve. To get a non-harmful environment for your respiratory system, check out our list of air purifies.
FRESH AIR keeps the DOCTORS POOR!
Air purifiers- what are they?
In summary, these devices filter out pollutants in of the environment, thereby improving air quality. They claim to boost air circulation around you, by distributing it in the entire room. At present, they are designed to operate from 4- 18 hours a day. Just like choosing an air conditioner, one needs to keep the zone of operation in mind before purchasing an air purifier.
Why should I really get an air purifier?
With the alarming increase in air pollution in this hour of global crises, it's worthwhile to think about getting one. The hazardous air quality index at the present time, communicates to the public, how serious the problems have become. After all, prevention is better than cure.
Carpets, pets, are hosts of bacteria which travel through the air. Dust can trigger breathing problems and allergies in general.
Let alone for the household consumer application, these have been a constant for industrial uses too. To name a few, these, customed designed air-fabrication solutions, oil-mist absorption, and welding fumes removal.
What technologies do these devices contain?
A luxurious living experience is something which all air purifiers brand themselves within the domestic market.  Promoting a sound sleep, & a healthy modern lifestyle is the alternative selling agenda. Technologies integrated into these devices are:
Quit sleep modes.

Energy consumption efficiency.

Air quality indicators with lights and display panels.

Artificial intelligence sensing.

Mobile applications for remote control and easy access.

Low noise.

WiFi connectivity.
Which air-purifiers are popular right now?
1. Honeywell HAC25M1201W 53-Watt
A washable filter in this device works as a carbon filter. It comes in a beautiful rose gold color and white color variant. Its sleek design makes up for the energy efficient performance. On purchase, you get a 1-year warranty. Although Honeywell is a well-known name in the automation industry, we guarantee you might not even need that 1-year warranty. It retails from INR 9K-12K upon the color variant selection.
Buy now
2. MI 2S
From the Chinese manufacturer, who took the nation by storm, comes this air purifier. Affordable at a price point ok INR 8K, it won't disappoint. Portable, powerful, it is convenient for placing in the bedroom or living space. It can be operated using Amazon Echo, or the MI mobile application.
Buy now
3. Phillips Area Sense 3000
If you are looking for an even advanced purifier, which can do more than remote access, the search ends here. It's got AI integrated features. It's got professional grade sensing and real-time PPM measurement display. It comes with an ultra-sleep mode, branded by VitaShield IPS: Intelligent Purification System which can remove particles even if it's 0.02 microns small. It can monitor indoor pollution and automatically work in a suitable mode. This device retails from INR 23K.
Buy now
4. 
Dyson Pure Cool 
If the concept of an invisible active device is in your mind, you can consider this device. It has 10 operation modes, contained in a towered body, which is so sleek that it camouflages. Night modes, diffuser mode, makes it unique. You can establish a connection between your phone and the device. It will abolish the middleman application integration, and save you some precious memory storage. It has distinct fan speeds, still, it doesn't make the buzzing sound. The LCD display will also notify when the filter needs replacement. It retails from INR 40K.
Buy now
Health is wealth.
We promote all natural and saving the planet. We encourage that you don't splurge on too many electronic devices whose plastic components cannot be recycled.
BE environment concious.
Before investing in air-purifiers, invest in activities which may save you from the hassle of getting one.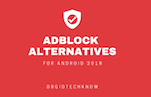 Top 5 best Adblock Alternatives for Android you must try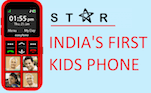 Kids Mobile Phone- STAR by Easyphone is India's first - DroidTechKnow