Most of us have a constant habit of getting a glimpse of our mobile screens now and then. Be it to see a message that has popped up or to simply note the hour, mobile screens are probably the screens that we look at more than we look at ourselves in the mirror. It is therefore entirely in fashion to customize our mobile screens as aptly as possible to suit our ideas. We constantly upgrade our apps, refresh our settings, and change wallpaper regularly to name a few. But there is one category of customization that we subconsciously wish for but don't easily get our hands on. And that is the Customization of our Notification Bar.
Over the past few years, the customization possibilities on Android have insanely improved and rightfully so as it provides a wide range of freedom to paste our thoughts into reality. Not to forget how user-friendly customization options are. Consumers can choose options and create preferences in a system through customization, which aims to provide consumers with more control over the user experience. Similarly, the following article aims to entertain those Android users who wish to customize their notification bar in their style.
Related Article: Best Photo Organizer Apps for Android and iOS
List of 6 Notification Customization Apps for Android
1. Super Status Bar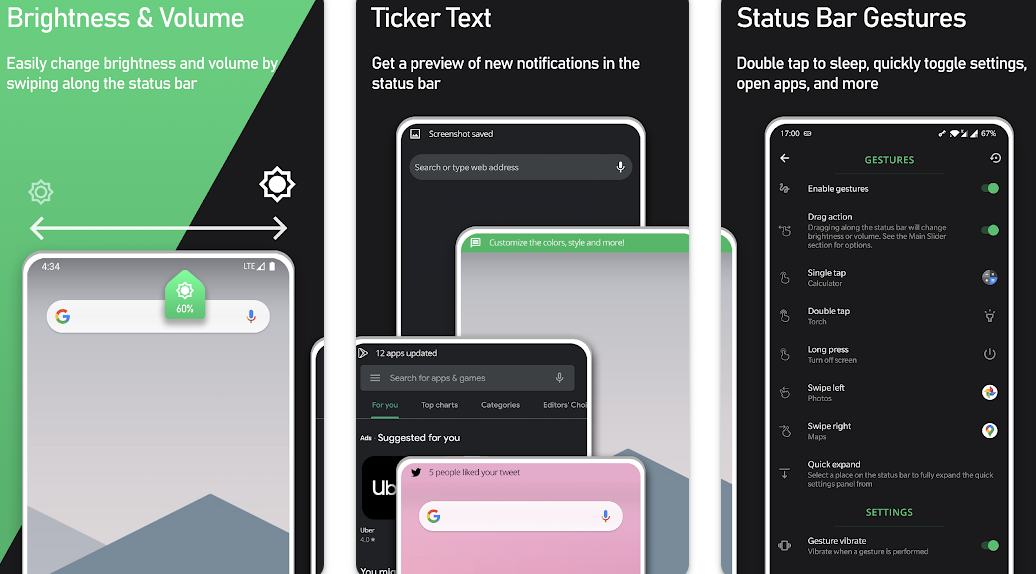 An app that is one of the top-rated Notification changer apps, lets you customize everything thoroughly, and is freely available on the Google Play Store! Quite a deal one can miss. Super Status Bar is an app that will change your dull and monotone-looking notification bar into a very lively and interesting one. From icon styles and gestures to brightness and volume, the app has taken care of small yet noticeable things. The app provides a wide range of features which are very promising.
Features:
The app makes it feasible to change the levels of brightness as well as volume by just swiping along your notification shade.

Users can style their status bar icons with the help of colors and layouts and even apply icon style in three different formats- Android, iOS, and MIUI.

Preview of new notifications in the status bar is enabled through Ticker Text.

Enable Gestures wherein a double tap can switch the torch light whereas swiping left and right can get you to your photo gallery.

Everything is Customizable and easy to use.

2. Power Shade- Notification Bar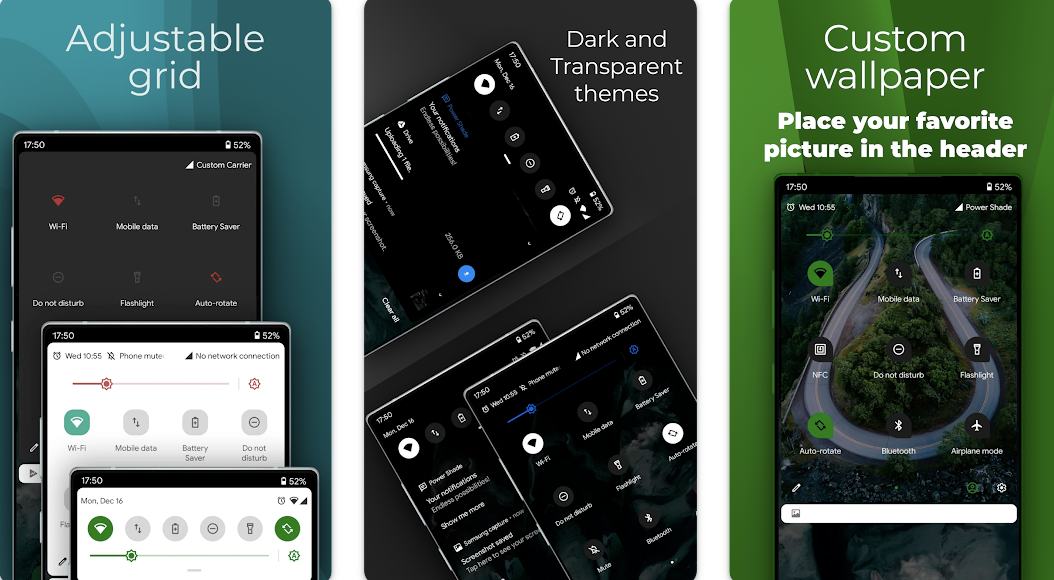 One of the most adaptable Notification bars available is Power Shade. The software ensures that your notification panel will be different from everyone else's with several special features. It is designed to smoothly switch themes to improve your mood and make your day better. The app ensures frequent updates to match contemporary requirements and has simple and effective usage.
Features:
Provides tons of options to choose from to design your Notification panel which can be easily changed and applied.

The app brings forth dark and transparent themes for your notification shade.

You can even place your favorite image in the header (panel wallpaper) to have a personalized astonishing look.

Advanced notification texts enable you to read, dismiss, and even snooze a message whereas Advanced music lets you color the album you are listening to.

The grid of the notification panel is adjustable to users' needs.

Support of frosted glass background to give a blurry effect when you slide the Notification panel halfway through your screen.

3. Material Notification Shade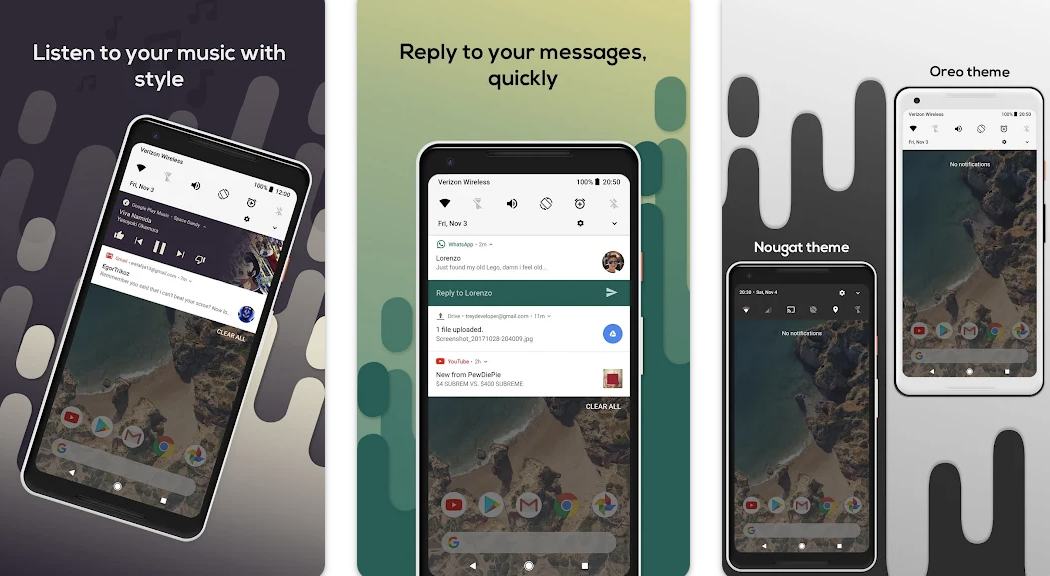 Want a complete makeover to your Notification Bar then look nowhere else as Material Notification Shade has come up with features that will make your device's notification bar stand out from others. From listening to your music in your own style to changing the panel theme to Orea and Nougat to dark, Material Notification Shade characteristics are simple yet staggering. Let us quickly dive into its features.
Features:
The users can reply to their text messages effortlessly.

Users can fully color-customize the various icons and elements as per their tastes.

A powerful notification setting enables the messages to be read and dismissed immediately.

Notification Card themes are available in three shades namely Light, Colored, and Dark and each one of them has its unique presence.

If the users are tired of some notification spam then they can Auto-bundle them to manage easily.

A custom Quick Settings Panel is provided for a menu that you can access.

4. Quick Settings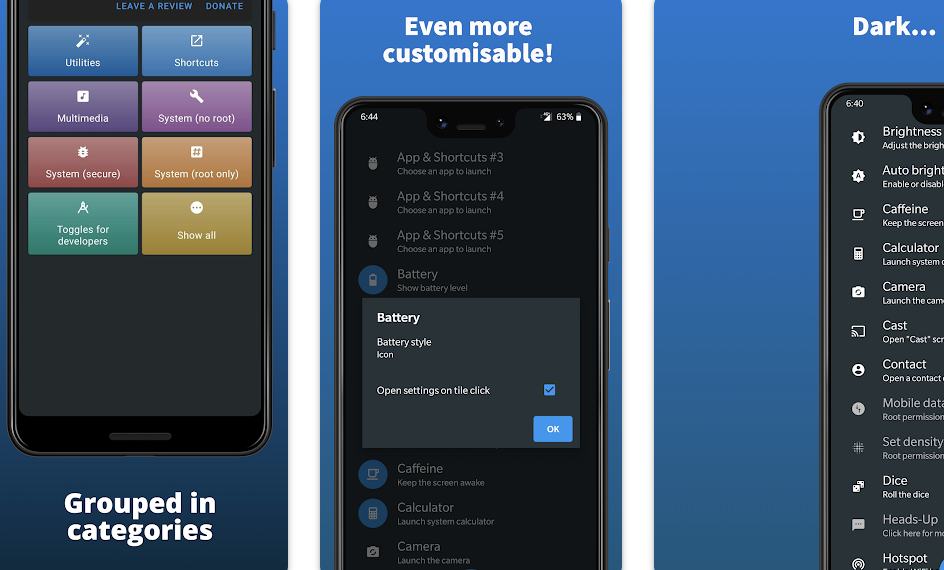 Quick Settings as the name suggests is an app that provides for a bunch of Notification panel settings that are easy to use and operate. With Quick Settings, users can fully exploit the potential of how their notification bar will look and function. The app takes prior permission from the device's administrator to make most of the settings that it provides. Further are some of the features of the broad 53 cool quick settings that the app dispenses.
Features:
The users get to choose either the light theme or the dark one.

Users can add more features to the list of already available icon panel.

The app provides Group categories to club a bunch of settings into one for easy accessibility as similar settings or icons can be spotted in a single place like a folder.

Almost all categories are customizable.

Users can pick any of the 53 quick settings and explore what options the app provides to implement it on their screens.

5. Tile Shortcuts- Quick Settings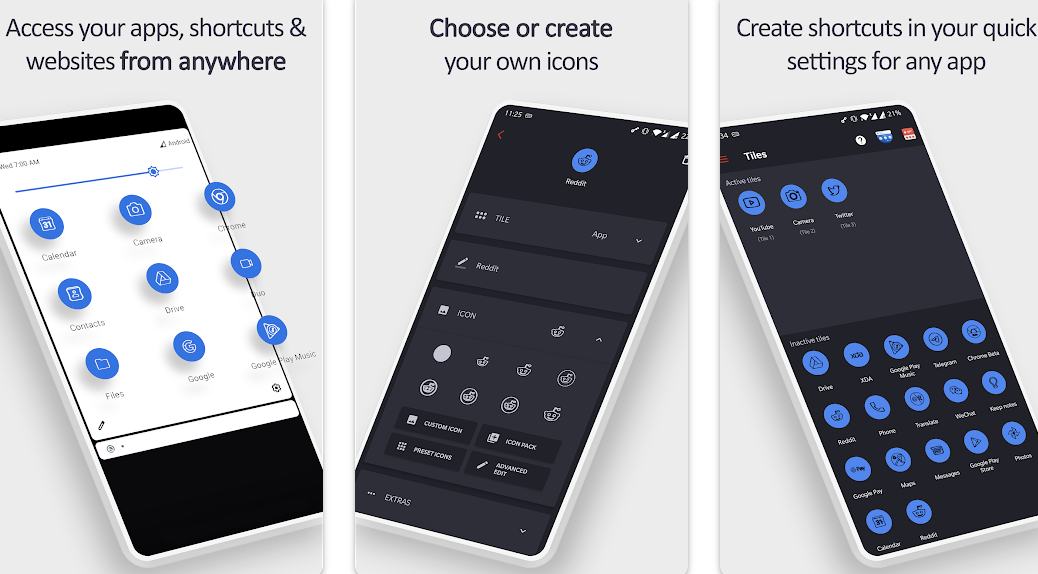 If you are looking for immediate access to your most used or favorite apps, shortcuts, or websites on your notification shade then Tile Shortcuts has got you all covered. The shortcut tiles are under the categories Apps, Apps shortcuts, Websites, Intents, Activites, and Shortcut folders. The app uses the real app icon for you to access at your notification panel which is the unique feature that makes the app stand out from the rest of the lot. Some of its key features are as follows.
Features:
Users can choose or create their own icons.

Add shortcuts for any application to the fast settings.

Icons that blend in perfectly and are instantly identifiable.

Easy settings as well as MIUI-ify integration.

The app has also made available their YouTube tutorial for better understanding.

6. Bottom Quick Settings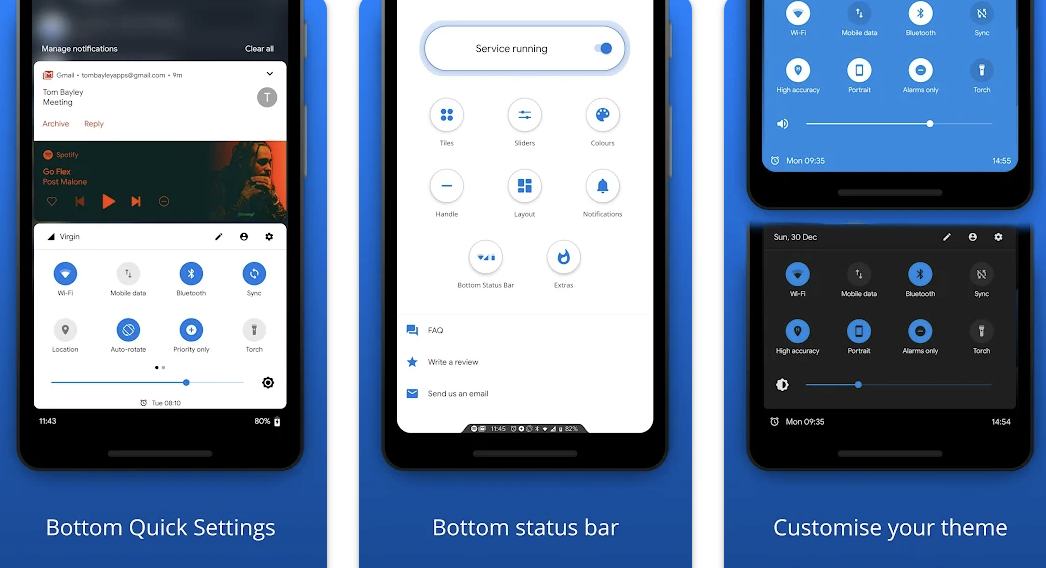 Want the control center at the bottom of the screen just like the one iOS had then Bottom Quick settings will do that for you. With Bottom Quick settings you can get easy access to your desired apps and functions. The app is easy to understand and makes a genuine effort to make your notification panel as per your wishes. The following features will guide you through the app's main characteristics.
Features:
The app lets you fully color-customize your notification shade.

Quick-setting tiles are available in 40+ different settings. You can also customize the number of tile rows and columns.

The handle trigger's position and size can be adjustable so that it doesn't hinder navigation gestures.

Users can also add background images to their panel.

Can add shortcuts to the Quick-setting tile which can be changed and reordered.

The app lets you create your own themes and animate.