In every new year, we somehow come across the most popular saying "Nothing changes except for the calendar" and this year 2021 is not different. The experience has been very different and unique due to the Covid-19 pandemic but still, nothing has crashed our enthusiasm. No one can stop us from planning for the future. However, cool it may seem but when it comes to actually execute the plans things get weird there. A little help can make your life easier. By help, we meant Calendar. Yes, a Calender can increase your productivity by helping you to keep your plans organized. Being in the digital world, a digital calendar is way better than a paper one. You can save trees as well as you will be saved from rustling a bunch of papers. However, we need the best Calendar apps to keep ourselves organized.
Related Article: 5 Best Real Digital Scale Apps for Android and iOS
Out of all Calendar apps present in the market, we have carefully curated the best calendar apps for Android and iOS. We know what you are looking for and there is a calendar app on our list that will be a perfect choice for you.
List of 10 Best Calendar Apps to Stay Organised in 2021
1. Googe Calendar
Google calendar is best with synchronization or you can say it is best if you are looking for a cross-platform calendar app. It is the most popular and best free calendar app for both Android and iOS users. If you work on multiple devices, Google Calendar will save your time as you do not have to add your tasks again and again on different devices. Additionally, when it is synchronized, everything stays in place despite changing time zones.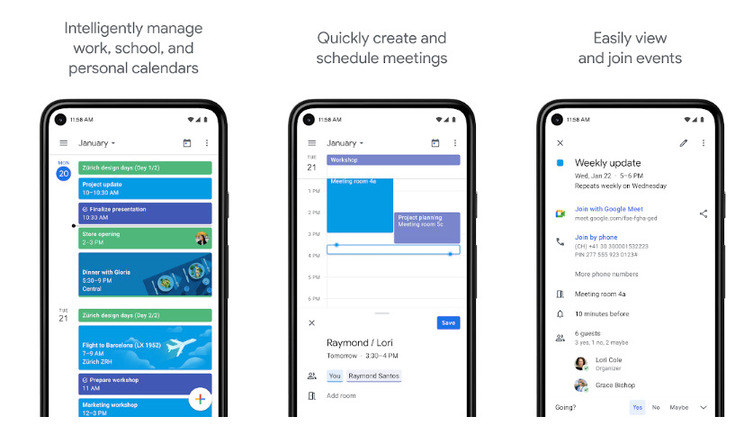 Features
Google Calendar allows you to view your calendar in three different ways that are month, week, and day view.

The event you will be adding to Gmail like flight reservations, restaurant reservations, hotels, etc will be automatically added to Google Calendar, thus providing an easy view of your plans.

It is also a To-do app that you can use to create and view your daily tasks.

You can also add personal goals and Google Calendar will schedule a time for them and notify you accordingly.

Google Calendar has the tendency to work with all calendars thus keeping things organized in one place.
Price: Free
Available for: Android, iOS, Web


2. Apple Calendar
Apple Calendar is for those who like to work with Apple products or you can say it is one of the best calendar apps for iOS and Mac users. It is the best free calendar app for iOS users. The best part is all of your events are synchronized across all your Apple devices like iPhone, iPad, Apple Watch, Mac, etc. It helps in increasing your productivity by notifying you in notification centers.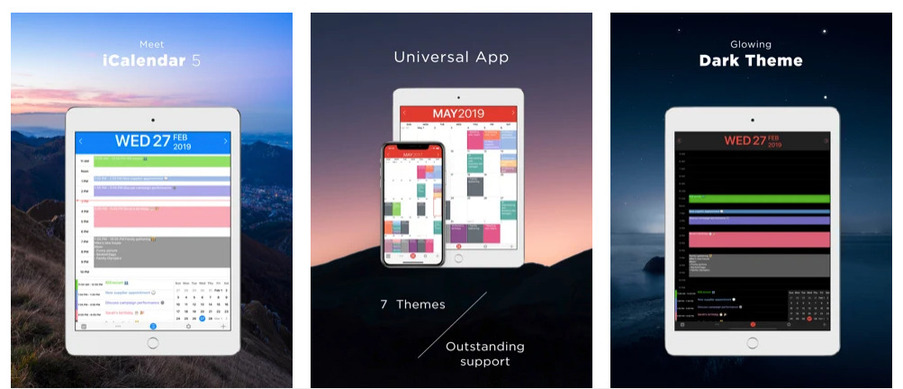 Features
You can add events with voice using Siri.

It allows you to share your calendar as well as inviting your friends to events.

You can also create and manage your calendar on iCoud.com.

It also shows Chinese Lunar Calendar dates.

You can also set an alert for your event.

Additionally, You can customize the view of the Apple Calendar.
Price:Free
Available For:iOS, Mac, Web

3. Outlook Calendar
Outlook Calendar is one of the best calendar apps usually used in offices or schools. It is basically a scheduling component of outlook which will help you to become more productive. The outlook calendar app is just like a notebook, you will have to just click on the time slot and start typing. Creating appointments and events, organizing meetings are very easy while using the Calendar. It is the best calendar app for Microsoft users.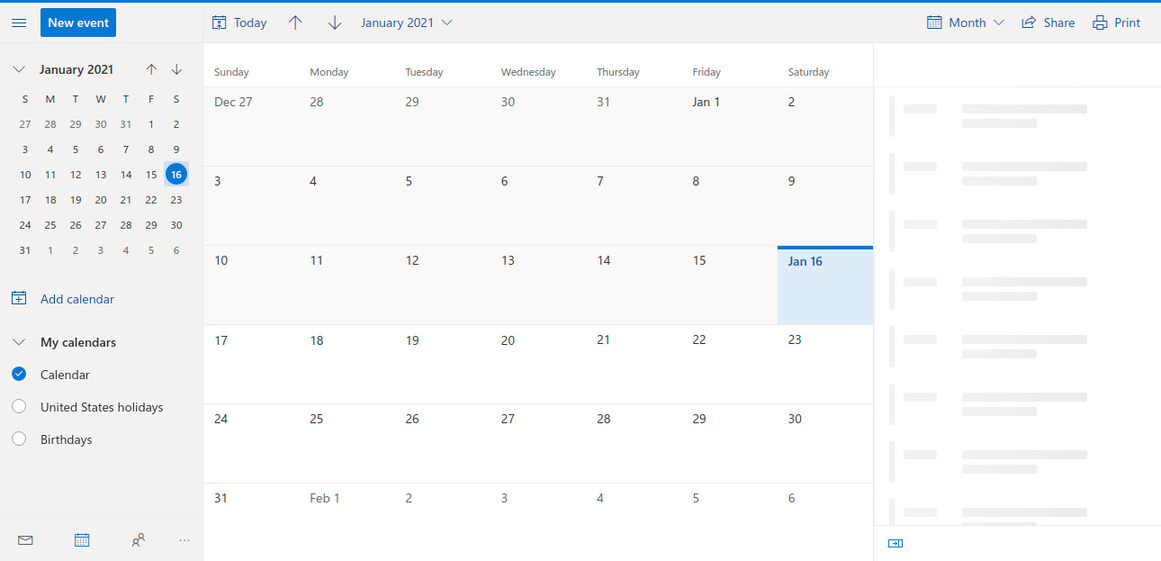 Features
Outlook Calendar allows you to create and view multiple calendars, for example, one for your personal appointments and one for your work.

You can also use the overlay view feature to view all your calendars with ease.

It also allows linking calendars to Microsoft SharePoint sites.

You can also share calendars through emails.

Outlook Calendar is the best calendar apps for iOS and Android because it allows the other person to edit your calendar. For example, the assistant can manage the manager's calendar.
Price:$69.99/year
Available for:Android, iOS, Mac, Windows, Web


4. Business Calendar 2 – Agenda, Planner & Widgets
Business Calendar 2 is one of the best calendar apps with full control over the looks of the Calender. If you are too keen on the personalization of your calendar, there could be no better option other than Business Calendar 2. Moreover, planning and scheduling your events and tasks are easy while using the best android calendar app. However the best part about the Calender is that you get to view your calendar in 6 different views which are month, week, day, agenda, year, and tasks. Additionally, switching between them is even more simple with just one swipe.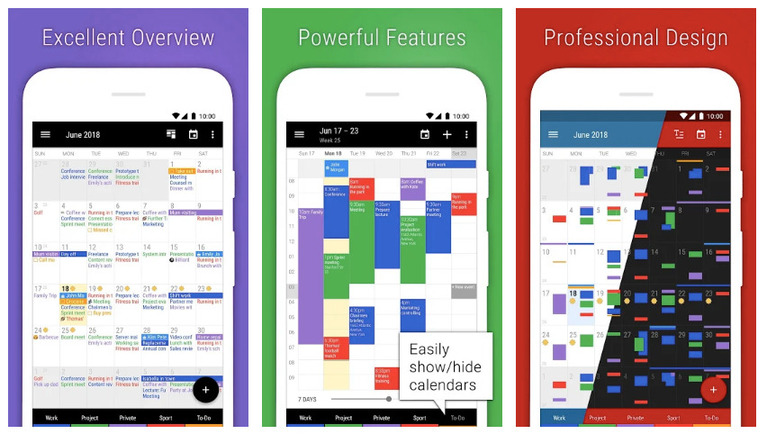 Features
It allows sync with Google Calendar, Microsoft Outlook, Exchange, etc.

You can alsoquickly show and hide calendars according to your convenience.

It never lets you miss a single event by constantly reminding you by status bar reminders or popup notifications and also you can set snooze reminders.

You can also add600 emoticons to your events to enhance the overall look.

The app even allows attaching photos and files to your calendar.

Above all, the pro version does not annoy you with ads.
Price:Free (but with ads) and $6.99 for the pro version.
Available for:Android.

5. Fantastical 2
As the name suggests, it's a fantastic calendar app for Apple users. The app is known for its best design. It works smoothly overall devices such as Mac, iPad, iPhone, and Apple Watch. If you ready have your Calendar accounts, you can directly link and keep your tasks and events synchronized into one place. Additionally, you can also synchronize custom settings, notifications, weather settings, and more.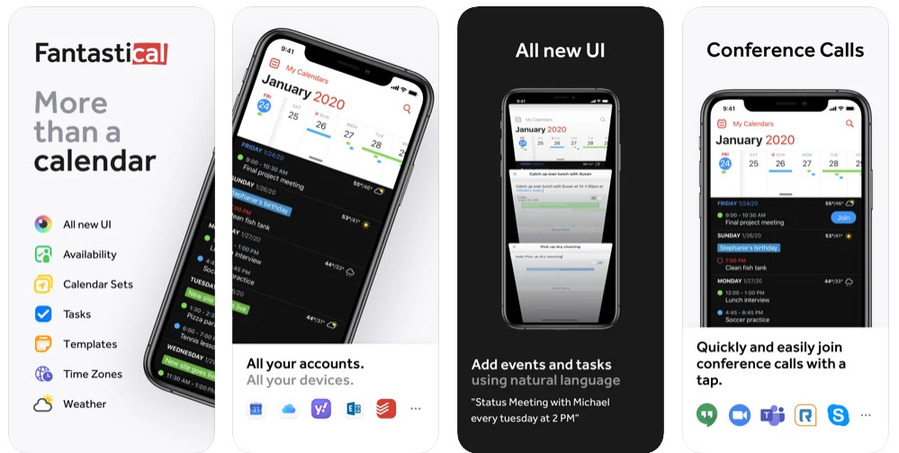 Features
The preview is fantastic with the ability to browse full-screen views of days, weeks, months, or years to have access to more details.

You can also add files and photos to the events.

Fantastical supports both light and dark themes.

Working with others becomes easier while using the best calendar app for iPhone

It allows the adding of templates from existing events and tasks.

Above all, you can easily schedule your tasks and stay organized.
Price:$3.33 per month if billed yearly and $4.99 if billed monthly. ( 14 days free trial)
Available for: iOS, Mac

6.Woven
Someone with a very busy schedule would definitely like to use the calendar Woven as it is the best calendar app for scheduling external appointments. Apart from being a calendar app, it is also an appointment scheduler. All you have to do is set up your profile and the timing you will be available, and then allow people to link for an appointment.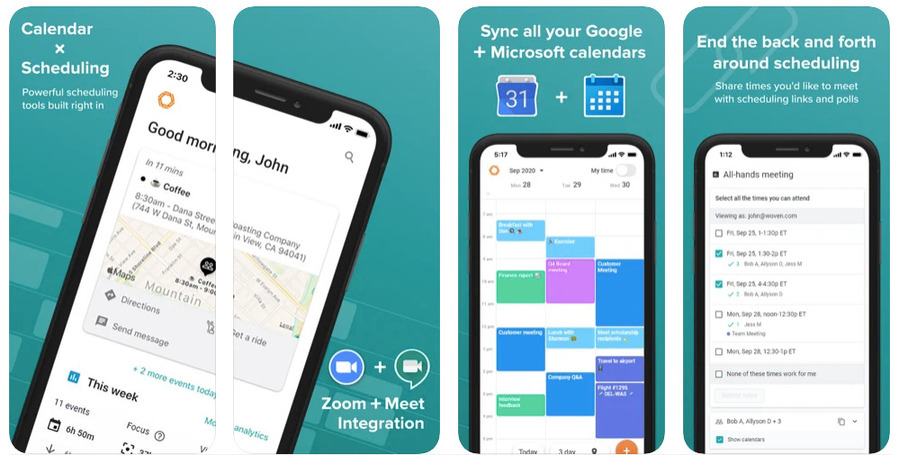 Features
You can create events very quickly on the connected calendars especially synchronized with Google and Outlook.

There couldn't be any better option to optimize time management using the best-shared calendar.

The editing of events and sharing the schedule is also very easy.
Price:Free, Pro version costs $8/month.
Available For:iOS, macOS, Web, Windows

7. Calendar: Meeting & Scheduling
The calendar app might sound simple, but it does cover complicated missions with your most valuable resources. You can say Calendar: Meeting and Scheduling is the best calendar app for couples. As the app provides the best tools to save our time, be more productive, and spend time with our favorite people.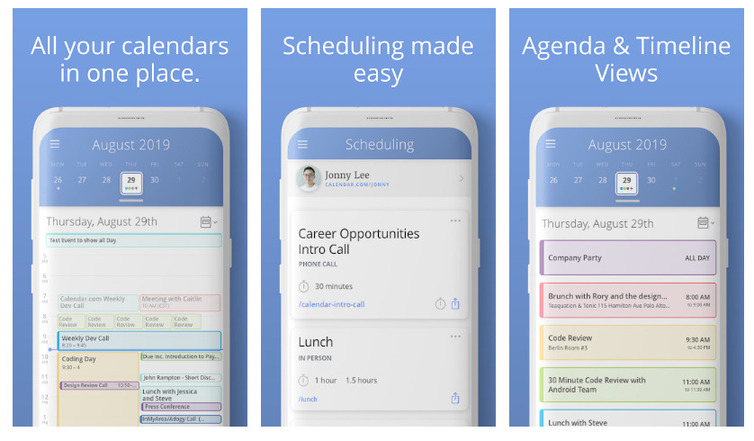 Features:
Calendar app allows connecting withGoogle, Apple, and Outlook calendars.

The viewing of events becomes easier with list or timeline view formats.

It is easier to create events and sync with other calendar apps.

Scheduling and analytics will be soon added with updates.
Price:Free
Available For:iOS, Android


8. Couplete
Another best calendar app for couples is Couplete. It is designed exclusively for couples as it keeps track of memories made by coupes through photographs. Apart from that, it can also function like any normal Calendar. Additionally, you can also customize the layout to have a featured couple photo. In the mid of lockdown, if you feel the spark fading off, you might end up lighting up the spark by reminding yourself of the happy moments.

Features
You can send private messages through the app.

The app also allows you to create a bucket list together as a couple.

A daily counter can really help you celebrate your time together.
Price:Free
Available For:iOS

9. Any.do.Calendar
Any.do.Calendar is very easy to use as you can easily create events within seconds. The eye-catching feature is whenever you add events depending on the name, the app adds extra information. It is very convenient to use for all kinds of users. Additionally, you can sync between all your devices and even the web.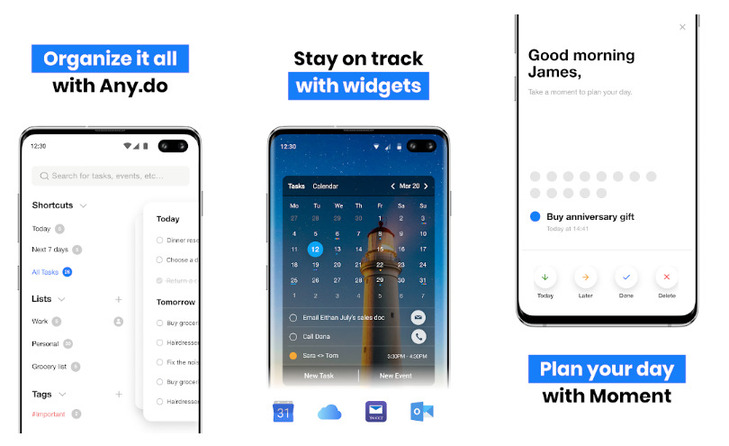 Features
It has a simplified design.

You can set daily tasks with reminders.

The app lets you assign tasks and share lists.
Price:Free
Available For:iOS, Android


10. aCalendar
aCalender is one of the best android calendar app with a very intuitive design. The app is the best with its design and customizations. It even shows the moon phase. Additionally, the app never lets you forget your friends' birthdays with or without contacts. It is free of ads and highly recommended if you are looking for the best calendar apps.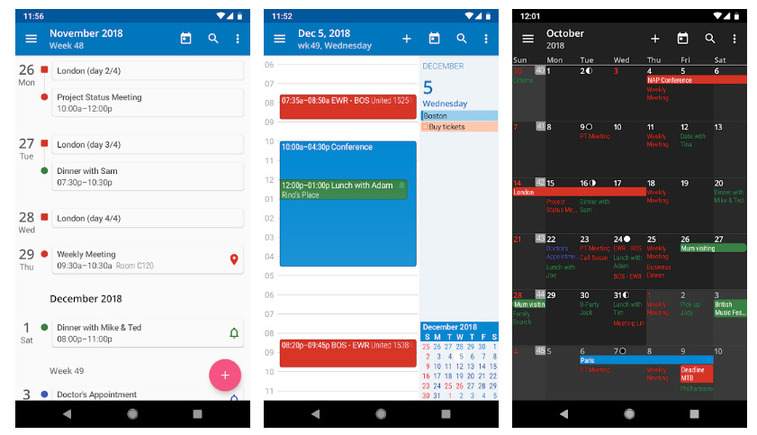 Features
Using aCalendar app is very easy with gestures, you can just swipe to change the calendar view.

It has business features likeInvite attendees, link contacts, free/busy, private, profiles, share as ICS added.

You get to experiencetheme/UI colors, background colors, calendar colors, event colors while using the app.
Price:Free
Available For:Android