Whether you are a professional interior designer who wants to deliver your clients with the best home designs and floor plans or a casual architecture enthusiast who wants to envision his dream home and its interior looks, a 3D modelling & home design app is all you need. Creating a floor plan and sketching home designs on paper takes a significant amount of time and possesses various limitations. So to solve this issue and make your work more effective and efficient, there are several home design apps available online with which you can easily create 2D and 3D architectural designs.
These apps not only help in effective designing but also take your visualization to the next level with video rendering and virtual walkthrough tools. They come with several features that make even complex architectural designs look simpler. In this article, we have come up with the 5 best home and interior design apps and software for both professionals and beginners. So pick the best one that meets your requirements and start creating impressive home and interior designs.
List of 5 Best Interior Design Software and Apps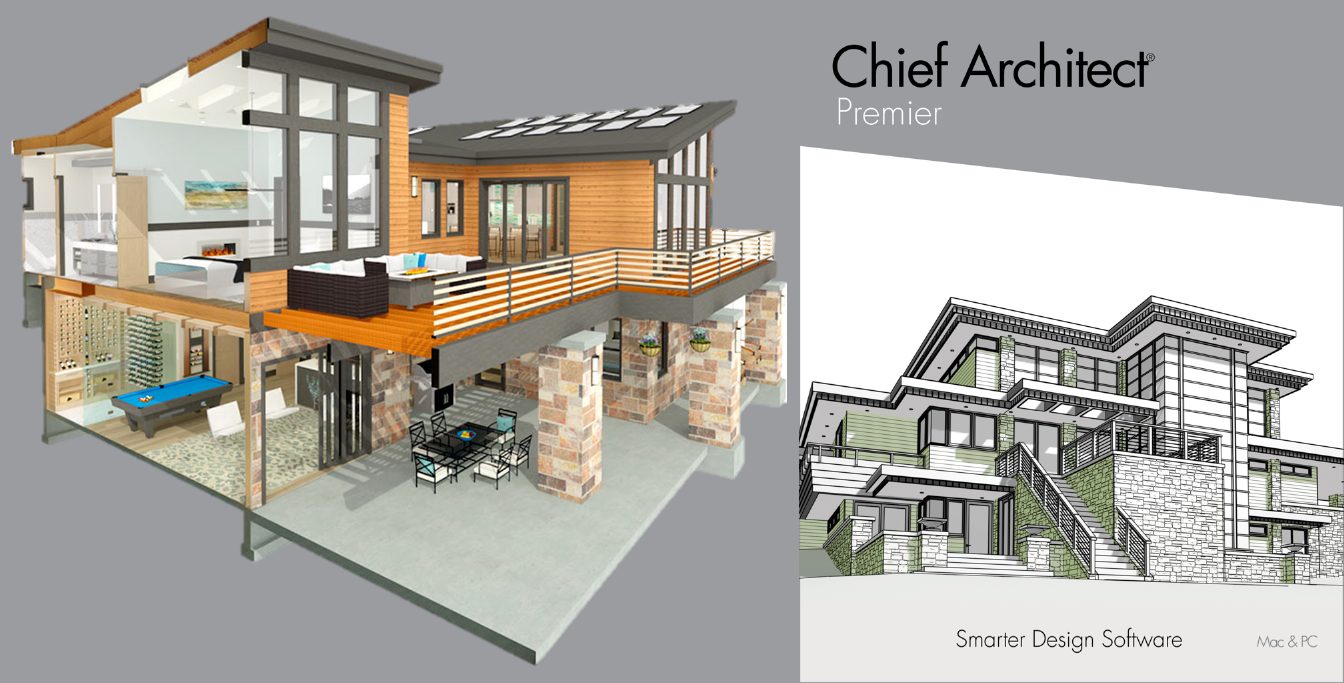 For all the architect professionals and house planner enthusiasts out there, Chief Architect is one of the best 3D modelling and interior design apps for designing residential houses. It's a great software for professionals with tons of features and customizable options. One can create a full-fledged home plan, both in 2D and 3D format. After you create a home design, you can view it as 3D and navigate to rooms with its walkthrough tools and other 3D navigation and virtual tools.
You can also create a presentable high-quality video from a 3D rendering of your plan. The Chief Architect also comes with various downloadable textures and 3D models that can be used to enhance the interior of the house in any way you want. In terms of user interface experience, the app is good but requires you to understand various settings before starting your home design. So overall if you are a professional architect or an interior designer then this software is all you need to design homes as per whatever your client desires. However, Chief Architect can also be used by DIY enthusiasts if they are willing to spend some time learning its vast functions.
Best For: Professionals & DIY enthusiasts
Free Trial: Available
Price: $199/month (when billed monthly)
Platform: Windows & Mac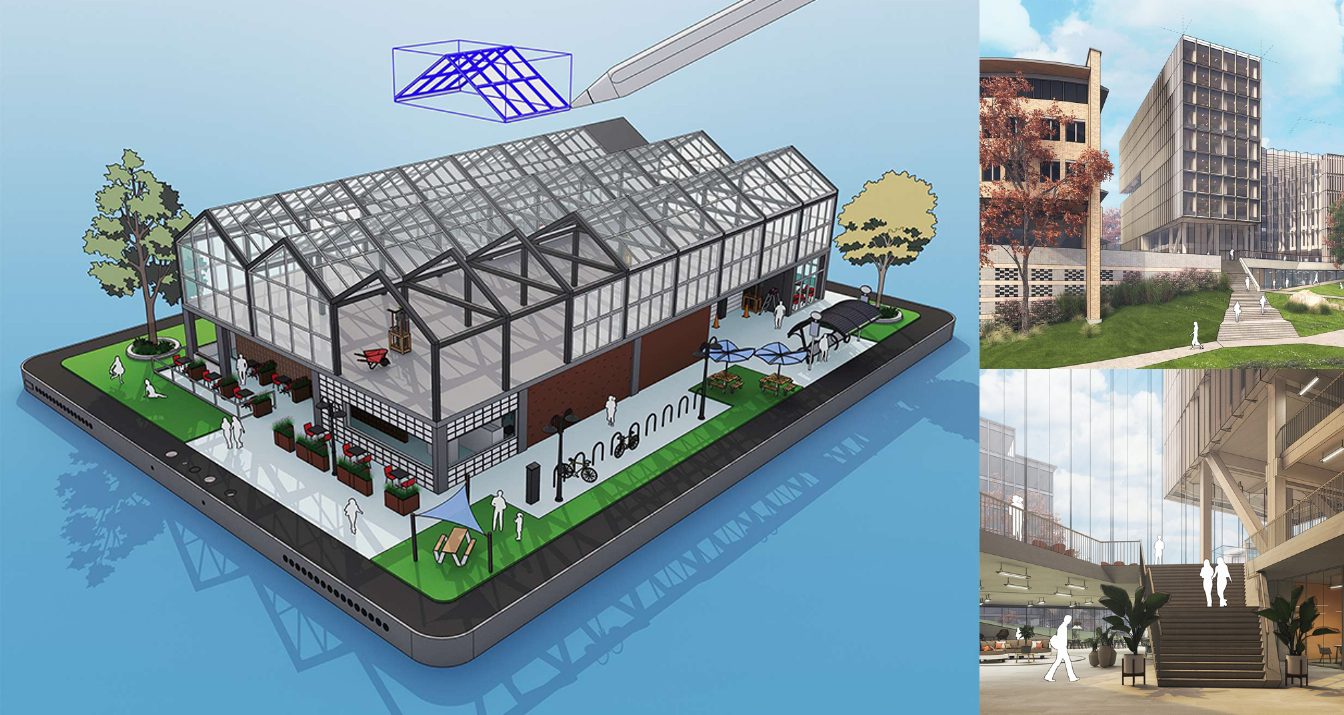 SketchUp Pro is another great 3D modelling and interior design software favoured by architects, home planners, and interior designers. One can create anything with thing with this powerful 3D modeling tool ranging from a small table to a complex architectural design with elevations. Along with a desktop application, SketchUp also has a web modeller with all the features included. You can create 2D designs with precise measurements and view them in 3D or have a walkthrough of your interior design and house model.
Its robust 3D rendering capabilities allow you to export your designs in video formats and its vast library of pre-made 3D models helps you to give your project more pace. Moreover, SketchUp Pro comes with a 10 GB cloud storage feature helping you to upload your works to the cloud and collaborate with others. So if you are looking for a multi-platform or web-based professional architectural design software, then SketchUp Pro can be a great pick for you.
Best For: Professionals & collaborators
Free Trial: Available
Price: $349/year
Platform: Windows, Mac, Android, & iOS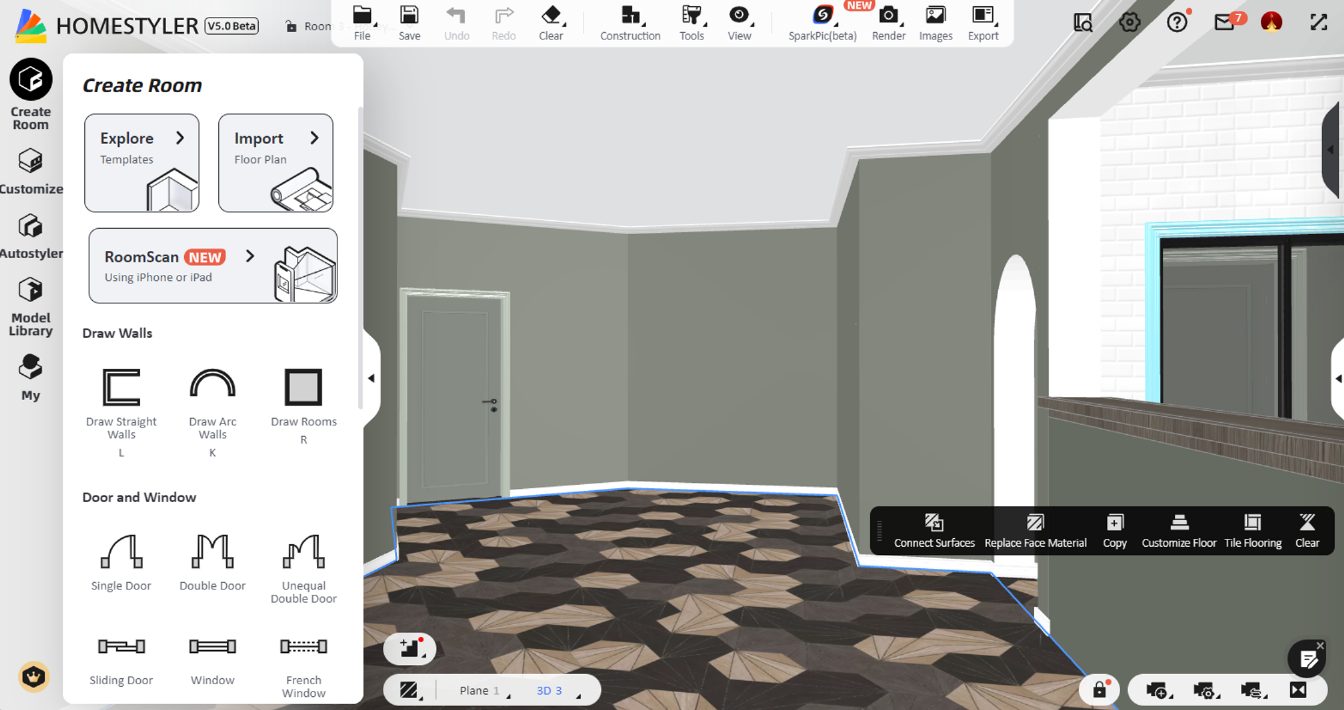 Installing interior design apps on your PC can occupy a significant amount of space and can also create a load on RAM and GPU. So if you're a Chromebook user or looking for a web-based and easy-to-use interior planner, the. Homestyler is one of the best platforms where you can get your work done. Homestyler has different price plans which are significantly lower than other home planning software and its free version comes with 3D cloud-based floor and interior planning, unlimited 1k rendering, and over 100,000 3D objects and textures with which you can design your or your client's home effectively. Moreover, you can use Homestyler points to render videos.
It has one of the best visualisation and user-friendly UI where you can design interiors and decorate them with objects using the drag and drop feature. You can render your design on the cloud and prevent burden on your PC. Homestyler also has an AI designer and Autostyler with which you can design themes based interiors.
Best For: Web-based interior designing
Free Trial: Available
Price: $4.9/month for Pro version
Platform: Web, iOS, & Android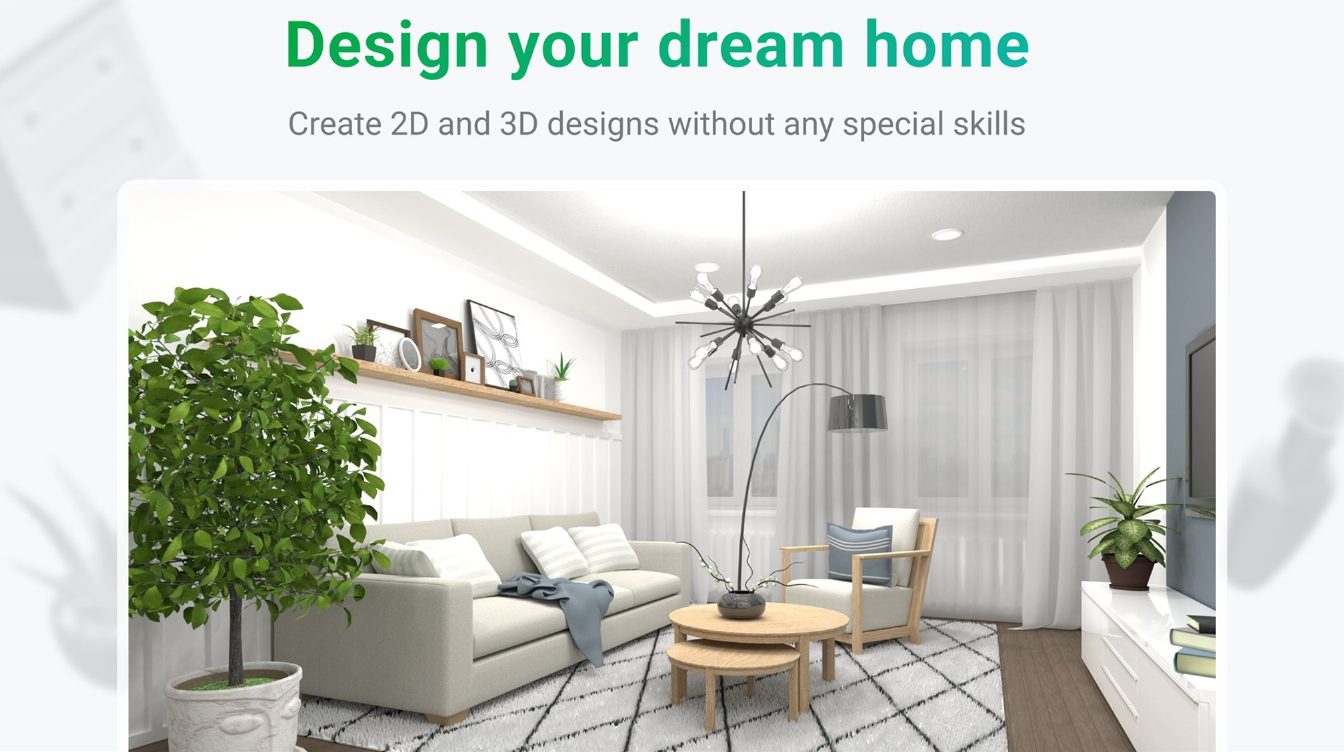 With over 5,000 item catalogues, 4K photo realistic rendering, and a user-friendly interface, Planner 5D is another popular name among interior design apps that can be used to design floor plans, room plans, bathrooms, kitchens, gardens, landscapes, offices and many more architectural stuff. Planner 5D can be easily used by beginners with its drag-and-drop feature, pre-made 3D objects, and friendly UI. Apart from this, even pro users and professional interior designers can use Planner 5D to make complex and large architectural designs for their clients.
It features AI plan recognition, an automatic room generator, automated furniture arrangement and many more tools for ease of use. One of the best things about Planner 5D is that you can use its web version as well as download it on a desktop and phone. So no matter where you are, you can start creating impressive interiors with this software across different platforms.
Best For: Beginners & Multi-platform usage
Free Trial: Available
Price: $33.33/month (when billed annually)
Platform: Web, Windows, Mac, Android, & iOS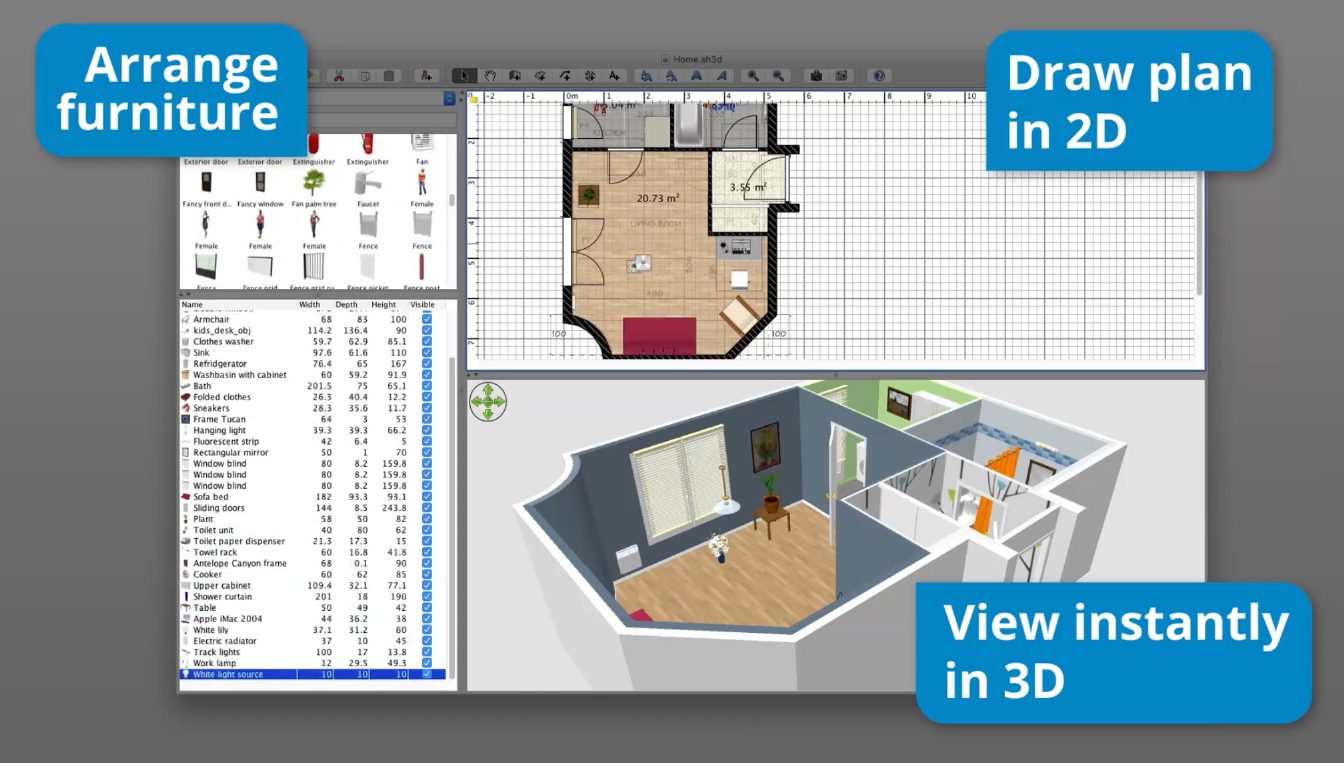 Sweet Home 3D is a user-friendly interior design software that is completely free to use. If you are someone who has not prior experience in 3D designing but wants to make basic home and interior designs, then this software is definitely your go-to choice. Sweet Home is a multi-platform entry-level 3D architectural modelling software that is available in 28 different languages. Irrespective of its user-friendly interface, Sweet Home 3D is a powerful tool and comes with various features like 2D floor planning, virtual walkthrough, 3D rendering, etc. that can be used to make impressive 3D models.
One of the best things about Sweet Home 3D is that you can download 3D models, textures packages and other plug-ins & tools to further enhance your interior and exterior designs. Additionally, you can use this software online to design your home using any of the web browsers that support WebGL.
Best For: Novices and ease of use
Free Trial: Available
Price: Free
Platform: Windows, Mac, Android, iOS, & Linux