Flashlight functionality in our smartphones is an essential feature that may seem trivial but serves a useful and necessary purpose in many instances. Whether it's a sudden power cut in our locality or finding our way back home at night, this small component acts as a vital feature in our phone. Flashlights are not just useful in emergencies, but also for entertainment purposes. For example, one can show support to an artist in a concert by flashing their mobile lights, or simply use it as a brightness enhancer while clicking a picture. From essentiality to entertainment and beyond, our flashlights work as our little guiding angels.
Although all smartphones have an in-built flashlight, sometimes it may not be as effective as we want. This article addresses the 10 Best flashlight apps for Android and iPhone, each with unique and interesting features to look forward to. We have shortlisted 5 Apps for each platform. Let's dive in and take a closer look at each of these apps and their unique features.
Related Article Best Night Mode Apps for Android
1. Color Flashlight- Color Torch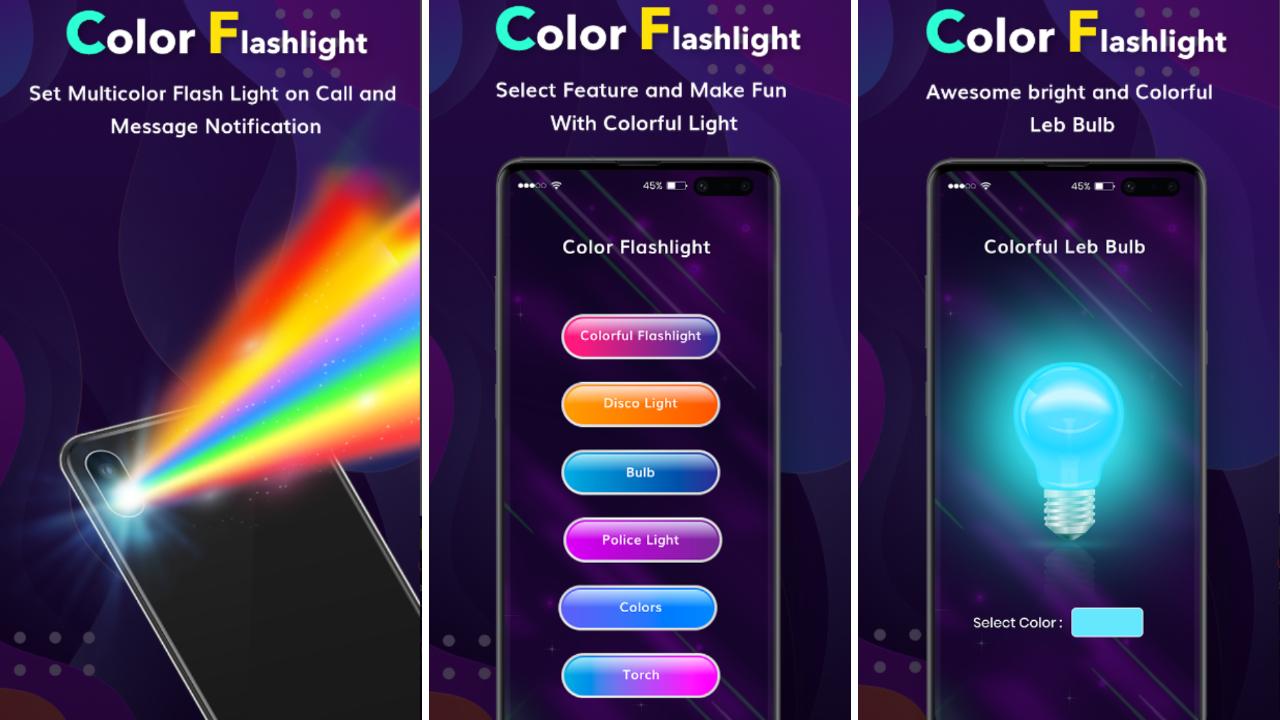 Ever been disappointed with the insufficiency of your Android flashlight and complained about its inadequate brightness? Then the Color Flashlight app will transform your phone into a multifunctional flashlight and illuminate your path. What makes this app different and unique is its ability to provide flashes in a bunch of funky yet colorful themes. The app will not let you complain and guide you through your darkness.
Features
A simple and easy-to-operate tool that will quickly turn on the flashlight and provide you with colorful flashes.

The app has taken care of your entertainment needs very well as it enables a Disco light theme useful for a party set-up.

You can convert your mobile front screen into a flashlight and also use a camera LED as a torch.

Users get the option to color alert their calls and SMS.

There is an emergency light feature and an option to maximize screen brightness as well.

2. Simple Flashlight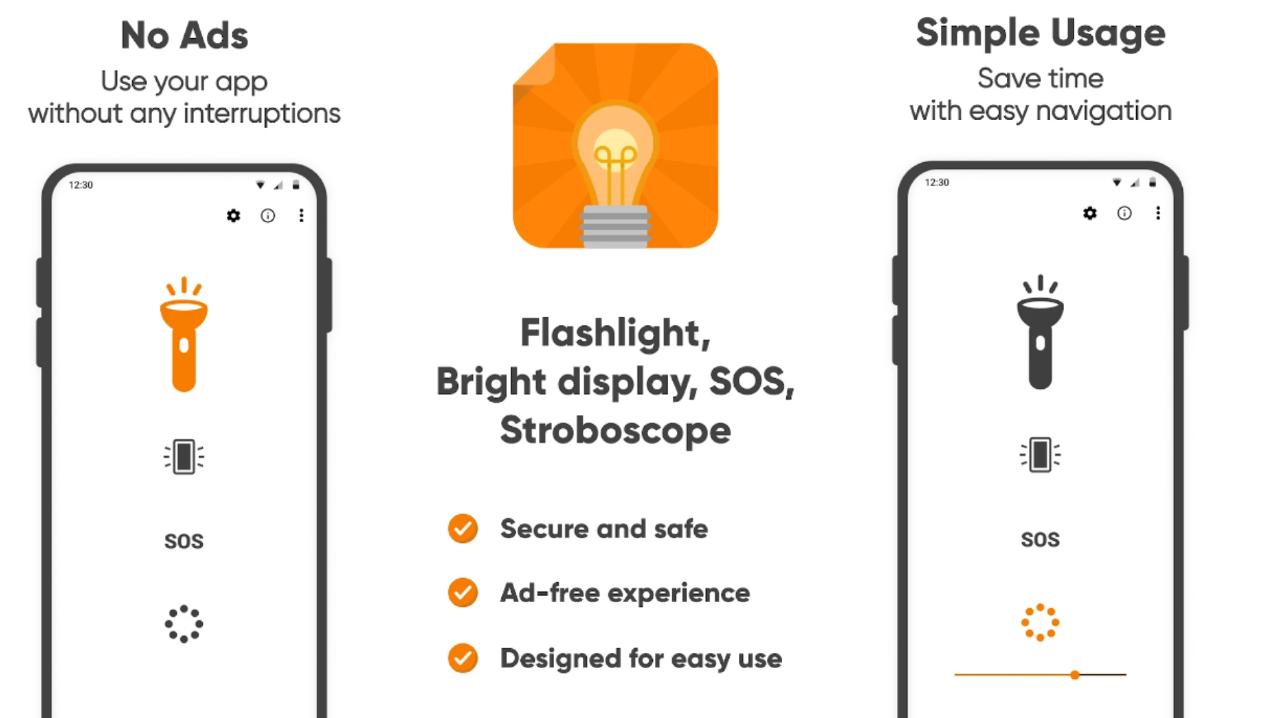 Simple Flashlight is at your service equipped to help you in your dire circumstances. It functions as a real LED light on your device and its quick-start LED flashlight function comes in handy when you need it the most. The app assures its users the customization option as per their needs.
Features
A neat flashlight with an extra-bright display.

A programmable stroboscope with strobe light capability.

The app provides for a preset SOS mode.

Users can color customize their themes effortlessly.

To curb any sort of interruption, the app ensures an Ad-free experience.

Safe and easy navigation.

3. Tiny Flashlight + LED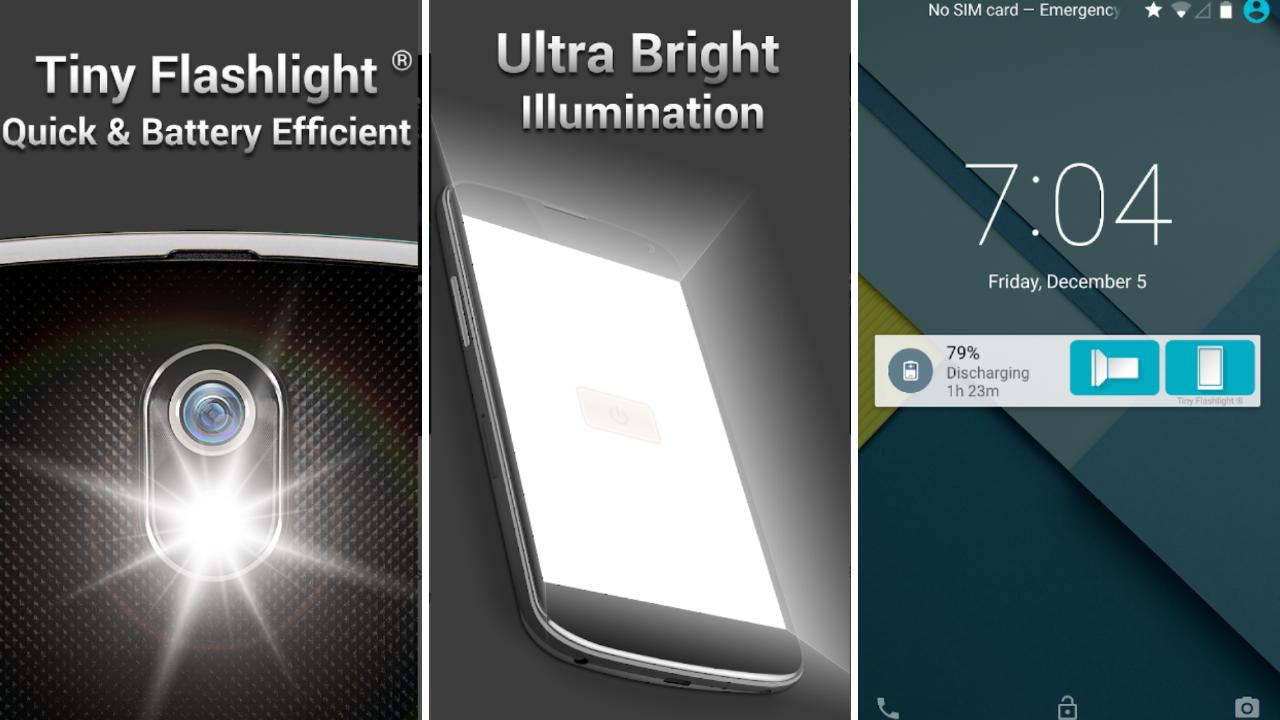 If you are looking for a really uncomplicated yet sufficient flashlight system, then Tiny Flashlight is a suitable choice to make. The app is easy to navigate across as well as freely available. The app provides for LED flashlight and can be accessed in various screen modes.
Features
The LED flashlight's brightness warrants praise.

This flashlight app is highly efficient especially designed to conserve your mobile's battery life.

Its availability in times of need is accurate.

During emergencies, users can make use of additional plugins like Warning lights, blinking lights, etc.

4. Flashlight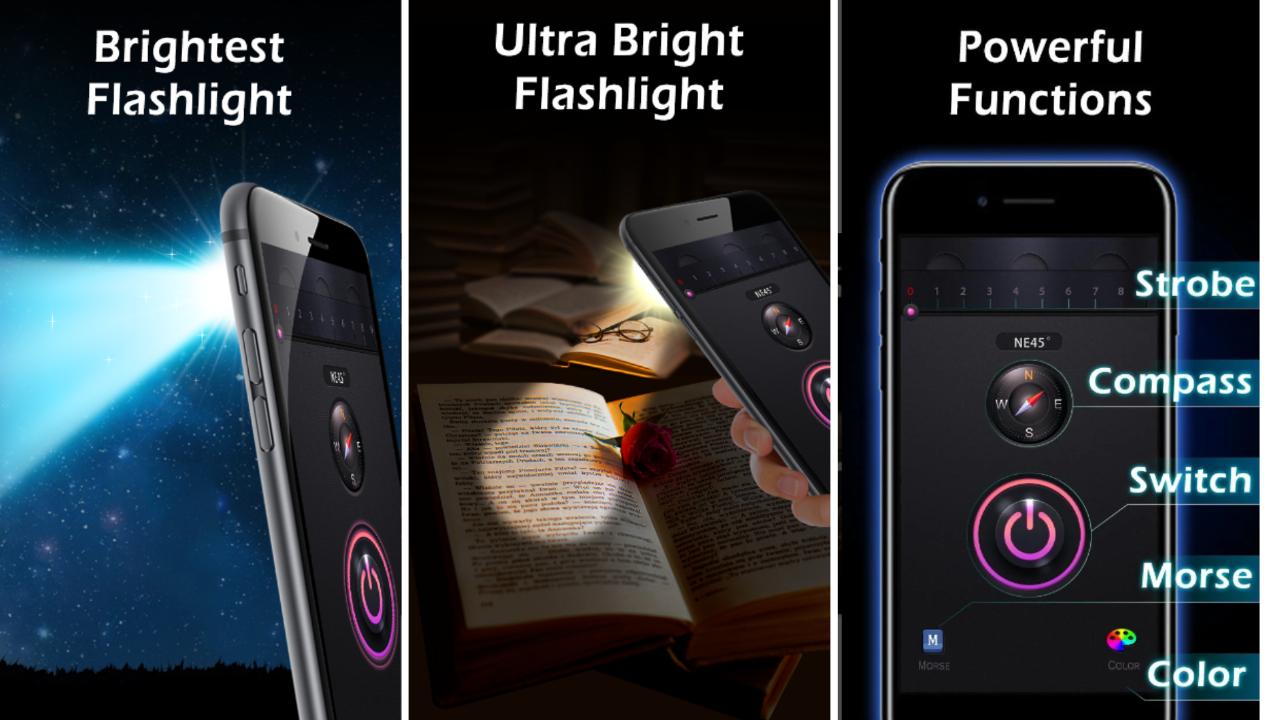 With Flashlight, one can quickly and easily turn on the flashlight next to the rear camera. Apart from its most basic functionality, the app has some interesting features. For instance, you can send a Morse code using the torch light.
Features
The app has the brightest flashlight functionality as well as an ultra-brightness mode.

5 of its powerful functions involve a strobe with an adjustable scale, a compass to guide your way, a switch, a Morse code, and a color theme.

Swiping left or right on the bezel of the digital flashlight will also change the light's strobe or blinking mode.

You can edit your own screen color.

5. SuperBright LED Flashlight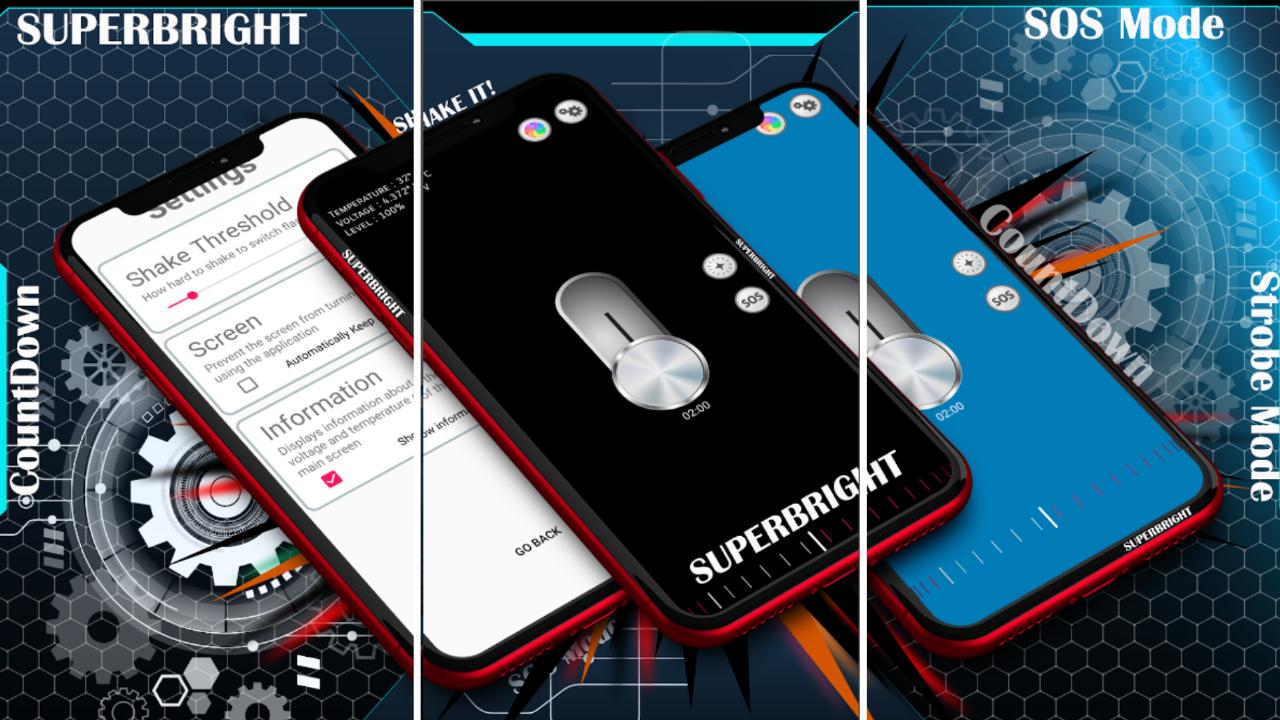 With SuperBright LED flashlight users can instantly improve on their device's performance. The tool unleashes the maximum LED light from your device's camera, making it an indispensable gadget for any situation. Experience other incredible functions with this must-have tool today.
Features
The app supports SOS and Strobe modes and is equipped with two Quick Access Widgets of different sizes.

Users can shake their devices to turn the flashlight on and off.

As the name suggests the app has a super bright light for all kinds of purposes.

A handy adjustable frequency and freely available.

If you are in distress, the app's SOS mode helps in emitting flashes in Morse code to seek help.

1. Torch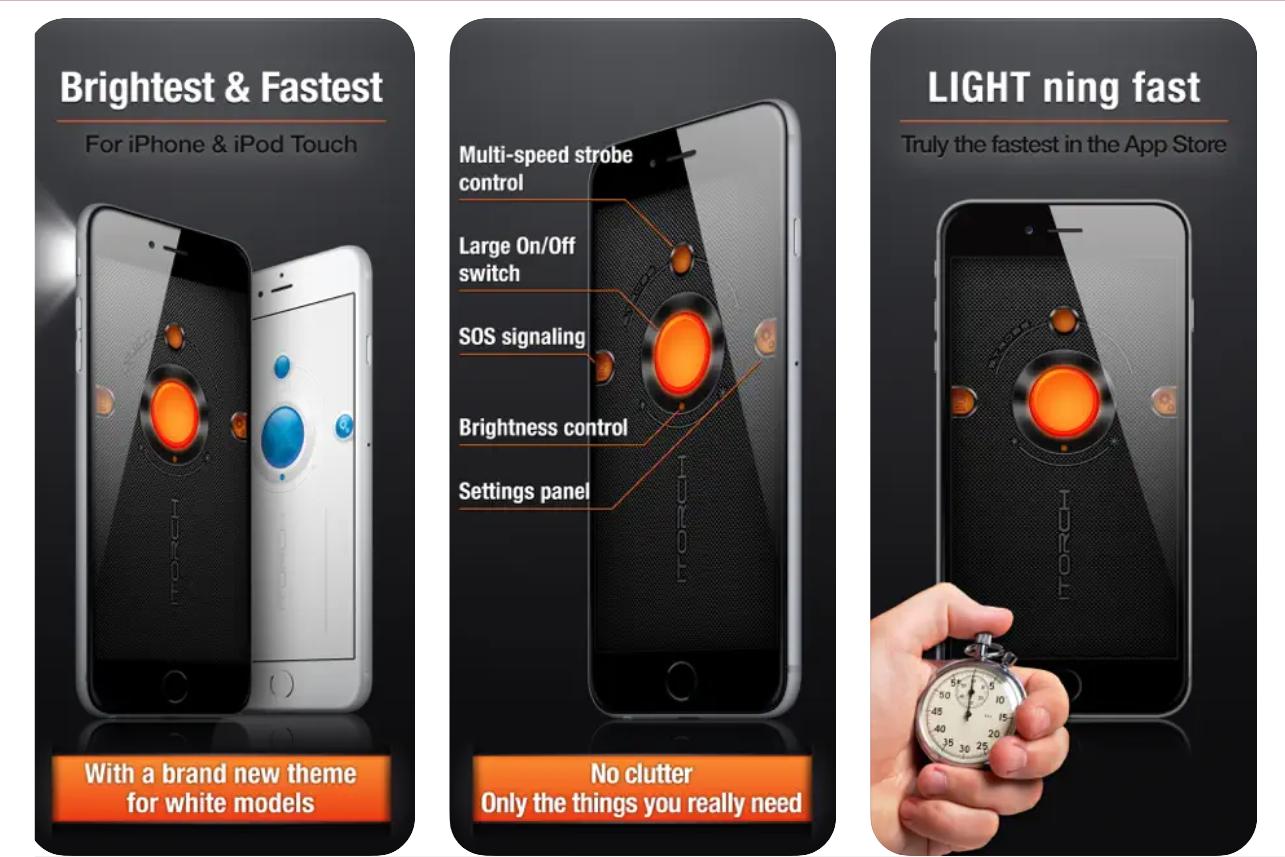 iPhone users will find their device quite compatible with the fastest and brightest flashlight app – Torch. Torch is a user-friendly app that contains all the capabilities one requires. It is a hassle-free app and one can easily navigate their way through its functions.
Features
Users can quickly activate the flashlight by pressing the ON button.

The app has a multi-speed strobe control which is built into the device.

Incorporated Strobe mode with programmable frequencies.

Excellent brightness control.

An integrated SOS signal.

2. Flashlight for iPhone+iPad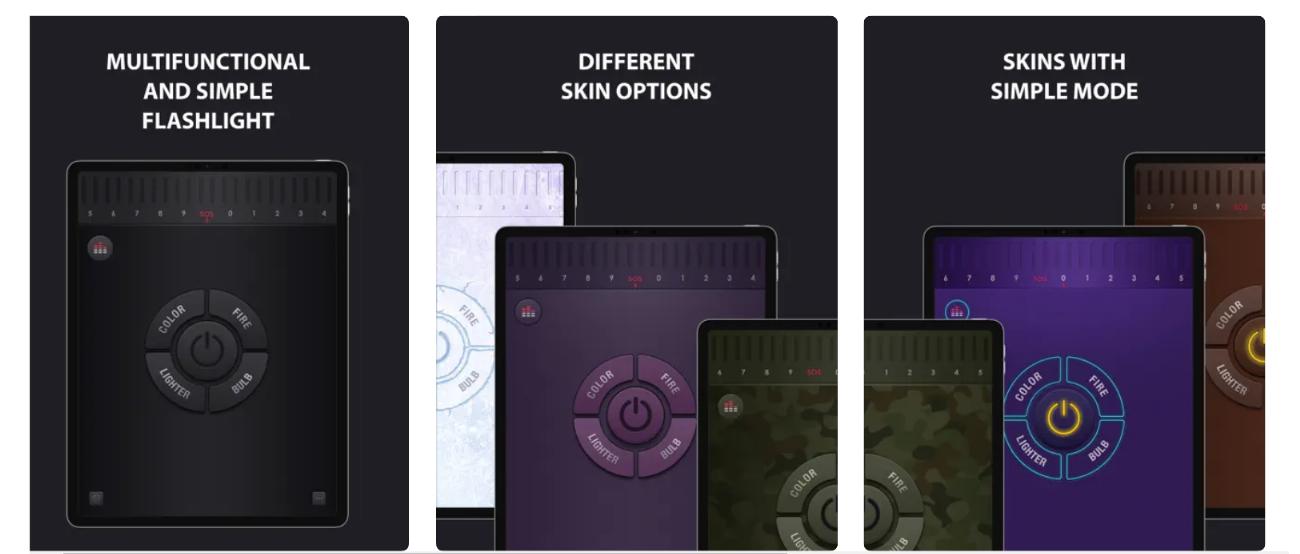 Flashlight is consistent with iPhones and iPads and is easy to use. With a single click, users can illuminate the light whenever in need. The app is handy, bright, and lightning-fast.
Features
It introduces a Disco Mode, which will light up your house party set-up.

The app's feature is designed to light up the screen with colorful lights on every other iOS device.

Users can avail of light bulbs, animated candles, and normal candles as well.

Its additional features include a built-in compass, SOS signal, altitude (elevation) tracker, and speedometer.

3. Flashlight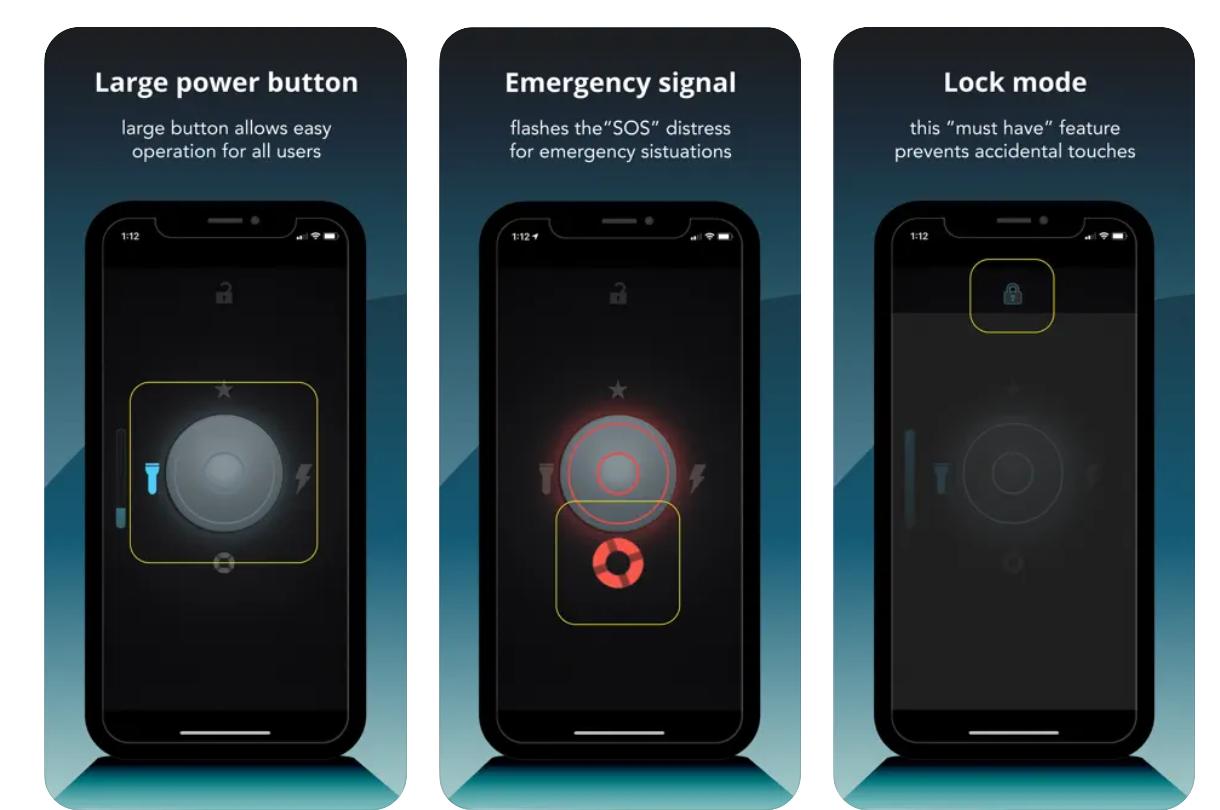 Flashlight app provides the fastest reaction ON time at launch. It has an adjustable strobe controller and brightness controller operated on above iOS 6 only. There is an SOS emergency mode which will be useful in dire circumstances. Its Lock-screen feature prevents accidental touches.
Features
The app is extensively tested to work perfectly each and every time.

Battery level indicator is always visible so you may check the status of your battery.

All capabilities are accessible from one screen; no page sliding or switching is required.

A simple design that runs error-free.

Hi-Res Retina Home Screen Icon that allows you to turn on your light right away.

4. Best Flash Light- Flashlight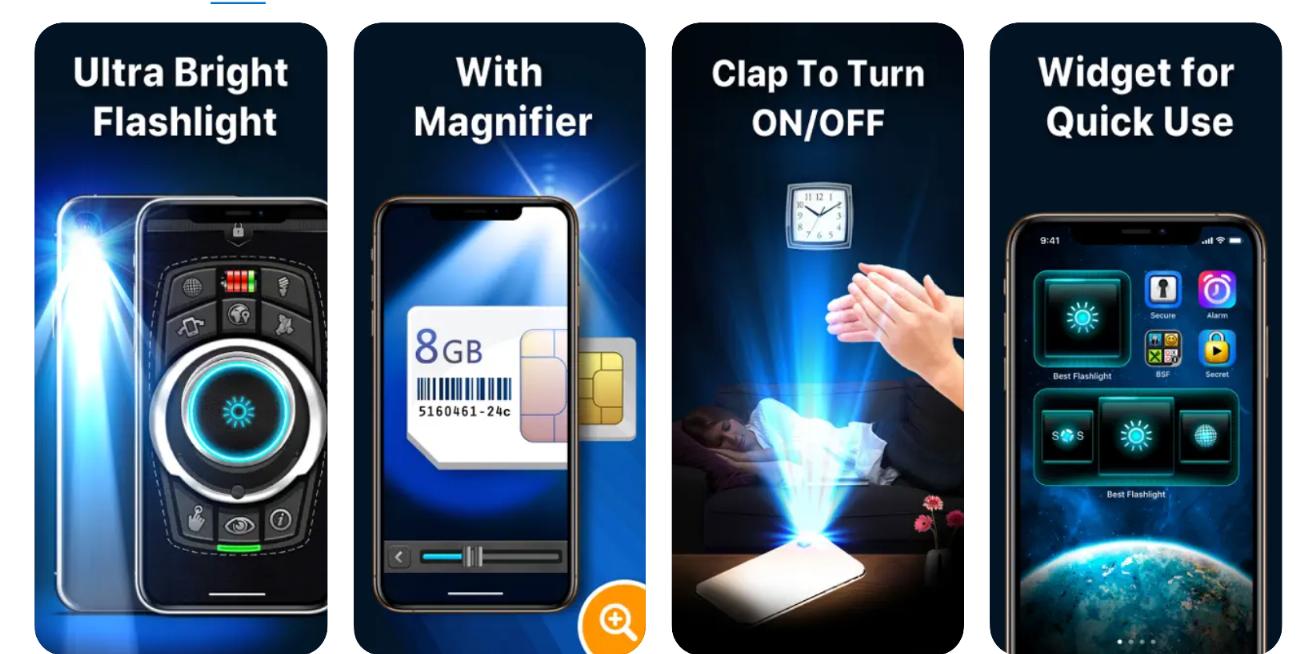 The Best Flash Light app is brilliant and quick in addition to the brightest front light for your iPhone that has a video camera zoom in addition to being bright, quick, and feature-rich. Look nowhere else because the app uses the iPhone's front camera light as a camera light and lets you zoom closer. Additionally, you may program a timer to turn the light off automatically when a certain amount of time has passed.
Features
The app features a speed-controllable strobe light effect.

Users can set the light timer for a few minutes.

The app will not drain your device's battery life and also provide a battery indicator.

Users can clap or flip their device to switch on/off the flashlight.

5. MyLight- Flashlight and LED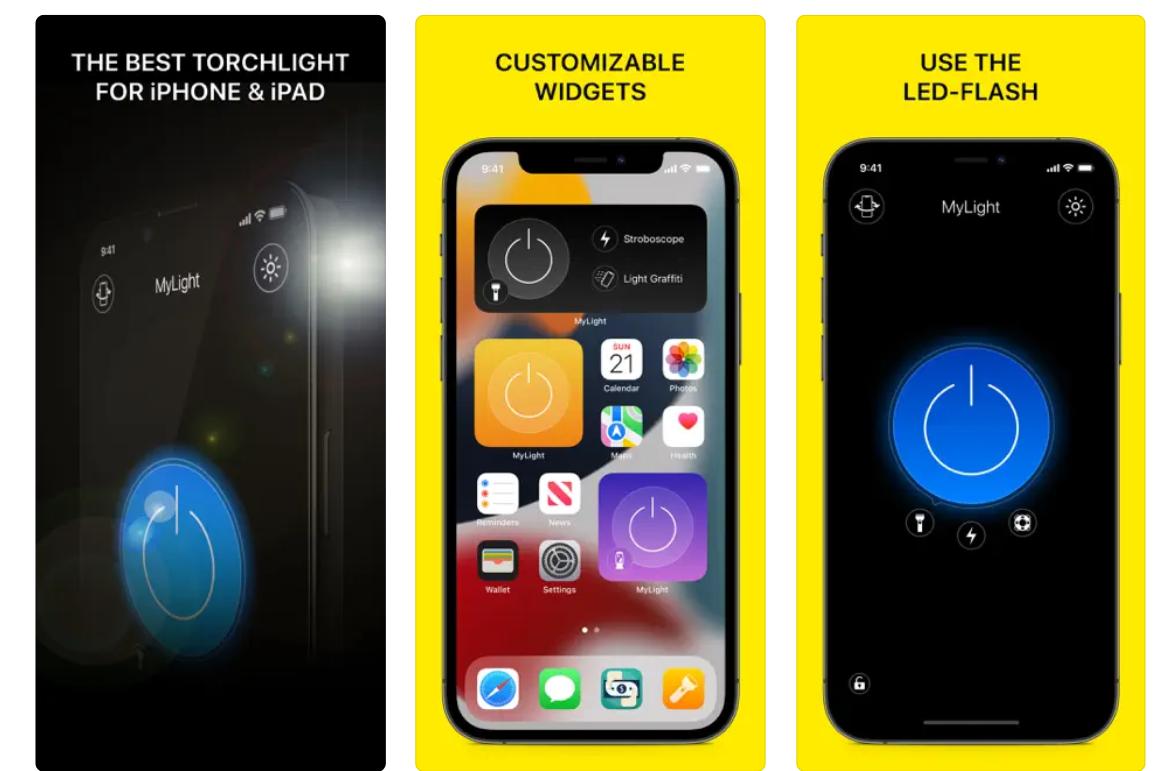 MyLight provides all those basic features that will instantly brighten up your environment. It has a clean and simple modern interface and it supports iPhone, iPod touch & iPad.
Features
A built-in LED for lightning whose brightness can be controlled.

Advanced setting and different light modes.

The app icon is customizable.

Different light modes for different uses namely stroboscope, light graffiti, and SOS.