Theonline job search sites are not hard to find on the internet. The 21st-century has made it necessary for us to have everything within our comfort zone. You don't have to carry your resume from door to door to look for a good job for yourself. Everything from A to Z is available on the internet these days. However, more options mean more confusion. But you don't have to worry about choosing the best website. We have made it easy for you by listing self-tested 10 best job search websites in 2020.
If you are reading this, make sure to stay tuned until the end to have the answers to some burning FAQs regarding this topic. This will help you stay safe and well-informed. Learn about thebest job search sites in India and which one is perfect for you.
Related Article: 10 Best Free Resume Builder Online Tools To Create Your Resume
List of Top 10 Best Job Portals in 2020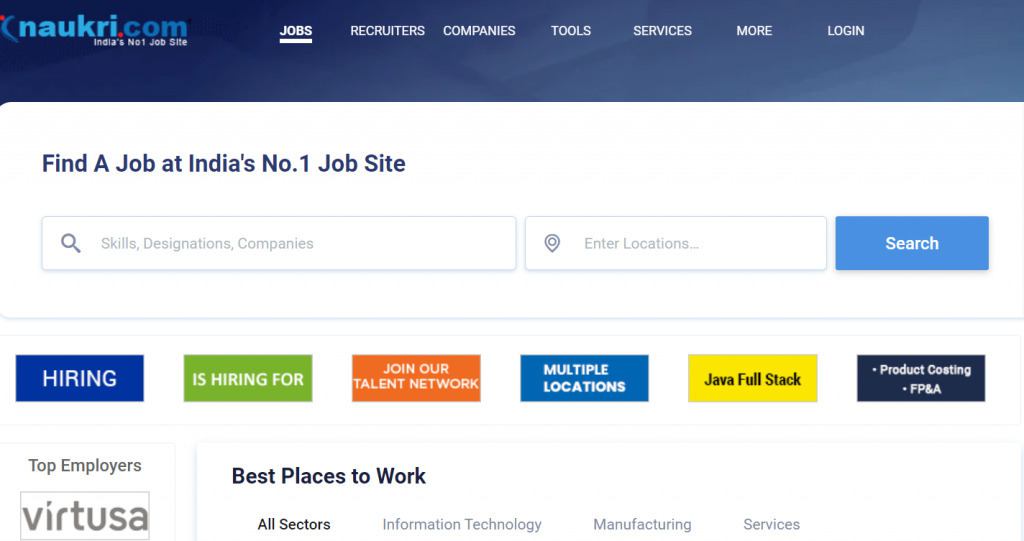 The first one on our list of best job search sites is Naukri.com. It is one of the most popular free online job search sites. As the user does not have to pay anything to apply for the job on this website. The website has many tools like salary predication, salary trend, career navigator and more. These tools can help you understand the environment and the best place you should apply.
Key feature
You can search job company or sector wise

It also allows you to filter job posts based on salary and experience.

You can search for jobs according to location too.

It offers a tool calledNaukri Trajectory that guides you based on your qualification. It shows your company and designation suggestions.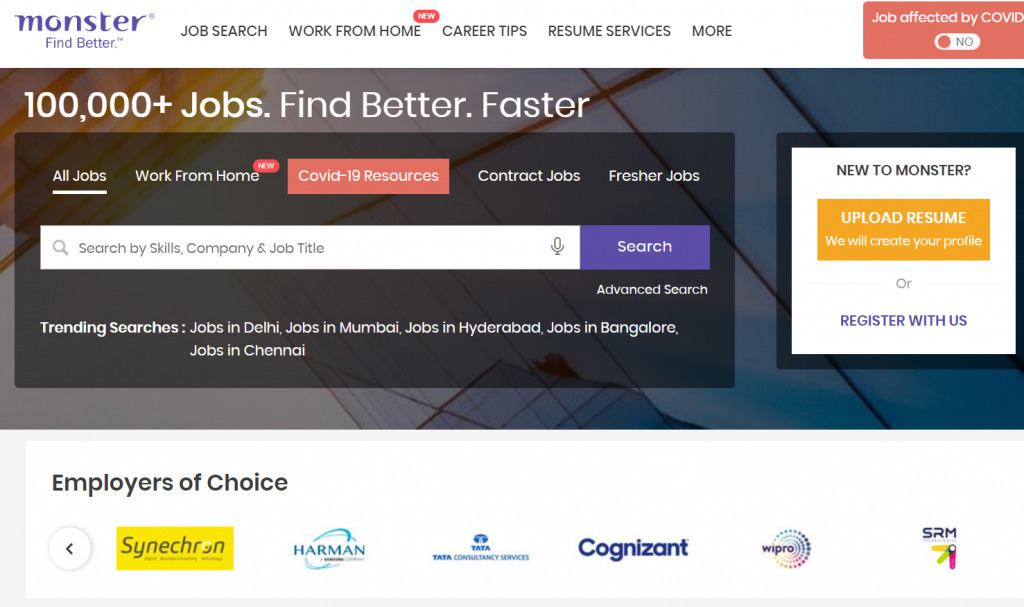 Monster.com is the world's biggest job search portal It is also one of the best job search websites in India. This website is especially for young people. So, if you're a young professional and looking for a mid-level job position then this portal is best for you. It will respond well to your mobile phone. Just download the monster app from the App Store or Google Play for quicker notifications.
Key features
You can create job alerts without registration.

You can filter job search by using categories likeWork From Home,Contract Jobs andFresher Jobs.

There is a wide variety of search categories like skill, title, education and more.

There are other tools and resources available to the process easier. You can checkout different resume tools and interview tips.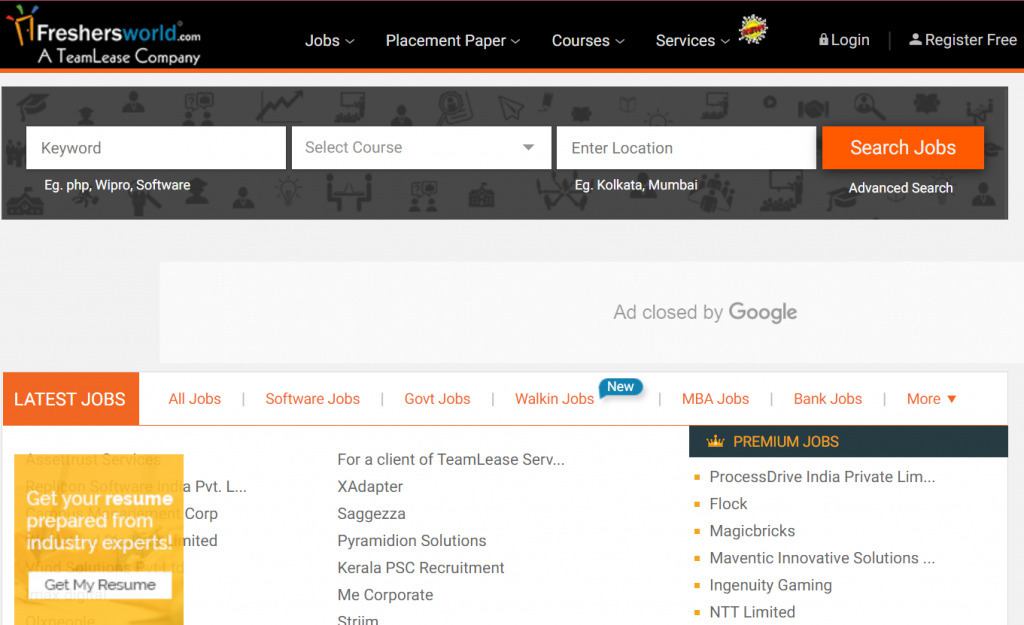 This job portal is designed for freshers -young job seekers. This job portal provides jobs with a like-technical job, IT-jobs, defence job and many more. You can also search using keywords and qualification. The site offers numerous resources making it is one of the best job search sites. It can different question papers, interview questions depending on the subject and resume making guidance.
Key features
The job seeker registration is free.

It displays government job offers too.

It has job alerts option for job seekers.

You can find a job in your locality.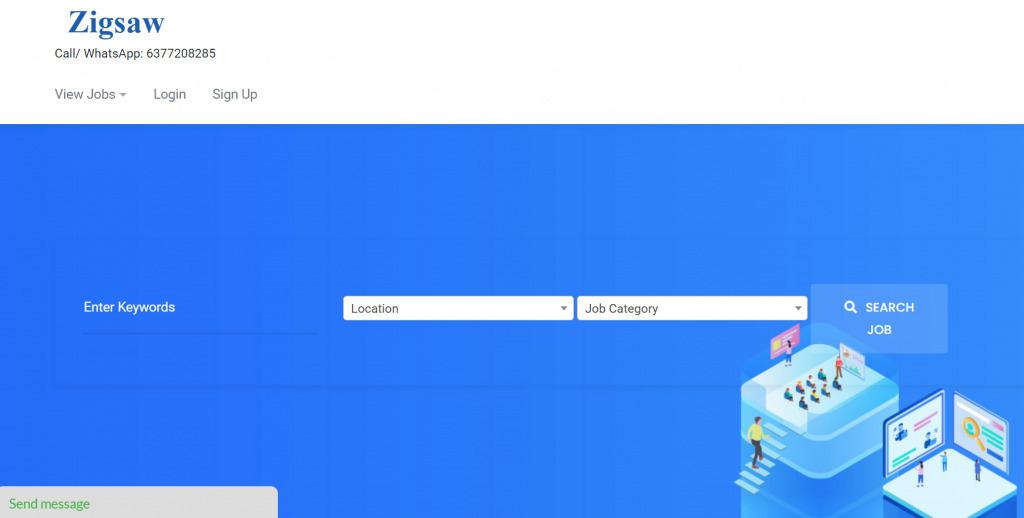 Zigsaw is a plain and simple online job search website focused on only one thing Job search. This website provides job seekers to find their dream jobs. This website provides a platform for job seekers and provides the best job offers. You can register under the Candidate section to apply for verified job posts.
Key features
You can look for jobs filtered by location, category or both.

It also has a search bar that helps you filter even more with keywords.

They have different WhatsApp groups according to location. You can join it for easy updates.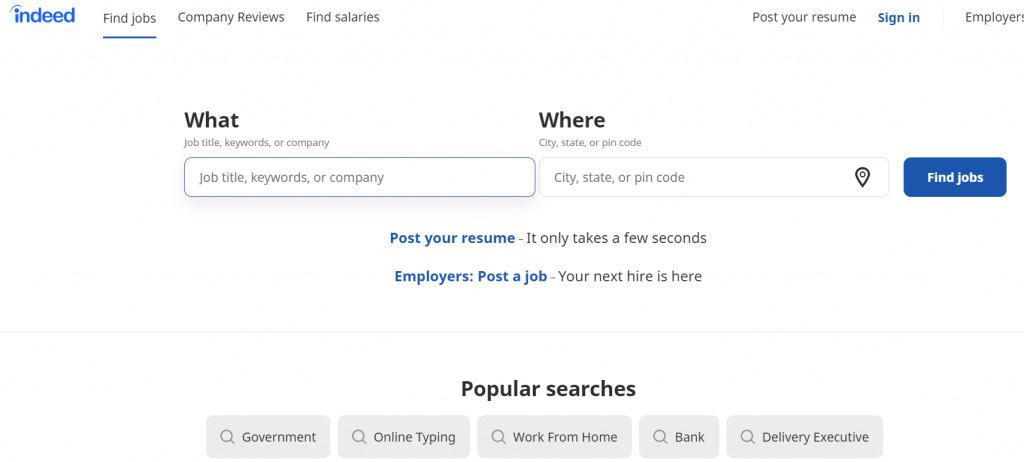 Indeed is another very popular option on the list of best job search sites. It looks easily accessible and organized especially for new job seekers. Opportunities on Indeed are easy to find. Just log in to the site and get started. You can enter the type of job you are searching for and select the city of your choice and search.
Key features
You can see company reviews, salaries and questions.

It has a find salary tool to help you understand how much a person can earn in a company or job.

It displays popular searches under the search bar.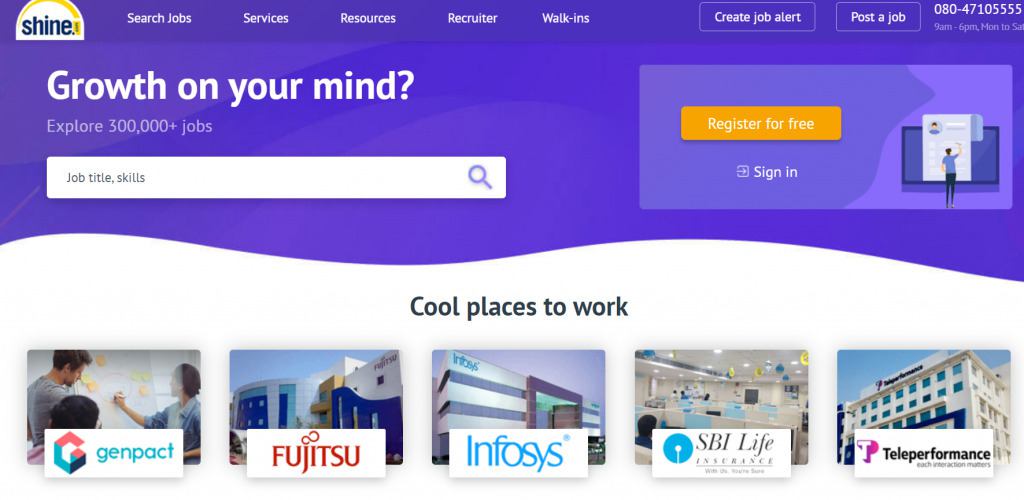 The most innovative and professional job site. It is among the most creative and best job search sites in India. Over the past decade, Shine has become a prominent name in the recruitment industry. You can search job under different categories like city, skill, courses, education and designation. You can also switch to Shine premium for more visibility and other benefits.
Key features
Free job seeker registration.

It ensures profile privacy.

Also has options to create job alerts.

You can directly look for walk-in jobs.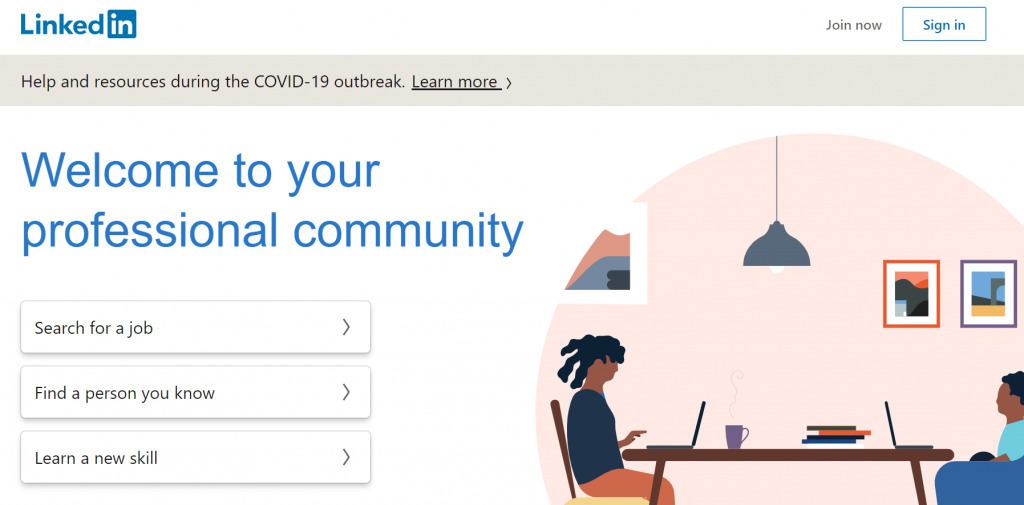 LinkedIn is a little different from otheronline job search sites on this list. The site encourages networking and connections for easy job search. Although it's quite different it is one of the most reliable and best job sites in India. LinkedIn provides its users with job matching their skill requirement. You can build your professional profile and post articles and photos to promote yourself.
It lets you set job alerts.

You can easily search and apply for jobs. It has multiple filters and recommendations according to your profile.

It is easier to find opportunities through networks.

With Linkedin premium, you can track who viewed your profile and get access to severalLinkedIn Learning Courses.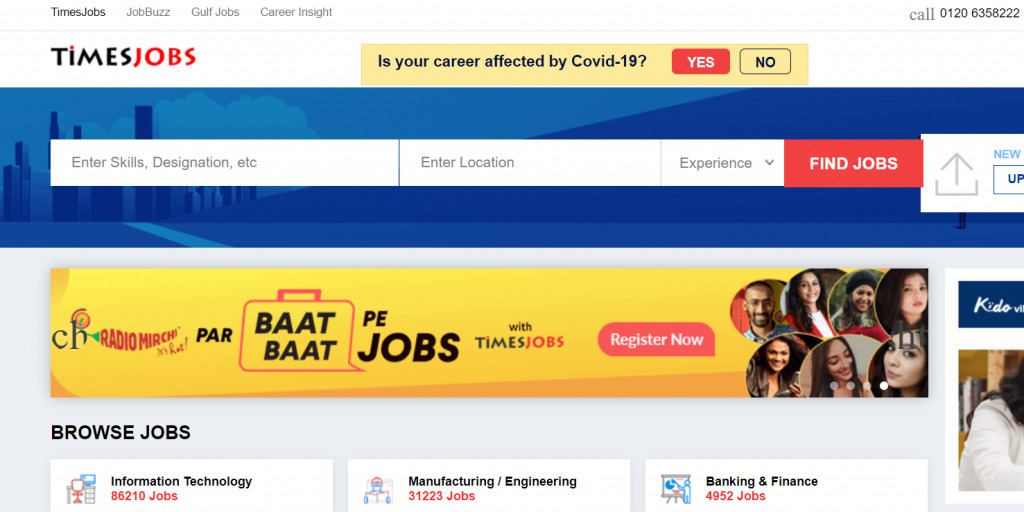 The site, a subsidiary of the Times group, is fast becoming one of the top online job sites in India. It also provides excellent opportunities for job seekers and provides a job in the field you want. With this, job portal users can display their work portfolio and samples for communication with employers.
Key features
It lets you filter job searches according to location and experience.

You can also browse jobs in different sectors.

You can further refine the search result and also create job alerts.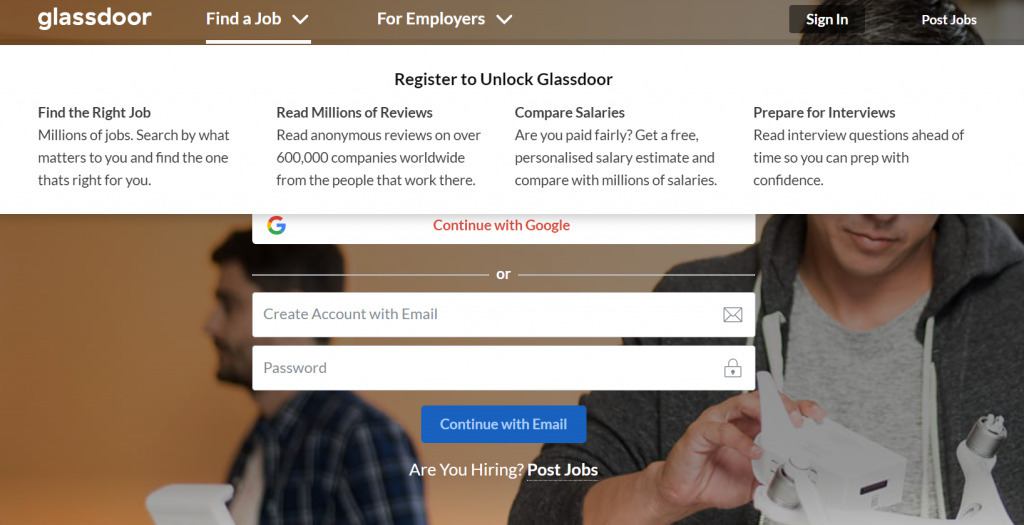 This is the fantastic and best job search websites for job seekers because it allows you to have a clear unbiased ideas about a company's work, culture and how it operates. You will also see that the company you are applying to pay salaries on time. And the best part is that it's all free. But you have to register to get started and use any of the features.
Key features
It shows company reviews and salary info.

You can also view the average salary and graph for different job titles.

There are resources available o help you with the interview.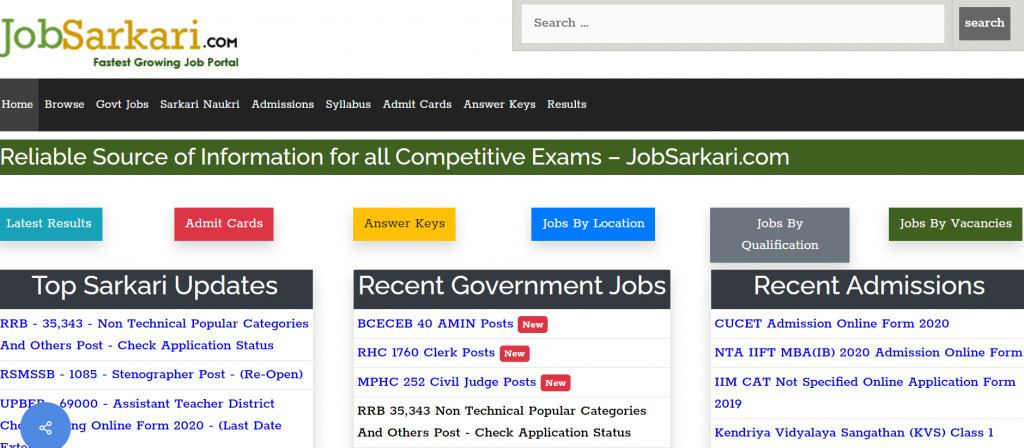 This website for those living in small towns and villages, government jobs are the best sector in which you can make a wonderful career. Jobsarkari is one of the best job search websites for government job in India. And if you are looking for the government job then Jobsarkari should be your first and biggest preference.
Key Features
You can see Government job updates and other information.

It lets you browse jobs by vacancies, qualifications and location.

You can also check the answer key forCompetitive Exams.
Which Job Search Website should I choose?
While choosing the best job search websites you just need to keep in mind all your professional needs and choose the one that fulfils your requirements at its best. If you want private jobs, you should go for websites such as LinkedIn which will help you get private jobs. However, it is recommended to go for websites which will offer you a wider choice from both government and private sector.
Frequently Asked Questions (FAQs)
1. Where can I search for a job online?
The internet has never failed to fulfil our needs according to the requirements of the respected century. The 21st-century has also provided us with many new facilities. Searching jobs online has also been very easy. All is just one click away. There are many job search websites out there like LinkedIn, Job Sarkari, etc. You can create an account on any of these and look forward to getting the best job.
2. Which job search website is the best?
The best job search website depends on the type of job you want and your other requirements. The top 10 sites given in this website are the best ones which are also self-attested. You can go for any of them. Although, you can go for LinkedIn or Naukri.com blindly as these are the most trusted ones.
3. Are these websites safe to use?
The best job search websites stated in this article are self-tested and secure. They usually don't ask for a lot of personal information, even if they do, they keep the information safe with them. But it is important to stay aware of fraud calls and messages pretending to be job portals.