Lightweight browsers are very efficient standard web browsing. They are especially useful if you are running out of storage. Theseandroid lightweight browsers are also very easy to use and manageable. So, you get the fast speed with low resource consumption. Since there are several options out there, we have picked the top10 Best Lightweight Browser Apps for Android.
Lightweight browsers for android can offer a lot more features now. You choose according to privacy and security control options or colorful but simplistic interface. There is something for everyone. Even with many tools, these browsers don't consume much of the phone storage and battery. they can be a real data saver too. Since the android lightweight browser also focuses on speed, they consume fewer data by blocking ads and loading content even in slow connection.
List of 10 Best Lightweight Web Browser Apps for Android
1. Firefox Lite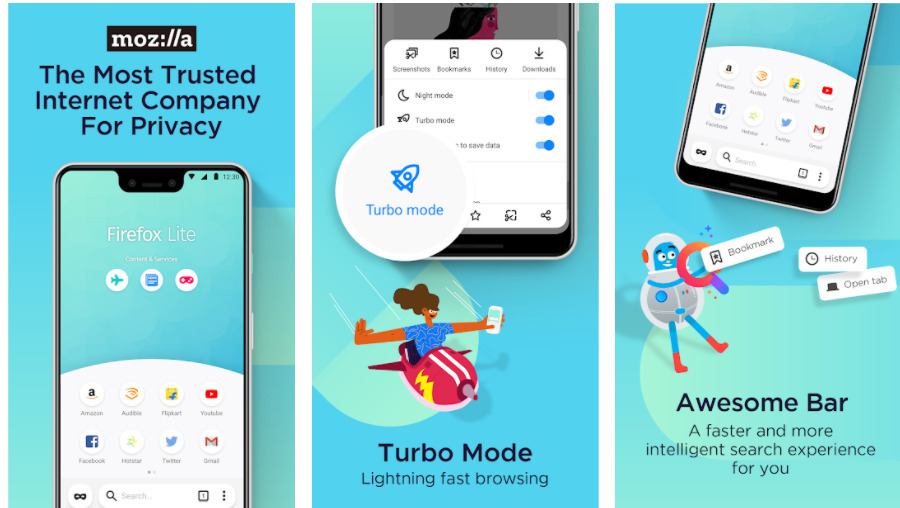 Firefox Lite is one of the most popular ones on our list of Best Lightweight Browser Apps. Built by Mozilla, it is a fast browser with 7 MB size. It allows users to customize the home screen. So, you can choose a theme or pin different pages on the home screen for fast and easy access. Apart from that, there is a Smart Shopping Search feature that helps in finding the best price of a product across multiple sites.
Some other features
It allows private browsing which means no history, passwords or cookies will be saved.

You can screenshot complete webpages from the browser to access them offline.

Firefox Lite also has Night Mode.

2. Monument Browser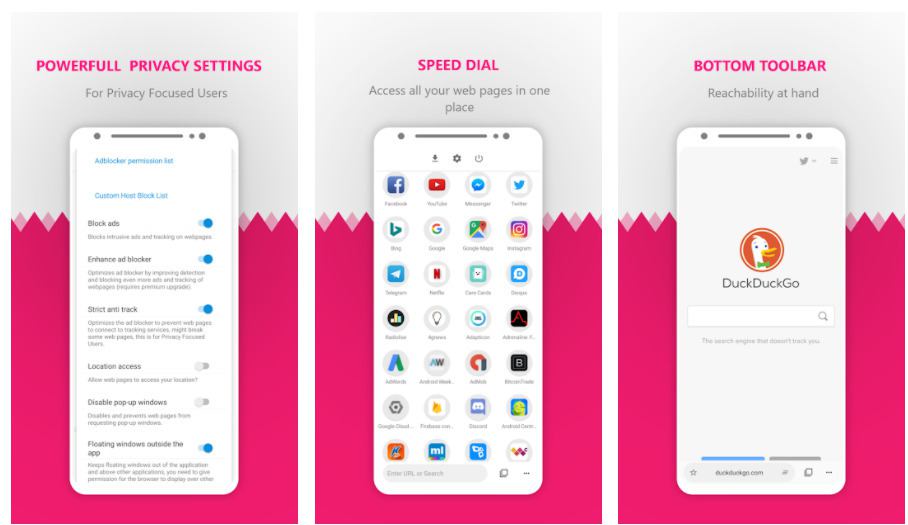 Monument Browser is one of the few privacy-based lightweight browser apps for android. It saves memory as its less than 2MB in size. The app comes with an adblocker along with other tools to control data and ensure privacy. It also lets you create a custom list to block ads.Monument Browser makes downloading easier and hassle-free. You can pause and resume downloads whenever you want. It also lets you edit your download link.
Some other features
Anti Social & the Strict Anti-tracking feature help in stopping networks like Facebook from tracking your activities.

You can save pages to view them offline.

It has Night Mode as well as Read mode.

You can also keep webpages you frequently visit on speed dial.

3. Via Browser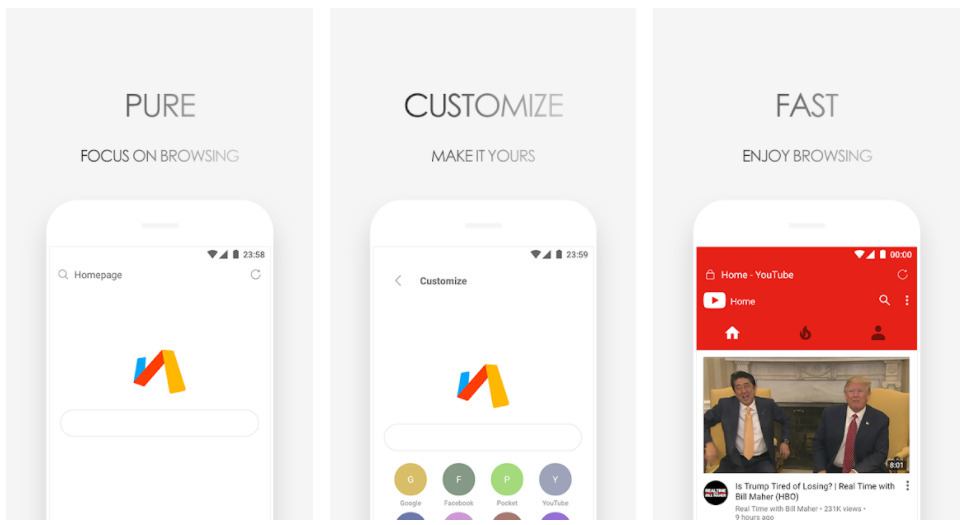 Via Browser is a fastandroid lightweight browser with a standard range of features. The app is smaller than 1mb. It allows different customization including the design of the homepage. You can also adjust the font and view Desktop sites too. You can also sync and import/export bookmarks easily. Apart from these basic features, it comes with add-ons like download manager, QR code scanner, and more. Along with these, there is some more feature which is why it is one of the best lightweight browser apps for android.
Some other features
It has an Adblocker that lets you custom block ads from different sources.

It has incognito mode and it prevents tracking to ensure privacy.

You can save a webpage and then read it offline.

The browser also has Night Mode.

4. Opera Mini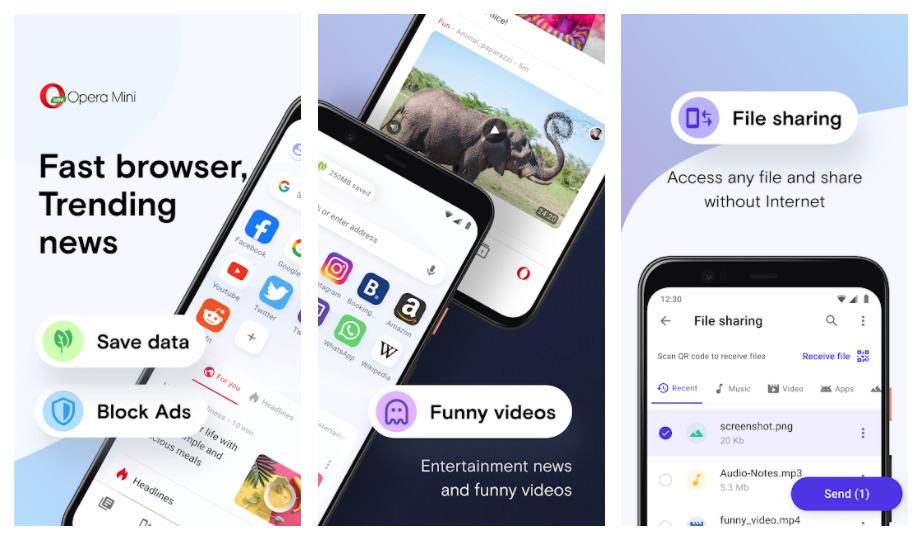 Opera mini is another very popular option on our list of best lightweight browser apps. Along with being fast and user friendly, it offers many features that are not usually available on the android lightweight browser. Some of these features include Personalised News in 10 different Indian languages, Live Cricket Updates,trending viral videos updates and more entertainment features. Just like Firefox lite, it also allows homepage customization.
Some other features
It allows offline file sharing between Opera Mini users.

It also comes with a built-in ad-blocker.

The browser also has data saving mode and offline reading mode.

For privacy protection, it lets you use private tabs and prevents tracking.

5. Yandex.Browser Lite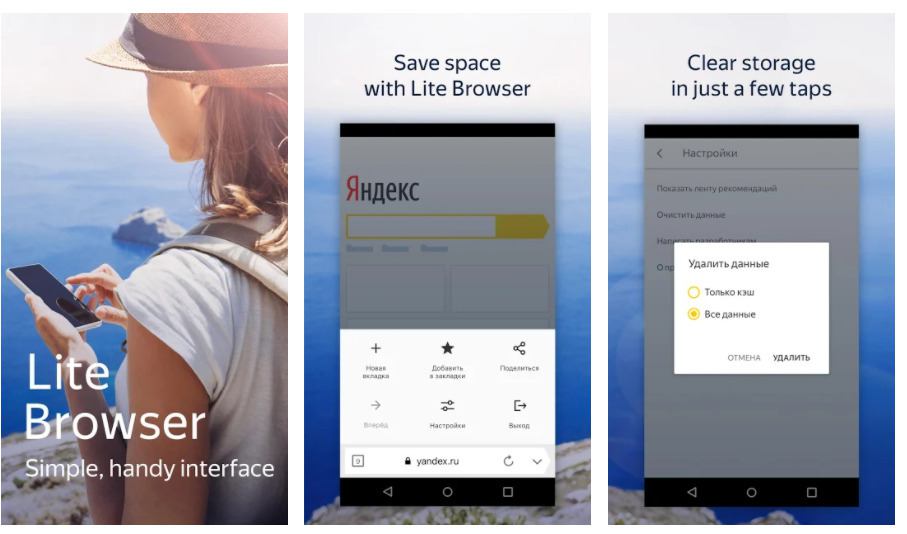 Yandex. Browser Lite is a plain and simplelightweight browser. It is great for saving storage as well as a phone battery. Along with a small size, it has easy options toclear the cache and cookies from the settings. If you are running out of phone storage you can save theYandex.Browser Lite inyour memory card. The browser shows content and search result in English or your selected default language.
Features
TheSmartBox search bar makes web searches faster and easier. It also has an image search option.

You can keep bookmarks on screen and also view frequently visited sites.

It also shows you news, stories, and article based on your searches and interests.

6. XBrowser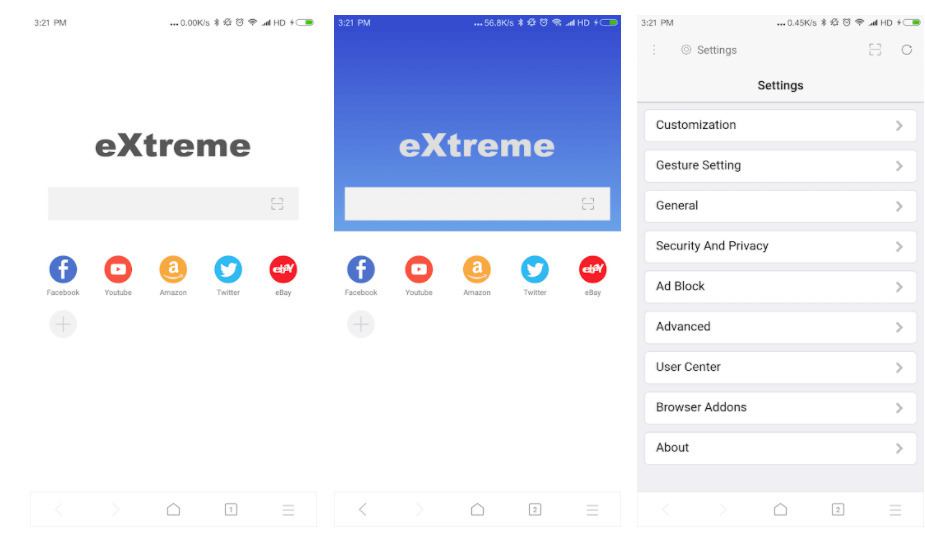 XBrowser is a minimalistlightweight browser of less than 1mb size. It is one of the best lightweight browser apps for users who want a clean interface without any news or background services. This also makes it a good data and battery saver. Xbrowser comes with a lot of customization options like it allows you to add a shortcut on the home screen. Apart from that, it also has built-in shortcut gestures for quick action. There is a built-in QR code scanner too.
Features
It has a powerful ad-blocker.

The browser makes downloading various files easy with 'Sniff Media Resource' feature.

You can controldata security with various privacy settings options.

It has the Read-mode that removes ads to show clear content of the article.

7. Google Go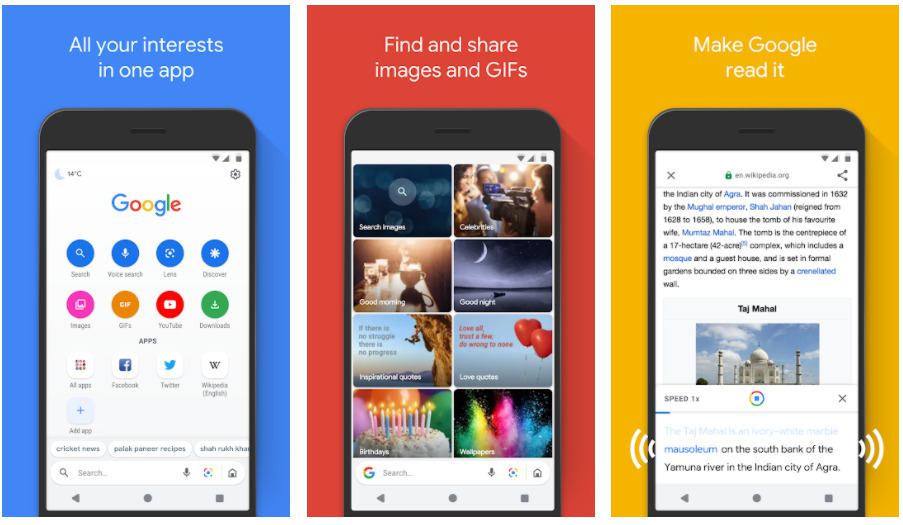 Google Goandroid lightweight browser works well withslow connections and low storage. It optimizes the search results to increase speed and give results even if the connection is slow. The home page has quick search shortcuts like voice search and image search. You can also add frequently visited apps there. Apart from these, it comes with Google Lens. This tool searches or translate words through the camera. Overall Google Go is one of the best lightweight browser apps because it's fast and easy to use.
Features
You can listen to a webpage read out by Google.

It updates users with the latest news and trending topics.

You can choose a second language and switch to it whenever you want.

8. Lightning Browser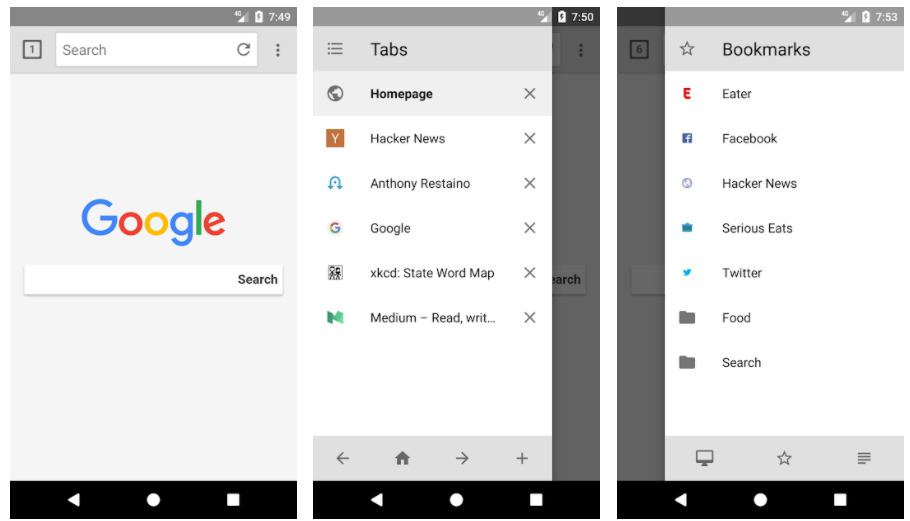 Lightning browser has all the features required in a regular lightweight browser app for Android. The interface is clean and simple. The minimal design allows more viewing space. For more space, you can always switch to a full-screen view. It also has different modes likeDark Mode, Light Mode, Color Mode and Night Mode.
Features
There's both paid and free Ad-blocker available.

It also has an incognito mode to protect privacy.

9. Dolphin Zero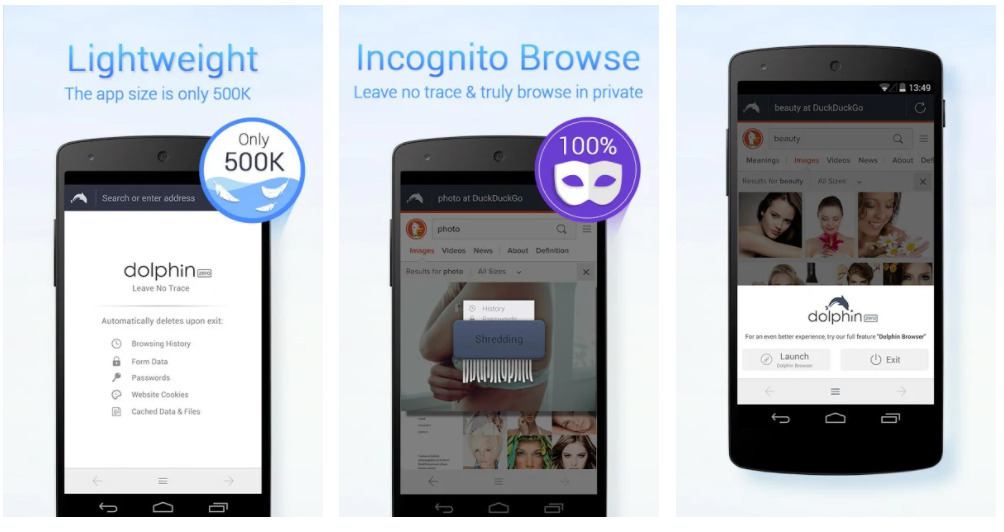 Dolphin zero is anandroid lightweight browser that focuses on the private browsing experience. It is an incognito browser of size 500kb only. The app has "Do Not Track" enabled by default. It does store or share information likeBrowser History
, Form Data, Passwords, Cached Data, User Address Book, Cookies, and Location Info. You can always keep this small size browser when you are sites that can track such details. It has more features than the built-in private tabs of other browsers and this makes it one of the best lightweight browsers.
Features
It comes with a built-in flash player.

It also has an adblocker to blockpopups, ads, and ad-videos.

It is customizable. You can select themes and wallpapers.

Dolphin zero offers a voice search facility too.

10. Pure Web Browser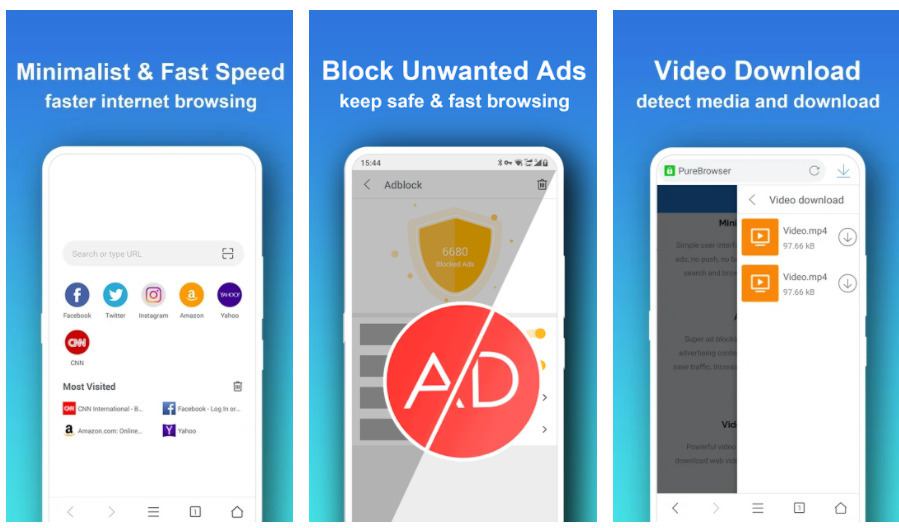 Pure Web Browser is another minimalistic browser on our like of best lightweight. Along with a simple interface it also offers privacy and security. The app doesn't collectdata and, it also hasIncognito Mode that stores no history. It also has many other tools likeQR Code scanner,Page Translator, andFFindsIn Page search tool. You can also save the entire page to read later.
Features
It has a powerful ad-blocker.

The app also has a video downloader for easy downloads.

You can select the theme for your browser and there is Night Mode available too.