Browsing is liked by many but on the other hand, compromised privacy is despised. The excitement of acquiring the latest news or your favorite recipe transforms into terror, with the thought that someone somewhere is tracking you whenever you browse. The most common browsers like chrome can track your activities even when your incognito mode is on. In addition to your interests, your IP address is equally unsafe. Consequently, you start to get an advertisement related to your search in between your work. Nothing could be more annoying than an ad popping up in front of your screen.
Now you can say goodbye to your fears of being tracked with the help of a VPN(Virtual Private Network). With the help of a VPN, you can secure your public IP address, access content that is not available in your country, and much more.
A VPN or Virtual Private Network is an encrypted connection that does not allow IP addresses' visibility from a public internet connection. By using a VPN over your public network ensures security over the internet. So let's browse the internet safely with these browsers that come with a built-in VPN.
Related Article: 10 Best Free VPN Apps For Android Phones To Surf Internet Securely
Benefits of Browsers with In-Built VPN instead of a VPN App
The next thought strike in your mind might be why to use the Android or iOS browser with a VPN instead of using an android VPN app available on the play store or apps store. Although a VPN keeps you anonymous, using a free Virtual Private Network app can track you and sell your data, after all, nothing comes for free. Browsers that come with an in-built VPN have lots of benefits rather to using a browser that does not have an inbuilt VPN.
Using browser with built in vpn is easy in comparison to using a VPN app. A browser with a VPN saves you from hassle-free settings that are necessary for a VPN app.

You don't need to install 2 apps on your smartphones.

Since the VPN is in-built with your browser, you also don't need to find some third-party VPN service.

You don't need to always turn on VPN when you browse the internet. In-built VPN browsers automatically turn on VPN when you browse with that browser.

Cheaper as compared to dedicated VPN services.
A browser with an inbuilt Virtual network is free and easy to use, as mentioned earlier, with just one-click installation. If you are thinking of switching from standard browsers to a browser with a built-in VPN, you are at the perfect place as we have jotted the 8 best browsers that come with a built-in VPN.
List of Best VPN Browsers For Android and iOS Devices
1. Aloha
Aloha browser is developed by Aloha Mobile Ltd and is one of the best browsers with a built-in VPN for both Android as well as iOS devices. The Aloha browser's characteristic feature is that it can unblock any site using the inbuilt VPN, which can be activated with just one click. The browser provides free unlimited VPN access with maximum privacy and security. Along with unlimited free VPN access, the Aloha browser provides features like adblocker, download manager, VR player, and much more. Overall the Aloha browser is the most trusted browser with a built-in VPN for iPhone/iPad and Android smartphones.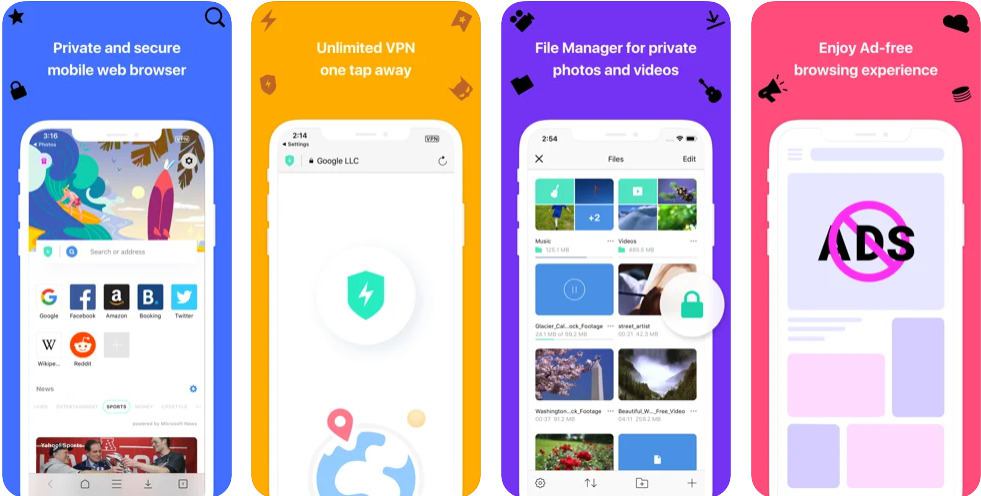 Pros
Aloha is the fastest browser with unlimited VPN for free.

Block annoying pop-up and ads with the Aloha browser

The browser supports music and video download.

Aloha also supports private folders with passwords and fingerprints.

Like all browsers, Aloha also supports private mode without keeping any records of browsing.

The support of VR player is what that makes the Aloha browser unique.

Available for Android as well as iOS devices.
Cons
The browser does not have any sign-in option to sync data.


2. Cake Web Browser
Cake browser comes with lots of gestures to browse the internet fast and easy. With the help of its swipe gesture, you can explore the result as quickly as possible. The Cake Browser provides you the best security over the internet and never asks for your username and password. You can surf the internet with no risk of tracking as well because the in-built VPN  not only provides you the unlimited VPN access but also block tracker and annoying ads. Also, the VPN Browser provides you a daily feed of images, news, videos, and much more.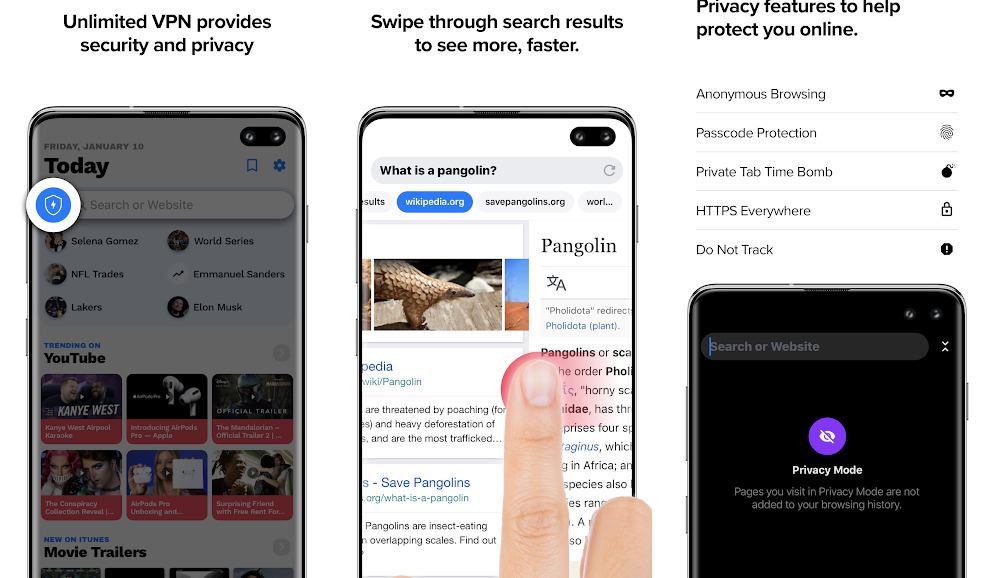 Pros
Cake Browser is easy to use with lots of gestures.

Passcode protection

Block ads and trackers

Unlimited free VPN access.

It comes with a Voice search feature.

Night Mode

Available for Android as well as iOS devices.
Cons
The default search engine is Yahoo and you can't change it.


3. Opera
Opera is one of the most common Android browsers with built-in VPN. It is not only an Android browser with a free VPN, but also it is a browser that comes with an ad blocker. Nothing can interrupt your smooth browsing experience when using Opera. The next fantastic feature that makes Opera Stand out from other Android browsers with inbuilt VPN has a personalized breaking news tab. Opera also provides you with trending viral videos as entertainment. Besides entertainment, fast downloading, credit card autofill, automatic text wrap, and built-in QR and barcode scanner are also available. Opera makes your experience smooth by providing easy access from the search bar. Opera is also available for IOS by the name Opera VPN.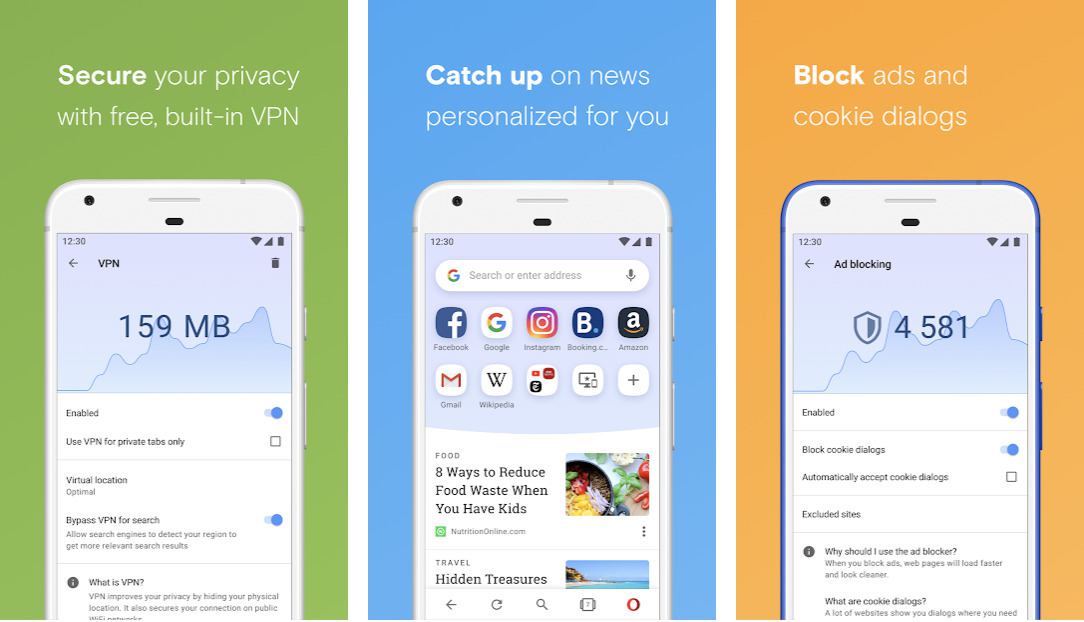 Pros
Unlimited built-in VPN.

The browsing experience is fast in Opera due to the ad-blocking feature.

You can have a personalized news feed long, entertainment and sports with video support.

Opera supports local languages in addition to local content.

The downloading is comfortable with Opera as it supports background downloading.

The Opera can understand your need and can be customized according to your requirement as it comes with a text wrap feature. They are thus enabling to change the text size.

Opera also supports Night mode and data saving feature.

Search bar includes in-built QR and barcode scanner
Cons
Currently, the built-in VPN is not available for iOS devices

4. Tenta Browser
Tenta Browser is that one Android browser with a built-in VPN you might be looking for. Automatic privacy, Built-in VPN, Cryptofriendly are the features that lure browsers towards Tenta. While using the Tenta browser, your experience is best as the browser comes with AdBlocker, which eventually increases the speed and blocks unnecessary ads. The browser has an inbuilt video downloader and an Encrypted Media vault to save your media from snooping eyes. Every piece of data that is sent/receive through this browser is encrypted that means your IP address, history, bookmarks, all are safe and secure. Even your passwords are protected by the browser with AES-256 encryption.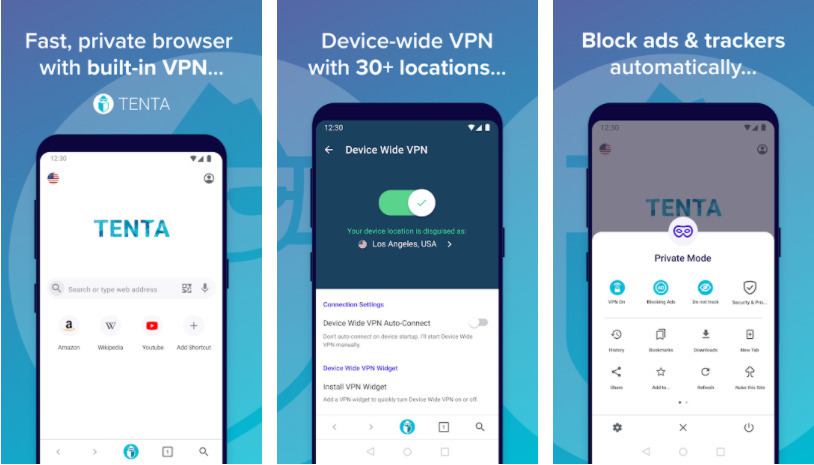 Pros
Tenta Browser is customizable according to the browsing needs.

The built-in video downloader in Tenta has additional features, such as multiple simultaneous downloads. the videos can be paused in between the download

The data remains safe and is not sold like other browsers.

The browser hides the IP address as it supports an automatic VPN connection.

It protects your password with AES-256 encryption.

Tenta browser secures the DNS because of which there is no DNS leak.

The tabs in the Tenta browser are encrypted if open and hidden and locked if saved.
Cons
Tenta browser of free version has VPN for one location only.

A commercial plan allows only one device.

Currently, the Tenta Browser also not available for iOS users.

5. UR(beta) browser
Despite being a beta version, the UR browser does not lack compared to other Android browsers with an in-built VPN. The browser comes with a set of a tool known as Privacy Suite with three different privacy levels: High, Medium, Low. The privacy once set for a website does not change even after closing the website. UR browser comes with an ad blocker allowing a fast and ad-free browsing experience.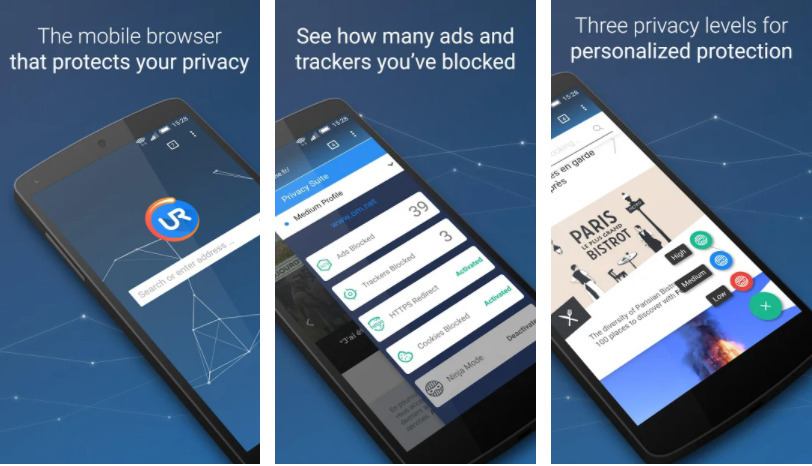 Pros
High Privacy mode comes with a feature called "Ninja Mode" which is similar to incognito mode.

You get an option to choose an alternative to a classic search engine.

The browser is very fast with cookies, ads, and trackers blocked.
Cons
UR(beta) is not available for iOS devices currently.

The browser sometimes crashes.

6. VPN+Tor Browser Private Web
VPN+Tor Browser is the iOS-based browser with the feature of proxy VPN and secure Hotspot. As the name suggests, VPN+Tor is the only app to feature both VPN and Tor. Singly Tor is also available for Android. Tor for Android also supports private browsing but doesn't contain in VPN.
The characteristic feature of the VPN+Tor browser is that it allows you to choose between the speed as well as the VPN tunnel connection. VPN+Tor Browser is the only browser to provide advanced protection offered by Tor Network. thereby, concealing your identity when surfing. VPN+Tor also has a premium version with lots of additional features. The browser is additional help for travelers who has the need to access different contents from a different location. Overall this browser is the best browser with a built-in VPN and Tor browser features for iOS devices.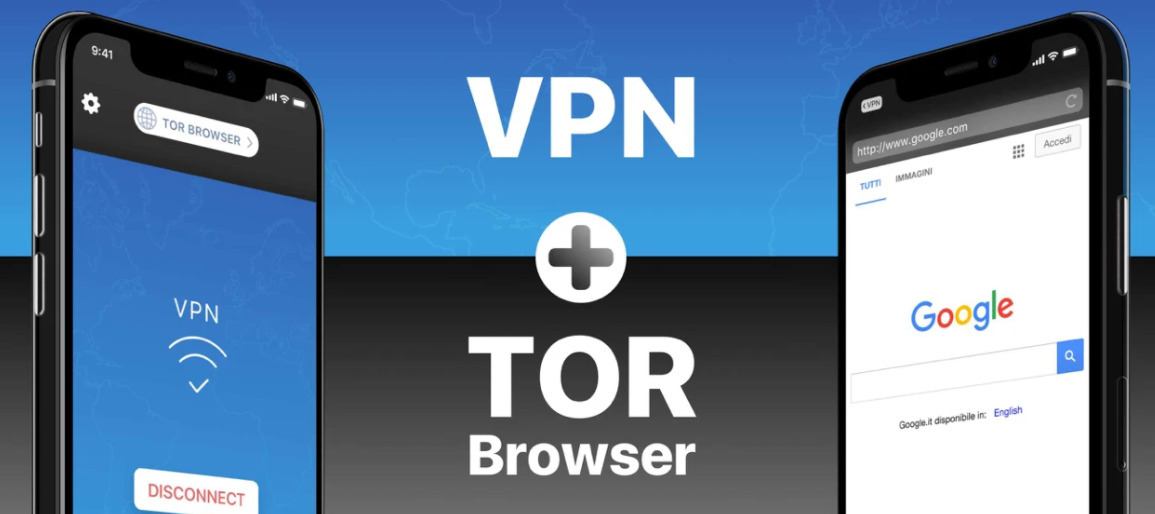 Pros
Your real IP address is hidden during using VPN+Tor as well as the connection is encrypted.

The wireless networks cannot trace your browsing.

The VPN+Tor has an easy-use interface with advanced browsing capabilities as well as support for audio and video playback.

The premium version allows an ad-free experience along with unlimited VPN and priority support
Cons
Not available for Android users.

The free version does not have an option to disable ads.

7. Brave Private Web Browser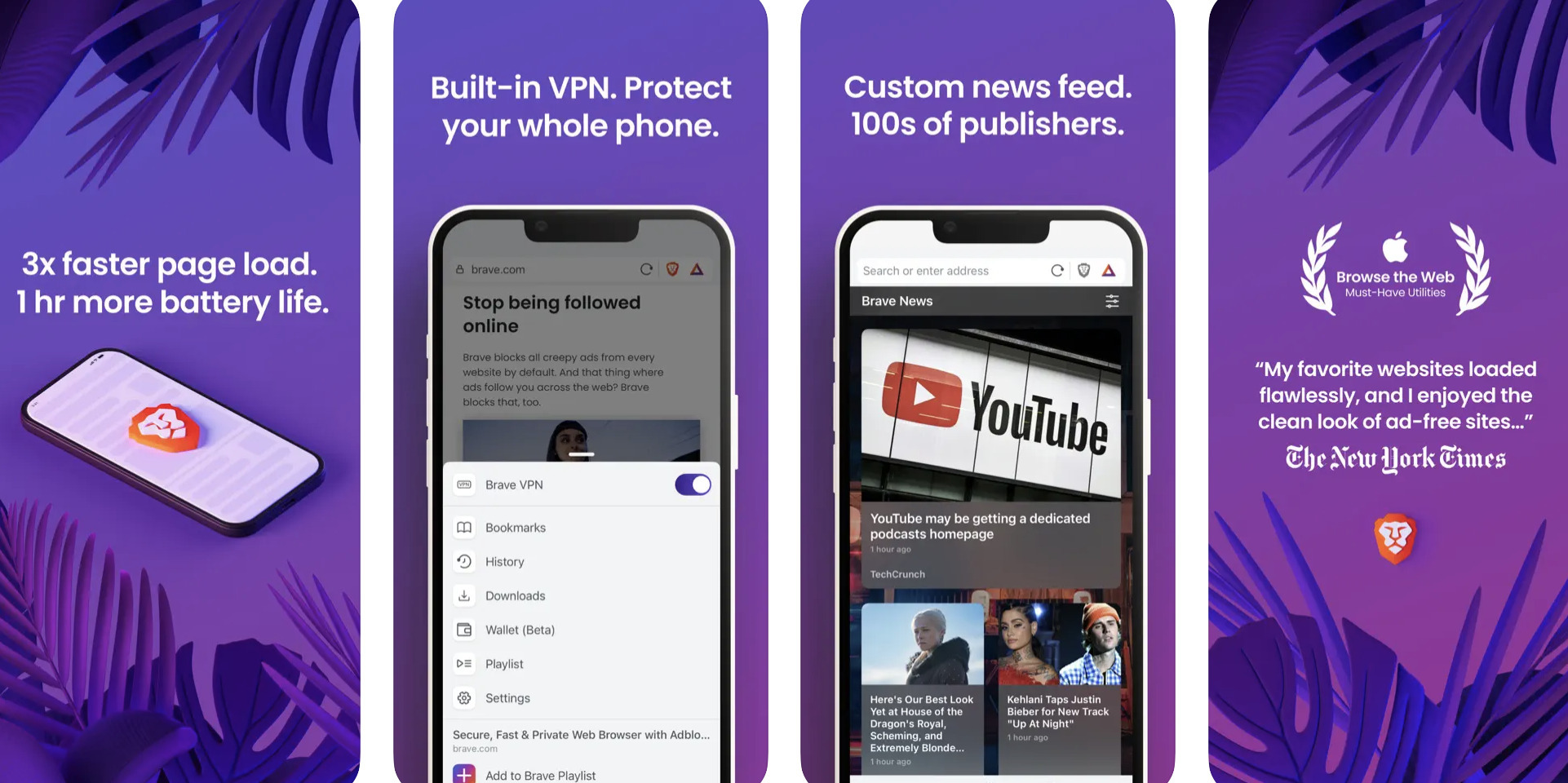 Brave browser is the most trusted, secure, light-weighted browser that also provides fullprivacy over the internet. Along with the inbuilt VPN, the browser also comes with features like an ad blocker, cookie blocking, tracking protection, script blocking, etc. So if you want a browser that secures your privacy over the internet then the brave browser is one of the best VPN browsers for iPhone/iPad or Android devices.
Pros
Free inbuilt pop-blocker(Ads blocker)

Added a new feature that comes with VPN + Firewall

Uses HTTPS everywhere

cookie blocker, script blocker.

Night mode.

Surf the internet privately in incognito mode.

Save battery while surfing the internet.
Cons
The VPN is paid add-on feature.


8. Psiphon Pro
Psiphon Pro is not a browser with a VPN, but a VPN app for Android with a browser extension. Still, the browser can be said as an Android browser with a VPN. The reason users are preferring Psiphon Pro over other browsers is that it does not only provides you with private browsing but also secures your device. Moreover, it lets you view the app status as well as the activity log.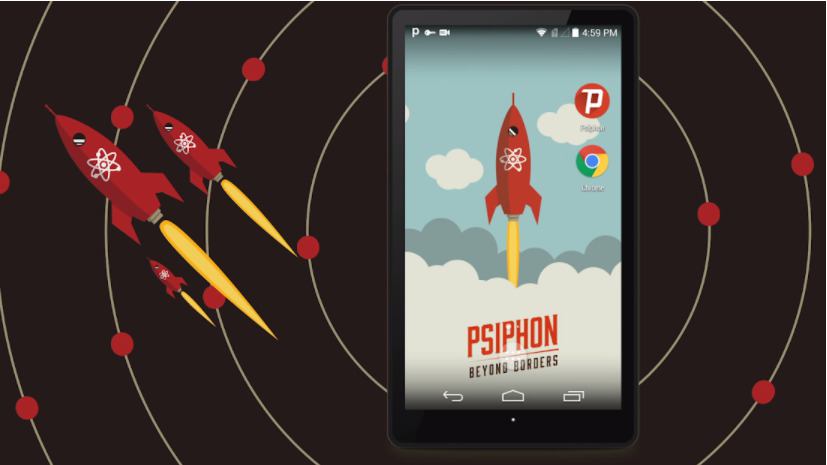 Pros
Psiphon Pro secures your whole device.

The VPN is free and requires no registration for download.

You can customize the proxy settings and make your own VPN.

Psiphon provides you with the option to exclude the apps from VPN according to your choice.
Cons
The default browser is used for browsing.

Not available for iOS