A Smartphone has the ability to carry out many awesome functions and taking notes is one of them. Nowadays a smartphone goes everywhere with us so it feels convenient to jot down quick thoughts on your phone anywhere at any point in time. Note-taking apps come in handy in a situation where you feel the need to save some information. But it would be a disaster for you if you could not find the information you have noted in any note-taking apps. This could happen as all the apps available in the play store cannot be trusted. We have done the work and listed the 10 best Note-Taking apps for Android and IOS smartphones that you can rely on.
Related Article: Drawing Apps - Best Procreate Alternatives for Android, iOS, Mac, and Windows
List of Top 10 Best Note-Taking Apps for Android and iOS
1. Google Keep – Notes and Lists
Google Keep stands first in our list of best note-taking apps for Android and iOS because of its awesome features and simple UI. The app uses material design for its User interface which looks very impressive and easy. Taking down notes is very simple using Google Keep. It is not necessary that you will have to type for saving a note. You can also speak a voice memo for a quick note and have it transcribed instantly. The app allows not only text you can also to save a photo and later find it in search. And also you can share your thoughts written in notes with your family and friends.
The best part of using the Google Kepp app is you do not have to scroll all way down looking for notes, you can simply search using the search bar. Additionally, many people can have access to the notes just by having a common Gmail account. This feature really helps a team by having access to each other thoughts without bothering them. You just have to jot down the thoughts and the other person could easily see them or make changes as well.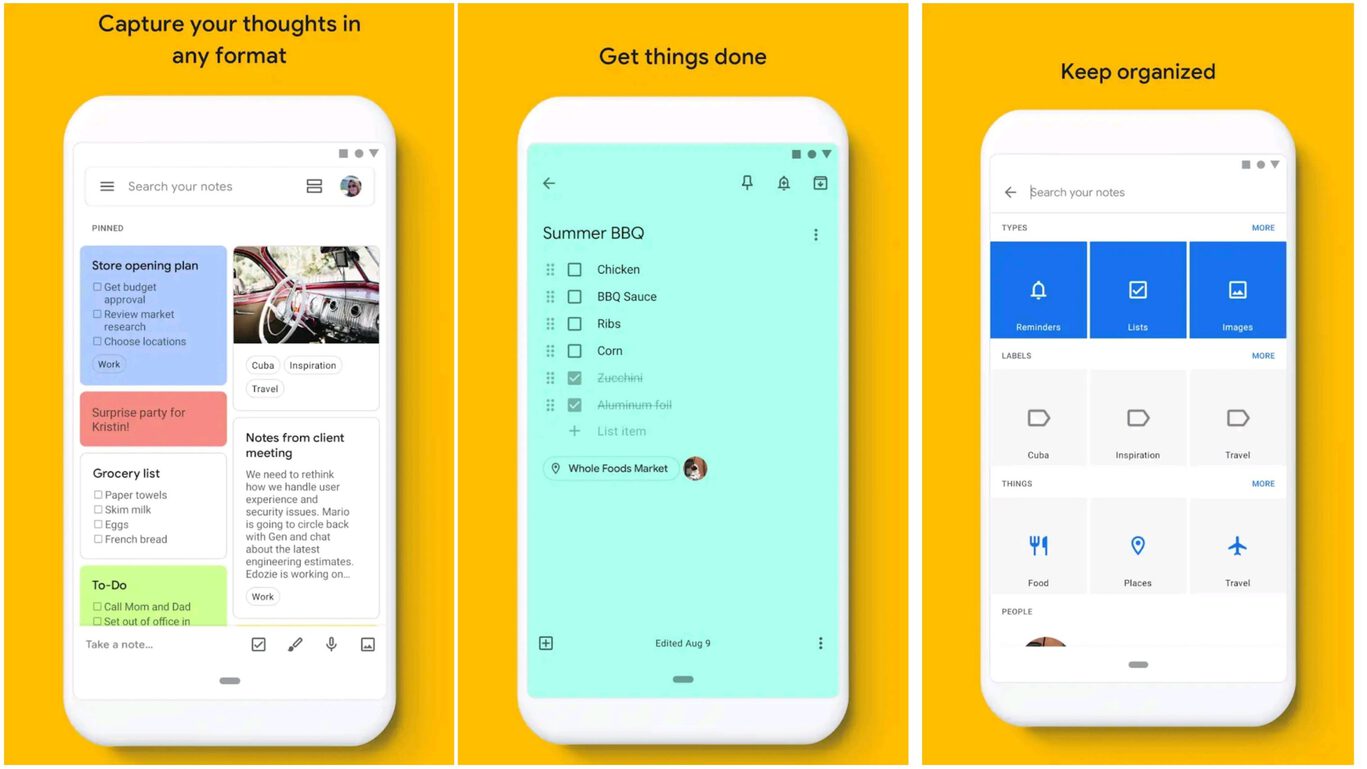 2. Samsung Notes
Samsung has done a great job in the notes app for Android. The features they provide are alluring. Like any other best note-taking apps, Samsung Notes also allows you to create notes containing texts, images with footnotes, voice recordings, and even music. Additionally, it allows the sharing of notes to SNS. You can also draw in notes using the color palette and a wide range of brushes available in the Samsung Notes app.
Creating notes in Samsung Notes is super easy. All you have to do is click on the +icon present at the bottom of the main screen. You can also lock your notes with a password. To lock a note you have to explore the more button on the main screen. Along with text, you can also add a handwritten note which can also be erased with a virtual eraser present on the app. Finally, you can also save the note and Sync with Samsung cloud to have access to it anywhere or on any device you like. The bad thing about Samsung Notes is that it is not available for iOS devices.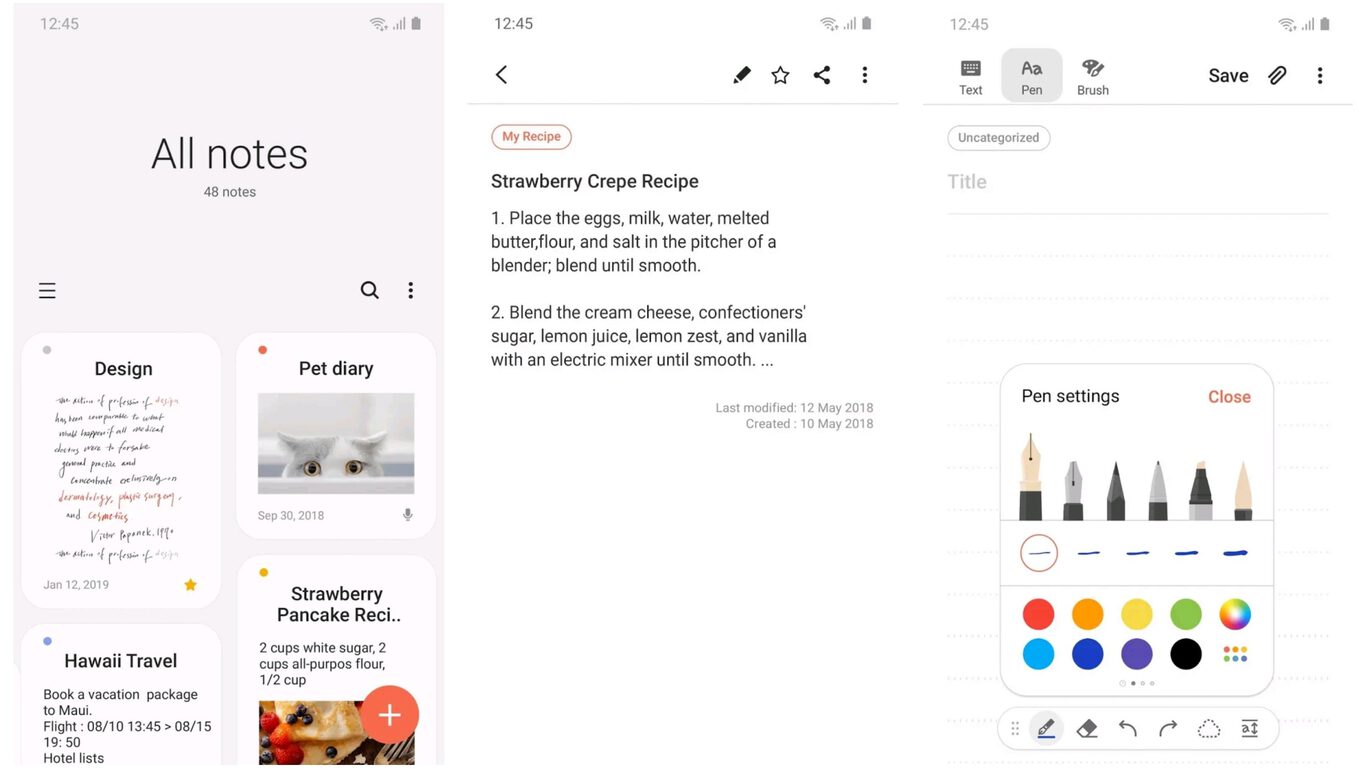 3. Apple Notes
Apple Notes is a simple easy-to-use note-taking app. The interface is unique with a textured paper background for notes and cute yellow icons. This app is very convenient for capturing a quick thought, creating checklists, sketch ideas, and more.
For creating a new note you will have to just tap the compose button followed by clicking on Done. Or you can also ask Siri for starting a new note. After creating a note you can pin your favorite or important notes by simply swiping right. And again swiping right would unpin the note.
Like all these awesome features were not enough, you can do a lot with this best note-taking apps for iPhone or iPad. You can draw, scan, add a signature and also attach photos, videos, or weblinks and even edit the text present in the note.

4. Simplenote
As the name suggests this best note-taking app for iPhone and iPad is a simple and easy way to take notes app. The process is simple, just open the app jot down your thoughts and you are done. The best part is you can organize your notes using tags and pins and search them instantly using these tags. The app will sync all your notes with various devices for free so you can access them everywhere.
Additionally, you can also collaborate and work together with your partner. Your teamwork will be at its peak using this app, as you can share your ideas. Moreover, Simplenote allows its users to share the notes very quickly with third-party apps as well.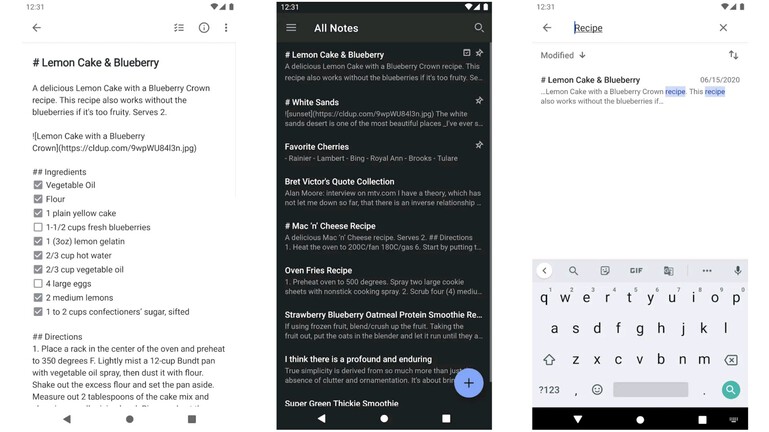 5. Notebook
Notebook is one of the best note-taking apps for iPad and iPhone with different ways of taking a note. You can capture your thoughts by simple text by adding images, sketches, checklists, or Audio in the same note. Additionally, you can add PDFs, word documents, spreadsheets. As is this was not enough, you can also record ideas, meetings, and lectures with an audio net card. Sketching ideas and taking handwritten notes using fingers or apple pencil is also possible in this note-taking app.
Notebook is not only for taking notes, you can also capture moments using the photo note card. Further, you can also scan business cards, documents, and more. Another interesting feature is smart cards where you can add contents to Notebook and get them formatted into beautiful cards.


6. Evernote
Evernote helps to write, collect, and capture ideas in the form of searchable notes, notebooks, and memos. You can clip interesting ideas and webpages to read them later on using Evernote. The best thing is you get to create notepads in a variety of formats including texts, sketches, photos, audios, web clippings, and more. Additionally, you can also use a camera to scan documents or handwritten notes and save them in the form of notes.
When your app gets full of notes you don't have to worry about finding the desired note. Evernote is known as the best note-taking apps featuring excellent organized and powerful search. You can also set reminders and write to-do lists as well. As the app has the ability to synchronize, you can have access to the notes from any device you like. And you can also use this app as a planner as well as an organizer to keep track of your important notes. With all these awesome features you can say Evernote is the best note-taking apps for iPad, iPhone, and Android.


7. Any.do
Although Anydo is a to-do-list app, it can also take your notes better than any other notes taking app. It is free and easy to use. Anydo is one of the best note-taking app trusted by 30million downloads. It helps you to keep your notes, to-do-lists, reminders in a most organized way. The app also comes with a sync feature, thus allowing you to sync your notes, reminders, and event calendars. Moreover, you can share your work and assign tasks to your friends and collaborate very easily. Additionally, you can also use this app as a daily planner and life organizer. This is possible because it has a board where you can create sticky notes and a project management tool makes the organizer more efficient. The app is available for both android and IOS.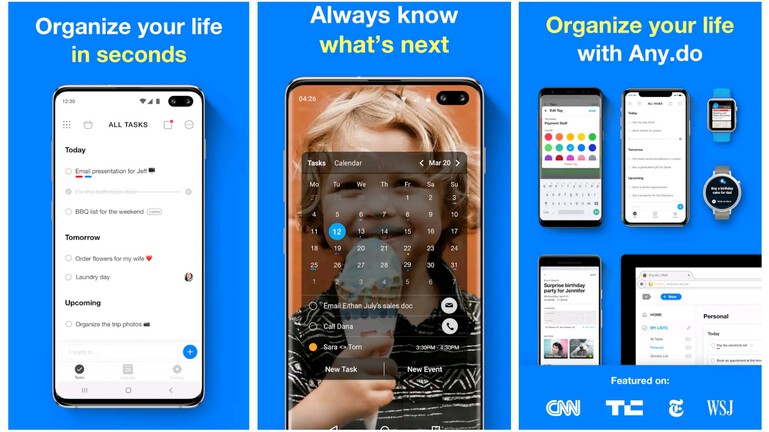 8. Notion
The Notion is one of the best note-taking apps with wider compatibility. Wider compatibility because it is compatible on MAC, iOS, Android, Windows, and even browsers. Using the Notion app you get to experience a multilayered collection of pages with a powerful preview. However, the best part about this note-taking app is its ability to organize notes in such a way that you can choose to display the information or not.
The only drawback Notion has is it cannot work in offline mode.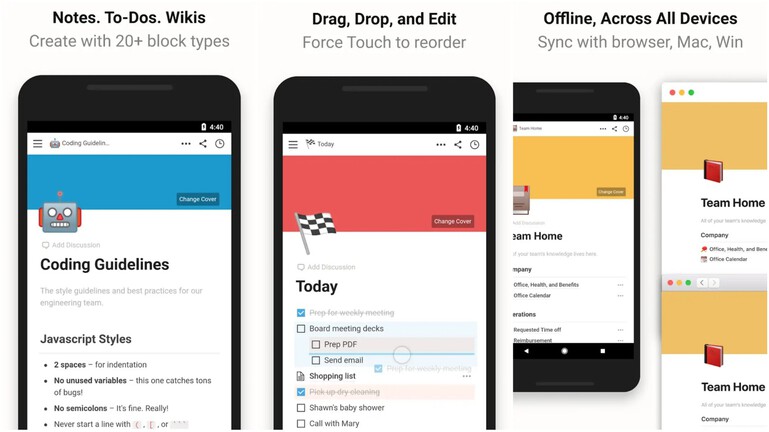 9. Standard Notes
If you are someone who wants their notes to be free from any eavesdropping. Standard Notes is one of the best note-taking apps for you as it takes care of the security of your data very well. Whatever you write will be encrypted by default. The free version allows plain text editor, but an upgraded version will allow text editor and code editor.
It even allows tagging of notes with a # thereby allowing you to define a custom search bases on your criteria. However, you cannot drag and drop your notes between tags which becomes a bit annoying.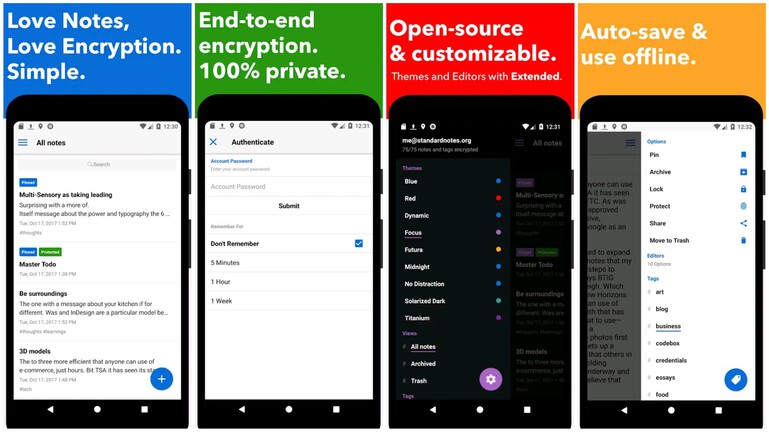 10. Todoist
Todoist is one of the best note-taking apps for those who like to write down every unique thought that comes to their mind. Using this app you can capture the tasks whenever it pops into your head. It is a very good app for keeping notes about deadlines for your assignments or projects. Moreover, you can also prioritize your task according to the deadlines.
Todoist allows integration with tools like Gmail, Google Calendar, Alexa, and more such platforms. The best part is you can easily drag the plus button anywhere for inserting a new task.