Doing exercises on a regular basis is challenging, and challenging oneself is very tough. However, the simplest form of exercise is walking. All you have to do is get out and put your steps forward repeatedly. That's is not challenging. The real task here is to keep track of all your hard work. Now keeping track of activities has become simple and easy. Thanks to technology, now you can download the Pedometer and step counter app on your smartphone. Pedometer apps act as a coach on walking and other such activities. All you have to do is download the app and start it before running. Some of the apps you do not have to do this also have an automatic step counter. Out of all apps present, we have carefully curated the10 Best Pedometer and Step Counter Apps for Android and iOS, which will help you get fit. Without further ado, let's get started.
Related Article: Top 5 Best Fitness Apps for Android
List of Top 10 Best Pedometer and Step Counter Apps for Android and iOS
1. Google Fit: Health and Activity Tracking
Google Fit has collaborated with the World Health Organisation (WHO) and the American Heart Association (AHA), thereby making its position in the front on our list of best Pedometer and step counter apps for Android and iOS. It shows your heart points for you to analyze your activity to improve your health. The recommended amount of physical activity by WHO and AHA is required for living a healthy lifestyle.
This best pedometer app helps you achieve your target of 30 minutes of brisk walking for five days per week. You get one heart point for moderate physical activity like walking your dog and two heart points for running.
Additionally, it tracks you via a watch or a smartphone. You can set goals to challenge yourself with various physical activities like pilates, rowing, or spinning. Moreover, to get a holistic view of your health, you can easily connect with your favorite apps and gadgets. So stay fit with Google Fit.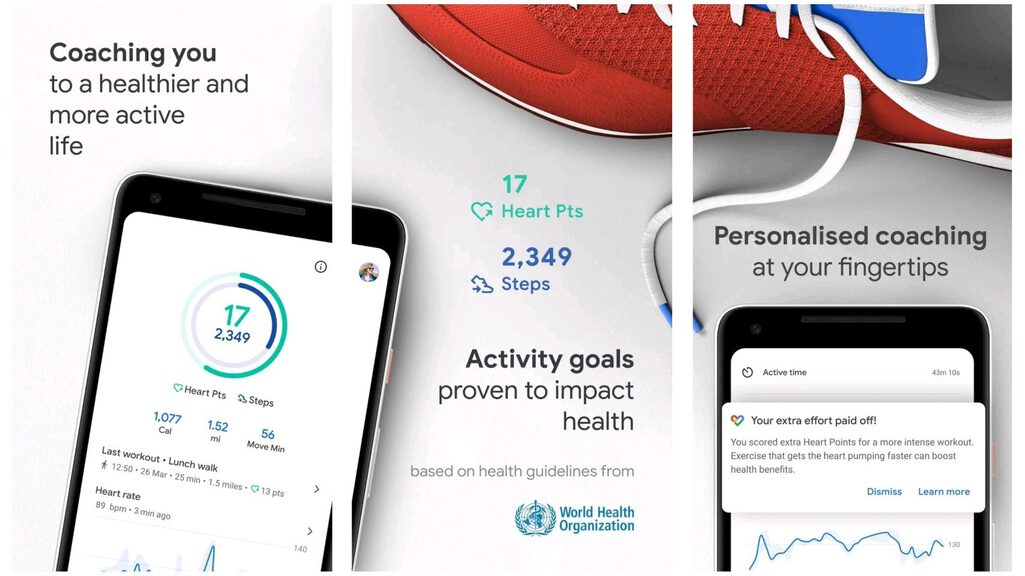 Quick Glance on Features:
Shows Heart Points

Analyze the activity

WHO and AHA collaboration

Monitor goals

2. Pacer Pedometer and Step Tracker
If you are looking forward to some activity and need a companion, then Pace Pedometer and step tracker is the best buddy for you. This is because you can track all your movements in only one interface, and it works just fine with your iPhone and Android. There is no need for additional wristbands. The app tracks your activity regardless of where you keep your phone – pocket, jacket, or purse.
The Pacer Padomer app has GPS to help to know routes while walking, jogging, or running. Pacer Pedometer enables you to get fit analyzing BMR and correlating the changes with your activity. The features don't stop here; you can even connect with your friends via phone and get fit together. As you see, this app is one of the best step counter apps for IOS and Android as well that helps you to track your daily activities.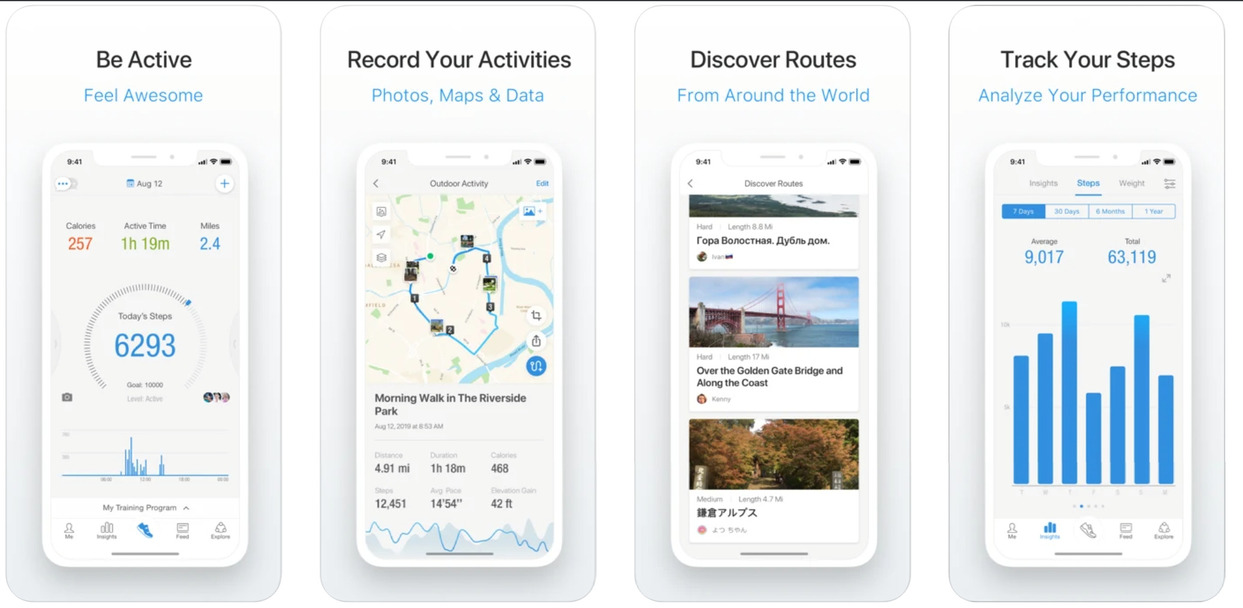 Quick Glance on Features:
Tracks your health and fitness data.

Accurate step tracking.

Daily fitness plan.

Auto-sync activities to MyFitnessPal or Fitbit


3. Pedometer – Step Counter Free and Calorie Counter
Pedometer is one of the best step counter apps with an inbuilt sensor for counting steps. Additionally, it also tracks your calories burned while walking some distance. You can see the readings in graph form. The best part is app is devoid of GPS, due to which there is minimum battery consumption. The app is free, which means you can use all the features without paying for it. This an easy-to-use and free pedometer app with just one start button.
Moreover, Pedometer neither collects your information nor shares the information with third parties. And you do not require to sign in to use this best pedometer app. The Pedometer is not only an android step counter app, but it is also a weight loss app.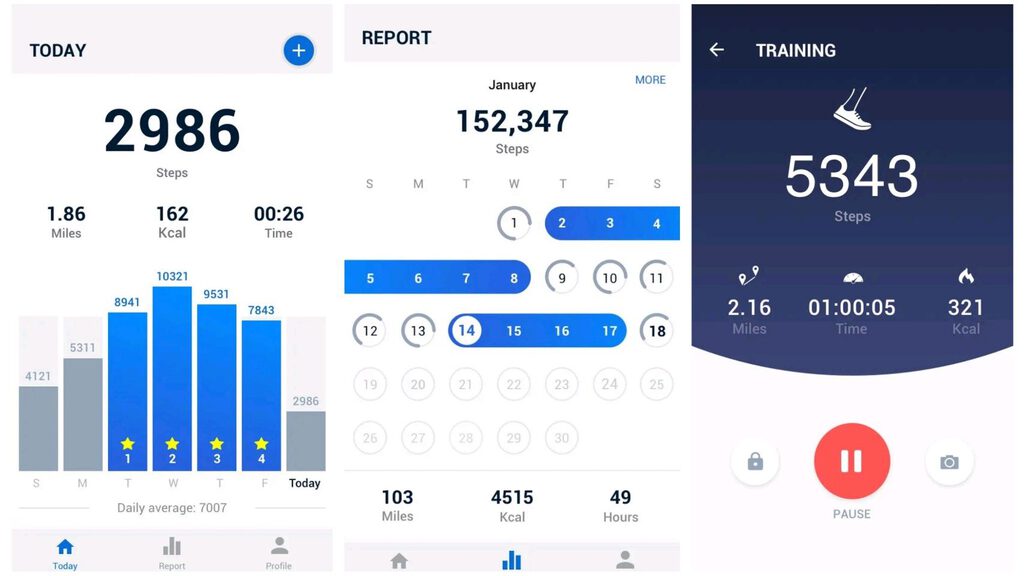 Quick Glance on Features:
Saves Power

Easy to use

No sign-up required

Traning Mode which features separate walking training.

4. ActivityTracker Pedometer
ActivityTracker Pedometer is the best step counter app with the cleanest user interface. It can track your activity for the whole day without draining the battery and without a gadget as well. You will have to carry your phone with you to follow steps, active calories, distance, active time, and flights of stairs climbed. Moreover, you don't have to worry about planning your activity as the app automagically quantifies your daily or weekly activities. Additionally, in the pro version, you can save your data or move the data to another iPhone.
Quick Glance on Features:
Tracks active Burn Calories.

Shows daily Goals

Easy to use without a gadget

Minimum battery consumption


5. Fitnesstep – Step Counter Free and Home Workout
Built-in-senor comes with almost all the best Pedometer and Android step counter apps. Fitnesstep tip also comes with it and no GPS to save battery. But it does believe in staying fit without leaving home. So it provides a professional fitness program to keep you in shape. It provides Heart Rate measurement. The additional factor is its drink reminder. Drink reminder timely buzz you to drink water and also keep a record of it. Every day, drinking water eventually turns into a habit. So, in the end, you will develop a healthy habit of drinking water. Adjusting the sensitivity helps the Pedometer to function accurately. You can also save power by pausing and resuming the step counts as per your convenience.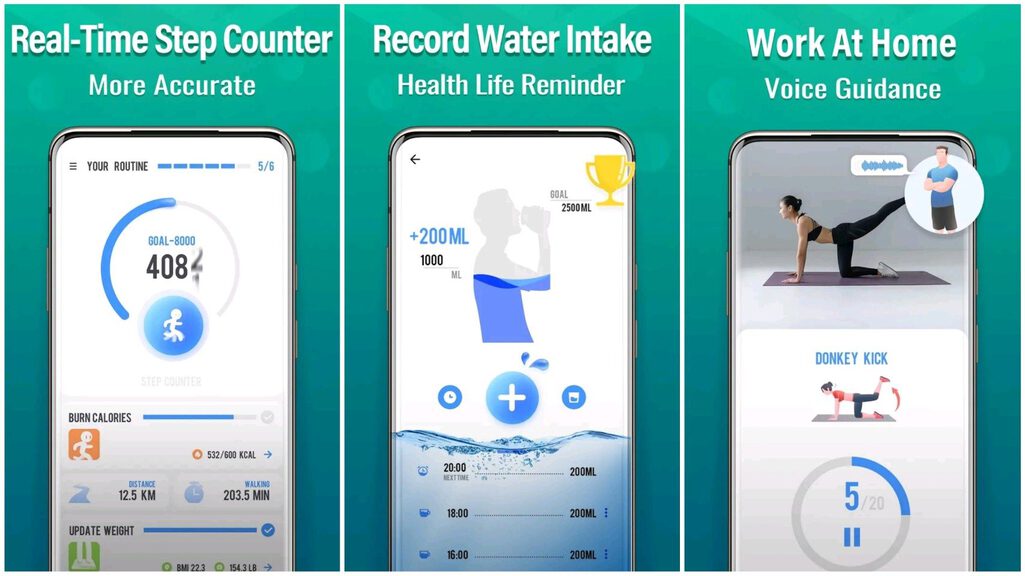 Quick Glance on Features:
Reminds its users for drinking water.

Heart rate measurement.

Saves power

Daily workouts for fitness at home.

6. Accupedo
Accupdeo is one of the simple and best step counter apps that track your daily walking. It also provides charts and history logs, which are very easy to read. Like every pedometer apps, this app also monitors your steps along with calories burned. The best thing is the app never lets you miss your friends as the app behaves like a friend and motivates you for that one more step to count. You simply have to set up your daily goal and take baby steps towards being fit. Apart from all these fantastic features, the app uses Health app data for accurate results. You can also sync with the apple watch. Finally, the app also allows you to share your daily log on social media and email.
Quick Glance on Features:
Provides easy to read charts.

Supports google fit health-tracking platform.

Shows daily log history.

Allows Database backup to the cloud server.


7. Fitness Tracker & Sleep Tracker
Fitness Tracker and Sleep Tracker is an all-in-one fitness and tracker app. It keeps track of your diet and helps in weight loss. The best thing about this android step counter app is that it works without an internet connection and GPS. And you will get to experience all of this for free. Moreover, you do not need a smart band or gadget for this app to work.
Additionally, you can track your calorie intake, calorie burn, heart rate, distance traveled. However, while using the app, there are some points to note if you are engrossed in sports and fitness, you can wear an armband with your phone. To activate it, you have to repeat the gestures five times, press the start button, and get set for your first run. The only drawback is the app being a sleep-tracker, fails to track daytime sleeping. After all, it is a free pedometer app.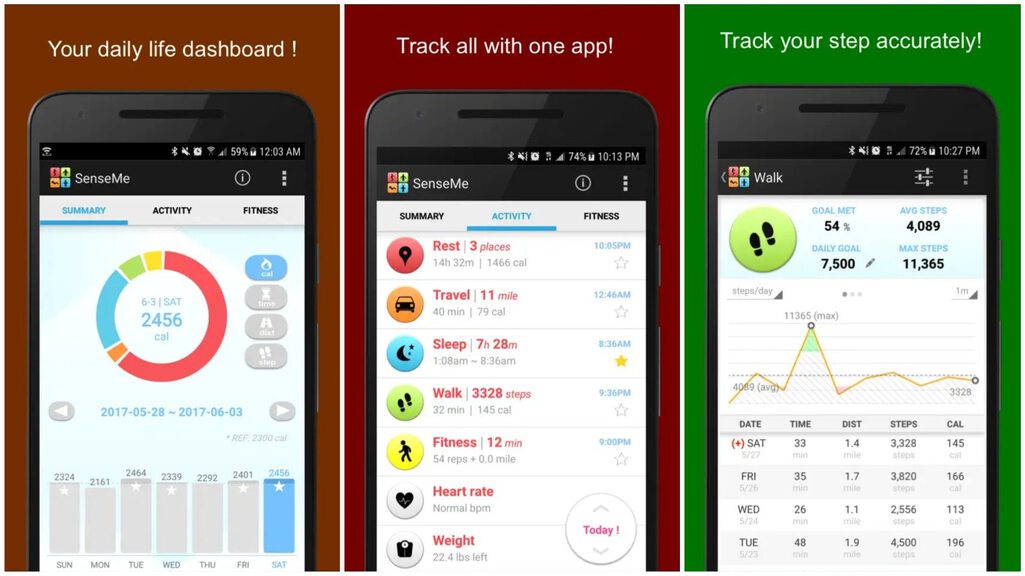 Quick Glance on Features:
Step counter as well as a sleep tracker

Route Tracker

Heart Rate monitor

Weight Tracker

Calorie Counter

8. StepsApp Pedometer
Using the StepsaApp Pedometer is too simple. You have to put the phone in your pocket and start walking. The app will track all your steps. It supports an apple watch and workouts with GPS tracking. The app is integrated with Apple Health, thereby providing stunning charts and animations to display your results. It also provides a quick overview of daily steps, distance, time, floor climbed, and active calories and requires no extra hardware and supports the export of data. You can share your score on social media. This best pedometer app helps you to get fit with colorful themes. With all of these fantastic features, you can say this is one of the best step counter apps for iOS.
Quick Glance on Features:
Automatic step counter

Google fit integration

Sharing on social media

Count active calories


9. Runkeeper-GPS Running Tracker
You can quickly figure out what the app does by reading its name. This best pedometer app helps you to reach your running goals as well as track exercises. This android step counter app is especially for those who are into running. It records activities like running, walking, biking, hiking, and more with GPS. You have to set your goals like if you want to get faster or further lose weight, and the app helps you achieve it.
Additionally, you can set up or follow a routine for progress. You can also join in-app challenges and get exercise rewards to keep yourself motivated. No other app has such a level of motivation, so we had to include the app in our best step counter apps list.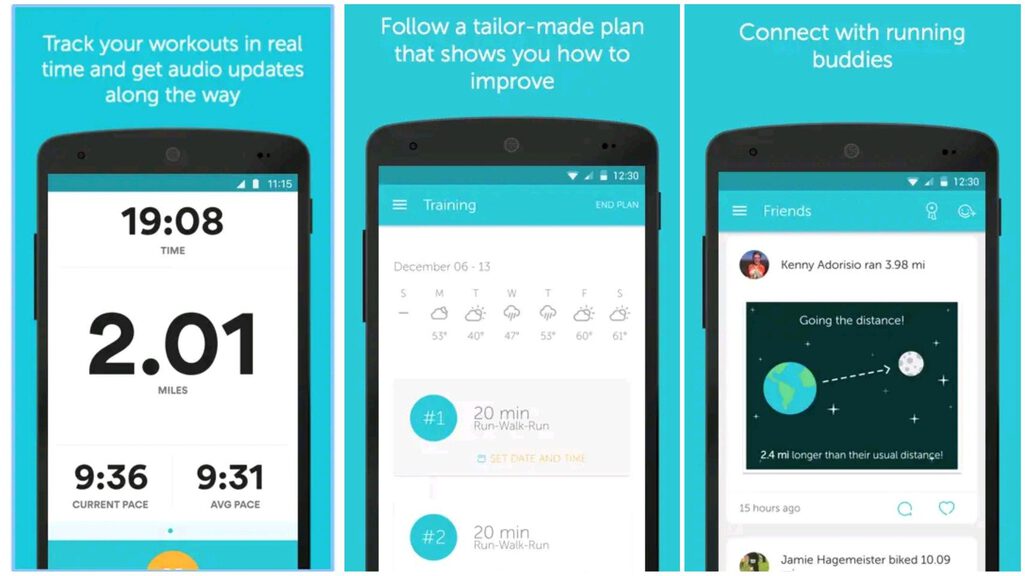 Quick Glance on Features:
Tracks workout

Helps you stay motivated

Provides challenges

Spotify integration

Stopwatch mode

10. StepsUp- Step Counter
StepUp believes that everyone should walk 10000 steps every day for good health. As achieving this is not so easy, this one of the best step counter apps for IOS without impacting battery life helps you achieve what it believes. You do not require any wristband or other hardware for this app to work. It tracks your steps for the whole day, whether you are keeping your phone in your pocket or jacket. Although it uses GPS, it does not drain the battery that much. Moreover, you can link this step counter app for ios withApple Health, Fitbit, and Google health to track. However, the app size is 59.8MB, which is a bit high for Step counter apps.
Quick Glance on Features:
An easy set of goals

Sharing of activities

Tracks activities

Calculate steps