Online shopping is a great way to choose your favorite products from lots of available products that you can not find offline. However, with so many e-commerce platforms and fluctuating prices, it can be challenging to know when to buy the product to get the best deal. This is where price-tracker sites and price-tracking Chrome extensions come in handy. These tools give users access to historical price data, price drop alerts, and other features that can help them make informed purchasing decisions.
With the help of price tracker experience or tools, online shoppers can save time and money while enjoying a hassle-free shopping experience. In this article, we have listed the 6 best price tracker Chrome extensions for online shopping, so you can get the most out of your next online shopping session. The listed price tracker apps can be used to access historic data or track price drops for many popular websites like Flipkart, Amazon, Nykaa, Myntra, etc.
Related Article: Best Youtube Video Downloader Chrome Extensions
List of 6 Price Tracker Chrome extensions & Sites For Online Shopping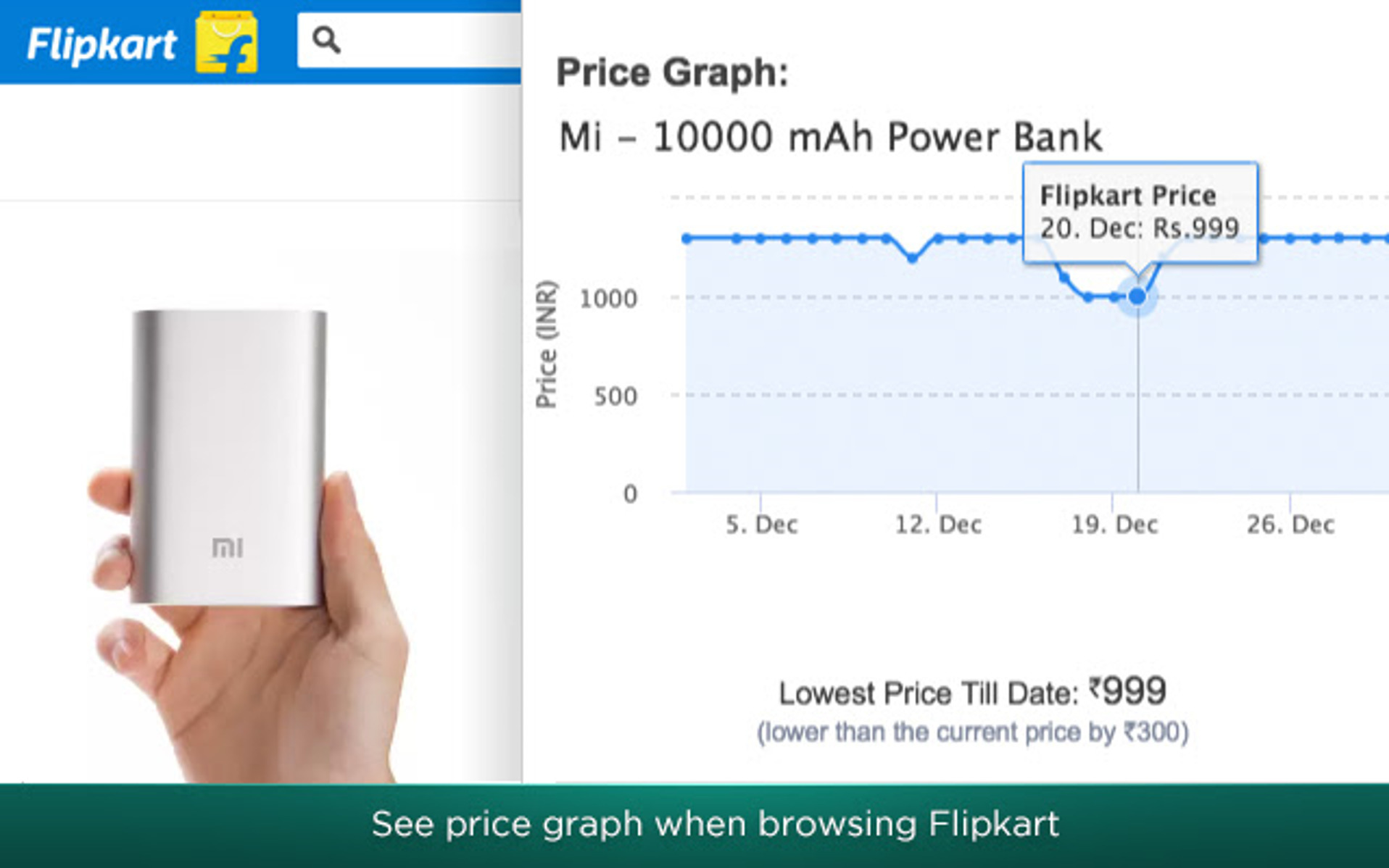 Buyhatke is one of the best and most popular price tracker Chrome extensions that enhances your online shopping experience. It's an excellent price tracker extension that allows you to save money and shop smarter on different e-commerce websites like Amazon and Flipkart with its convenient features.
With Buyhatke, you can view the price graph of any product on an e-commerce website for the past three months, helping you make informed decisions on when to buy. It also enables users to compare prices across multiple e-commerce platforms with ease, eliminating the need for tedious manual searches. The Watch Price feature allows you to set price thresholds and receive notifications via email or push notification on the website and mobile app when the price drops below the set amount
Features
Displays product's price graph for up to 3 months.

Support most of the e-commerce websites like Flipkart, Amazon, etc.

Can add products to your watchlist.

Email and notification alerts for price drops.

Grabs and auto-apply coupons and offers.

Download price graphs in different formats.

Customizable sidebar and other settings.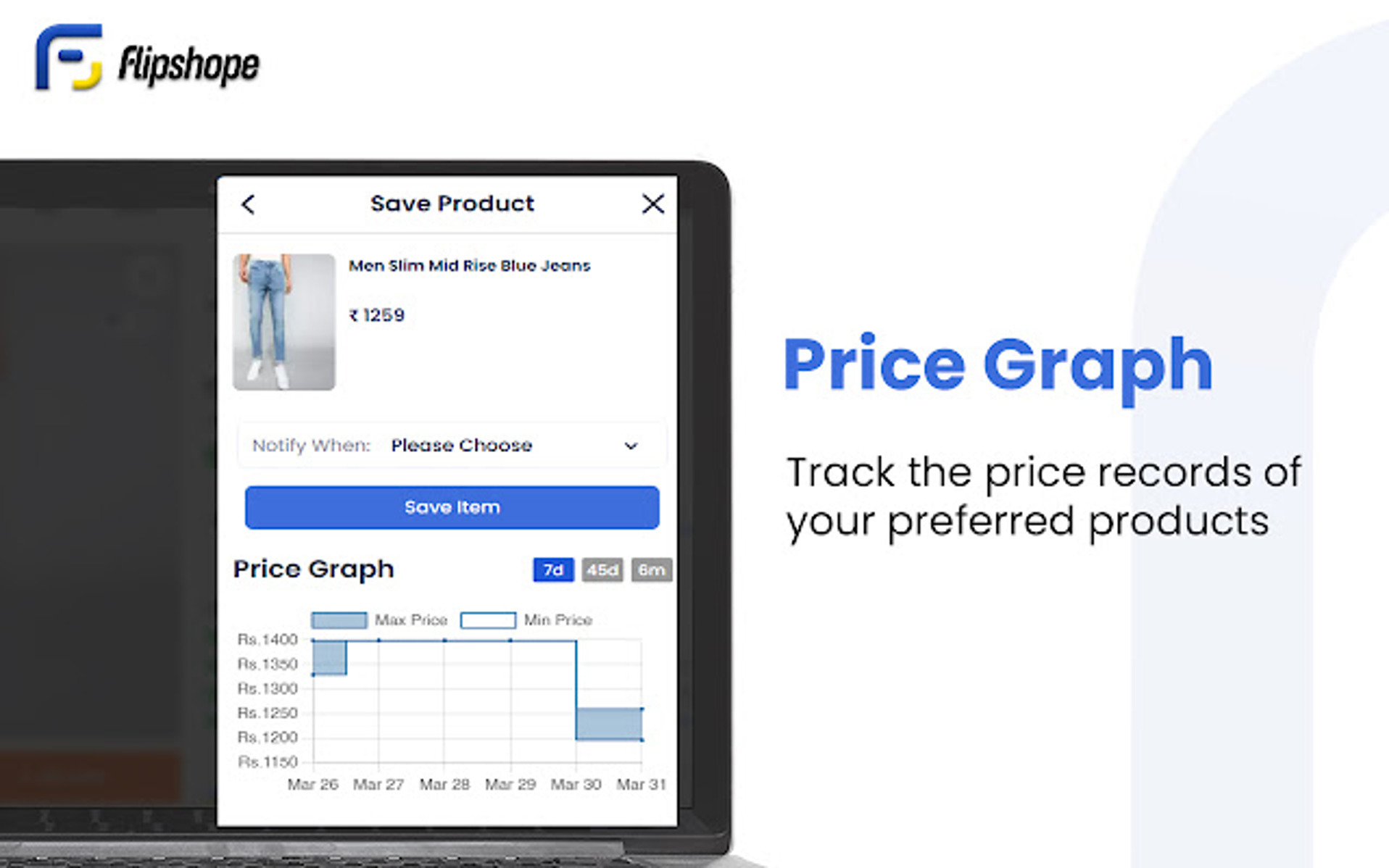 Flipshope Price Track extension offers a range of features for convenient shopping, including a price history graph that shows the history of price fluctuations of up to 6 months, price drop alerts to notify you when the price of the selected product falls below a certain amount, and many more.
With just a single click, it automatically finds and applies the best coupon codes, saving you time and money. Flipshope is the go-to extension for online shopping in India, providing users with a smart shopping assistant that keeps their budget in check.
Features
Display the product's price graph for up to 6 months.

Can add products to your wishlist.

Supports various e-commerce websites.

Set alerts for products when the price drops.

Auto-apply coupons that are best for you.

Updates about the upcoming and ongoing flash sales.

Download price graphs in different formats.

Grab other deals and offers from the home page.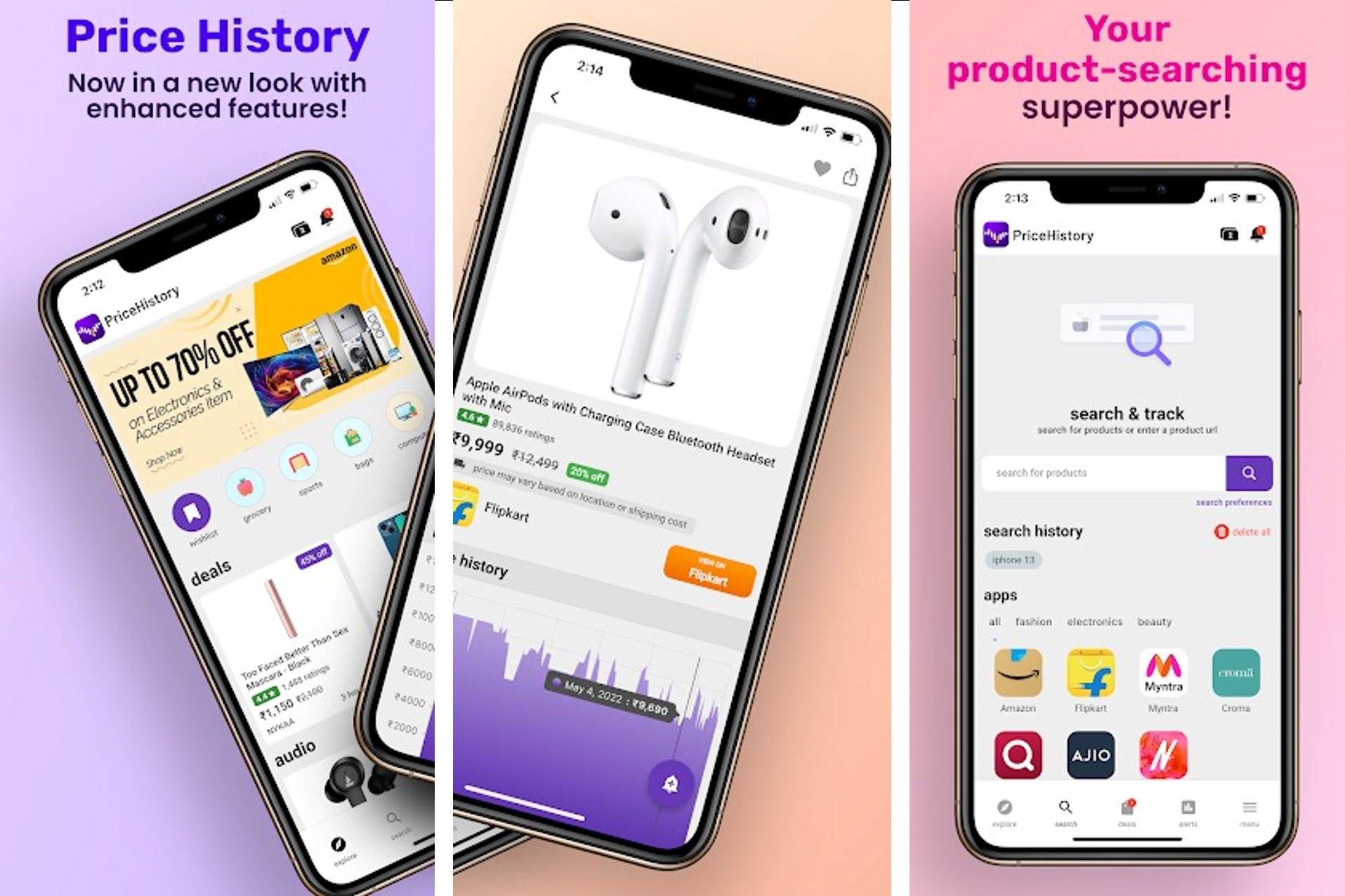 When talking about online price tracker websites, Pricehistoryapp.com is one of the best sites for you. It's a free online tool where you can check the fluctuation of prices of several products from 9 different e-commerce websites including Flipkart, Amazon, Croma, Myntra, Nyka, Ajio, etc.
Pricehistoryapp.com provides you with features such as price history charts, price alerts, stock alerts, redefined search, etc. which make it easy for you to keep track of price changes and availability. You can even download their app from the Play Store or Apple's App Store for added convenience.
Features
Shows product's price graph of up to 6 months

Supports night mode on the webpage.

Supports 9 most popular e-commerce sites.

Set price alerts for different products.

Get stock alerts for different products.

Get the best offers and discounts.

Search for a product on several at the same time.

The mobile app is available for Android and iOS.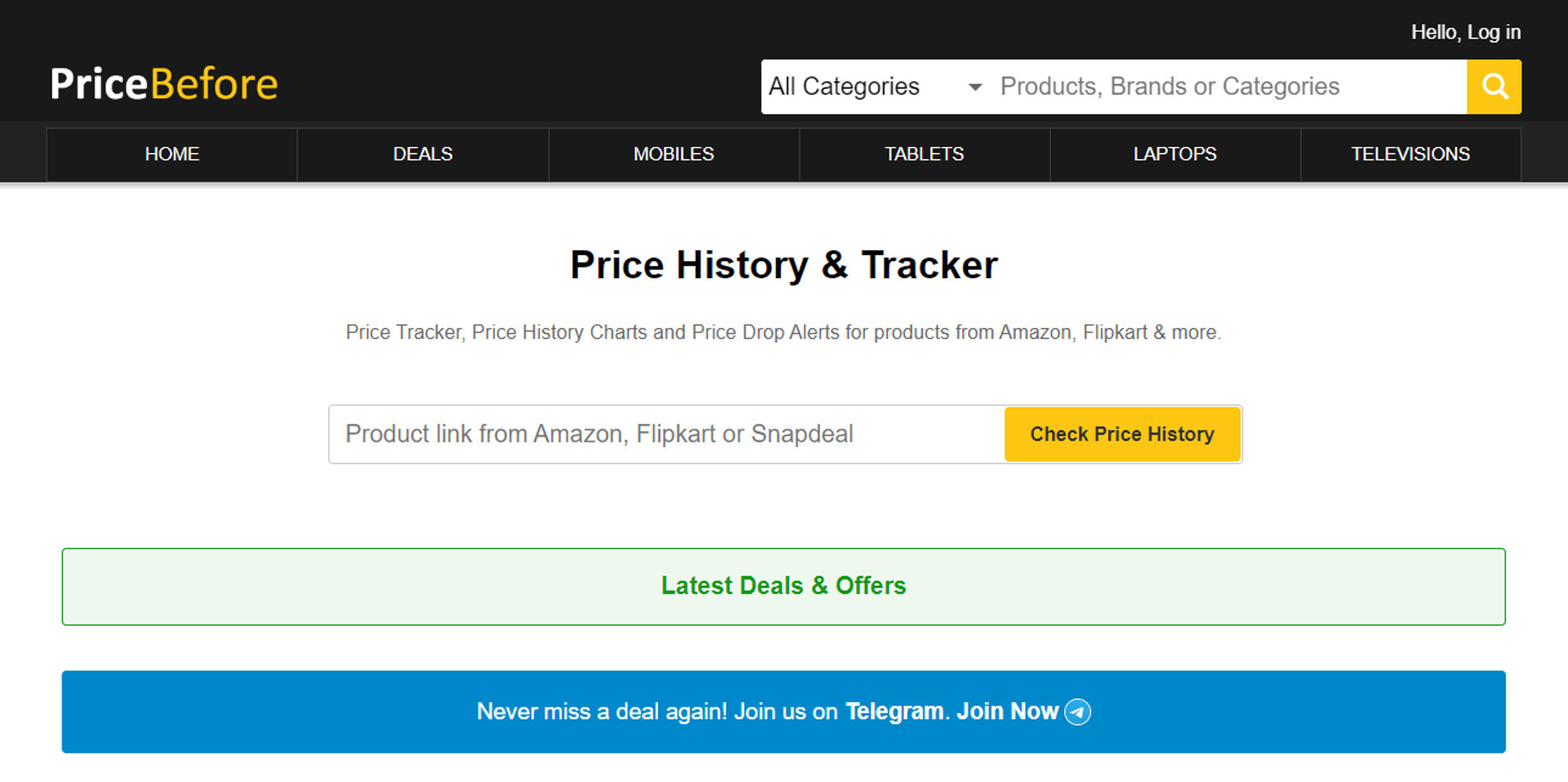 Pricebefore.com is another effective online price tracker website that allows users to track the price trend of a particular product from different shopping websites over a specific period, helping you to decide the best time to buy that product. All you have to do is, paste the link of the product on the website and it will fetch the price history graph of that product.
You can join their Telegram channel to get the latest updates on price drops and exciting deals. So whether you're a savvy shopper or just looking to make a smart purchase, Pricebefore.com is an excellent platform to help you stay informed and make good buying decisions.
Features
Display the product's price graph for upto8 months.

Category-wise product price charts.

Sort products on daily, weekly, and monthly price drops.

Supports Flipkart, Amazon, SnapDeals, and other sites.

View the current, lowest, and highest prices of a product.

Telegram channel for deals and offers updates.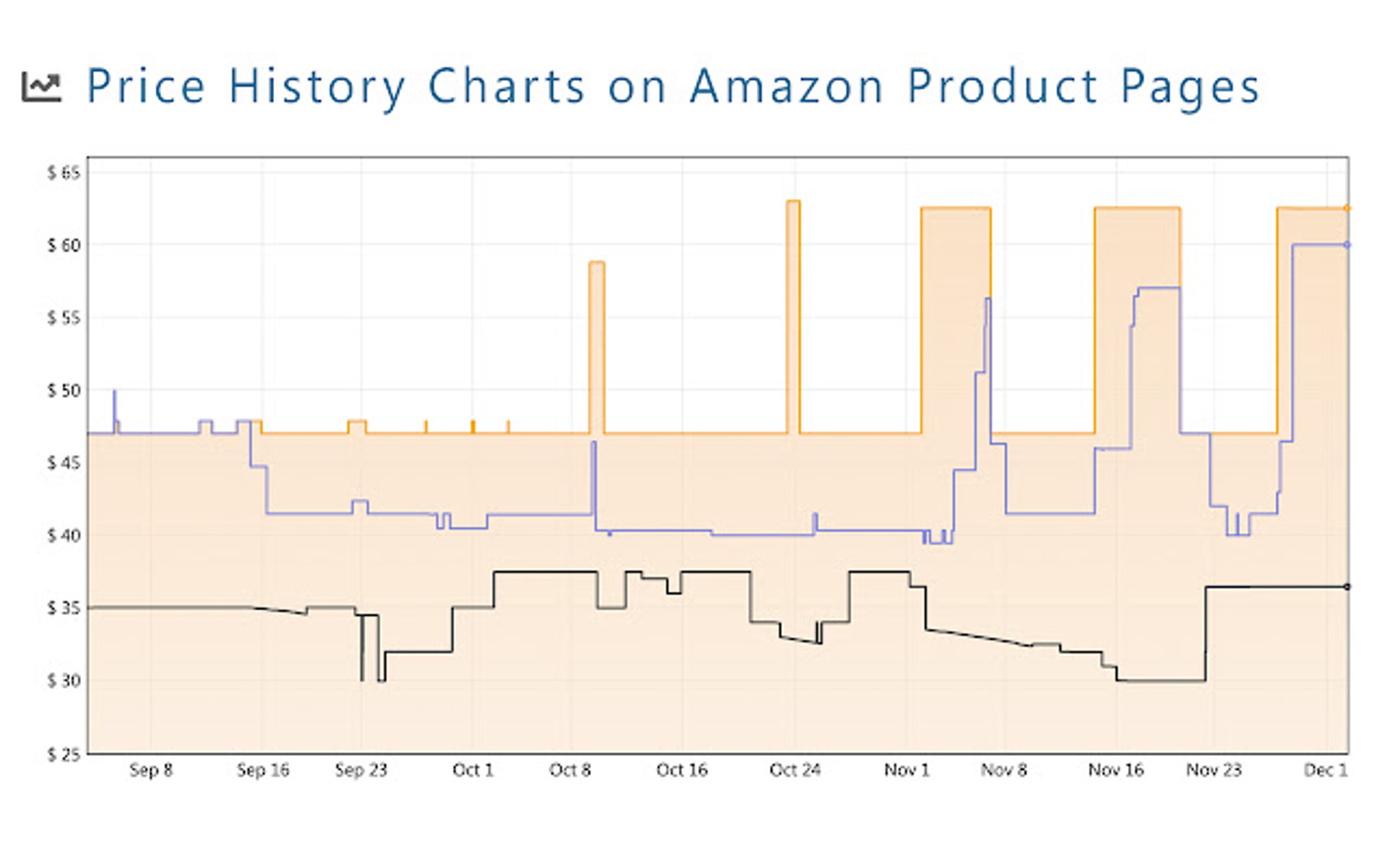 Keepa is a free and powerful Chrome extension specially built for Amazon shoppers to track the prices of their desired products and make smart purchasing decisions. If you buy products frequently on Amazon e-commerce then Keepa is a must-have price tracker Chrome extension for you where you get the detailed price history charts for more than 3 billion Amazon products, allowing you to track price trends and find the best deals effortlessly.
It also provides users with smart price drop and availability alerts, international Amazon price comparison and tracking, a customized extension experience, and support in the local language. Moreover, the extension offers a hand-picked selection of daily deals, making it easier for users to spot recent price drops.
Features
Display the product's all-time price graph.

Get statistics on the product price.

Compare international Amazon prices.

Track products for price drops.

Several customizable settings.

Local language support.

Access product variations.

The mobile app is available for Android and iOS.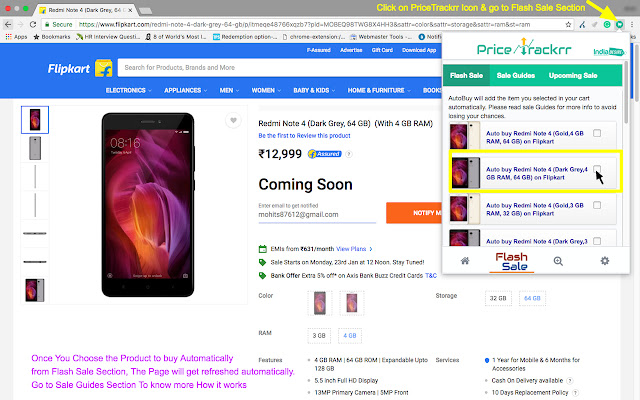 Missed a price drop? No worries, with the help of Price Tracker 2.0, you can auto-buy products when the products are at the lowest price. Along with auto-buy, it provides you with lots of features like price drop alerts, Chrome push notifications, historical price graphs, and more.
Note: For the auto-checkout feature, Payments completion needs to be done by the User
Features
Display the product's all-time price graph.

Track products for price drops and support Chrome push notifications.

Auto checkout feature which makes it unique.

Support 50+ e-commerce websites.

Notify about future flash sales.