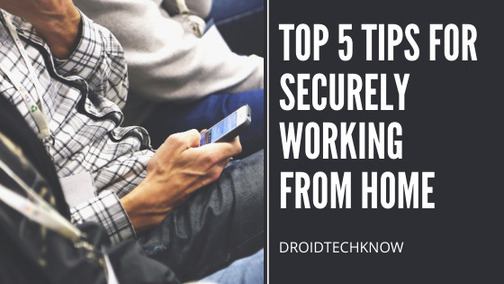 Are you working from home then this article is for you to secure your work. Here are some tips to keep in mind while working from home to secure your work. With almost everyone working from home, it's important to consider these safety precautions. With the crises of the widespread pandemic, companies have advised employees to work from home. Employees don't get the same safe-protected network at home. To some extent, they are able to connect to the organization's secure network. This, however, becomes a hotspot or a weak spot that hackers can use to get into.
Employees are the break-in point to the network when working remotely. Remote working allows attackers to breach the company network as well as exploit employee's personal data.
The cyber-attackers get smarter as the technology advances too. However, the basic safe-keeping protocols and guides are common for every user to keep attackers at bay. We have listed such common 5 tips. These sound obvious but are mostly overlooked generally. These will help you to carry out secure work from home practice.
1. Use the devices your company gave you.
The devices the organization provided have some security configurations. They are useful in safeguarding the organization's data. This eliminates the risk of being cyber-attacked to a great extent. This is one of the reasons the organization might have provided you with their device assets. It helps them in keeping their data safe. This is a good consideration if your company provides you with devices for use.
2. Passwords and second factors.
Select a strong password- for both personal and official accounts. This is the most common advice to be followed and is strongly advised. Many services require second-factor authorization. They can vary from temporary access links sent to the email or as one time passwords. If second factors are optional currently, you can manually turn them on from settings of the service. You can also opt into physical security keys if available. You can make use of password managers too.
3. Encrypt.
Choosing to encrypt the drive and the connection you are on is a good idea. This confirms and guarantees you can be connected to the right place at the right time. It can be used for the personal network. This will shield your home's personal devices connected to the network. If the workplace provides a VPN already, it is a good checkpoint.
4. Lockdown your browser.
You must have only those extensions you might be actually using. Attackers might use the lengthy routes, and try to exploit your network using third-party extensions. Remove unnecessary extensions, or turn them off while you are connecting to the organization's network. Check-out the major differences between a VPN and proxy-service here.
5. Keep your devices safe.
Make use of the "find my device" features. This will help you to find your device if you lose it. It's important because when you lose your device, you will your organization's data with it too. That's highly risky and undesirable. Keep a check on where your devices are. Timely check for your devices when you are headed out with them, for obvious reasons.
These are our recommendations on how to build secure work from home environment. These are very easy tips to follow. Protect your personal data and the company's data.
Happy working!