The same old voice can get on our nerves and make us feel bored. But what if there was a way to change your voice? With the help of a voice changer app, you can change your voice to sound like a different person.
There are many voice changer apps available for both Android and iPhone in the market. In this article, we will be discussing the 8 best voice changer apps for Android and iPhone smartphones. We will also be highlighting the features of each app.
Related Article: 8 Best Voice Translator Apps for Android
1. Voice Changerwith Effects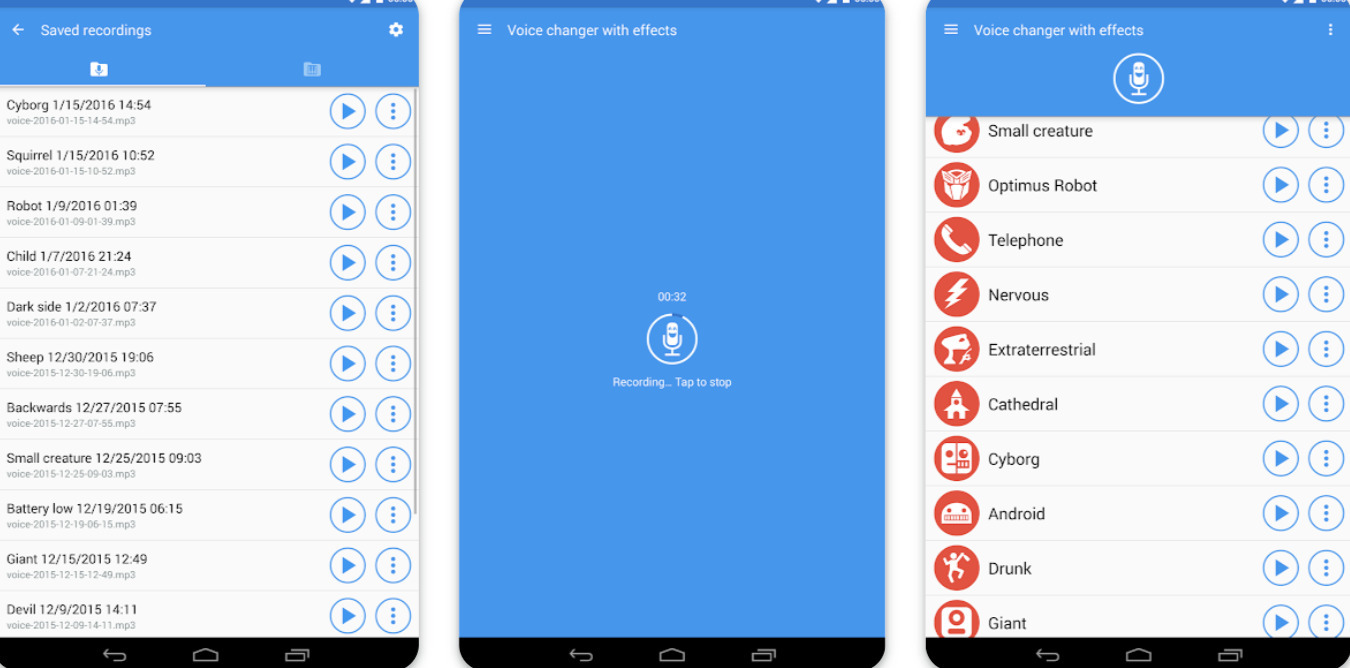 Voice changer with effecthas been ranked as one of the bestvoice changerapps for Android in the world to make your voice rich and entertaining with more than 40 audio effects. The modulated recordings can be posted on social media alongside a comic image for some entertainment.
Features
There are more than 40 different sound effects available in the best voice changer app.

Both novices and experts may easily use the app's interface because it is very simple.

You can save or share the audio recordings with anyone using Voice Changer with Effects.

You also can make the audio your phone's ringtone.

2. Super Voice Changer – Editor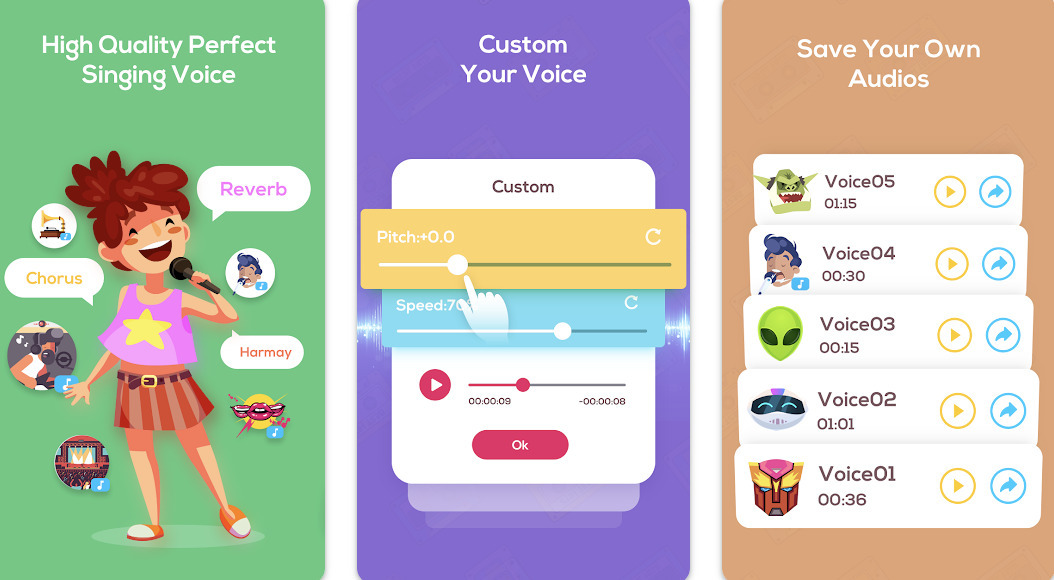 Super voice changer is the most popular voice changer app that comes with plenty of cool voice effects. Theapp also has a range of superheroes' voicesfrom which you may select your favoriteand quickly switch voices. Select the superhero to convert after recording the audio.
The app also functions as an mp3 cutter, which will enable the conversion of the required audio segment.In addition to conversion, the user can edit audio, adjust audio, produce a ringtone, and record voice.
Features
A speech-improving tool, a fascinating voice recorder for recall and sharing.

A library of heroic voices, high-quality sound effects for singing, and other cinematic performances are also included.

Plenty of audio effects to record and share your moded audio with friends.

User can also customize their voice speed and pitch also.

3. Voice Changer Plus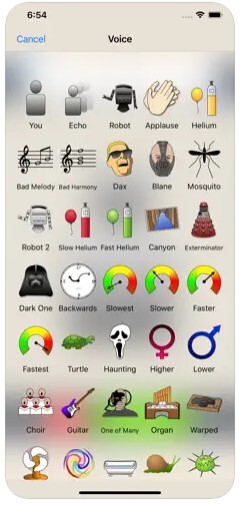 The Voice Changer Plus offers a selection of more than 55 speech effects and background noises. The user has the choice to layer different audio effects.
It is one of the best voice changer app for iPhone users to record, switch to a female voice, and import audio samples for conversion, moreover make use of the paid version's ad-free and photo-sharing experience.
Features
The app has many editing options and more than 55 different voice effects.

For accurate outputs, you can trim or cut the recorded audio.

The Voice Changer Plus app also offers full VoiceOver capabilities.

This Best Voice Changer App lets you use numerous audio files that are already stored.

An ad-free version of the app with photo selection choices is available if you purchase the premium or paid subscription of it.

4. Voice Changer by AndroidRock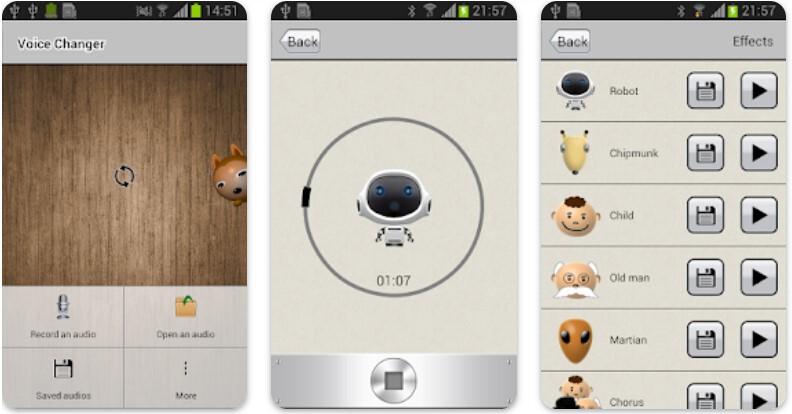 A simple and pretty straightforward app for changing the voice with different effects. The appprovides some of the most lifelike robotic effects to give your voice a high, funny, deep, or ominous tone when compared to other robot voice changer apps.
Features
This best voice changer app lets you add an effect to theaudio that has been recorded.

One can instantly open an audio file, then add an effect.

You can edit and view the recorded audio.

Share the stored audio files with your pals on social media or via Bluetooth.

You can apply the effects indicated above multiple times to give your voice a wide range of effects.

5. Voice Changer by MeiHillMan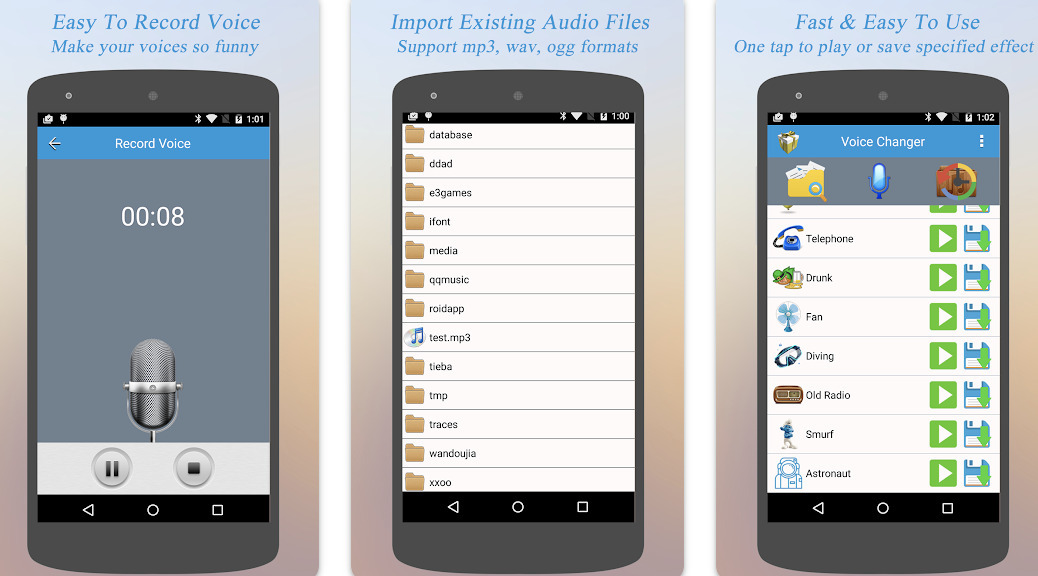 This Best Voice Changer App for Android by MeiHillMan can be the ideal choice for you if you're specifically seeking an app to quickly change your share it with your friends.
The good part about this app is that it's free to use and gives you access to a wide range of vocal effects so you may sound like the Robot, Monster, Diving, Helium, Kid, The Smurfs, etc.

Features
You can record the audio however you'd like thanks to the Voice Changer's simple user interface.

Applying effects to already-produced audio is also feasible with Best Voice Changer.

For all new users, intermediate users, and pros alike, the tool is very simple to use.

This free Voice changer app contains 15 unique audio filters/effects.

After being recorded, you can easily remove or send audio to others.
6. FunCall Voice Changer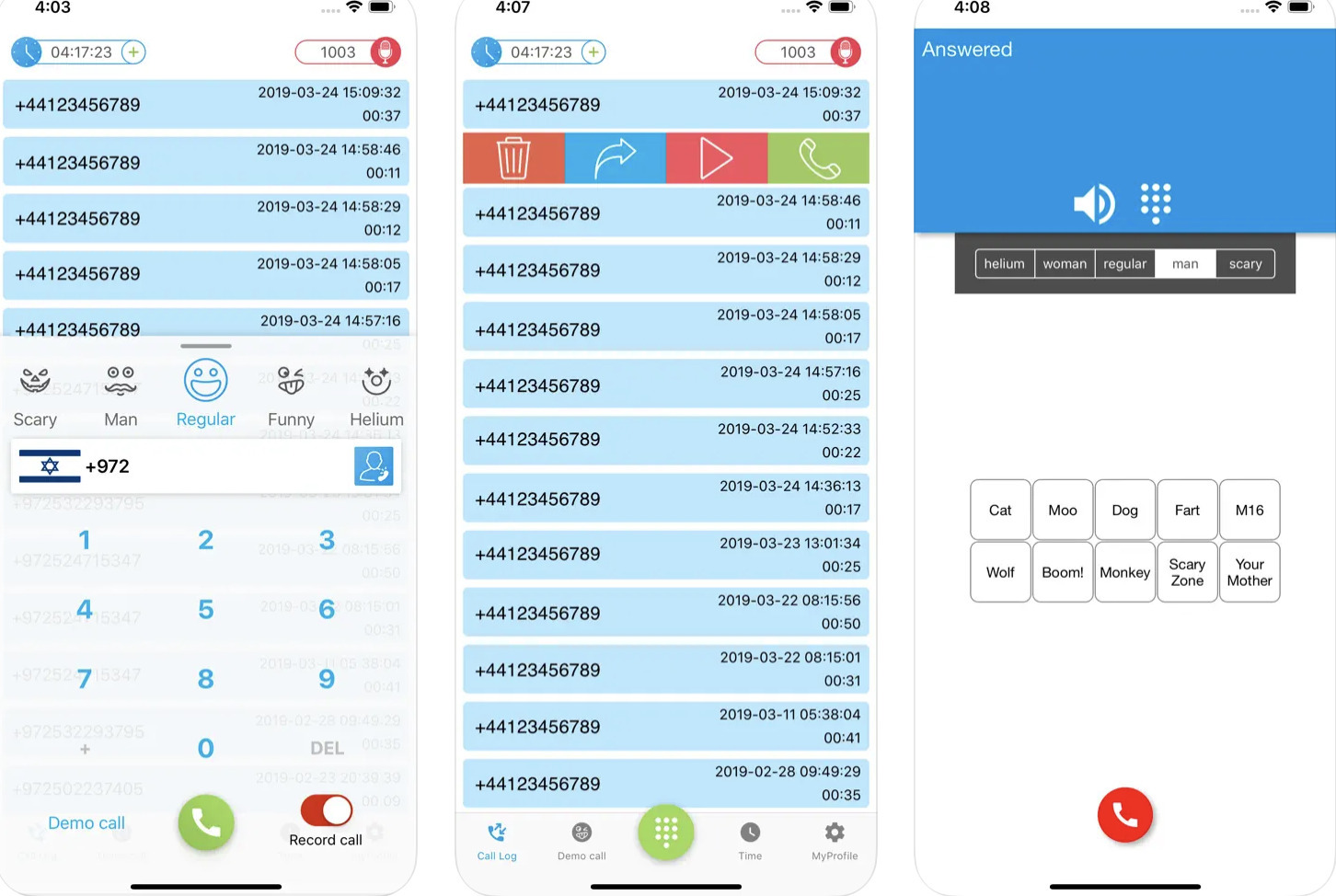 FunCall is an easy-to-use voice changer app that lets you quickly alter the tone of your natural voice and play interesting recorded noises during aphone call.
During a real-time conversation, you can use a variety of humorous sound effects, such as a Cat meow, Moo, Dog bark, Fart, and Uzi shots. FunCall is one of the best voice changer apps foriPhones that provide a wide variety of voice effects. Additionally, you can change your voice in the middle of a call by usingvariousvoices.
Features
You can place a Demo Call through the app to hear how your voice sounds after some time.

Along with domestic calls, the app supports international calls.

The app offers a wide range of effects, including man/woman voices and helium balloon voices.

The best voice changer app, FunCall, allows you to choose animal sounds.

In more than 150 nations, the app provides on-call voice-changing functionality.

7. VoiceModVoice Changer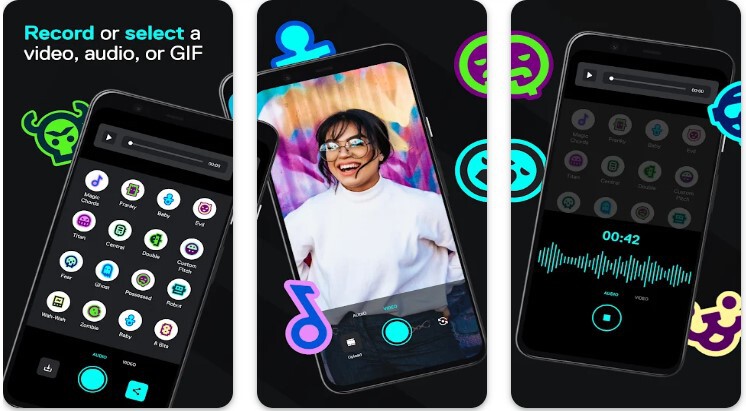 A popular, state-of-the-art voice changer called Voicemod can be used to sound like a man, woman, robot, or anything else you can imagine. You can change the voice whatever you want. If you're a fan, you can use auto-tune to use the voice of a singer or a famous person.
In addition, this tool is compatible with the majority of chat services, including Skype, Hangouts, and many more. You'll get amusing Instagram Stories video masks, which is the best part of it.


Features
Choose a GIF, record an audio or video, browse the gallery on your device, or select something already there.

Create interesting content in a matter of minutes right from your hand.

Make use of the best voice changer app features that make editing quick and simple. No technological expertise is necessary!

Browse and experiment with some of our most well-liked speech filters.

To make your content more enjoyable, dub your videos, audio, and GIFs and add sound effects.

Save your completed clip to your gallery, send it to loved ones, or post it online for everyone to see!
8. Voice Changer – Audio Effects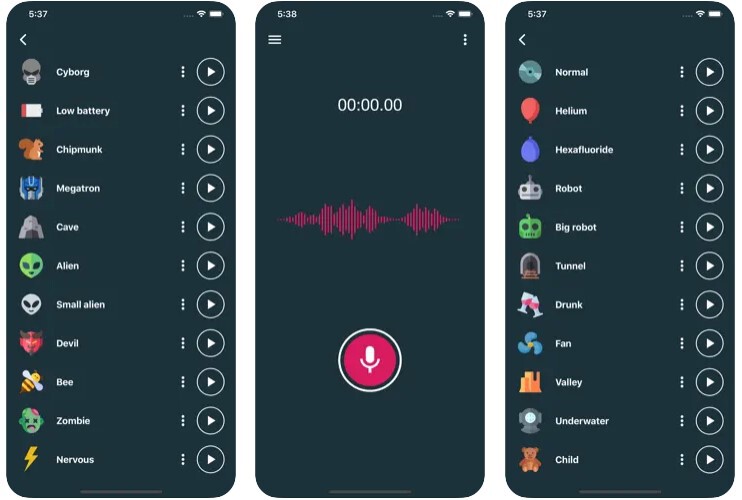 Thisvoice changer app for the iPhone by OnePixel Studiocontains 25 speech effects in it, but none of them stand out much from those in other apps. You may import audio files, edit them with voice effects, store recordings, make audio into a ringtone, and save them as MP3 or WAV files.
There isn't much else to say about it. It is easy to use, affordable, and reliable. The voice effects are similar to everything else on the list.
Features
Best Voice Changer App byOnePixel Studio includes over 25+ effects, including arobot, alien, zombie, drunk, and many more!

It helps you share records using different apps and saverecordings.

Additionally an easy-to-use UI, Cool animations,and futuristic design.