How to Remove Warning Bootloader Unlocked Message on Moto G3/E2/X
Last Updated -

05 Sep, 2020
47518
Have you recently unlock your Motorola bootloader and want to remove Warning Bootloader Unlock message that comes every time when your device is starting up? Then not worry this article is for you. This tutorial gives you the detail view of How to remove Warning Bootloader Unlocked message from your Motorola devices.
Related Article: What is ADB and Fastboot tools, How to Install and use it | Android Debug Bridge Utility
Why you see Warning Bootloader Unlocked
When you are unlocking the Bootloader, the unlocking process will replace the Official moto logo with the Warning Bootloader Unlocked image. So if you want to Remove this message then you have to replace the Warning image with official Moto logo again. Now let's start the process of replacing the Warning bootloader Unlocked image to official Moto logo.
Pre-Requirements
Make sure your device battery must be greater than 60%.

Enable USB debugging in your Motorola if you don't know how to enable then click How to enable USB debugging in Android

Download and install the Motorola USB drivers on your Computer.

Install the Minimal ADB-FASTBOOT tool on your PC or just download ADB-FASTBOOT tool zip.

Download the stock logo.zip file.
Downloads
Motorola USB drivers | Download
Minimal ADB-FASTBOOT tool | Download
Motorola logo.zip file | Download
Steps to follow to fix Bootloader Unlocked Warning issue
That's it guys now you will see the official Motorola logo every time when your device is starting up. For more detail view watch out this video.
Must Read: How to Unlock Bootloader of any Motorola Device using Fastboot
Was this article helpful?
Great!
Thanks for letting us know.
Please let us know what would make this better.
The information is confusing or wrong
This is not the information that I was looking for
Solution did not work
Too long
Other

Got it.
Thanks for letting us know.
Opps
Something went wrong. Please try again.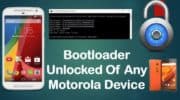 How to Unlock Bootloader of any Motorola Device using Fastboot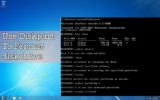 How to use Diskpart to Format a Storage Drive using CMD