We are living in an era where saving money is a formidable challenge. We are constantly surrounded by various kinds of tempting products and services with luring discounts and EMI options that make us lose our budgetary control. The widespread YOLO (You Only Live Once) trend further fuels us to splurge money on luxurious items. But, apart from these things, some of the key reasons that prevent people from managing their wealth properly or saving money are ineffective budget planning and no precise tracking of expenses.
Fortunately, we have several money manager apps on the internet that help us plan our budget, keep track of our income and expenses, and get timely notifications of bill payments. These bill reminder apps also eliminate the hectic manual work and give us detailed insights into our finances.
Related Article: Best Photo Organizer apps for Android and iPhone
List of top 10 best bill organizer apps for Android and iPhone
1. Timely Bills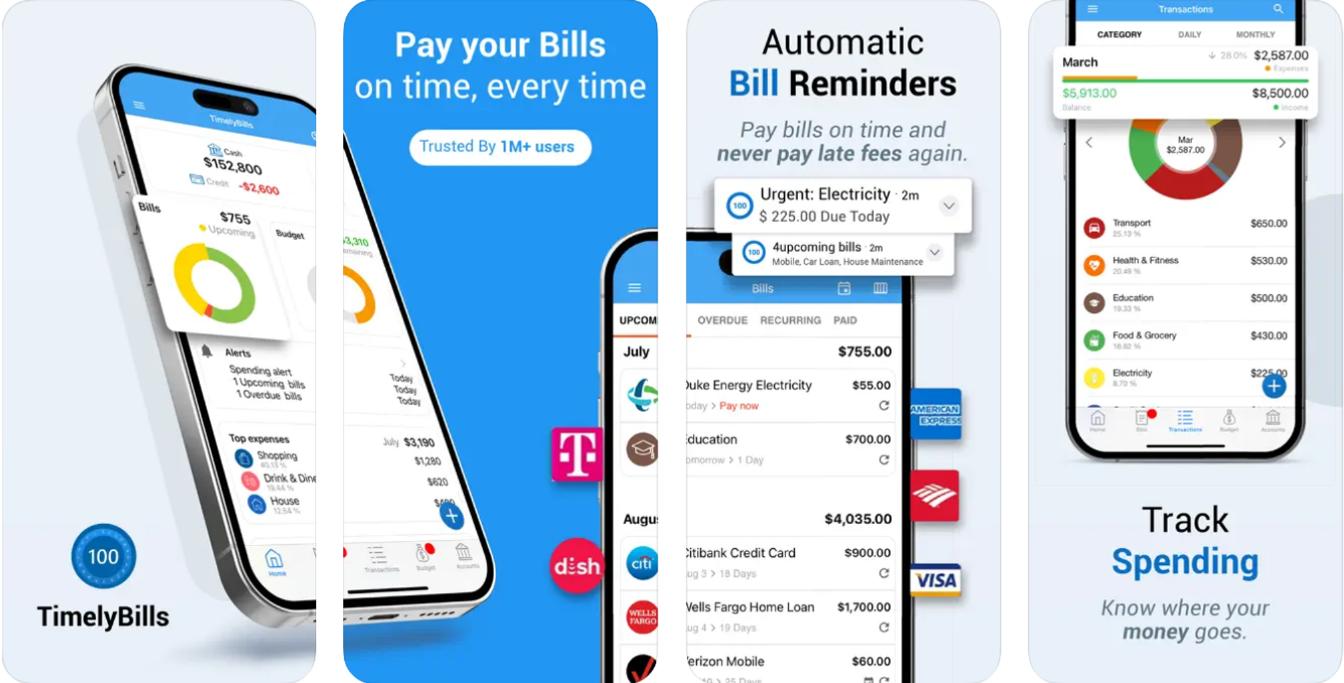 Timely Bills is among the top bill organizer apps that feature everything you need to manage your finances. This all-in-one budget and expense tracker app keeps your expenses on track, assists you in managing your budget properly, and makes sure that you never fall short on bill payments by timely reminding due dates of your bills. This Bill reminder and organizer app gives you a clear insight into your expenses with various visual charts and graphs to thoroughly analyze your bills and spending.
Features:
Track your income & expenses

Budget tracker and planner

Manage all your accounts easily

Built-in financial goal tracker

Backup your data over the cloud

Personalized visual reports and insights

Get monthly expense report

Customizable dashboards

Download reports in PDF & EXCEL format


2. Money Manager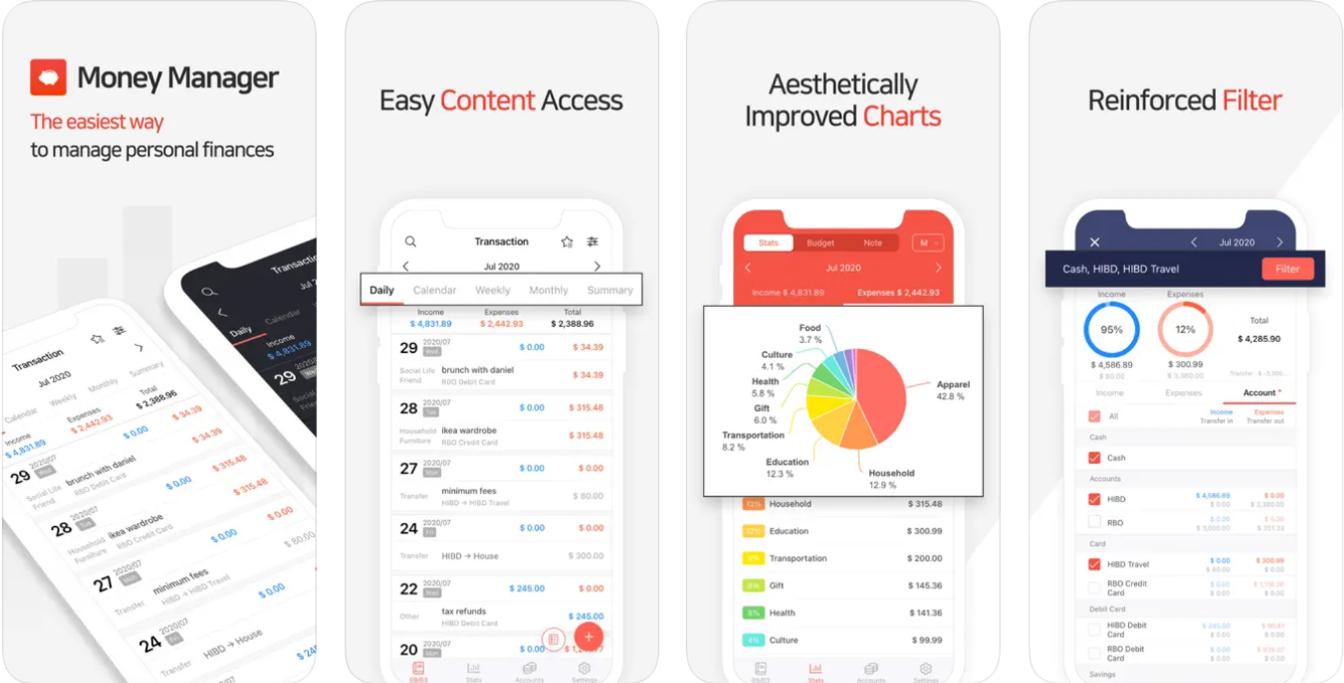 If you're looking for a perfect expense tracker app that is easy to use and comes with great features, then Money Manager is your go-to choice. It's a great app that is remarkably effective in tracking your expenses and managing your finances. It utilizes the double-entry bookkeeping accounting system, thus recording incomes and expenses effectively. The app comes with visual charts and graphs that visualize your bills and expenses. You can even write descriptions and attach pictures with your expenses. Apart from bill organizing features, it also comes with cloud storage and a dark mode to enhance your overall experience.
Features:
Dark mode

Built-in passcode support

Cloud backup and Excel export

Double-entry booking keeping

Visual charts and graphs

User-friendly and easy to navigate

Manage budget and expenses effectively

Credit and debit card management

Sort income and expenses of different period


3. iSaveMoney
Take full control of your finances with iSaveMoney app, a simple yet efficient app to plan your budget and track your income and expenses. There are different pre-made categories and labels in the app making it easy to specify your spending. You can clone your budget, change its date range, export it in different formats, and do much more. The dashboard shows your income and expenses, and the built-in calculator makes it easier to calculate your spending. Moreover, get your spending insights from the expenditure chart and other graphs.
Features:
Dark mode

Track income and expenses

Visual charts and graphs

Budget planner and tracker

Create your custom budget templates

Simple and efficient dashboard

See your daily progress with insights

Backup your data on the cloud

Attach photos to your purchases

Import and export budget plans

4. Wallet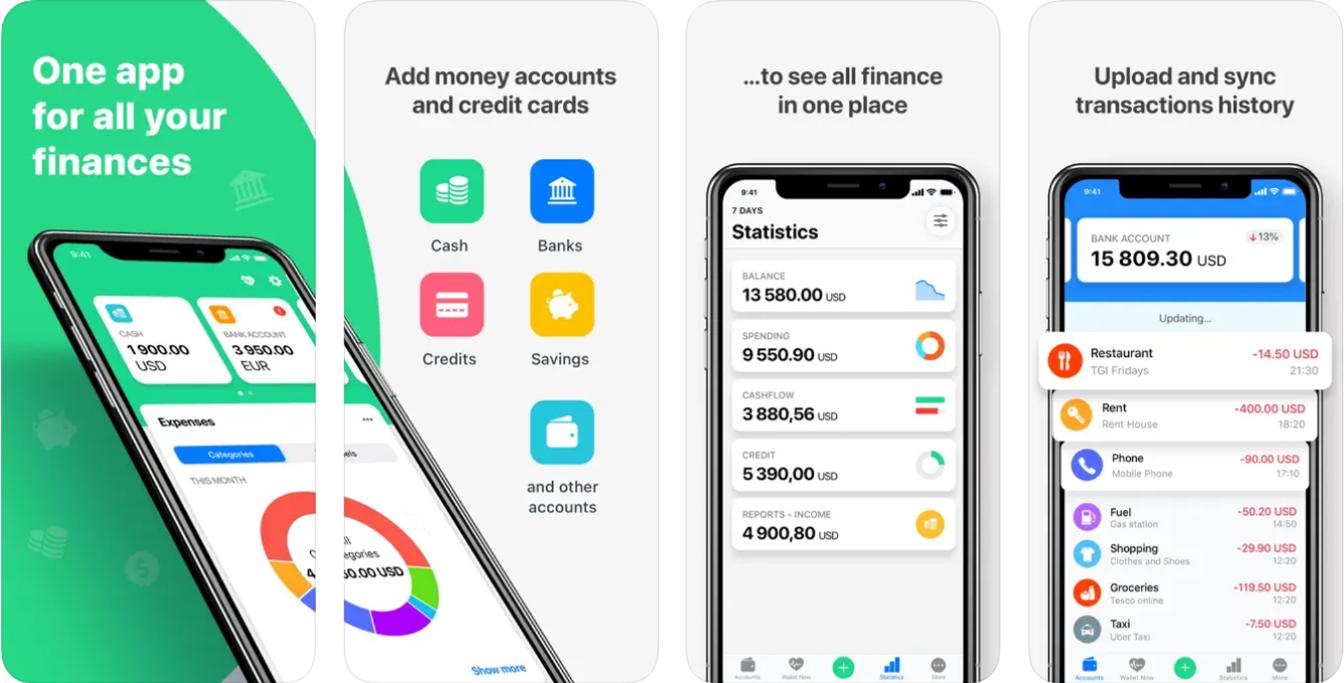 Save your earnings by effective budget planning and real-time expense tracking with Wallet, your personal finance manager app. One of the unique features of Wallet is that it automatically synchronizes transactions with your bank account and categorises those transactions. You can also import from other sources like spreadsheets. You can set your goals and plan your budget in the app making it much easier to achieve them. Wallets feature real-time statistics of your finances giving you a detailed insight with visual charts and graphs.
Features:
Plan your budget

Automatic bank updates

Organize your bill payments

Add different money accounts

Track your spending and incomes

Real-time insights into your finances

Visual charts and graphs

Create goals and save money


5. Money+ Cute Expense Tracker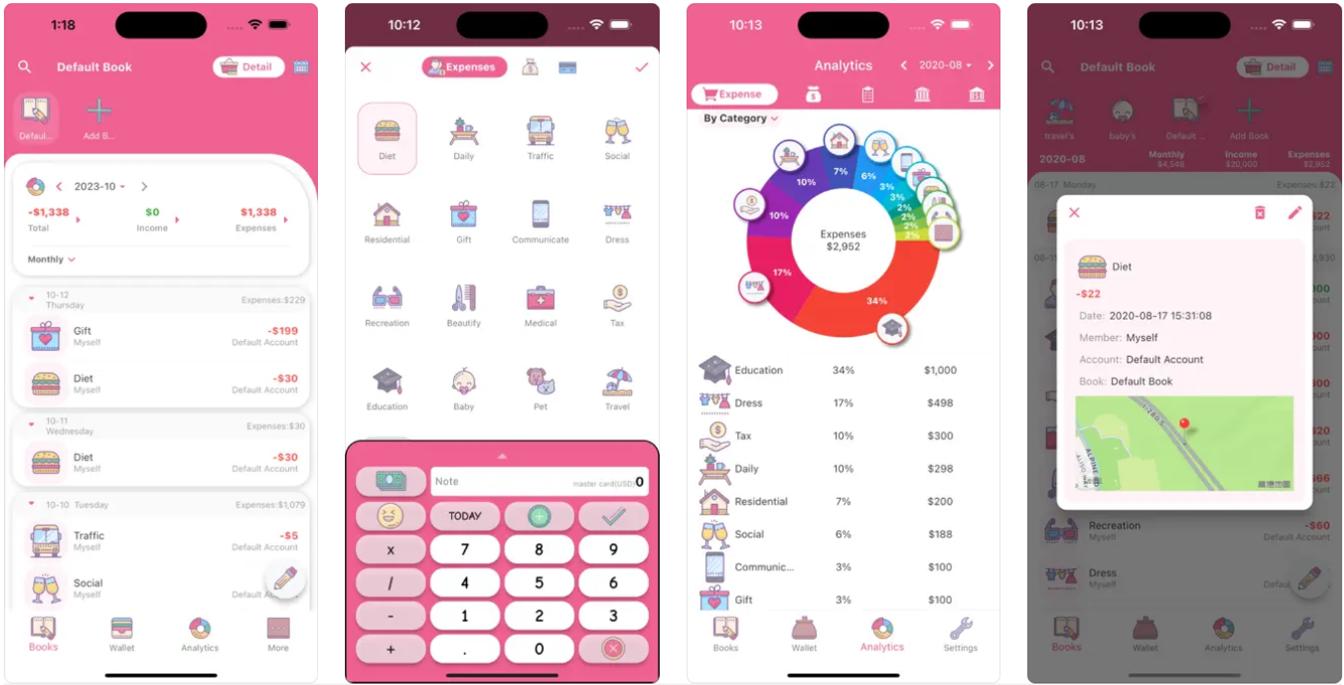 As the name goes by, the Money+ Cute Expense Tracker is one of the most aesthetic and user-friendly bill organizer apps that has a sweet and attractive interface with easy navigation and a user-friendly interface. The app is full of icons and colours. It comes with an in-built calculator, spending analytics with visual charts, graphs and calendars, several pre-made categories, and more. You can create multiple money accounts and attach locations in transactions. So start managing your finances and plan your budget with this amazing app.
Features:
Built-in calculator

Multi-currency support

Simple and easy to use

Track your income & expenses

Aesthetic and charming interface

Create multiple money accounts

Get the financial report of a specific date range

Add multiple members and their expenses

Detailed spending insights with charts and graphs


6. Spendee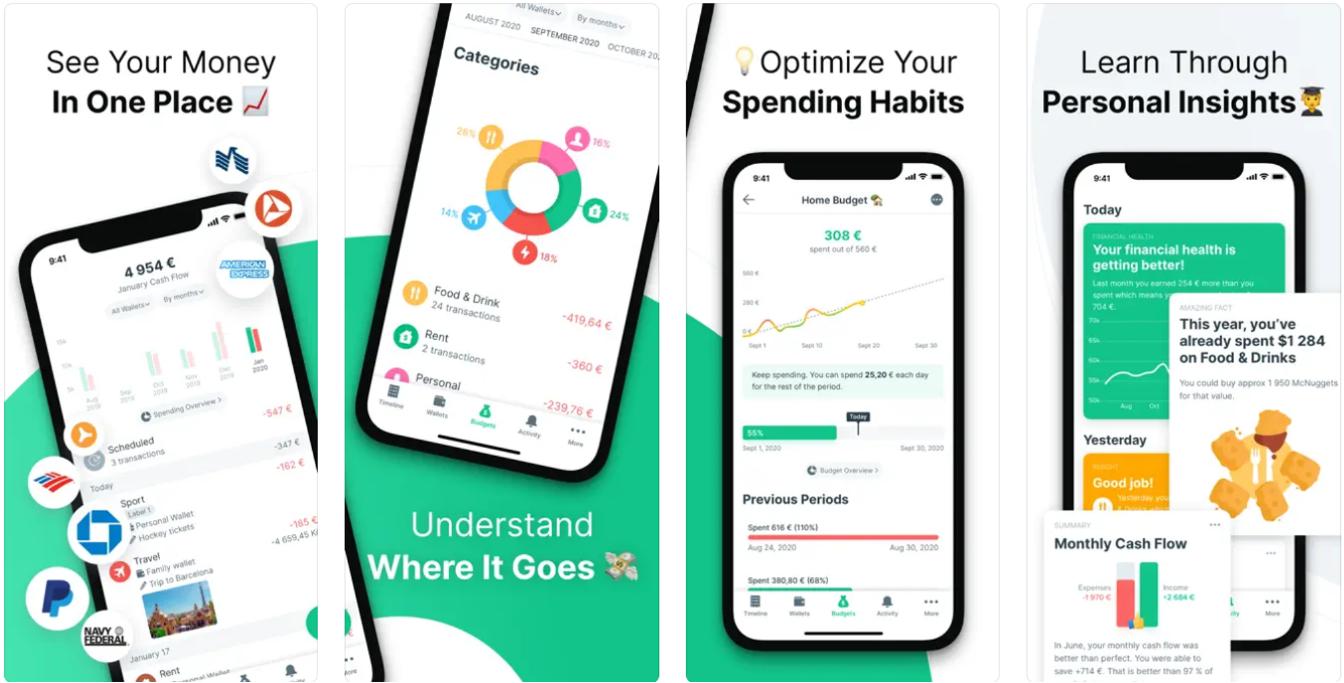 Settings a resolution to save money and achieve your goals is difficult. But worry not, the Spendee budget and expense tracker app is an effective way to keep an eye on your spending and be your financial manager. Spendee can connect with your bank account, crypto wallet, and money wallet, allowing you to track your money in one place. It works as a bill reminder app and helps you plan your budget, income, and expenses. The stylish graphs and charts make it easier to analyse your spending. The app has its web version and comes with a dark mode as well.
Features:
Plan your budget

Dark mode

Supports web version

Shared finances

Connect with banks and wallets

Multiple currency support

Track your income and expenses

Get personal insights and saving tips

Analyze expenses with charts and graphs


7. Money manager & expenses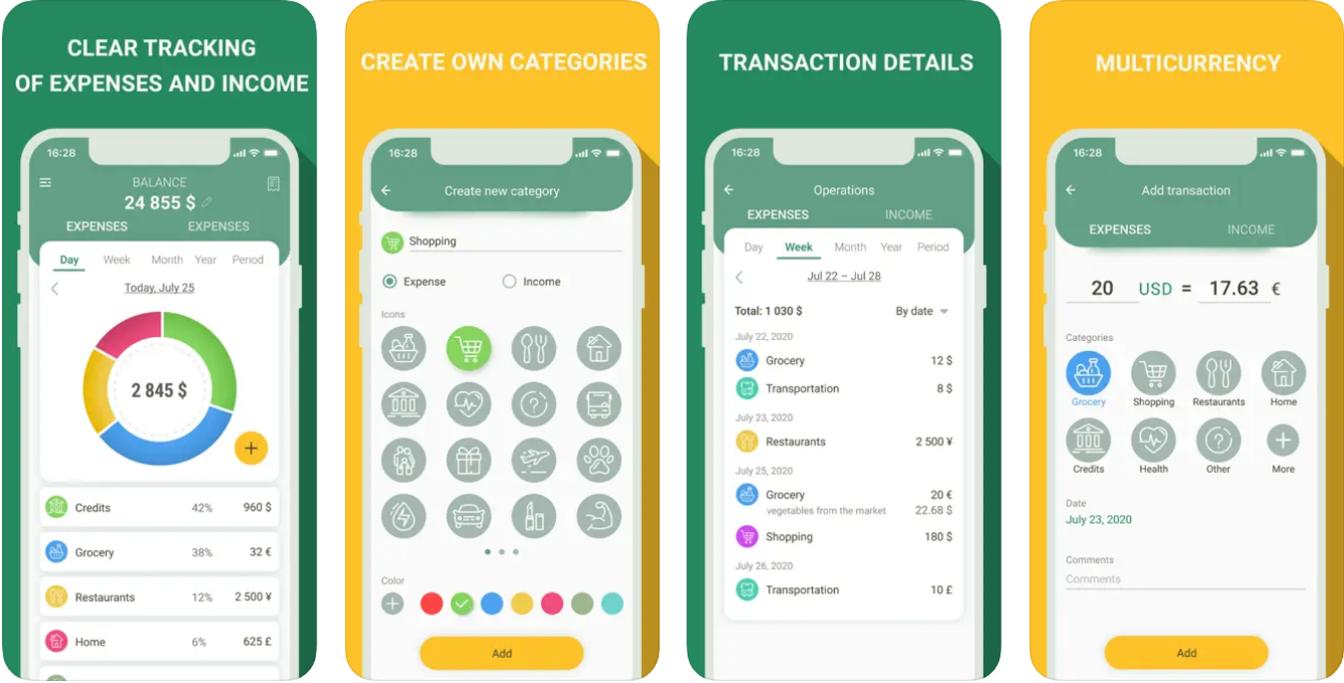 Money Manager & Expenses app is a comprehensive money manager app that has an amazing design with a clear interface that helps you track your income and expenses effortlessly. You can choose from various expense categories or add your own, and view your transactions on a daily, weekly, monthly, and yearly basis. The multi-currency function allows you to switch to different currencies. The dashboard shows a visual pie chart of your spending. It also acts as a bill reminder app where you can set reminders for your upcoming bills and income.
Features:
Clear user interface

Illustrative diagrams

Multi-currency function

Built-in passcode

Personalization of templates

Sort report by specific time frame


8. FinArt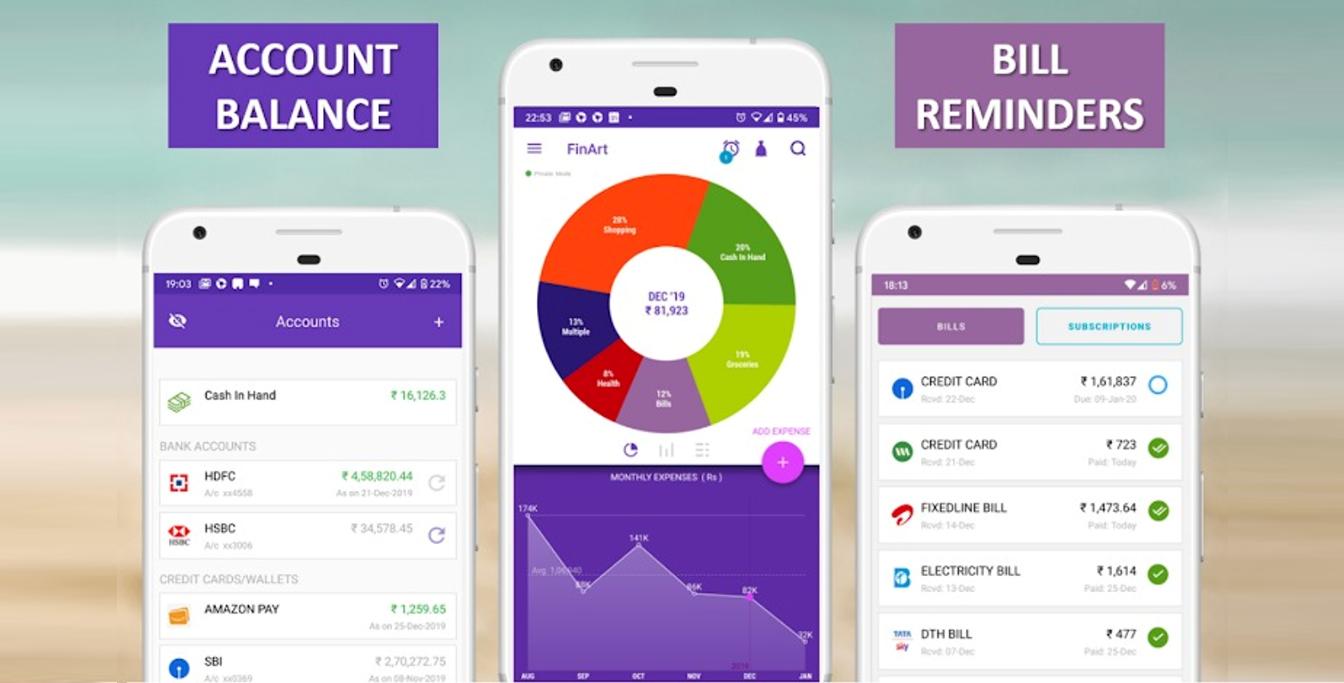 FinArt is an AI-powered expense tracker and bill reminder app that automatically tracks your spending through SMS and bank notifications on your phone. You can create your budget plans, manage your expenses, get reminded of your due bills on time, dive into insights into your income and expenses with charts and graphs, and much more. FinArt has a separate section where you can manage your subscriptions to various services. Moreover, it has a "Sync with Family" feature that can sync and consolidate data across different devices.
Features:
In-built app lock

Plan your budget effectively

Auto-track your expenses

Manage bills and subscription

Get timely bill reminders

Multiple currency support

Visual charts and graphs for insights

Backup and restore your data

Manage family budget with Sync with Family

9. Monefy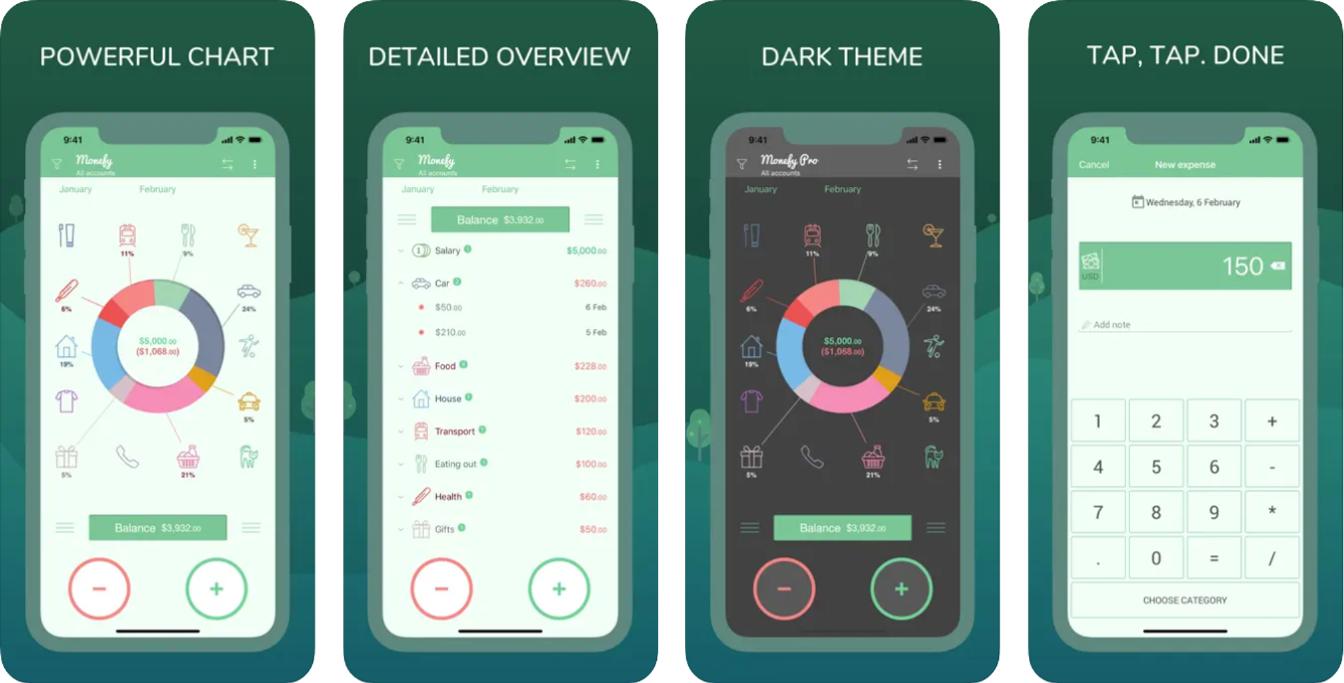 Monefy eases your budget planning expenses tracking by keeping a record of every penny you spend. All you have to do is to add the amount whenever you buy something. Apart from being an expense tracker app, Monefy also helps you to analyse your spending with detailed diagrams and charts and manage your finances efficiently. It helps you to prevent overspending and going over your budget. You can use this app to create a habit of money saving. The app synchronises your data to the cloud and comes with a passcode feature.
Features:
Dark mode

Multi-currency support

Built-in calculator

Add a widget to the home screen

Synchronize data over the cloud

Plan your budget and save money

Track expenses and incomes

Intuitive visual characters and diagrams

Backup or export your financial report


10. TrackWallet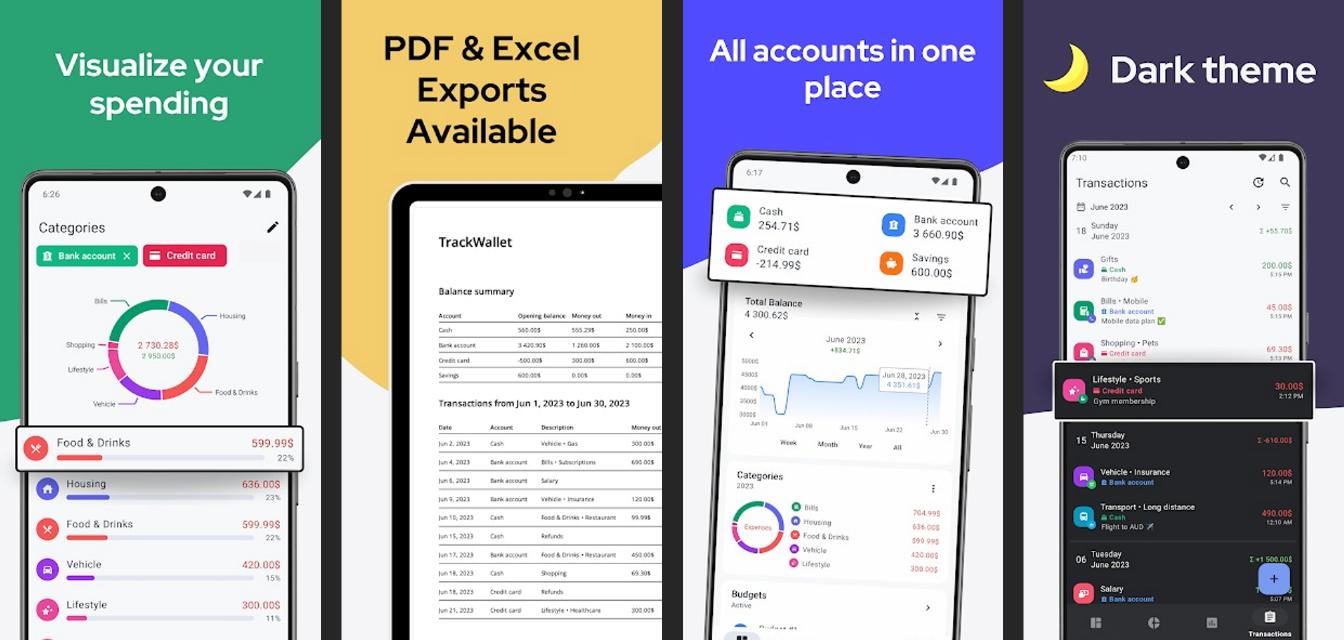 TrackWallet is one of the latest bill organizer apps that simplifies your budget planning and expense tracking. The app features a user-friendly interface and all the necessary tools to manage your wealth. One interesting feature that TrackWallet offers its user is the elimination of guesswork in planning a budget as it automatically forecast your budget as per the festive occasions and holidays. You get pre-made expense categories and can add notes to your spending. So download TrackWallet and enjoy the ad-free experience of managing your finances.
Features:
Dark theme

User-friendly interface

Different money accounts

Multi-currency support

Budget forecaster

Various spending categories

Track your bills and substitutions

Get visual & graphical analytics

Plan and get an overview of your budget