Going to buy a budget fitness band? Here is the list of the Top 6 Best fitness bands under 3000 to buy in India. In a fast-paced lifestyle, it is hard to keep track of your health and diets with growing health-related issues among youngsters. People are looking for an easy way to monitor their health. The fitness band provides an easy way to check your health and sleeping patterns and record the changes. So check out our list and find the right fitness band which fits into your budget to check your health, sleeping patterns, and record the changes.
Related Article: 10 Best Pedometer and Step Counter Apps for Android and iOS
List of 6 Best Fitness Bands Under 3000 In India
1. Honor Band 5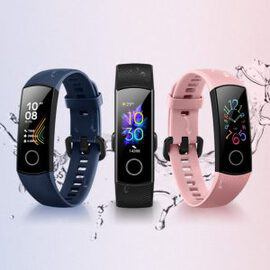 The Honor band 5 is one of the best fitness band under 3000 in India that comes with a 0.95-inch AMOLED display touch display. It also has 50m Water Resistance and home button control. It has superb daylight visibility. Overall the fitness band has a classy and polished finish with a lightweight silicone strap.
The Honor band 5 has an optical heart rate monitor with a PPG sensor. It comes with AI-driven algorithms based on reading for accurate monitoring. For tracking your sleep quality, it tracks your heart rate and breathing while you sleep. Which then segments the data collected and gives in-depth analysis.
You can also sync it with your smartphone, and it also comes with a phone finder function. The battery lasts for 14 days on a single charge though it does take 1.5 hours to charge the battery full percent.
Has multiple Watch Faces and a Remote Control Camera (compatible with Huawei/Honor EMUI 8.1 devices or later). This is a good option if you're looking for a stylish and best fitness band under 3000 in India.
Pros
24-hour heart rate monitor.

50 m water resistance.

Monitor sleep patterns.

Music controls.

Swin strokes recognition and water resistance.

Monitor heart rate.

14-day battery life with a single charge.

Equipped with ten distinct fitness mode.

Can track saturation levels in your blood so that you can see how well you're adaptive to a certain environment.
Cons
Requires a companion app to view some detailed analysis.

No alarms or reminder options.

Can only see the latest messages instead of all.

No GPS navigation


2. Mi Band 4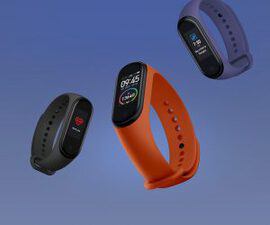 Launched by Xiaomi doesn't have a screen but instead uses LED indicators. It has a 39.9% larger AMOLED color full-touch display than Mi Band 3. For a fitness band, the band is exceptionally lightweight and flexible.
It has an active heart rate monitor, step counter, sleep tracker, burned calorie calculator. The Mi band app gives you all the detailed information regarding your ratings. Has 5ATM waterproofing and auto-detects swim style and captures data accordingly. The 135mAh Li-ion battery lasts for almost 20 days.
It also comes with music control, and you can receive text messages, silence or reject calls, and get notifications. If you are a Mi phone user then this is the best fitness band under 3000 which fits into your budget.A major pro for this band is that even if you are not a fitness freak, because of its connective fluidity accessing messages, calls, calendar notifications has never been easier. Easily available on e-commerce platforms like Amazon, Flipkart, etc.
Pros
AMOLED TOUCH: It has an AMOLED TOUCH color display with adjustable brightness control and a 39.9% wider screen for your comfort.

Water Resistant: The band is water-resistant and can count your strokes and breathing underwater.

Long battery life: one single charge can last up to two days.

Music controls: pick your favorite ones during your workout.

Heart menu: count your heart rate, pulse rate, etc.

MI APP: create your personalized workout for the better you.
Cons
Lacks a little in daylight visibility

You have to take out the tracker module from the strap and connect it with a separate charger.

Does not have a GPS navigation

Does not have the most accurate heart rate count

Poor visibility in bright places.


3. Fastrack Reflex 2.0 Fitness Tracker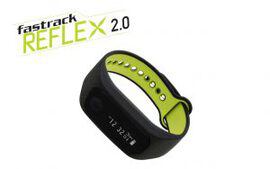 The Fastrack Reflex 2.0 has an OLED. The outer layer and is rugged in texture while the inner layer smooth. Tracks number of steps, total distance traveled, and a number of calories burned, and a sleep tracker. It also comes with a phone tracking feature. Check Whatsapp messages and SMSs and notification reminders. You can remote control your phone camera.
Reflex 2.0 has features like Fitness Buddies, Fastlane, and My Achievements. It comes with an IPX6 rating for water resistance that means it can handle a few splashes. If you are searching for a good brand with a low budget then this fitness band is the best fitness band under 3000 in India.
Pros
Compatible with any USB Port

10-day battery life

Compatible with all iOS versions (8.0 and above) and Android versions (5.0 and above)
Cons
Little bulky

Not good daylight visibility

Cant be used while swimming.

4. Samsung Galaxy E Fit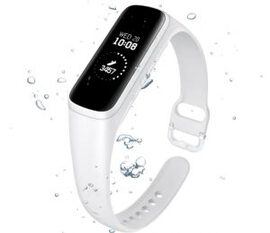 Galaxy E Fit comes with a 0.74-inch POLED display and a lightweight removable strap. Use the tap feature to access screens. To get Galaxy Fit-e working, install the SamsungHealth appon your smartphone. Available in both the play store and the iOS store.
It comes with a heart rate sensor and an accelerometer that tracks your movements and steps. That continuously monitors heart rate and tracks your deep sleep time while sleeping. If you are a Samsung user and love the Samsung devices then this is the best fitness band under 3000 in India which will suit your Samsung devices. 70mAh battery that lasts for six days.
Pros
Compact and simplified design so you can view all your things at the same time.

Ultralight in weight.

Track activity status at a go with connectivity issues.

Water-resistance up to 5 ATM

Notifies you when someone is calling in the middle of your workout

Monitor's your health through the app.

Analyzing your sleep patterns better.

Available in three colors.
Cons
Not touchscreen.

Takes 2 hr to charge fully.

No incoming call phone control system.

5. MevoFit Echo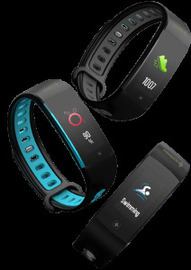 With a trendy design and a slim fit, the MevoFit Echo fitness band has a 0.96-inch OLED display. The touch display uses a swipe gesture for navigation. It comes with a heart rate monitor and an activity track feature that tracks sleep, Blood Pressure, and Blood Oxygen.
Comes in 5 sports mode including Walking, Running, Cycling, Climbing, and Swimming. The 90mAh Li-ion battery lasts for 15 days. You can access notifications, and it also acts as a remote control for your smartphone camera.
Pros
Scratch scratch-resistant screen

Shockproof and water-resistant

is very durable and rugged

Compatible with Samsung, Apple, Xiaomi Mi, Huawei, Motorola, Lenovo, Oppo, Vivo, One Plus, LG, etc. smartphones.
Cons
Stiff wrist band

Litlle pixelated icons and text.

6.
GOQII VITAL 2.0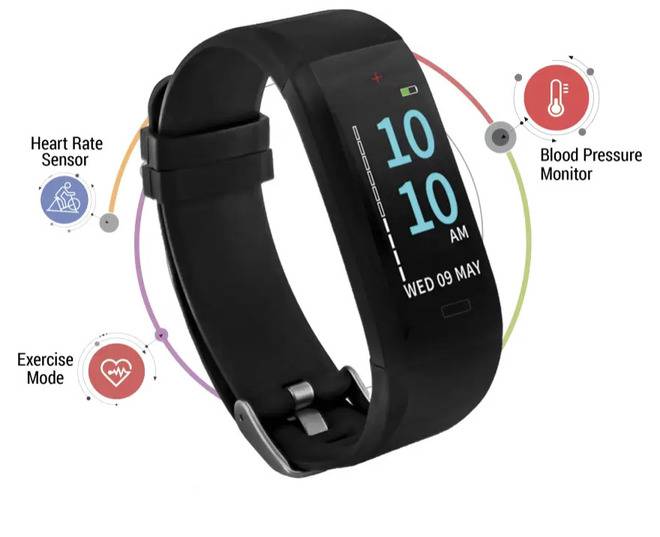 GOQii Vital 2.0 is the best fitness band under 3000 that comes with lots of exclusive features. It is the most affordable fitness band that provides lots of sensors and complete health report in the app. The band is compatible with Android and iOS devices. You need to download the GOQII app to track and monitor your health activities. The GOQII fitness band is very popular because ofin-built blood pressure. It can measure your blood pressure and heartbeat from time to time.
The GOQII also has a sleep detector that predicts your sleep pattern without any external input. At an affordable price, GOQII is one of the best fitness bands if we compare it with other fitness bands on the basis of sensors. So if you want the best fitness band with accurate sensor readings then GOQII VITAL 2.0 is the best fitness band under 3000 India.
Pros
The GOQII VITAL 2.0 has a built-in Blood Pressure sensor.

Tracks all-day activities like walking, running, blood pressure, and heart monitoring.

Long battery life up to 7 days.

24X7 Heart Rate Monitoring.

Built-in USB charger.

Provide24/7 Live Chat for anytroubleshooting.

Water-resistant.
Cons
Step count may not be accurate sometimes.