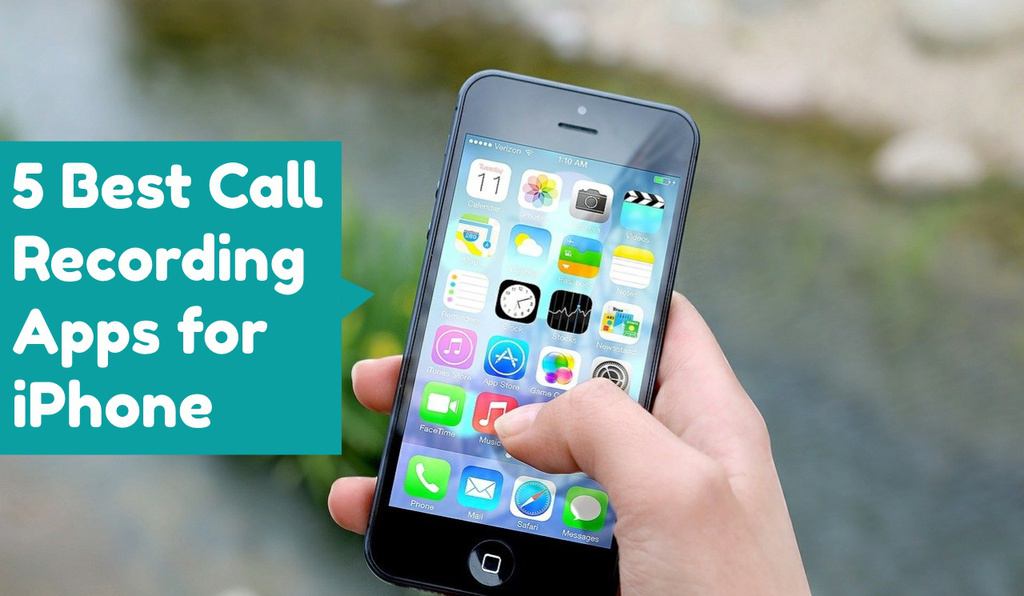 Call recording apps have become a need rather than a want in this digital world of cybercrimes, online job interviews, or providing high-quality customer services. However, Apple has not provided a call recording function for this in its flagship phones. If you look on the internet, you will find millions of ways to record calls on your iPhone, but nearly a handful of them work. Finding Call recording apps for the iPhone is a big task because lots of time the installed recording app does not work. Don't worry, you don't need to find the call recording apps on the App store. Here is the tried and tested best 6 call recording app for your iPhone that actually works. These listed applications are100% safe and useful for recording your calls on the iPhone.
Related Article: Android exclusive applications which are not available on iPhone
List of Best 6 Call Recording Apps for iPhone
1. Rev Call Recorder
If you are looking for an amazing, unlimited, and free-to-download call recording app, this is the perfect one for you. It is a two-way call recorder with many useful features. It also has the feature of transcribing the calls after recording at a very low rate. Rev is a convenient and easy-to-use app.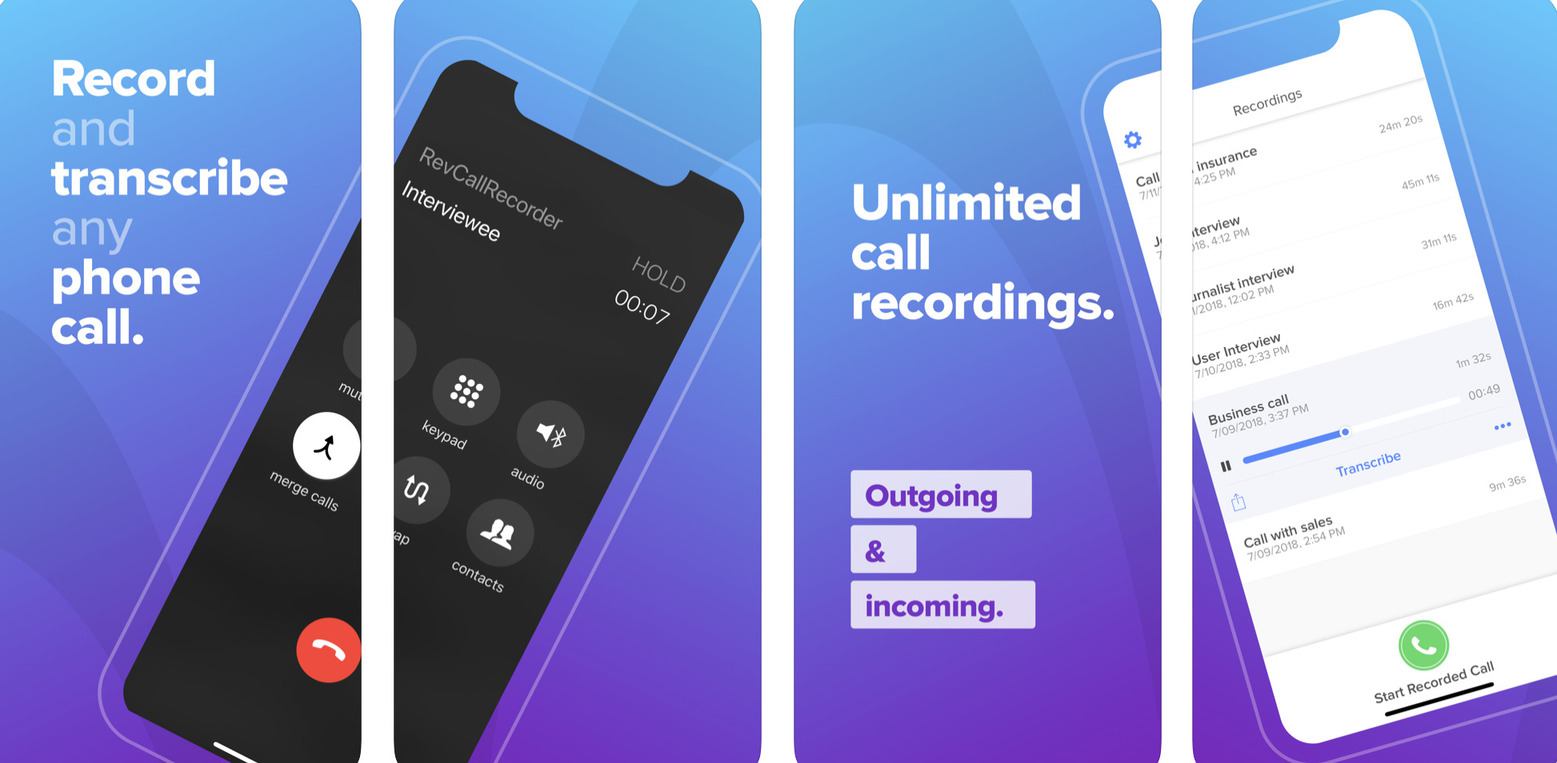 Pros
It can record both incoming and outgoing calls.

It has tutorials to accurately reflect how to record calls.

Unlimited, free call recording

No Ads

No Recording Limit

Convert Audio after the code disconnected.
Cons
It can only work with US registered phone numbers.
Download Rev Call Recorder for iPhone
Must Read: WhatsApp backup - How To Backup WhatsApp Chats on iCloud using iPhone
2. TapeACall pro
A call recording app that is extremely easy to use and has an unlimited call recording feature. It has easy to use interface. The app provides frequent updates to give you a better experience. To be honest, if you are willing to pay a little to get your calls recorded in high quality, this is the best app you can get out there.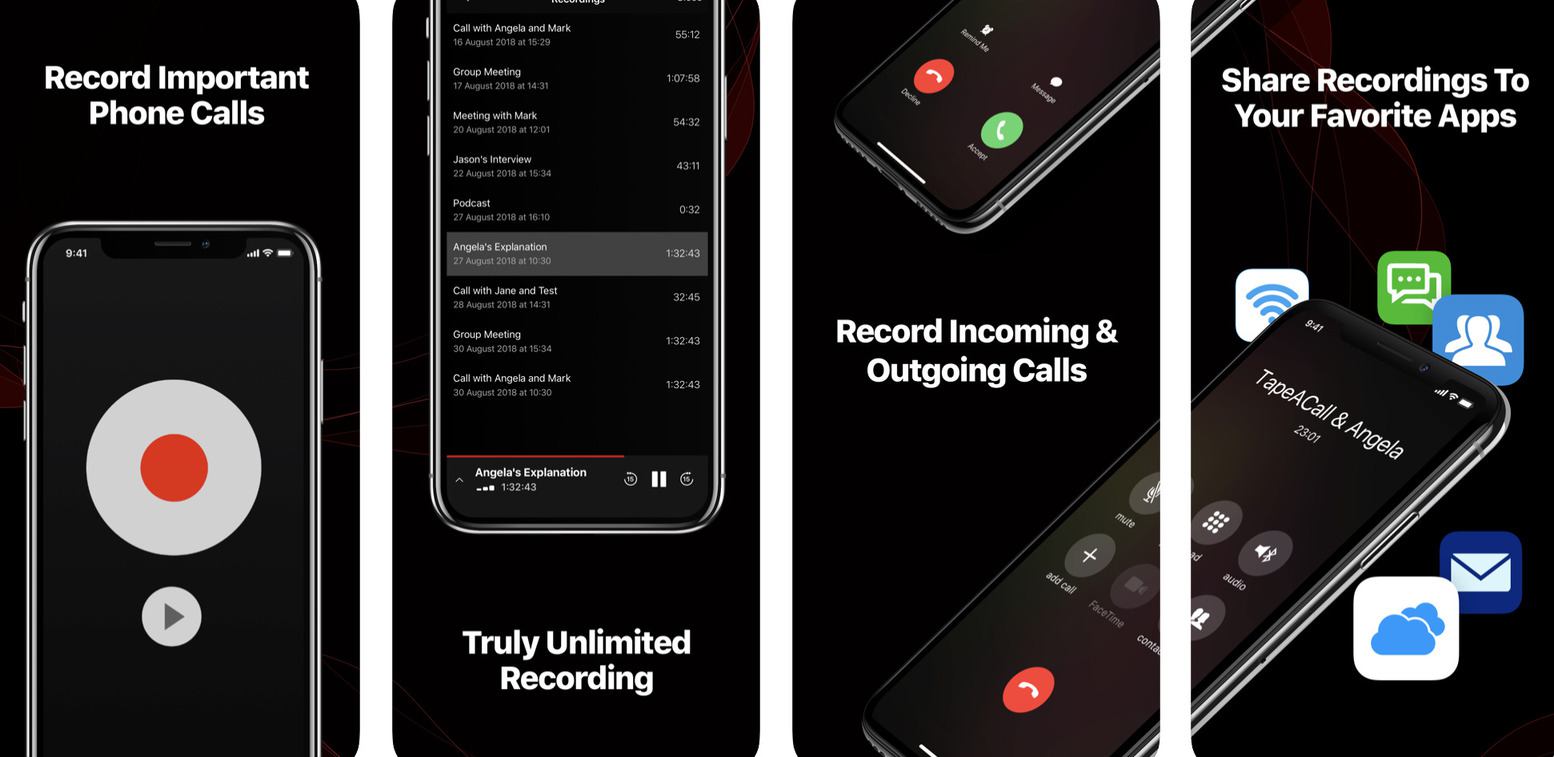 Pros
TapeACall does not have a per-minute fees

It can easily upload your recorded files to Gmail, Facebook, Twitter, etc.
Cons
Requires iOS 11.2 or later.
Download TapeACall pro for iPhone
3. Record Phone Calls-Call Rec
If you looking to one tab call recorder for your iPhone then this is the best call iPhone recorder. It starts saving your voice conversation into your iPhone phone memory by a single tap. It provided you a high-quality audio recording for your iPhone.
Pros
Available globally

Support every caller ID

Work for Local as well as international calls.
Cons
Price is high compared to other recorders.
Download Record Phone Call-Call Rec for iPhone
4. Call Recorder Lite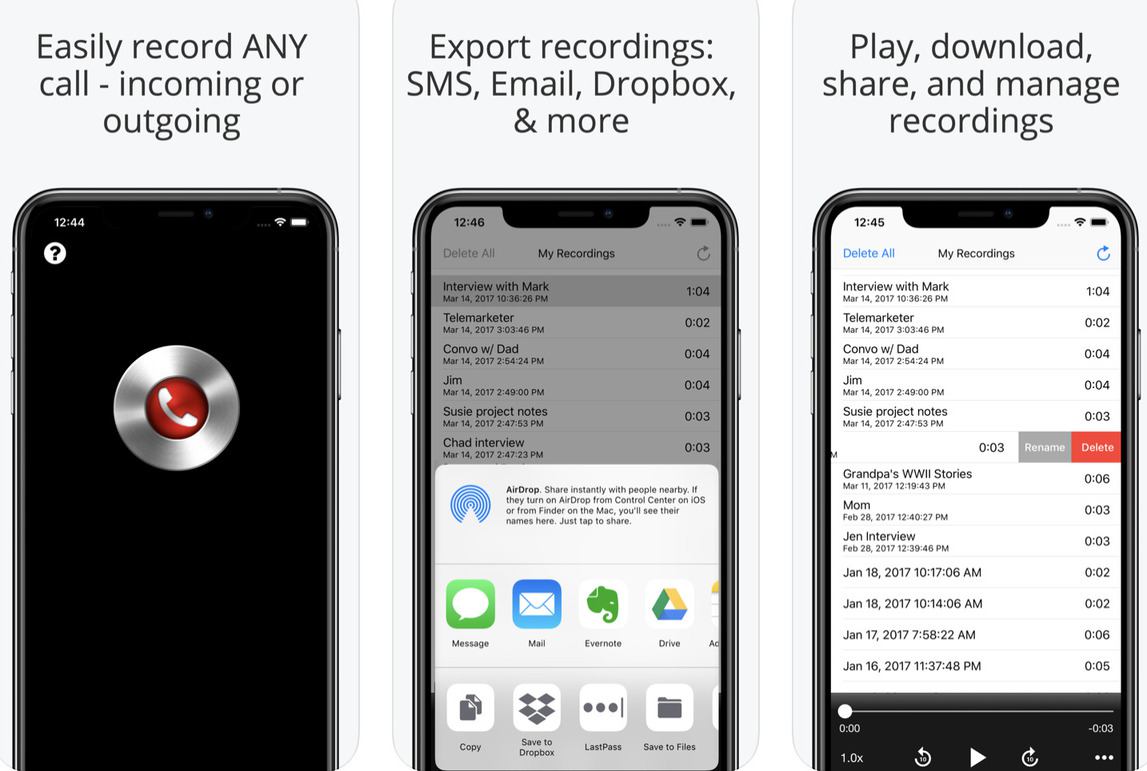 This app helps you in the call recording of both incoming and outgoing calls. However, it requires you to purchase a premium if you want to record the past 60 seconds and also to share the recorded file. To record a call via this app, you will have to dial a recording number from your dial pad.
Pros
It has playback controls to skip forward or backward.

It is glitch-free and bug-less
Cons
Your device needs to support three-way calling feature

Has some restrictions by the state laws in some countries.
Download call recorder lite for iPhone
5. Call recorder – IntCall
This call recording app has similar features to that of TapeACall pro. It has easy access to your contacts and can record both national and international calls. You can send the recorded file via email or export it to a cloud storage facility.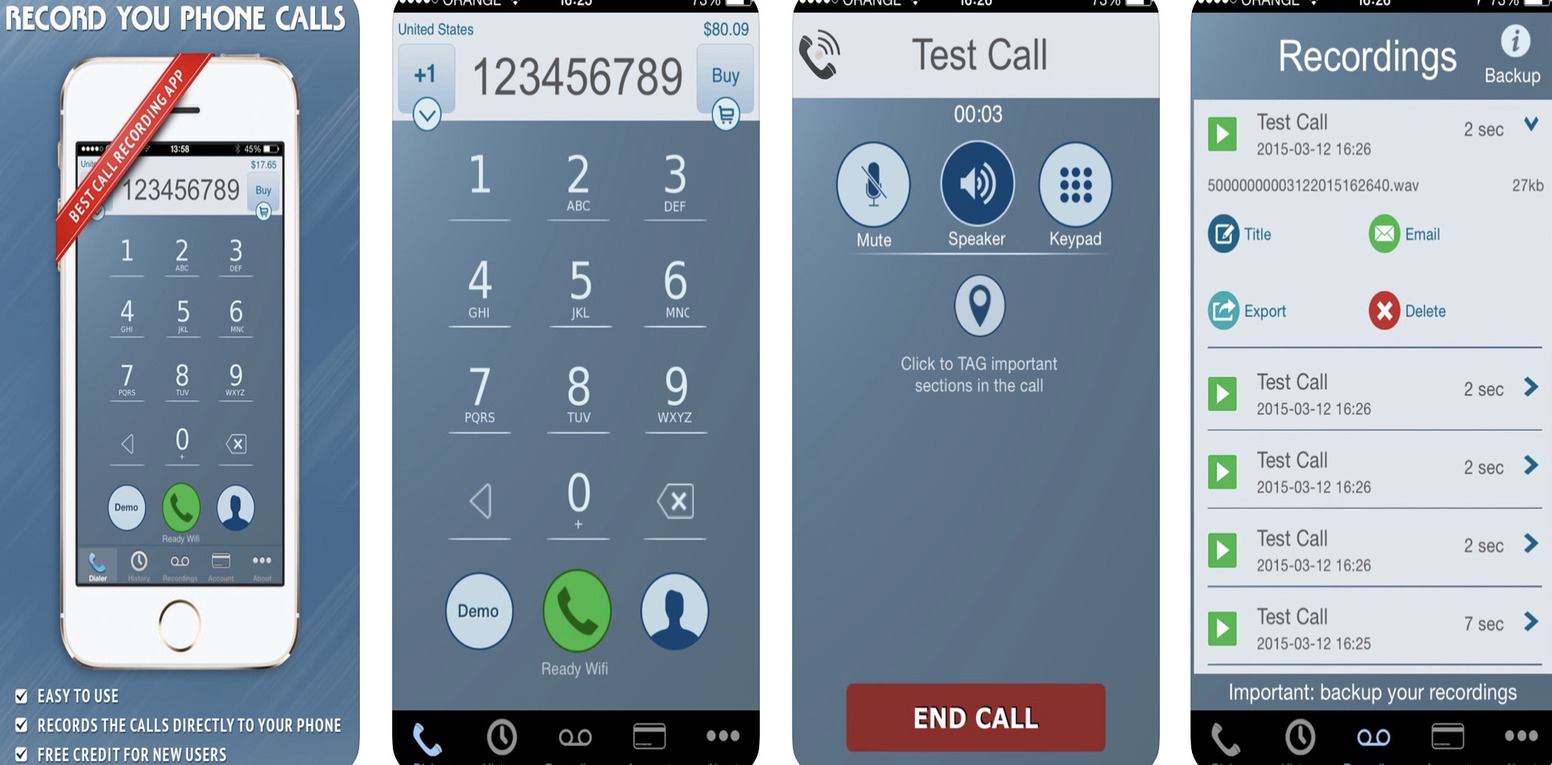 Pros
It supports multiple languages

Records both national and international calls.
Cons
Requires GSM and a three-way calling feature in your device.

It's paid and only gives only 3 days trial.
Download Call recorder- Intcall for iPhone
6. ipadio
This amazing call recording app helps you to either record, upload, or even live stream your audio straight to the web. It also has a video recording option and a lot of other useful features. It is a free, easy, and fast app. To record a call, you simply have to enter a pin given to you by the app in the call keypad. The screen in which you will get the pin would look like this.
Pros
Free and easy two-way recording

It also has the feature of editing the audio.
Cons
The app needs to be frequently scanned by antivirus as it may contain malware sometimes.

Not available on App Store.
Disclaimer – Before call recording, always ensure that you ask for permission. We don't endorse call recording without letting the person on call know that the call is being recorded.
Which call recording app for iPhone should you download?
Well, the article should help you answer this question after looking at the pros and cons of all the apps. The only important thing you have to see before downloading an app is the system requirements. Most of the call recording apps ask for a three-way calling feature on your phone. Make sure you have an antivirus in your device to be safe from malware.
Frequently Asked Questions
Does iPhone have a call recorder?
No, iPhone does not have an inbuilt call recorder. However, you can download the app for it from the app store.
How can I record a call on the iPhone?
To record a call on your iPhone, you simply need to download one of the apps mentioned in this article. Most apps will give you a number/pin to dial from your keypad to record a call.
Is there a free call recorder app for iPhone?
Yes, there are some free call recording apps for iPhone but you cannot trust those apps easily.
Also Read: iOS 14 New Features Announced For iPhone & iPad At Apple WWDC 2020 - All highlights