It does not matter whether you are a blogger or not, but you must have felt the need to save the information whenever you are browsing. Yes, You get the option to bookmark the page, but you cannot access them offline. An alternative to saving bookmarks is that you can easily capture the screenshot of the information you want to keep, be it an image or text. To capture a perfect screenshot, you will have to use the best Chrome screenshot extension. Since Google Chrome is the most common browser prevailing, let us talk about the chrome extensions to capture the screenshot.
There are plenty of Chrome screenshot extensions available on the web. These screenshot extension gets installed in the Chrome Browser after downloading. Moreover, It also saves the screenshot captured in your computer's hard drive. Picking out the best chrome screenshot extension on the web is relatable with looking for a needle in a haystack. We understand your problem and always step forward to resolve them. So we have done the work for you and listed the reliable 10 best google chrome extension to capture the screenshot.
Related Article: Best Free VPN Chrome Extensions For Your Google Chrome Browser
List of 10 Best Google Chrome Extensions to Capture the Screenshots
1. Awesome screenshot
As the name suggests, an awesome screenshot is excellent Chrome extensions to capture screenshots. 2 million users trust it. The reasons behind its awesomeness are you can share a screenshot and share them easily with multiple destinations. Apart from taking a screenshot, you can also record both screen and camera. In addition to these excellent features, you can even upload your recorded screen to tools like Google Drive, Trello, Slack, and Asana.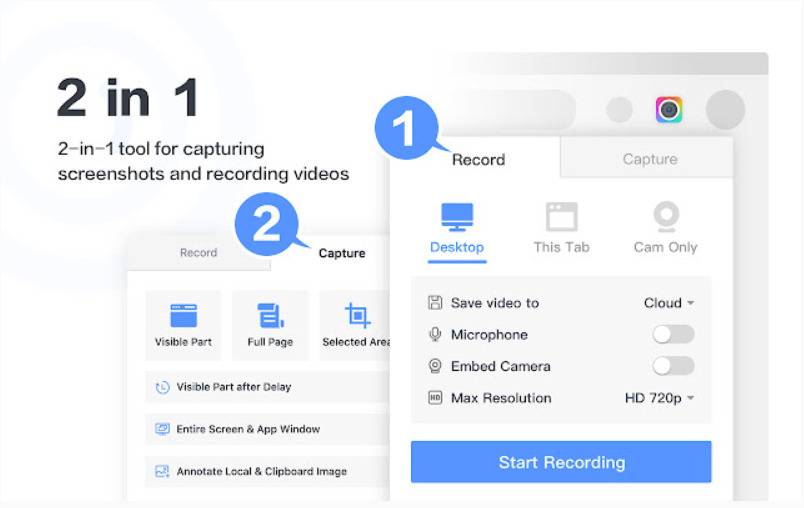 Features:
You can capture screenshot as per your need; for example, you can catch the full webpage or a particular area.

It also allows us to edit the captured screenshot and add comments as well.

The tool comes with one option for recording screen.

You can share with Trello, Slack, etc. using just one click.

It also features Desktop capture, where you can capture screenshot of the whole desktop.
2. Full Page screenshot
Full Page screenshot provides justice to its name by allowing us to take a screenshot of a full-page. You can open the screenshot in the new tab as soon as you capture it. It uses advanced capture technology to click the entire web. Besides capturing a screenshot, you can also edit it, make annotations as well as crop it. Further, you can download the screenshot in JPEG and PDF format as per your need.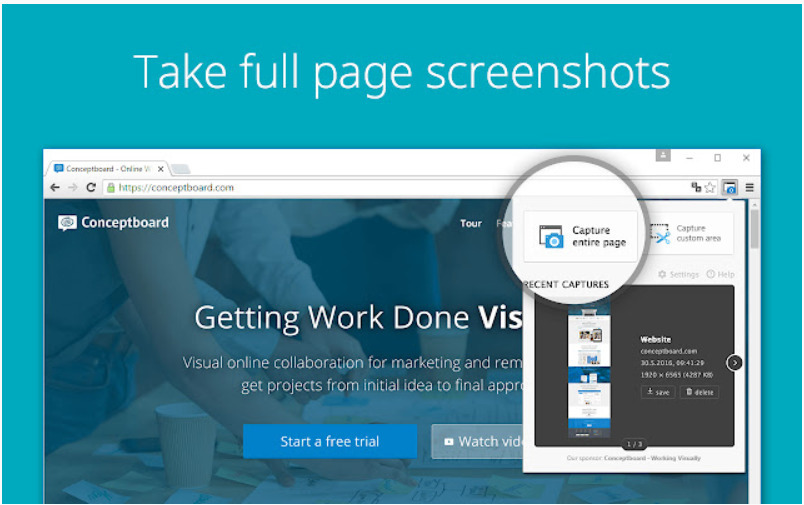 Features:
It is easy to use and processes the screenshot fast.

You can work offline using the tool.

It also protects your privacy.
3. Fireshot
A fire shot is another one of the best chrome extensions to capture the screenshot. Like another screenshot chrome extension, Fireshot can also edit the captured screenshot and annotations. Still, the only thing that makes Fireshot stand out is you can choose to screenshot the visible portion of the webpage as per your requirement. Your just one click opens the tab, allowing you to select the required area and capture it. The screenshot captured opens in built-in-editor, thus enabling to edit them.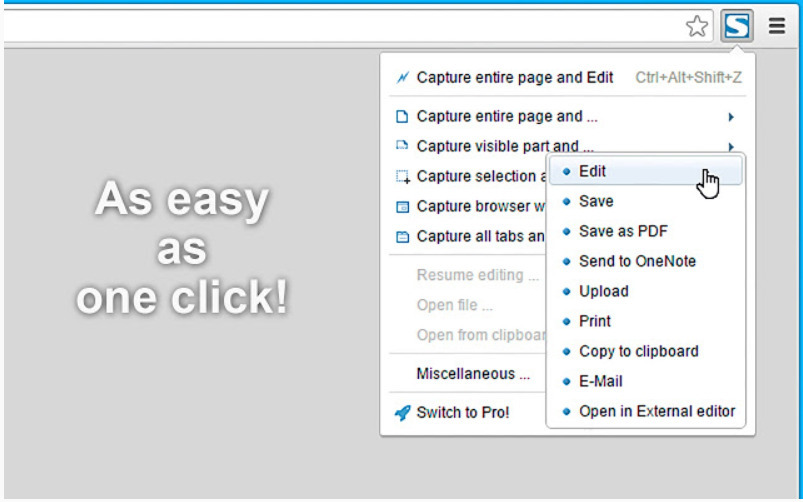 Features:
It allows you to save screenshots in file formats such as PDF, JPEG.

You can edit your screenshot in the image editor soon after capturing it.
Must Read: 10 Best Screen Recording Extensions For Chrome
4. Clipular
Clipular is one of the best chrome extensions to capture screenshot featuring a grouping of the screenshot in a most organized way. The tool allows us to capture single as well as multiple web pages. This particular screenshot chrome extension come with the frequent update. So to use this screenshot extension efficiently keep an updated chrome browser. In addition, Clipular is user-friendly and allows you to share multiple screenshots with ease.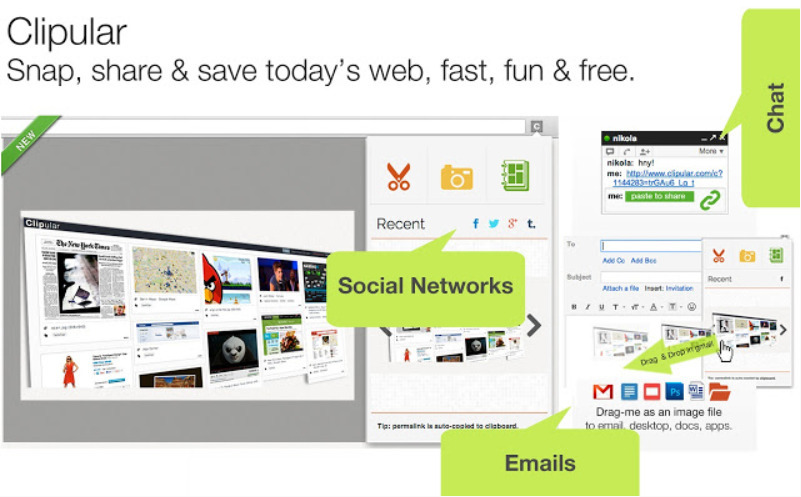 Features:
The tool features autosave so you don't have to worry if you forgot to save your screenshot

You can drag the captured screenshot and easily share it on Gmail or other social networks.

Using this tool you can even organize the screenshots using tags
5. Screencapture
Screencapture is not just for a screenshot but also allows voice commenting using a mic simultaneously with capturing video. You can easily share screenshots with your colleges, thus helping you out through your work. Besides, you can easily take a screenshot and save it.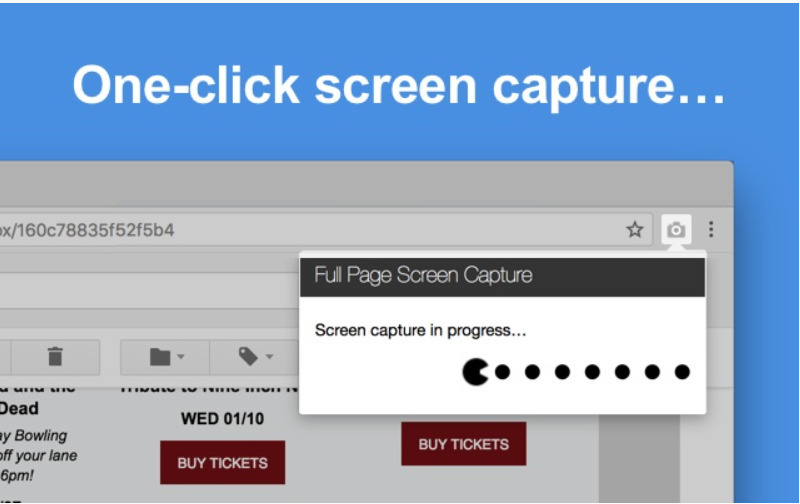 Features
It allows video recording and voice commenting as well.

You can even share the screenshot by sharing the image file's URL.
6. Nimbus screenshot
Looking for high rated Chrome extensionsto capture screenshot, Nimbus is the one for you. Like other screenshot chrome extensions, it allows you to capture a full web page or a partial screenshot of the selected portion of the web page. Besides, it also features editing and provides an annotation to it. You can also record videos using this tool.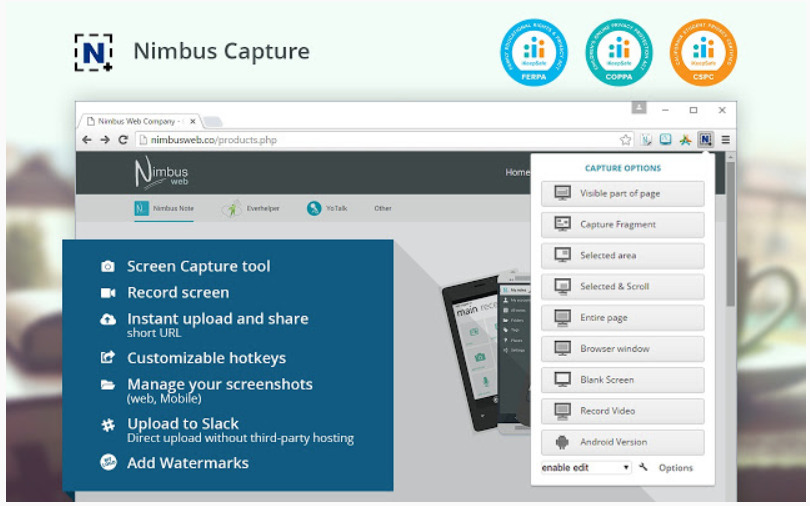 Features:
Nimbus screenshot allows us to crop or trip the videos and saves them in mp4 and gif format.

It allows you to edit objects after adding them to the screenshot.

You are ready to go with a blank image.

Nimbus screenshot provides its users the convenience of scrolling horizontally.

As said earlier, it can also capture a screenshot of a portion of the screen.

It supports screen recording and has keyboard shortcuts to make your work faster and easier.
7. Blipshot
Blipshot is the best screenshot extension if you want a lightweight chrome extension that fulfills your needs. The tool allows you to capture a screenshot of the full page in just one click and save it in PNG format. Being a light-weighted screenshot extension, it does not take up much space.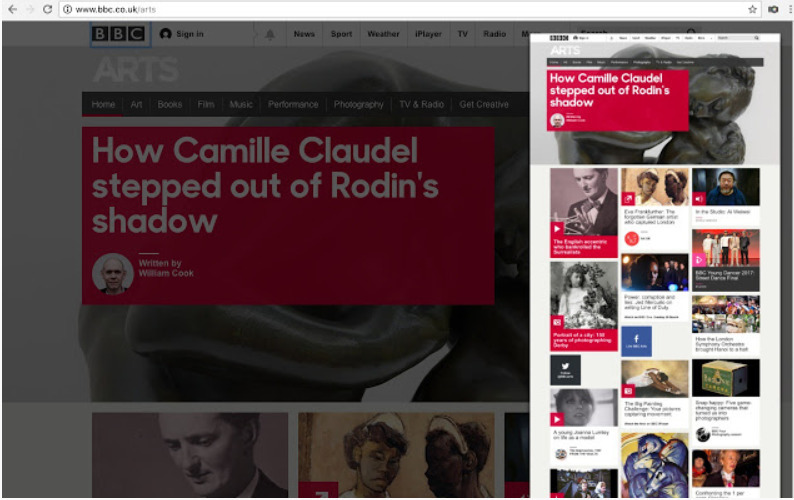 Features:
Free to use as well as easy to use for beginners.

It provides a one-click screenshot.

You can work faster using Blipshot due to its fast drag and drop option.
8. Lightshot
Lightshot, as the name suggests, is one of the best light-weighted Chrome extensions to capture screenshot. Moreover, the tool comes with a simple user interface despite being a highly customizable extension. According to your need, this particular chrome screenshot extension does the work of capturing a screenshot of the full web page or a part of the web page, like any other tool.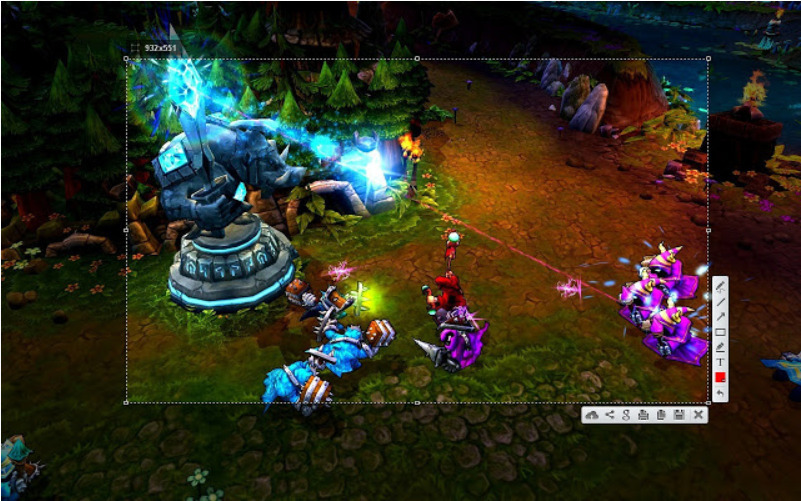 Features:
You can select any part of the webpage for taking a screenshot.

The screenshots are editable.

It allows you to copy the screenshot in the clipboard.
9. Webpage screenshot
Webpage screenshot is an open-source and fast chrome extension to capture the screen. It also provides you the free image hosting forever so that you can share the captured screenshots with your friends. Webpage screenshot lures its users by allowing editing the webpage even before capturing the screenshot. Moreover, the tool lets us crop out the unwanted portions of the screenshot.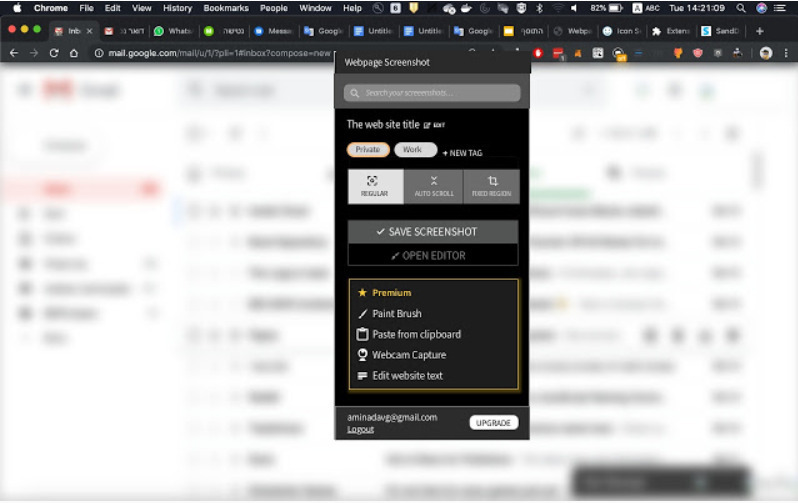 Features:
You can directly send the screenshots to your Gmail or either upload it to google drive.

It allows the blurring of the sensitive information present in the screenshot.

The tool can capture both horizontal as well as vertical content screenshots.

You get an onboard editor option, thus enabling you to edit multiple screenshots at once.

Provide free image hosting forever.
10. Gmail Screenshot
Do not get fooled by the name, Gmail screenshot does not have anything to do with Gmail. It stands last in our list of best Chrome extensions to capture the screenshot, but don't underestimate it. Like other screenshot chrome extensions, it also allows us to edit our screenshots and even cropping it. This screenshot extension works faster and is easy to use. And the best part is this screenshot extension is easy to use.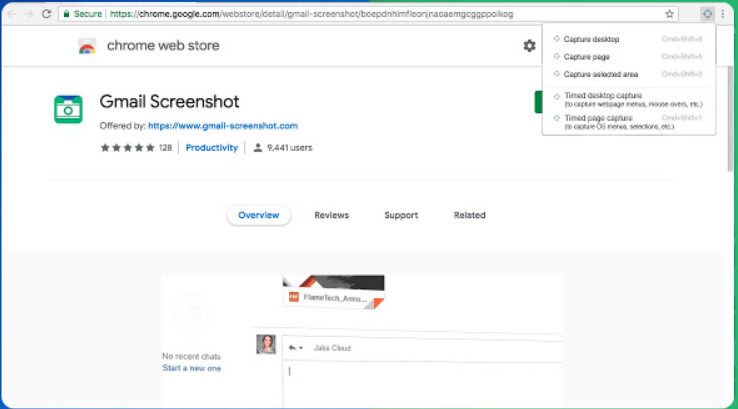 Features:
It allows the blurring of sensitive information.

The tool provides URL for the screenshot for a quick share.

It saves the screenshot in the cloud because of the cloud integration feature.
11. Ninjacapture

NinjaCapture is a screenshot chrome extension tool that helps people capture screenshot and share the content. You can capture images, videos and audio files and share them directly to other platforms such as Google Drive, Dropbox, and more. It also allows you to annotate your images with text, arrows and shapes. It also lets you schedule a recording of your screen at certain times of the day.
It's easy to use.

It's free to download

You can capture almost anything on your computer screen.

The app allows you record video or audio from your webcam without downloading any other programs.
Must Read: 10 Best Google Chrome Extensions