Screen mirroring helps you to mirror your smartphone screen on your PC. Using this technique you can easily play games, see photos and videos on your PC especially without actually transferring them. Yes, the Screen mirroring technique does sound intriguing. To use the Screen mirroring technique you need to know about the screen mirroring apps. We have brought the 10 best screen mirroring apps on Android and iOS to sprinkle some information on your curiosity. These screen mirroring apps will help you to easily access your data and let you play games on the big screen as well. The best feature is not only you can mirror your smartphone screen on pc but also you can mirror your pc on your smartphone.
Isn't it fantastic to have access to files without any need to copying or transferring them first? And also you can control your PC using your smartphone with the help of a screen mirroring app. You can find tons of Android and iOS apps for screen mirroring. However, you cannot rely on all. To make it easy for you we have done our research and listed the 10 best screen mirroring apps for Android and iOS devices.
Related Article: How To Mirror Your Android Screen To Windows 8/10 PC
List of Top 10 Best Screen Mirroring Apps For Android And iOS Users
1. Any Desk
AnyDesk is a screen mirroring software with Multi-platform support. It can work across most of the Operating systems including Windows, macOS, Android, Linux, FreeBSD, and RaspberryPi. You have access to features like online collaboration, easy built-in transfer of a file between computers. Moreover, the app is light weighted. AnyDesk is trusted with 250+million downloads and the most used screen mirroring and remote access apps by the organizations.
Pros
The tool provides a high frame rate of 60fps for this reason you can work smoothly.

AnyDesk provides seamless connectivity.

The app is lightweight and provides fast and secure connectivity.

Most trusted and used applications for commercial use.
Cons
You cannot control the PC if the monitor is in sleep mode.

The app is not compatible with Android 10 and MIUI 12.


2. Apowermirror
Apowermirror developed by Apowersoft is one of the best screen mirroring apps with high-quality stream gameplay with audio. The app can mirror both IOS and Android to PC. It is featured with mainstream mirroring technology which provides its user with a premium experience with the best audio quality. A lag-free experience is observed when mirroring iPhone/iPad as well as Android devices to PC via WIFI or data cable. The app can cast phone to TV as well. The reason that makes Apowermirror preferable is it can mirror 4 devices to a PC at the same time. Moreover, you can control your Android phone using a mouse and typing with a keyboard. In addition to it, the app allows its user to play mobile games without emulators.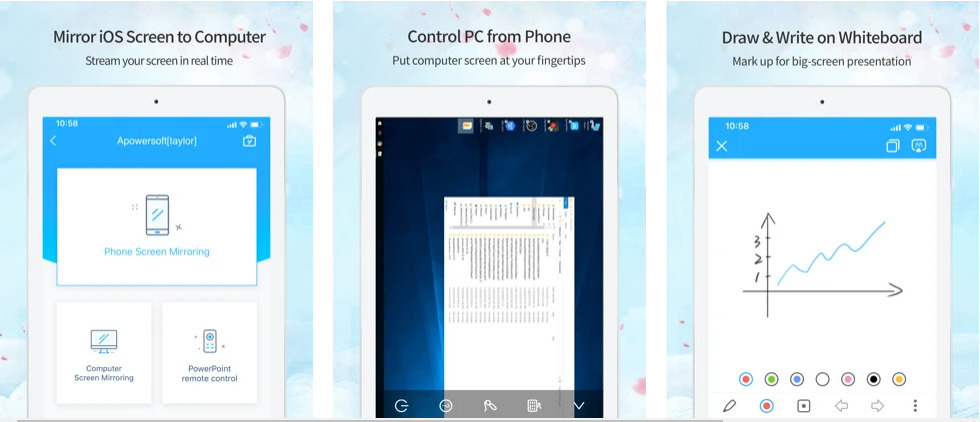 Pros
Apowermirror allows full-screen display.

It allows you to take a screenshot with ease.

The app can also record the screen of the iPhone or Android from a PC in just one click.

It also features a whiteboard that you can use for drawing or taking notes during a presentation.

Works for Android and iOS both
Cons
The free version contains a watermark that is huge and conceals the videos and photos.

The alignment of the elements is not as excellent as it should have been.

The scroll doesn't work properly.

It cannot mirror two different devices if one of the devices is not an audio source.


Also Read: How To Mirror/Cast Your Android/iOS Mobile Phone Screen To Windows and Mac using ApowerMirror
3. Chrome Remote Desktop
Chrome remote desktop, developed by Google LLC is that one best screen mirroring app that allows you to access your computer from your phone in the most convenient way. In other words, it's fast, simple, and free too. The app is not only available in Android and IOS but also on the web. Chrome remote desktop is the most secure screen mirroring app. You can use it with ease being an open-source platform to mirror your PC. There are two options out of which you have to choose remote access using the app on your PC and can be used for mirroring your smartphone.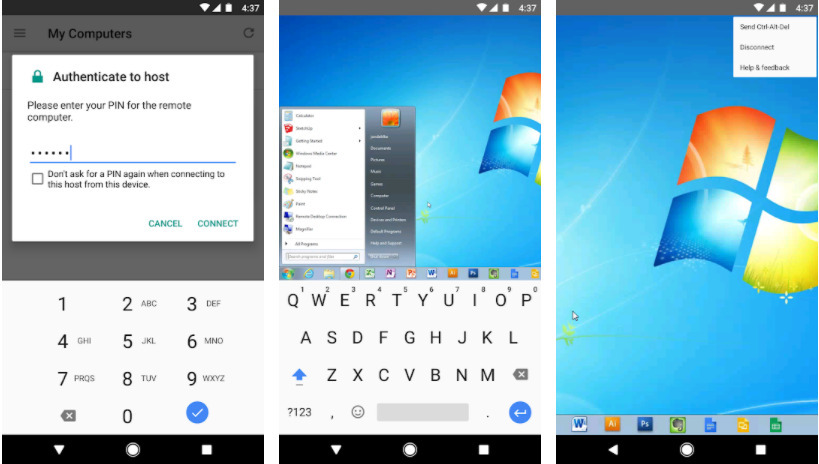 Pros
It is available on the web along with Android and IOS.

The UI is fantastic and easy to use.

You can transfer files one by one not in a batch like other apps.

The connection is strongly secured.
Cons
The main disadvantage is that you can only control PC but not other Android devices


Must Read: How to Remote Access another Computer with Chrome Remote Desktop App
4. MirrorGo
MirrorGo developed by Wondershare is the most advanced mirroring app for Android devices only. It makes your work better in mirroring Android to PC or vice versa. You can control both the devices as well. Moreover, it lets mobile users enjoy a larger screen by granting access to mobile apps, view and reply SMS as well as controlling the mobile screen with a mouse. There is no experience of lag as the App uses a USB data cable for mirroring. You can play games or present a presentation on the larger screen including TV.
Pros
There is the least lag experience in contrast to other such apps.

Both Android and PC can be controlled.
Cons
The app is not available for IOS

MirrorGo uses only a USB data cable and not wireless.

5. Team Viewer
TeamViewer is an open-source screen mirroring app for both Android and IOS devices. You can easily use the app and it is fast too. It is a more useful app for getting support to your clients, friends, and thus helping them. You can also get remote access to documents, files, and others. TeamViewer also comes with the best feature of multi-monitor allowing you to connect your smartphone to multiple monitors simultaneously.
Pros
The app features intuitive touch and control gestures.

TeamViewer has the highest security standard of 256bit AES session encoding, 2048bit RASA key exchange.

The tool provides audio and video transmission in real-time

The app is available for both Android and IOS.
Cons
It does not allow free use on a regular basis, the flag as commercial use.


6. LetsView
LetsView stands first in our list of best screen mirroring apps. This app worked for Android and iOS to mirror the screen to PC and Mac. It is free, easy to use and allows mirroring, recording as well as taking a screenshot in one interface. This feature makes LetsView the best screen mirroring app. The Screen mirroring app allows their user to display phone screens on both computers as well as a TV with just one click. In fact, the team of LetsView has worked on the limitation of screen mirroring apps like distance networks as well as limitations of the system. Thus, LetsView becomes the best screen mirroring app to assist in education, business, and entertainment.
Pros
The app is easy to use and provides wireless screen mirroring.

You can stream videos, music and also play games.

The app allows you to mirror your PC/MAC using one click.

You can even take selfies using this app.

The app works for iOS and Android both.
Cons
You cannot control your smartphone using a PC.

The apps freeze when used for a long time.

The app is could have done better User friendly.

The audio sound decreases when playing video in MAC.


7. AirServer connect
AirServer Connect allows it's Android and IOS users to connect with ease. The steps for connection is simple and minimal. You just have to open the app settings and scan the QR code and thus, you are mirroring your smartphone to your PC. AirServer connect can be said as the best app for wireless screen mirroring.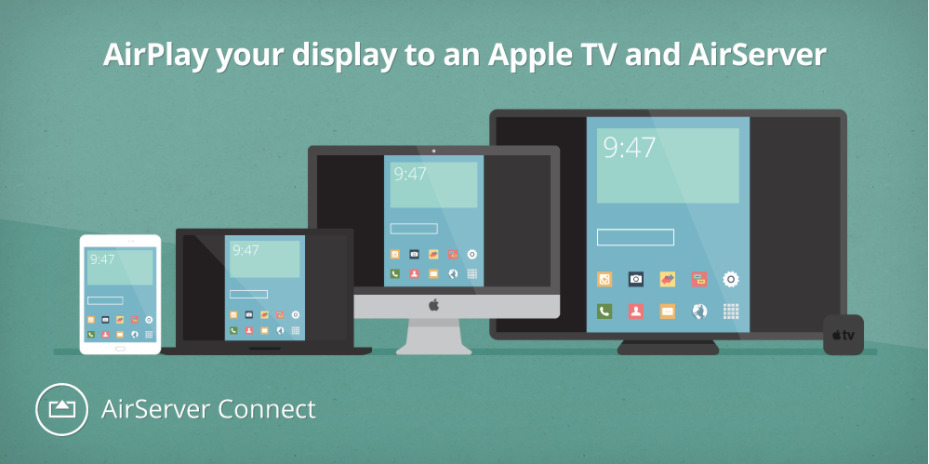 Pros
The picture quality is outstanding.

The app features a built-in QR code scanner thus enabling connection to a private network.

The tool can sync multiple receivers at the same time.

Works for Android and iOS.
Cons
AirServer connect does not support audio.


8. Vysor
Vysor being an independent tool it can be downloaded on the PC. But the version for downloading is a paid one. If you don't have the option to buy the premium version, there is no need to worry as you can download the extended version for chrome, unlike other paid screen mirror apps. This mirroring app is very similar to AnyDesk and LetsView.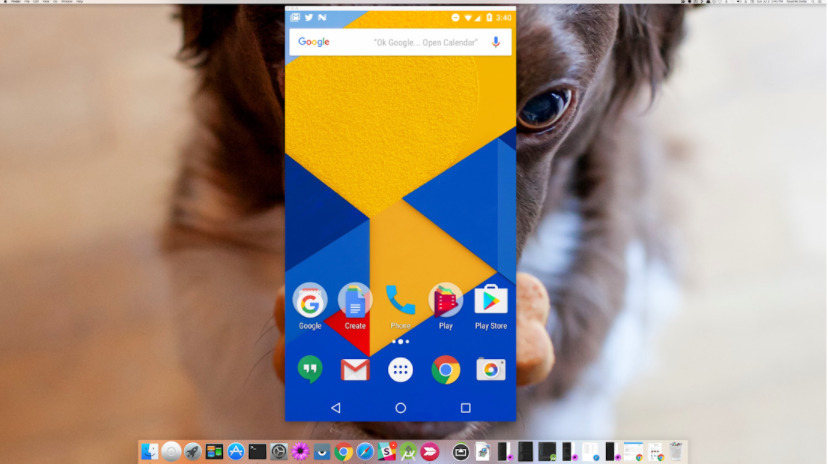 Pros
You can share your screenshot with the connected device.
Cons
The video quality decreases when using the free version.

9. Google Home
Google Home allows easy control to your Chromecast from your smartphone. The upside of the app is that it is free and is available for both android and IOS. You can also play music with easy pause and play control. You can not only play music but also you can play video as well. The app also allows streaming and easy control thus allowing you to customize Chromecast as per your need.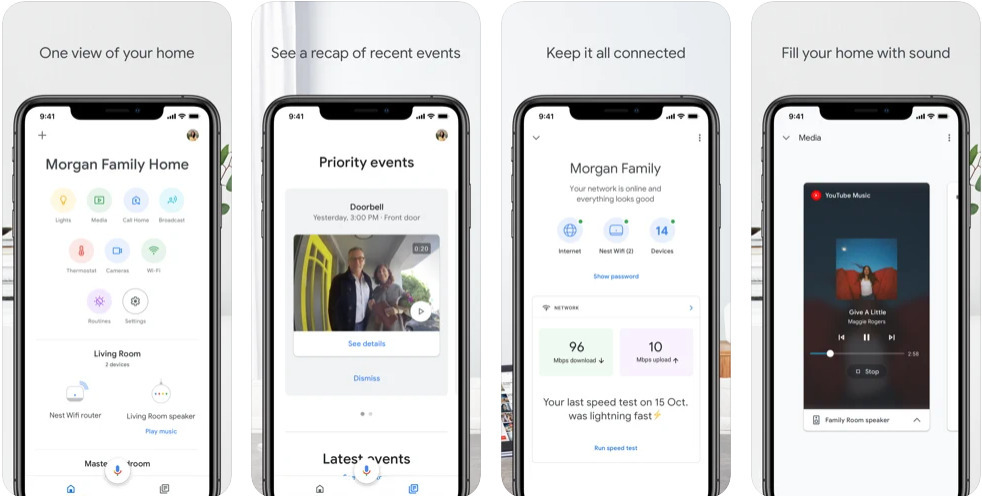 Pros
You can control devices with just one tap.

The apps show status to their users and keep them updated.
Cons
The devices disconnect very often.


10. Live Screen
Live Screen is a very lite app with simple UI/UX.The live screen comes with a simple design and works with an internet connection. For best performance, you better connect to the same network. Sometimes, if the tool fails to detect your smartphone, you will have to enter the IP address manually, which sometimes becomes annoying. Apart from that, the app runs smoothly without any problems detected. So if you looking for a simple app that is easy to use then Live Screen is the best app for screen mirroring.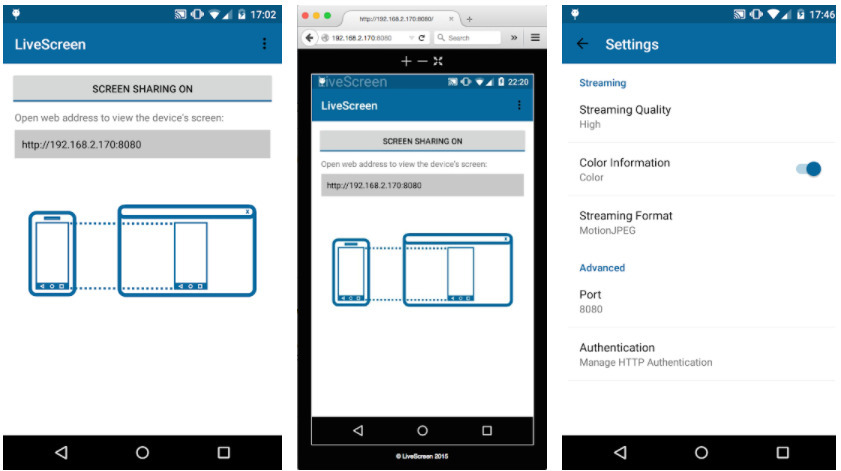 Pros
The app is convenient for showing presentations.

Works best with google chrome

Simple to use and with great UI.
Cons
The lag is noticed as well as the PC becomes slow.

Only available for Android.