Online Privacy has become very important nowadays due to the incorporation of digital words in every aspect. In this pandemic situation, the six feet apart and social distancing is pushing us more into the digital world. With everything online, life has become easier as now we do not have to be present in person, whether it is a payment for making a purchase or sharing a very important document. However, this has also become a golden opportunity for hackers to have a peek into your personal things. Like this was not enough, there has also been an increase in tracking and data collection for marketing purposes. Who would like to be constantly monitored? The answer is obvious i.e no one. That is why it is necessary for us to keep the best privacy apps that can limit the entry of hackers into our personal lives.
Related Article: Best WhatsApp Alternatives that Actually Respect Your Privacy and Safety
Your privacy can be improved with these best privacy apps with just a few clicks. There are tons of apps for privacy like VPNs, private messaging app, antiviruses. We have covered the best privacy apps for Android and iPhone that can enhance online security and keep you away from the reach of prying eyes.
List of 10 Best Privacy Apps for Android And iOS
1. Signal
Signal Private messaging app is one of the best privacy apps when it comes to communication. It is the most secure messaging app for Android and iOS users. Thanks to its advanced end-to-end encryption, all the messages are safe and can only be seen by the signal user at the receiver end. Additionally, it is open source which means technically skilled experts can look into the source code. The best thing about this private messaging app is that it is free to use and does not collect unnecessary data as other apps do.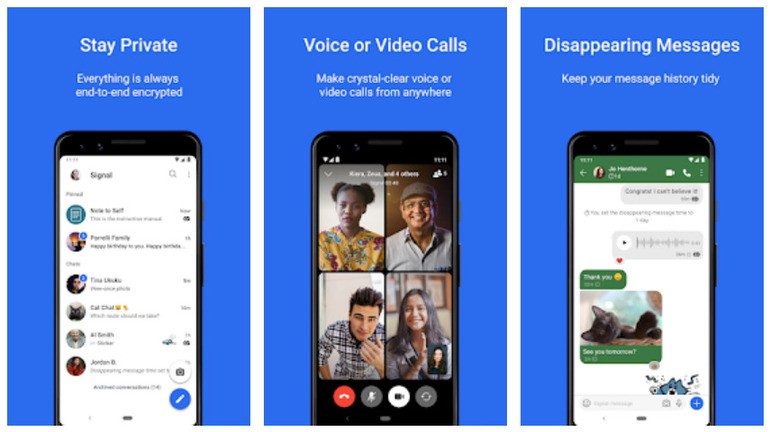 Reasons to use:
The app is an independent 501c3 non-profit which means there will not be any kind of advertisements or trackers.

End to end encryption

The app features self-destruction of messages which means there won't be any track left of your conversation.


2. Keeper
Keeperis an amazing app for storing passwords and creating strong passwords. Keeper also features an autofill function that really helps to auto-fill information like addresses and contact, records of debit cards, and credit cards. Additionally, it also features BreachWatch functionality. BreachWatch keeps a watch over the internet and looks for stolen passwords or information. If found and it matches with your credentials, you get an alert, after that you can change your credentials. So if you need an app that keeps your password safe and secure then Keeper is the best app for your Android and iOS device.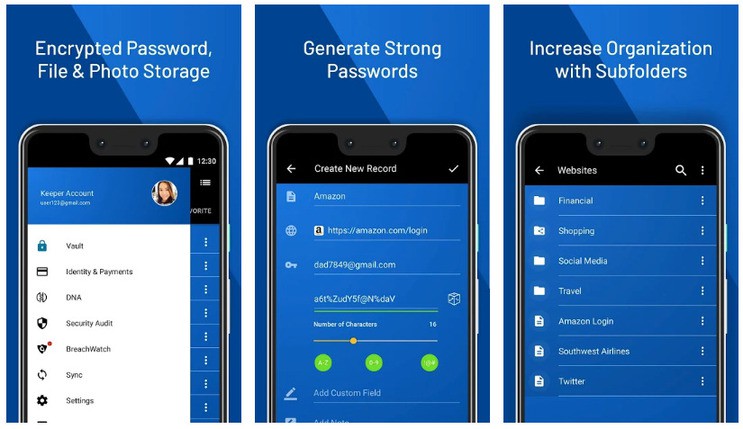 Reasons to use:
Keeps your all passwords in one place.

It also has a built-in folder sharing option through which you can securely share your data.

The app also imports existing records thus saving you from keeping track of all passwords.

keeps you safe from cybercriminals.


3. Hide It Pro
Hide it Pro is an Android best privacy apps for storing photos, videos, apps, messages, and calls. The app is completely free and has no storage limitation. You can hide all of your photos and videos and keep them secured with a secret PIN. This app works best when it comes to the protection of your images and videos. The app is disguised as an audio manager in the app drawer that you can use for turning the volume up and down. However, if the app is long pressed, Hide It Pro will be launched and you can have access to your hidden items.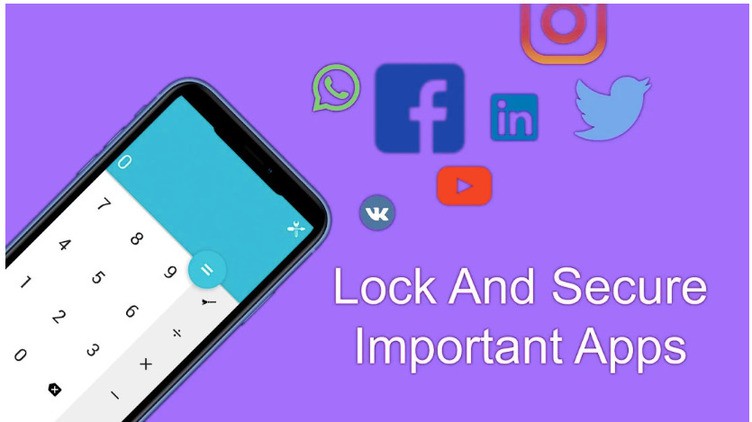 Reasons to use:
The app is not seen in the app drawer so no one will suspect you.

Hide it Pro uses AES 256- encryption to provide maximum security.

The app does not appear in the recent app list, thus leaving no trace of its existence.

It also features free cloud backup of the files.

4. Aloha Browser
Aloha is a browser with an inbuilt VPN that provides you the best security over the internet. It is available for both Android and iOS. The app has unlimited free VPN access that enhances your online privacy and security. Additionally, the browser blocks annoying ads and popups. You can also opt for a private mode where there will be no records of browsing history. Overall Aloha is the best browser with an inbuilt VPN that secures your privacy while surfing the internet.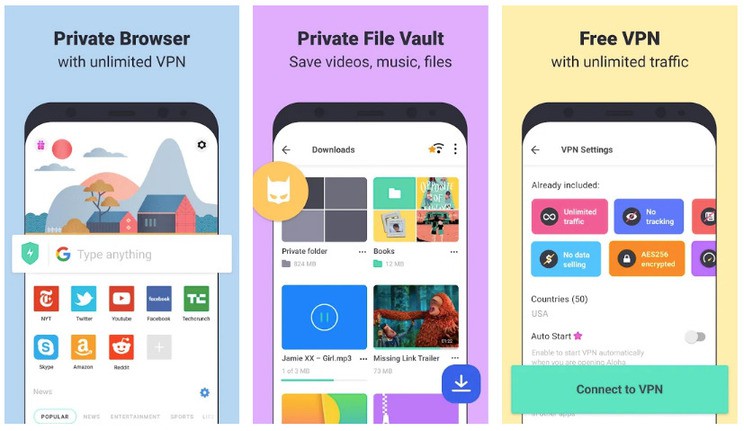 Reasons to use:
Fastest browser

Free and unlimited VPN access

Do not keep track of browsing history.

Identity remains anonymous


5. Musicolet
So if you are a music lover and don't want ads while listing the music then this app is for you. Musicolet is one of the best privacy apps for music lovers. This has similar features to any other music app like multiple queues, playlists support, album art, and tagline editing. The interesting feature is that this particular app does not interfere with privacy like other apps that track you for marketing purposes. You use Musicolet without worrying about privacy as it does not send your data to any servers. Additionally, it is totally free and contains no ads.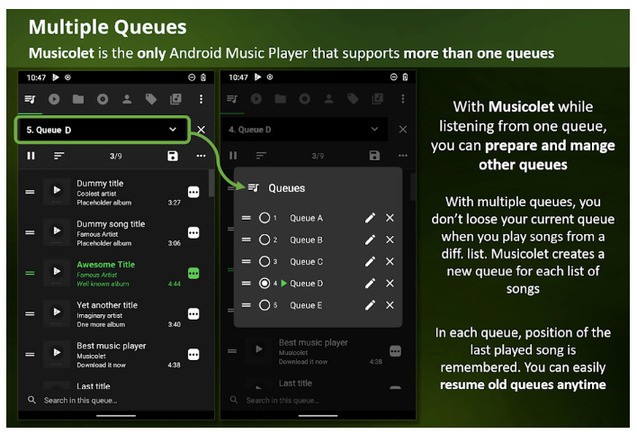 Reasons to use:
Do not need internet permission to use this app.

It does not steal your information.

The app is free to use.

The app is free from all kinds of ads.

6. AVG AntiVirus
An antivirus that scans your phones and keeps your phone safe from internal and well as external threats. The features included are both basic and premium although you have to pay for the premium version. In addition to excellent antivirus protection, it also allows you to block unwanted calls. It has a lot more to offer, you also get a VPN for an extra layer of security while browsing, anti-theft tools like phone tracking, remote locking, wiping all data. However, the most intriguing feature is that it can also take a selfie or record audio and send an email to you. If your phone gets stolen you can use this feature.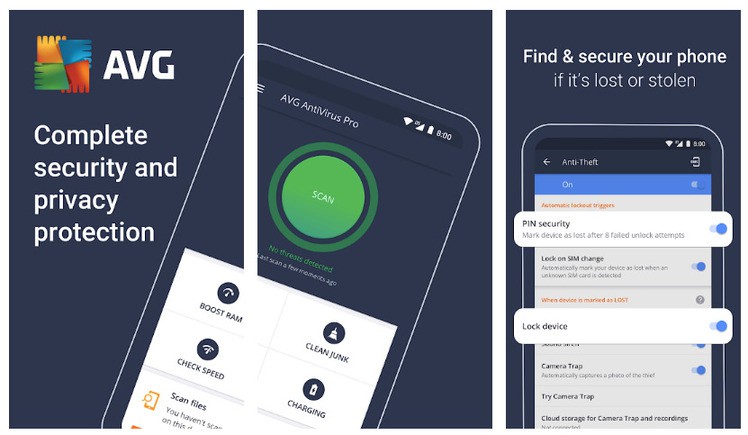 Reasons to use:
Provides the best security.

The app is anything more than just a simple antivirus.

It also stops hackers from accessing your webcam.


7. K-9 Mail
K-9 Mail is one of the best privacy apps for Android among email apps. The app is open-source thus making it more desirable. It offers all possible features that one would expect in an email client. However, the UI looks old-fashioned and simple. The features include support for multiple accounts, search, IMAP push email, multi-folder sync, signatures, and more. The app works with another app -The OpenKeyChain which adds an extra layer of security with encryption.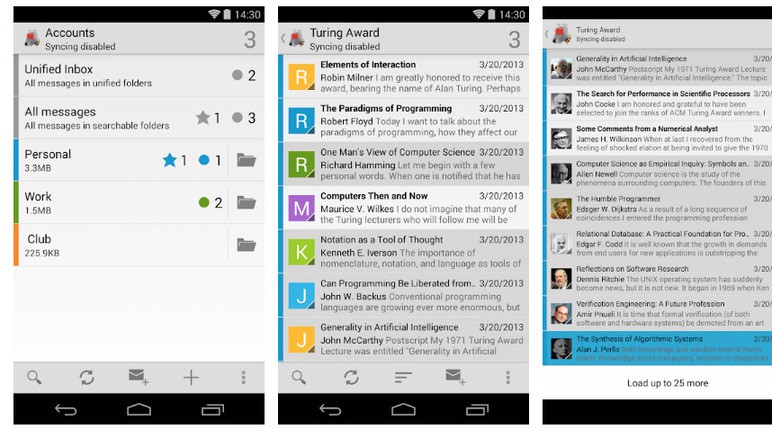 Reasons to use:
Open-sourced

It does not track your activities.

8. Nord VPN
NordVPN has come up with an excellent mobile app with similar awesome features. Like the PC version, the app also features 2048-bit double encryption. Additionally, it protects you whenever you will be connecting to public networks. In short, Nord VPN is one of the best privacy apps that one must have to increase the privacy of the phone.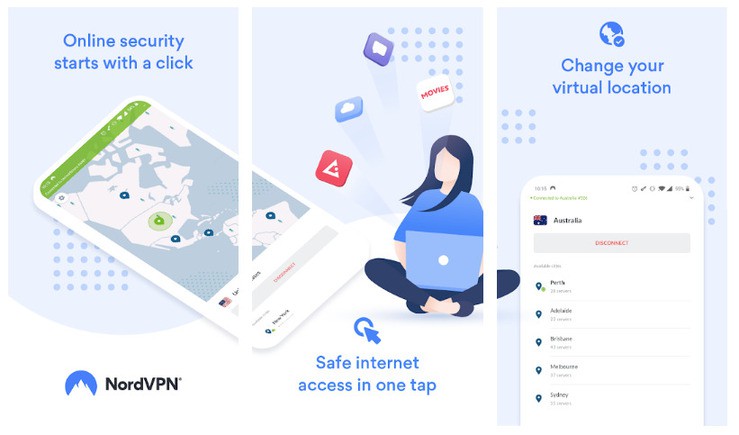 Reasons to use:
Provides the best performance and user experience.

Easy to use.

Provides maximum online security.


9. Resilio Sync
Resilio is one of the best privacy apps for transferring files from one device to another device. You can share an unlimited number of images, documents without worrying about the size. Additionally, you can also create your own private cloud. To transfer files all you have to do is download apps on both of your devices i.e PC and mobile then turn on the sync. The app is totally safe to use as it doesn't involve third-party apps and all of your data will be encrypted while transferring. This app is a must-have with all the amazing features.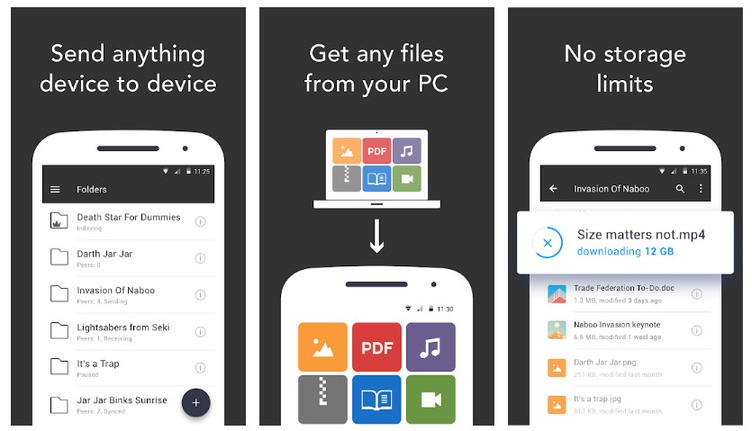 Reasons to use:
Free to use

No storage limits

Works on any device and platform.

Your information is not stored on servers.


10. Hushed
Hushed app lets you make private calls and texts. The app generates a local number that you can use instead of your original number. You can also manage multiple lines for your business or personal use. The best part is that your number is never disclosed. The app is easy to use and is also free from risk. It does not require any sort of verification whiling signing up. Once you are done, you can easily remove the numbers and there won't be any record left.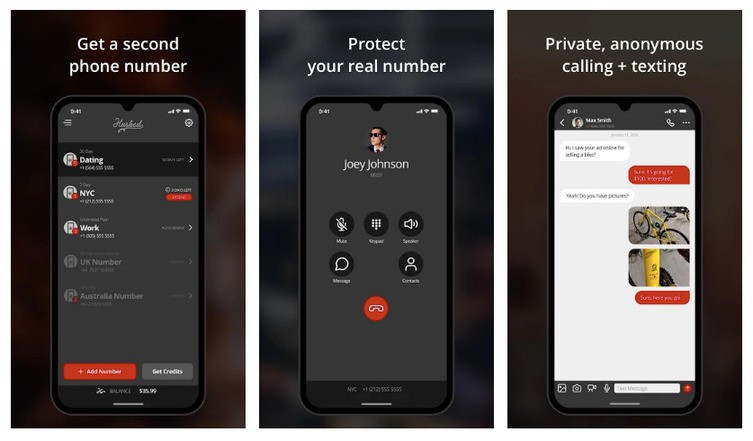 Reasons to use:
You can call anyone without the risk of them knowing your number.

Your near and dear ones can make international calls without paying extra charges.

Privacy remains intact.