We all can agree on one thing that Youtube is one of the best video streaming apps for both Android as well as iOS. But do you also get stuck or confused about whether to play songs or videos on Youtube or to work? Do you also want to do both the stuff simultaneously? Here we have a very efficient Youtube alternative app called FlyTube, which will surely solve this problem. A Flytube app having almost all the features that Youtube App provides with the subscription. But here Flytube provides you all the features for free. Interesting? So let's understand what is Youtube Flytube app and its features.
Related Article: YouTube Vanced - Another Best youtube alternative app
What is FlyTube App?
FlyTube is one of the best Youtube alternative apps to watch video's on your Android. It lets you watch youtube videos anywhere, anytime. Also, you can text your friend in between or even make a Google search without interrupting the video. Unlike Youtube, it also has a feature for disabling the screen timeout, which ensures that your Androids screen won't turn off. Apart from that, the app brings a lot of customization options too.
Flytube Features
Here are some main features of Flytube App that make it one of the best Youtube alternative apps to play Youtube videos.
Free: Flytube is completely free of cost.

PIP Mode: It supports PIP(picture in picture) mode. Flytube users can watch youtube videos in PIP mode while doing some other task.

Background Playing: Flytube lets you play youtube videos in the background. So now you can work and listen to your favorite music on youtube while working.

Playlist Support: You can create a playlist with your favorites songs as you do on the Youtube app.

Support Customization: You can customize your Flytube App window like you can change the theme color.
Flytube Cons
Just like any other app, the Flytube app also has some cons that are listed below:
It doesn't support the downloading option.

Also, it's a bit outdated, so no longer receives updates.
Must Read: Newpipe - Best youtube alternative for all time
How To Install/Download FlyTube App on Android?
Till now we have discussed all pros and cons of this app. If you have made up your mind and, ready to know how to install this application on your Android device. Much like most Youtube alternative apps, Flytube is not available on Playstore or other Android app stores. You can download it from here: Download FlyTube APK
Once the download is complete, click on the downloaded file to initiate the installation process. The app will ask for certain permissions before launching the app.
Note: You might get an error of unknown resources(For Security, your phone is set to block the installation of apps obtained from Unknown sources) if you are installing the third-party app for the first time on your Android device. So to get rid of this error you have to allow the unknown sources to install. To do this, open the Settings > Security > Unknown Sources and enable it.
For more details about Unknown Source then visit here: Unknown Sources VS Trusted Sources on Android and How to enable Unknown sources
How to use FlyTube App on Android?
As mentioned earlier, the main advantage of using Flytube is that it allows you to play youtube videos in the background. Now we will see how to do that.
Step 1: Firstly, go to the Youtube app and find the video you want to watch. Click on the three dots near that video to see options. And then, select share. You can also open the video and then click on the share button.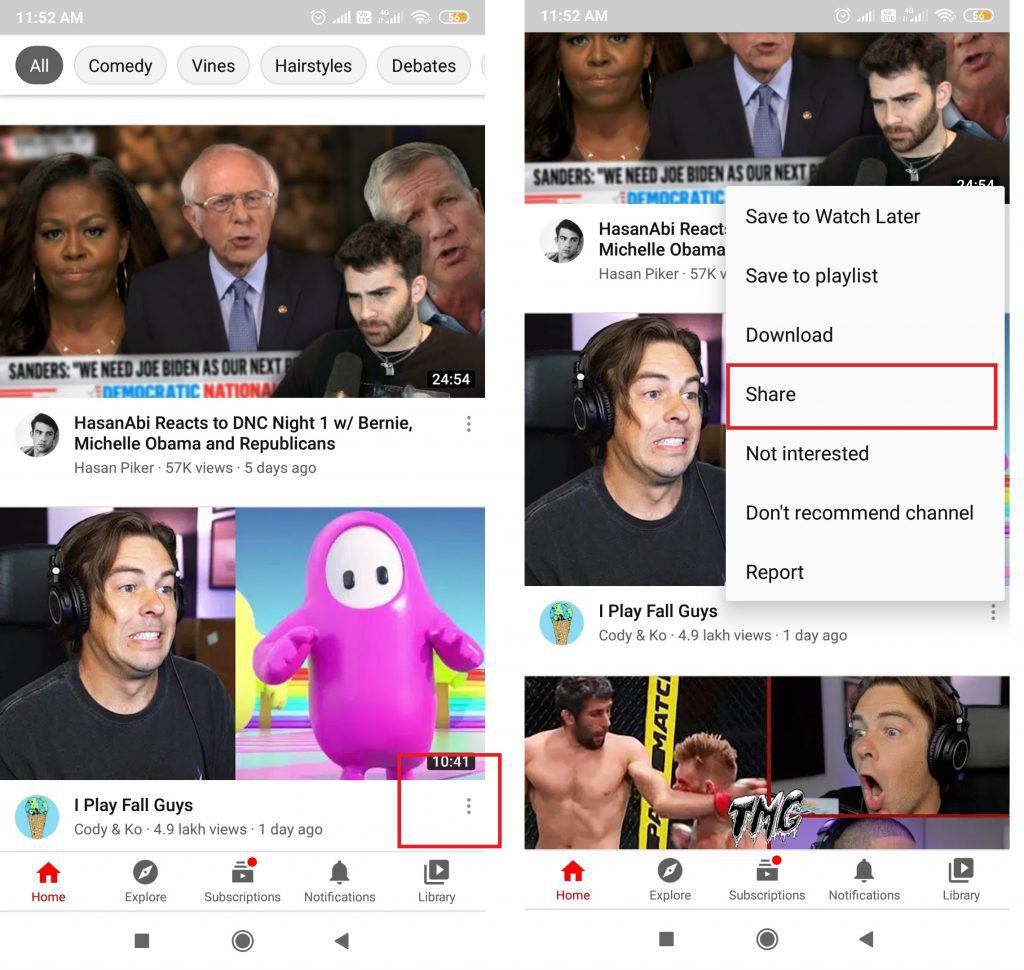 Step 2: After clicking on the Share button, you will find many options to share the video. Select Flytube to play the video. Now, you can watch the video and work on your phone too. If you are having trouble here, go back to the app settings, and review the permissions.
If you click on the video, you can see different options like play, pause, and fullscreen. There is also a share button to share directly from Flytube.
Conclusion
To summarize, FlyTube is a great Youtube alternative app with all the features that you need in any Youtube alternative app. The app is very easy to set up and use. The app cannot replace Youtube completely but you can keep it along with Youtube to play Youtube videos in the background without buying a youtube subscription.