YouTube Vanced- is an advanced version of YouTube which allows ad blocking, background playback, pinch and zoom, and many more. By the time you finish reading this, you will know everything about it. Every features it offers, where to get it, and how to install it on your Android device.
Billions of users watch 3.25 billion hours of YouTube videos every month. The statistics could have been bigger, suggests consumer feedback and suggestions. The traditional user today wantsmore from the video-sharing giant. Some of them being no adds, and playing videos in the background. YouTube hasn't addressed this yet, and we don't see these features in the near future too soon. But not to worry, the Youtube alternative: YouTube Vanced is already serving thousands of users in the present date.
In this tutorial, You will get the information about the Youtube Vanced features, whether Youtube Vanced is safe/legal or not, comparison between the Youtube and Youtube Vanced, and finally, we will see how to install the Youtube Vanced app in the rooted and non-rooted Android devices.
Related Article: Top 5 Youtube Video Downloader for Android
What is YouTube Vanced?
Youtube Vanced is the most popular advanced version of theYouTube application that comes along with some additional features like background video playing, play ad-free video, dark theme, etc. Not literally and officially an advanced version, but is a modded Android application (formerly known by the name of iYTBP – (injected YouTube Background Playback). The best part of this Youtube alternative that I like most is the background youtube video playing and picture in picture mode feature. The Youtube Vanced has lots of other features that you may like and want to install the application.
Note: YouTube Vanced is obsolete now and you can try YouTube Revanced App now to enjoy the similar features.
Youtube Vanced Features
Ad-free Youtube: Playing videos without advertisements – bye-bye annoying advertisements.

Use gesture to control Zoom, volume, and brightness: Pinch the screen to zoom (regardlessof the device) and swipe control for volume, brightness up-down.

Toggle Theme: Switch between white, black, or dark themes.

Background Playing: Play Youtube videos in the background for all Android devices.

Auto Repeat Feature Available: No need to hit replay manually, Use Youtube Vanced auto-repeat feature.

Picture in Picture mode (PIP): While using other applications, continue to watch videos in the picture in picture mode.

Customize Video Playback speed: Set playback speed as you prefer.

Set Video Resolution: Selectresolution preferred by you.

HDR or VP9: You are in control of what you want.

Override maximum resolution: You can override the max resolution of the video as well.
Is YouTube Vanced safe?
You might be wondering what the answer to this question is. The privacy of your data is essential. The only reason why YouTube Vanced is not available on the PlayStore is that Google has its own YouTube app. It is why you have to download YouTube Vanced from other sources. YouTube Vanced is safely entrusted by millions worldwide. It is a completely safe and trustworthy application to use.
Is YouTube Vanced legal?
Is YouTube Vanced legal or not? It is another common question. According to the YouTube policy only might be wondering what is the answer to these questions from YouTube is allowed. YouTube Vanced also only renders content from YouTube. That's why YouTube Vanced is completely legal to download and use.
How does YouTube Vanced work?
YouTube Vanced uses the Youtube API to renders all Youtube Vanced UI. You can think of this as a hotel where all facility is there. The only difference is: the name of this hotel is YouTube Vanced and not a famous hotel name. YouTube Vanced is a high-performance version of the YouTube app. It has customisable features that set it apart.
YouTube Vanced vs YouTube
With YouTube Vanced, you can play music in the background. Your video will run on the background when you minimize the app.

You can block all ads for YouTube using YouTube Vanced. There is no such feature on YouTube.

Apart from the dark theme, it also has a black theme. YouTube doesn't have both.

HDR mode is also on YouTube Vanced. YouTube has limited quality settings.

YouTube Vanced lets you can achieve maximum resolution. Your phone might have limited quality settings, but we can now fix it.

On YouTube, you cannot directly control the volume and brightness of the playback. On the YouTube Vanced app, you can swipe to control volume and brightness.
Download Youtube Vanced APK
You can download the Youtube Vanced APK for rooted, non-rooted, and Magisk users from below download links.
Youtube Vanced for Non-Rooted Android device
Youtube Vanced for Rooted Android device
Youtube Vanced for Magisk users
How to install Youtube Vanced on Android Rooted or Non-Rooted Device
1. Install Youtube Vanced on Non-rooted Android devices: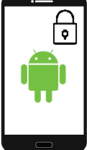 Step 1: Uninstall updates of YouTube application from settings and disable auto-update in the Google Play Store.
Step 2: Get the Youtube Vanced APK file here and install it.
Step 3: Download the MircoG Apk and install it. You need this for logging into your account.
You are ready to use the application.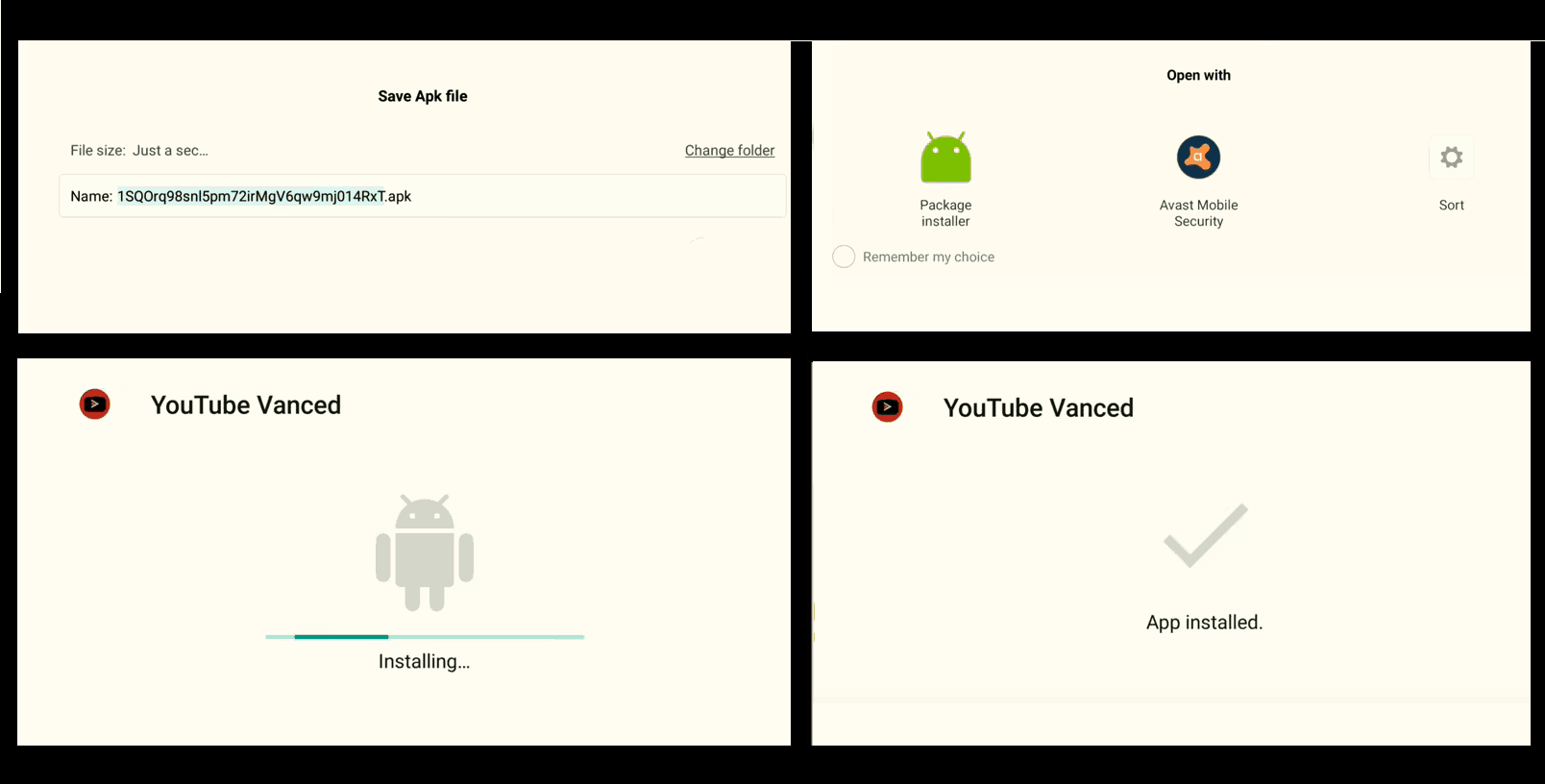 2. Install Youtube Vanced on Rooted Android devices: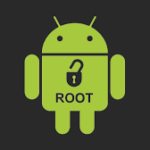 The following are the steps to execute if your device is already rooted. (See how to Root Android device without a computer)
Step 1: Uninstall updates of YouTube application from settings and disable auto-update in the Google Play Store.
Step 2: Download the official Youtube Vanced installer from here.
Step 3: Choose aYoutube Vanced APKthat works the best for you. By default the theme is white.
Step 4: Flash the installer in TWRP and make sure that the download is on your SD card path if possible.
You are ready to use the application.
3. Magisk users: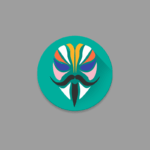 Step 1: Uninstall updates of YouTube application from settings and disable auto-update in the Google Play Store.
Step 2: Download the Magisk Manager and go to the Modules section.
Step 3: Now Select the YouTube Vanced Magisk Module zip from the storage by going to the path where you downloaded it.
Step 4: Reboot and enable themodule.
Now you are ready to use the application.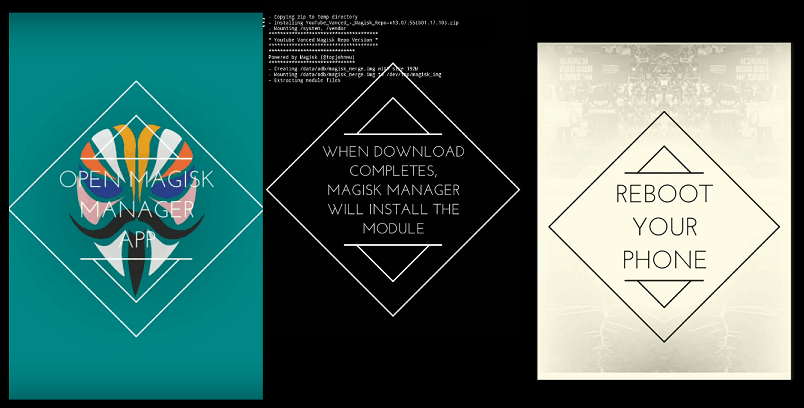 Now that you have the application, you're in profit. Make full use of the application. Experience watching videos as you find comfortable.
However, you cannot download videos from this application. This is because YouTube has released a save offline option which is running successfully in many countries. The PIP version works with the Oreo version only at the moment. You can get latest updates by downloading the most recent version of APK and install it as you did before.
FEATURE IMAGES
SELECT THEME
YouTube Vanced works according to your customization. Select a white color theme, dark theme, or black color theme. Here is the pic, where you can see an example of a dark theme.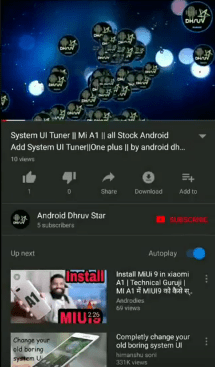 PLAY VIDEOS IN BACKGROUND
As promised, you can watch the videos in the background or while using other applications. You can also view the playback status from the notification bar of your device.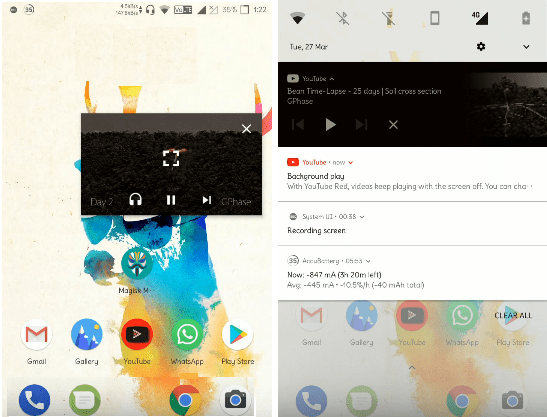 Known Issues or bugs in Youtube Vanced Application
All applications have some bugs or issues whether it's Youtube Vanced or Youtube itself. Youtube Vanced also has some bug that may be fixed in future releases. We may face some issues of Youtube Vanced while enjoying its lots of features or benefits.
If you are using Chines custom ROMs(ColorOS, MIUI, EMUI) then you will miss the PIP mode. So disable Picture in Picture mode in Youtube Vanced.

In some devices, sometimes you will face abruptly crash issues.
More Youtube Alternatives like Youtube Vanced
Leave your comments and concerns in the comments below and we will be happy to assist you.