Developed by PalmerinTech, Firetube is a youtube alternative. It lets you play Youtube videos in the background even with the switched screen off. The background play option is only available on the Youtube premium. However, Firetube has this advantage over youtube as it offers this feature for free. It is a simple and easy-to-use app. You can not just play videos but also create a playlist and import playlist from youtube.
Firetube App has different audio and video quality, a premium plan, and many other features to explore. Another advantage of using this Youtube alternative is that you can watch videos ad-free. Although the app does contain ads, it doesn't interrupt the videos like Youtube. If you are thinking about switching to Firetube, here is everythingyou need to know about this YouTube alternative app.
Related Article: 10 Best Youtube alternative apps
Download Firetube
The Firetube app is not available on the play store so you need to download it from any other third-party app store like Uptodown.
Getting Started With Firetube
After downloading and installing Firetube, when you open the app, the start screen by default is Hot tracks, you can change it to Recently played. These are some of the popular music videos. But the app is not just for music videos, it lets you watch any youtube video as well. To watch other videos, you can use the search bar on top of the screen. You can select one song to play or add multiple in the queue. You can also add the song currently playing to a playlist. Firetube also saves your search history to provide suggestions. These results can be cleared from the setting.
Due to Youtube's 10K quota, you may need to enter the Youtube API key to get the full features of Youtube. Here is how to add the Youtube API key in the Firetube app.
When you go to the General setting of the app, click on the Youtube API key for instructions to help you out.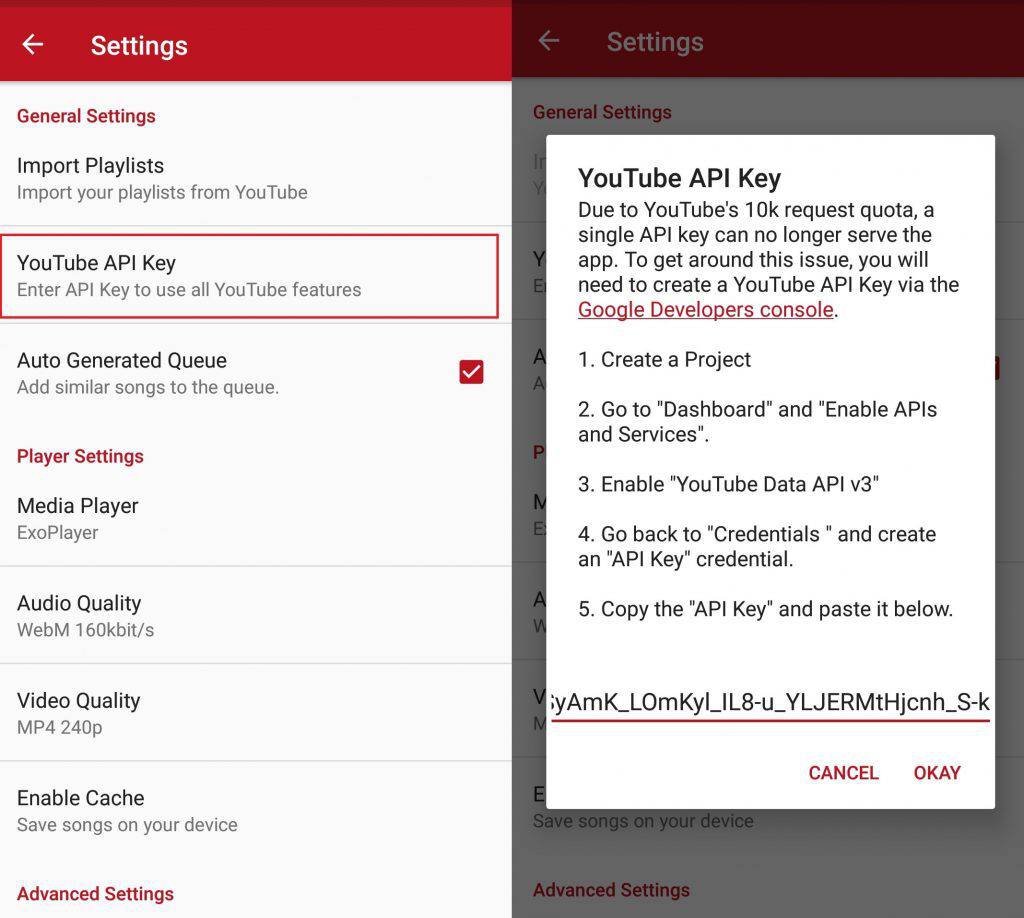 Once you follow the steps and copy-paste the API key, you can start watching youtube videos with full youtube features.
Must Read: 4 simple ways to block ads on Youtube
Firetube Features And More
The Firetube app works as both youtube video player and music player. You can switch between video mode and music only mode. You can easily switch by just clicking on a film icon on the top left of the media player. When you select a video, the player embedded at the bottom of the screen will be visible. You can expand it to see the video and other options available.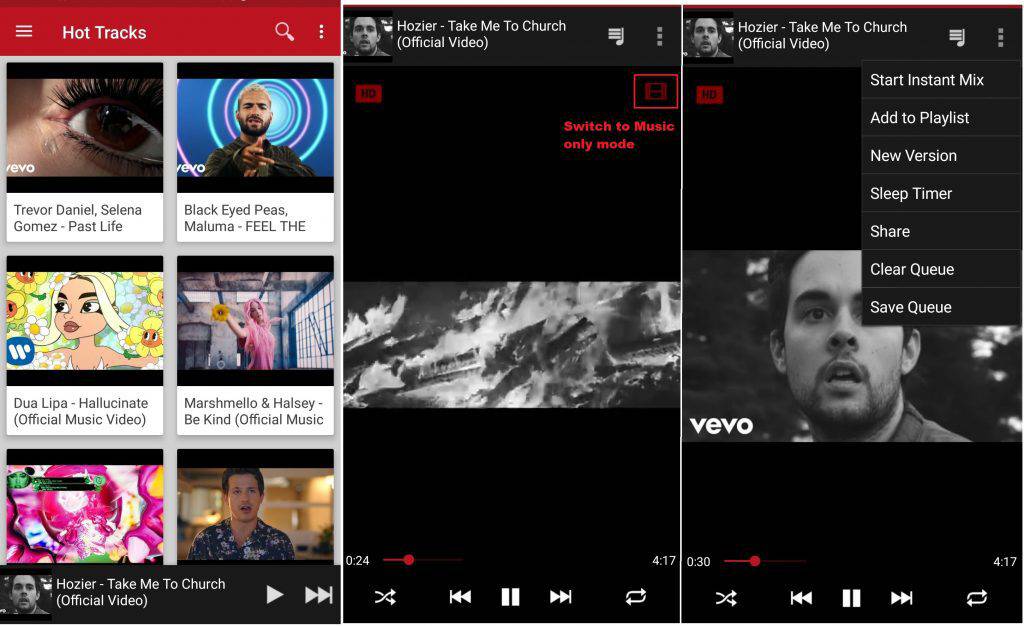 The menu on top has some extra options for a more YouTube-like experience. The Start Insta Mix option builds a playlist for you based on the song you are playing just like the mix playlists you find on YouTube.It also has the option to add the song to a new or an existing playlist. Or you can save or clear the queue. It also lets you share the video directly from here. The streaming quality can automatically change according to the connection speed. In case of a very slow connection, the video will play form cache data. To enable cache and download videos, you need to switch to Firetube Premium. It is available on Amazon for $2.99.
The import playlist option is available only after you log in with Google account. From general settings, you can enter Username or Channel ID to import playlists. While importing the playlist make sure it is set to public. You can also auto-generate song queue from settings. Editing your playlists is very easy. Swipe right or left to delete songs. Change the order of songs simply by dragging them to a different position and after each change, a message will pop up to save the playlist.
This Youtube alternative app saves your search history and recently played history to improve suggestions and fast access. You can clear history through advanced settings. You also get different audio and video quality options. These options can help you save data or switch to high quality when connected to Wifi.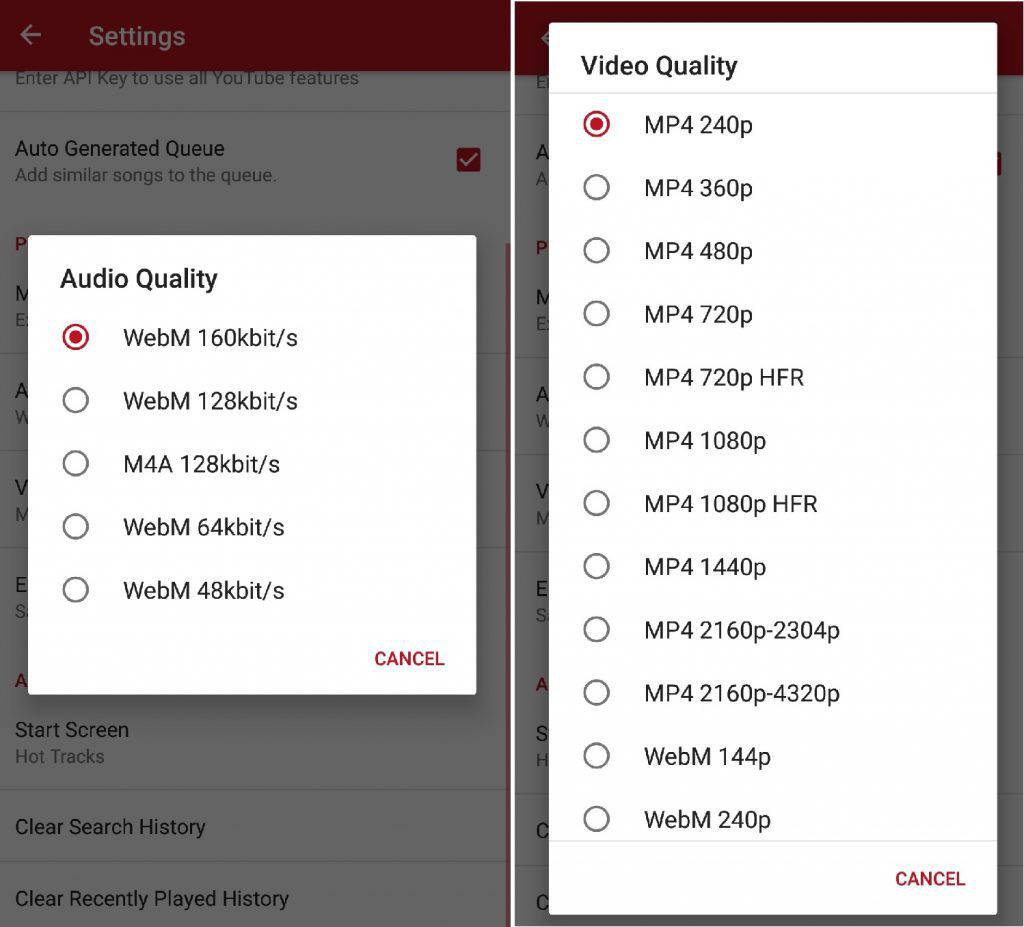 FireTube-youtube alternative app is available in 15 different languages. Since it is not available on Google Play, you have to check the website now and then for updates. The latest version available for download is Firetube APK 1.4.13. It requires an Android OS with Android version 4.1 or above.
Some Other Youtube Alternative Apps
Conclusion
In conclusion, Firetube is a great free youtube alternative app for android. It has various options to work with playlists. The app also provides suggestions according to your choices and popular videos just like youtube. Its feature to minimize or play the video in the background is the cherry on top. And you can also store videos offline using FireTube Premium.